It took me about 17 hours to decide what to call that thing up there in the picture. I call it a barbecue. Always have. Then when I started writing this blog and I mentioned barbecuing … I got some questions. Some concerns. Here, let me give you an example. I'd get questions like …
Dear Karen.
What's a BBQ and why do you keep talking about throwing meat on it? Is a BBQ a type of fish? Is it a large fish? The kind you have to hunt by throwing large pieces of meat at it? Oop! Or is BBQ sexy talk? And meat is well … you know … penis meat?
I'm confused.
Signed,
Someone from somewhere other than where you are.
So now when I talk about BBQs I also refer to them as grills. Because apparently, that's the name a BBQ goes by in some other areas of the world.  And just to clarify, when I say grills I'm not talking about fancy rapper teeth covered in gold, diamonds and for a brief period of time Chelsea Handler.
No, this post I'm talking about the kind of grill on your BBQ (or grill if you prefer) that you cook things on. It is exactly because you cook things on it that it needs to be cleaned regularly.
Only I don't clean it regularly. I kind of rub at it a few times when I'm heating up the BBQ, sometimes with a brush, sometimes with whatever I find laying around … a pine cone for instance … but other than that, I don't do much to it.
If anyone tried to serve me food from a pan they'd been using for the past year without really properly washing I'd stick my thumb in their eye and drag them by the socket to the nearest asylum.
And then I'd get my stomach pumped.
But a BBQ? Oh hell. That's fine. The dirty, rotten mess will just make the food taste better.
So I thought to myself,
I wonder if there's another way, that is just as half hearted as scratching at it with a 17 year old BBQ brush, with tiny little nub bristles that will clean my grill a little better.

And there is.
Your grill is probably covered in guck right now.  Even if you used the grill brush last time you used the grill.
The next time you light your BBQ, cover the grills with tin foil.  Put the shiny side down.
Close the lid (make sure to set the lid on the tin foil to help it from lifting from the heat).
Once your grill is pre-heated it'll be time to take the tin foil off.
With tongs.
Not your fingers.
Dum, dum.
The guck will have turned to powder, the way the guck does after you run your self cleaning oven.
If you do not have a self cleaning oven and don't know what I'm talking about,
I will say a little prayer for you the next time I pass by my oven.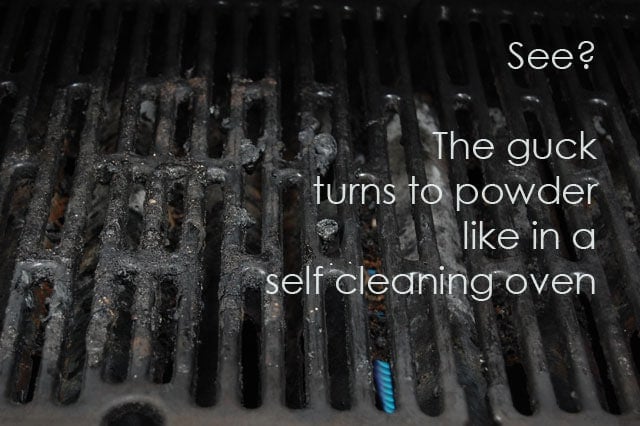 Brush with your grill brush like you normally would.
And set about cooking your healthful, carefully prepared dinner.
Yeah.  That's totally bread on the grill instead of buns.
I'm outta buns.
Hot dogs. On bread.
Say what you want about my classy fine dining.
It was delicious.
I also like Jello, Kraft Dinner and Big Macs.
Suck it.