DIY gifts that won't take weeks to make but will look like they did. Projects for every level of DIYer that can be done in about an hour. Because a good DIY gift shouldn't have to mean staying up late for 365 nights to hand stitch a log cabin quilt.
Hey YOU. You there! The one who hasn't finished their Christmas presents yet. The one who swore they were going to knit a sweater for every member of their family. The one who wanted to be that person who made personalized, super-cute handmade gifts but never actually got around to it because there's a surprising amount of good television around today.
I mean, if these were the Joanie Loves Chachi days of television, you'd be golden. You'd have time to knit sweaters for your entire family. Even if you're polygamists. As it turns out we're in the Netflix, Hulu, Amazon Prime, Showtime era of television. So, there really isn't a lot of time to be making grand gesture presents for everyone you know.
Not with all this television to watch.
There is however time for making smaller gesture presents.
Wood DIY gifts
Grill scraper.
If you're comfortable working with wood and own a saw then either of these projects are the ones you should try. The DIY serving boards especially give you so many options in terms of how you'd like them to look.
You can go full-on rustic and create a genuinely antique looking serving board or make it completely modern looking. It's up to you and the person you're giving it to.
Please don't be like my mother and give things that YOU like as opposed to what the receiver would like. Or what you think they should like, lol.
This is exactly how I ended up with a Royal Doulton as a present on my 17th birthday.
Christmassy Stuff
3. Wreath
This seed pod wreath I made in the summer can be made in exactly the same way with bunches of evergreen instead. Slap a bow on it and you're done.
Fabric Gifts
4. Jean pocket pencil holder.
5. Tea towel apron.
Have scissors? Then you can make either one of these projects. The ribbon tie on the apron can be hand sewn into place or machine sewn.
What gives the jean pocket pencil holder extra points is that it can be a FANTASTIC sentimental present if you make it with someone's old faded jeans. Of course, this will only go over well if the jeans were destined for the garbage. If on the other hand you cut the ass out of your wife's favourite jeans to make it, she may be less impressed by the gesture.
Beeswax Gifts
6. Beeswax Food Wrap.
7. Board Butter for conditioning raw wood.
These are for all of you out there who have a drawer filled with half burned beeswax candles. You FINALLY have a great use for all those candle stubs.
Turn any cotton fabric and beeswax into food wraps that can be used for years and even revitalized (I'll show you how to do that) once they start to get worn.
Create custom Beeswax food wraps or a conditioning paste for anything that's wood. The mix of beeswax and mineral oil gives a beautiful glow to anything it goes on.
Edible Presents
8. Cannabutter
Make it out of pure CBD or THC. Perfect for the gift getter who likes to heal or get high while they slather a scone.
9. Soup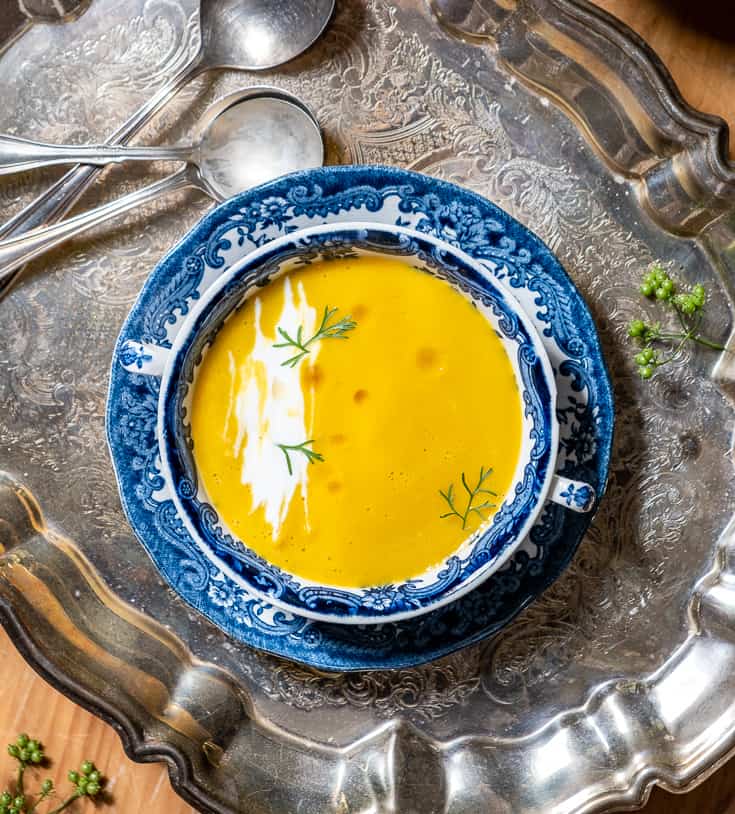 I know this seems weird, but bringing a large mason jar of homemade soup as a hostess gift will 100% be appreciated. Because the day after the party the host is going to be exhausted from cleaning up all day and will NOT want to be making dinner.
Of all my soup recipes, for this time of year I'd bring a beautifully wrapped jar of my spicy carrot ginger soup.
10. Cookie Stand
If you know someone who loves decorating cookies, make them this cookie stand. It takes NO time at all and it'll let them display their cookies like the little pieces of art that they are.
The stand is just a scrap piece of wood with two triangles of wood on the back so it can stand up. Then a thin strip of wood is glued to the front to give the cookies something to rest on.
Homemade things they'll use every day
11. Tooth Polish.
12. Charging Tassel Keychain.
When I first wrote about making this charging tassel for your keychain they cost a ridiculous amount in stores. Now? Now you can get them at the dollar store. The tooth polish on the other hand - well people are definitely still brushing their teeth and the printable label will give your gift a charming old-timey feel.
You could pair the tooth polish with a bamboo toothbrush or go polar opposite and get one of these super-sleek, gold metallic Quip toothbrushes.
Gold accent gifts
13. Gold Horseshoe Tissue holder.
14. Waxed dipped Amaryllis with gold foil
Literally a small horseshoe painted gold. The weight of the horseshoe holds the contents of a box of tissues down but the addition of paint helps a single tissue pull up through the shoe without catching at all. Goodbye hideous floral cardboard tissue box.
This wax dipped amaryllis bulbs probably won't be ready for a Christmas bloom if you do and give them now, but they will be ready at the beginning of the New Year which is when I personally am looking for a little pick me up to help with coming down from the holiday mayhem.
---
Still feel guilty about not having made the time to knit those sweaters or quilt those quilts? Don't worry about it. Nobody likes them anyway. Besides, that's what Benetton is for. I'm nothing if not full of outdated references today. Stick around and I might mention Andrew Dice Clay.
All of these DIYS are pretty inexpensive with most of them costing less than $10 and requiring no more than an hour or so to make. If you're absolutely stuck on the homemade sweater, you can actually "make" one of those in about 5 - 10 minutes depending on your scruples and how you feel about cutting the tag out of a store bought sweater.