I started my 3 TV Shows You Should be Watching series 4 years ago as a way to convince people that Yes, there are worthwhile things to watch on television. You just have to know where to look. And by worthwhile I don't mean television that will inspire you, teach you, change the world, or help you find God. It isn't elitist television. It's just good television.
Good television can be thought provoking, engrossing, stupid and funny. Much like the man you love I'm sure.
Before I get to the latest list I thought it would be a good idea to recap the list of 19 shows on my Shows You Should be Watching lists so far. If you click on the link in each show title it will bring you to the original post on it with a description of the show and video.
Nurse Jackie – I still love this show fiercely.
Boardwalk Empire – Even with one of my favourites, Steve Buscemi, this show lost me in the 3rd or 4th season.
Breaking Bad – For once the critics got it right. Voted the best television series of all time by many.
How to Make it in America – Cute, little known show that's worthy of searching out.
Damages – Great series I still think back on.
Bored to Death– Like "How to make it in America", another small, short lived series that's worth finding.
Downton Abbey – What's to say? I can only say good things about each and every episode.
Summer Heights High – The epitome of stupid, funny television.
The Killing – The most haunting show I've ever watched. The look, the feel, the topic. It's wonderful.
The Wire – Watch it. Just watch it. Also one of the best series ever made.
The Big C – Funny, poignant, horrifically sad.
Homeland – Homeland has lost me this season. I wouldn't care if Carrie tripped on a flatbread and toppled headfirst into a malaria well.
Call the Midwife – Perfect. Just perfect.
Scandal – I still think Scandal is a great show but it still isn't on the same level as shows on specialty networks like FX, HBO or Showtime.
Brooklyn 99 – Still my go to show when I need a quick and guaranteed laugh.
Orphan Black – Good on you Canada. One of the best shows on television.
Veep – Very close to being the funniest show on television thanks to inspired casting. And writing. And everything else.
Moone Boy – Touching, warm, thoughtful, funny. Everything someone who reads Maeve Binchy wants.
The Mindy Project – The funniest show on television. Full stop.
Now I know at this point all of you are screaming in your head OMG! WHERE'S JUSTIFIED?! WHERE'S GAME OF THRONES? WHERE'S THE LITTLEST HOBO? If they aren't on the list I either a) don't like them b) like them but not enough to recommend everyone watch them or c) haven't watched them. You can feel free to add your favourites into the comment section.
So what do I have for you this time around?
A show I hated the first go round then gave it another shot. And I'm glad I did.
A show recommended by my friend Jamieson who tends to have similar tastes as I do.
A show apparently everyone in my family was watching but me. Even Fish Pedicure, who normally only watches movies and tv shows that feature actors so old most of them died from rickets. Again, I didn't like the first episode but pushed through and am now HOOKED.
Here we go.
F A R G O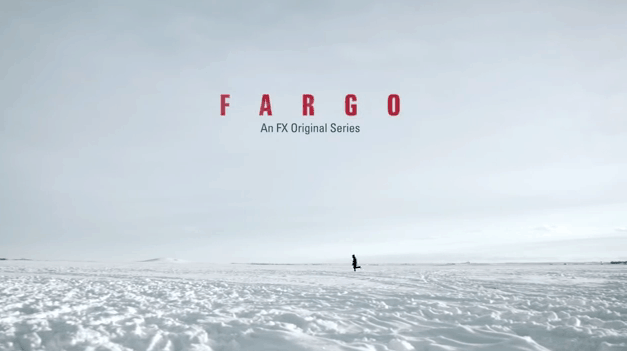 Fargo tells the story about a series of unlikely and brutal murders that take place in a small Minnesota town. Part comedy, part drama, all entertaining. Despite what it says at the opening of the show this is not based on a true story. That is an homage to the movie Fargo which said the same thing at the beginning of the film. Which also was not based on a true story.
American Horror Story
American Horror Story is a show that changes completely from season to season. The storyline, characters, plot, location … EVERYTHING … changes every single season. Many of the cast members stay on and play different characters from one season to the next. The one thing that stays the same is that every season is dark. Truly, deeply dark and scary. From the creators of the show Glee comes something gruesome. I love it.
Around Christmastime my family was sitting around and somehow the topic of this show came up. One by one everyone mentioned they were watching it. My sister Pink Tool Belt said she was on the phone to her son in Vancouver one night and they realized they were both watching it. Fish Pedicure and her kids watched it. EVERYONE knew about this show but me. Why would no one tell me? What else was going on in the family that I didn't know about. Was I adopted? Could everyone else speak Armenian? Was my childhood home built on the sacred graves of razzmatazz circus performers? WHAT?? WHAT ELSE?
So I kicked everyone out and found The Curse of Oak Island to watch. I blew threw all of the episodes in 3 days over the Christmas break. Which is kind of a miracle because I was bored to death in the first episode. But still … I wanted to know what happened.
The Curse of Oak Island is a reality show, along the same lines as Gold Rush Alaska, that follows 2 brothers as they put every cent they have (and many more cents) into uncovering a treasure that may (or may not) be buried on a small island off the coast of Nova Scotia, Canada. Over the past 200 years 6 treasure hunters have died looking for what some say could be anything from regular old pirate treasure to The Ark of the Covenant. The lure of Nova Scotia's Oak Island has reached as far as Franklin D. Roosevelt who had the island searched to Errol Flynn who wanted to search the island but never did because the rights to search it already belong to someone else. John Wayne.
I believe I have armed you with what I think are some of the best and best kept secrets on television. You may now take on the weekend without fear of boredom. Without fear of wasting your time on a subpar television show. Without fear you won't have an excuse to ignore the laundry, cooking, kids and cleaning. So go forth and download.
Special thanks to Jamieson, my secret filled family, and the razzmatazz group of big footed clowns.
Have a good weekend!
[shareaholic app="share_buttons" id="5342563″]