I have something special to tell you all. I had, what was without a doubt, the happiest moment of my entire life yesterday. The kind of moment you don't think will happen but when it does you think, Yes. Thank you. I really do deserve this and I'm grateful for it.
I got a shipment of books from Amazon.
YESSSSSSSSS. Today I thought realizing I could probably get away without vacuuming for another day was the happiest moment of my life.
I'm kind of like a dog that way. BALL? BALL? THROW THE BALL. I LOVE PLAYING WITH THE BALL! Oop. TWIG??? TWIG??? THROW THE TWIG. I LOVE PLAYING WITH THE TWIG!
I really do get a tingly feeling in my toes when a big box full of books arrives. I'm not an order one or two books kind of person. I order them like pancakes. By the stack.
When last we met, several of you recommended a few books for me to read. In fact if you look at the comment section of the last "5 Books I've read, Plus 5 Books I'm Gonna Read" post you'll see there are hundreds of book recommendations from readers. I read all of those comments, cross referenced them with reviews from GoodReads and Amazon and put together an Amazon order. That was several months ago. I've since read my first shipment of books recommended by you and am now moving onto my second shipment.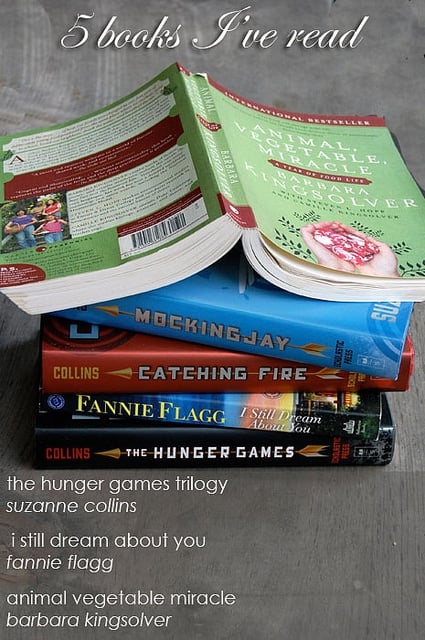 I'd been hearing about the Hunger Games triology for a longgg time. I wasn't sure I'd like it but the set was on sale so I bought it. I absolutely loved the first book. Could NOT put it down. Which of course is the sign of a good book. Or blankie. The second and third books were good and very readable, but were a little flat compared to the first. Still an excellent trilogy that you can read in NO time. Probably because they were written for 12 year old girls.
I Still Dream About You - Fannie Flagg
I keep going back to Fannie Flagg based on her phenomenal book Fried Green Tomatoes. So far nothing has equalled that novel, but a few have come close. This isn't one of them.
Animal, Vegetable, Miracle - Barbara Kingsolver
Award winning novelist Barbara Kingsolver is know for her works of fiction like The Poisonwood Bible and The Bean Tree but several years ago she wrote a work of non-fiction chronicling a period in her life when she uprooted herself and her family to move to a farm to live off the land. As in only eat what she could buy locally or grow/kill herself. Yep. If that sort of thing interests you, you'll love this book with all of your heart. If it doesn't ... it probably won't keep your attention.
I read other books as well, these are just a select few I thought I'd bring to your attention. The one book that came highly recommended by a lot of people was Extremely Loud and Incredibly Close. I have tried and tried and I cannot get through this book. I find the kid (from whose point of view the book is written) annoying, the writing extremely jarring, pretentious and forced.
Mind you, it took me about 6 tries to finally get through Lonesome Dove, which I hated every time I started to read it. The Pulitzer Prize winning western is now my favourite book of all time.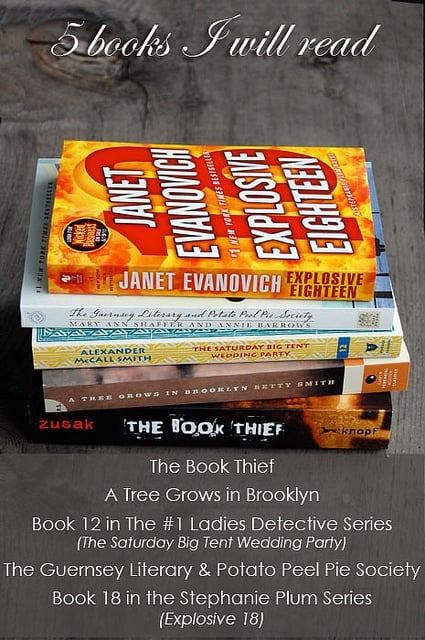 The Book Thief - I'll admit it. I have a thing about novels revolving around WWII. I don't know what it is, but I'm inexplicably attracted to them. Two of the best I've read ... Sarah's Key and Suite Francaise.
A Tree Grows in Brooklyn - Originally published in 1943, A Tree Grows in Brooklyn. An American Classic about a girl coming of age at the turn of the century. Of my stack, I'm most looking forward to reading this book. I have no idea if that means I'll read it first or last. I'm kind of known for delaying gratification for as long as possible. Ahem.
The Saturday Big Tent Wedding Party (Book 18 of The #1 Ladies Detective Series) - I love these books. I just LOVE them. The television series was even better, but alas it's been cancelled. If you're looking for a series of books that are funny, heartfelt and just make you feel good every time you read them, this is the series to go for.
The Guernsey Literary and Potato Peel Pie Society - I'd heard mixed reviews about this book that's written as a series of letters. So I checked the reviews on Amazon and if 1,638 readers gave it an average review of 4.5 out of 5 stars ... I think it's a safe bet I'll like it. Also takes place during WWII. Which I swear, I didn't know when I bought it.
Explosive 18 (Book 18 in the Stephanie Plum series) - These are great, no brain books. You can read them fast, they entertain you and there's always genuine laugh out loud moments. You're not tucking into it for the greatest story ever told, you're reading it for mindless entertainment, good writing and a guilty pleasure.
O.K. So let's have it. Let the next round of recommendations begin ...
→Follow me on Instagram where I often make a fool of myself←