Oops! Sorry about the double email. I'm working on it. In the meantime, here's a recap of how my Oscar night went to tide you over until I get things fixed up.
Blogging is work. It is a LOT of stinkin' work. Which is hard to convince people of when e ey call you in the middle of the afternoon, ask what you're doing and your answer is; Making a spider costume out of christmas ornaments and dollar store leggings.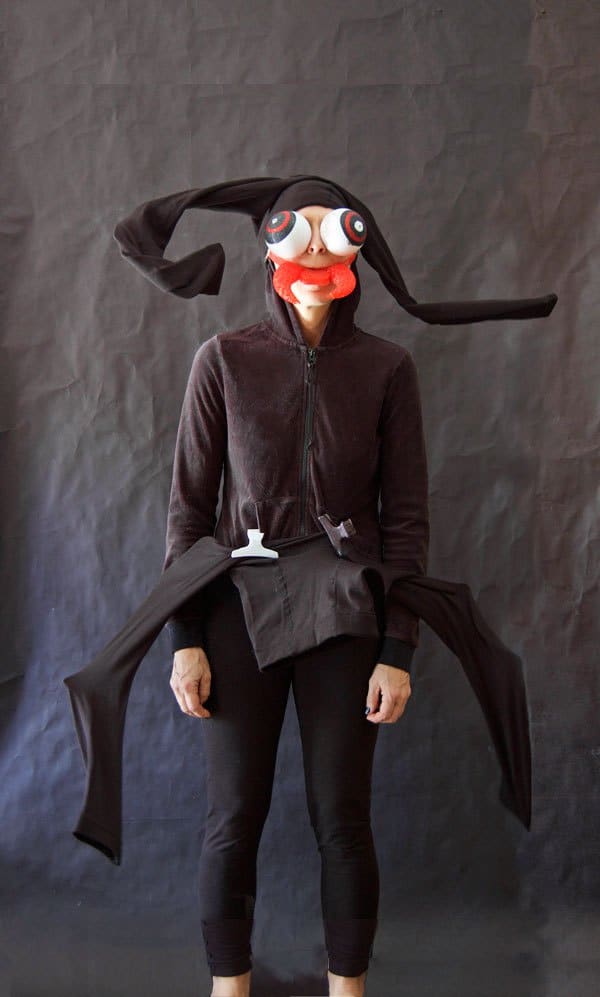 But even though a lot of time it's ridiculous work it is still work. As in, things have to get done so that you get paid. If you do not get those things done you will not get paid. It's true making a spider costume out of Christmas ornaments and leggings is fun, but it was still work. The day I did this I HAD to get this costume done, so I'd have a picture for my post. If I didn't have a picture for my post the post wouldn't have been as good, wouldn't have been read, wouldn't have been shared and I wouldn't have made as much money.
For me, and most bloggers, the true icky work in writing a blog is figuring out how to make money from it.
Anyone can start a blog. Literally anyone. And almost anyone can make a bit of money from a blog.
But to turn your blog into a business and make it your one and only job? That's harder.
So when it comes to making money from your blog you have to react fast, stay on top of trends and most importantly …
GET CREATIVE
Making money from a blog doesn't always mean finding people to pay you. Sometimes it means going further back than that and analyzing how it is you make money.
Most bloggers make money from ads on their site. We make a couple of dollars for every 1,000 people that see that ad.
Based on what readers will accept, most ad agencies recommend placing no more than 3 large ads on your site.
So if you can't add more ads how do you make more money?
Get more people reading your blog and therefore seeing those ads.
If you can double your readership you can double your income.
These are my 5 favourite apps and plugins for attracting more readers to my site which results in more money. For me.
#1. SumoMe
For my first 5 years of blogging I absolutely REFUSED to put a "Subscribe To My Site!" pop up on my blog. I thought they were annoying and spammy and would make people stop reading my blog. My readership would go down, people would scream, and it would all end with me covered in scabs and living in an organic waste bin. Or even more frightening, working in an office tower again.
Then one day, on the advice of a super-power blogger friend, I cracked.
I installed Sumome and added a pop up to my site.
If you're new to my site this pops up on my page. You can click to close it or subscribe. It only shows it to you once every 2 weeks. You can actually program how often and where you want the pop up shown so it's totally customizable.
This is what happened after I cracked, went against everything I knew to be true in my world and installed Sumome.
Yeah. . So needless to say I now love my subscriber pop up, love SumoMe and I'm disgusted with myself for not doing it sooner. I loved it so much I told every blogger I knew who would listen about how great it was. I'm now a PARTNER with SumoMe. I am NOT living in a organic waste bin.
If you're bad at reading graphs, what this means is:
In an entire year when I wasn't using SumoMe my blog gained a total of 2,169 subscribers.
In an entire year where I was using SumoMe my blog gained a total of 14,213 subscribers.
That's a 550% increase in subscriptions by using SumoMe.
A year and a half ago I was at around 8,000 subscribers. I'm now at 26,000 subscribers. I can count on another 1,200 by the end of next month. And another 1,400 at the end of the next month and so on and so on and so on. It's like compound interest but for blog subscribers. The more you have the more you get.
And SumoMe is free. If you're serious about building your readership, get it. There isn't a single app or plugin I recommend more than SumoMe.
Pop ups asking people to subscribe isn't spammy. It's good business sense.
Lesson here? A blogger I really trust pushed me to get a pop up (specifically SumoMe) so I finally did and it changed my blogging world. So I'm doing the same thing for you. Get it. Seriously. I'm not screwing around here.
#2 Crowdfire
Crowdfire is another app that a blogger told me about. This time it was Lynne Knowlton from Design the Life You Want to Live. Crowdfire is a cute little app that helps you build your Twitter and Instagram followers. A LOT.
I have to make an ammendment because Crowdfire used to be free but now they charge for it. And it's not cheap. The app runs $10 a month to use (American) or $13 a month (Canadian). BUT, if you put your mind to it Crowdfire will increase your followers by a LOT. At least 1,000 a week for each account.
What you do is go into the app and then starting building your followers. You do this using their tools. Crowdfire lets you copy followers of other blogs similar to yours or their readers or popular hashtags. So I for instance went into the followers of Apartment Therapy and followed hundreds of their followers. Then, some of them followed me back. They're my target audience and I am their type of blog. The next day anyone who hasn't followed you back, you can unfollow. (That's the genius of Crowdfire … they keep track of those things). I plan to use it for a few months to build up 2 audiences that I've neglected horribly, Twitter and Instagram. If it works out well (and it already has, I've doubled my followers in both social feeds in one month) then I'll continue to invest the $13 a month.
This is such a simple thing that a lot of people aren't using on their blogs. AdRotate is a plugin that lets you run your own small, self served ads in your sidebar. I use it to run all of my small square ads for Etsy shops and small businesses that advertise on my site every month. These AREN'T the Google ads. They're the little ones that you see mentioned every month in my sponsor post.
So AdRotate isn't getting you more readers, but it makes putting money making ads up on your site really easy.
AdRotate keeps everything organized, makes it really easy to set up a bunch of ads in your sidebar, add the photos, add the links and set when the ads will run.
Most importantly what AdRotate does is it rotates your ads! So every time you look at the ads in the sidebar they'll be in a different order. Sometimes an ad will be on the top row, sometimes an ad will be on the bottom. This gives all of the ads an equal playing field because they're always rotating around.
AdRotate is free.
Evergreen Post Tweeter is a plugin that randomly selects old blog posts and Tweets them out at regular intervals. You can set how many new posts you want tweeted in a day (I have 3 I think) and what you'd like the Tweet to say. You can choose to not include certain old posts (ones that are season specific or based on holidays for example). LOVE this. As I mentioned a bit earlier kind of neglect Twitter, but this app keeps me alive and well in Twitter without having to actually be there.
You set the plugin once to behave how you want and you never have to look at it or deal with it again.
It's free. 🙂
5. Hootsuite
Hootsuite is how I schedule when all of my posts will be posted to social media. Once I write a post, I go into Hootsuite and schedule everything. I schedule when I want the post Tweeted, put onto Facebook and set up reminders to Instagram.
I thought it was a HUGE pain when I first started using it because it's yet another step to add to my daily blogging routine, but in the end it saves all kinds of hassle! I never have to worry about forgetting to post my blogs to Facebook or anything else because I have them all prescheduled. Not forgetting to post means not losing out on readers.
That's why my posts always appear on Facebook at exactly midnight! I have it scheduled to appear the very second I publish my posts (which are also scheduled through WordPress).
Hootsuite is free.
Most of these apps and plugins I've talked about are free (with the exception of Crowdfire now) but all of them have more advanced versions you can upgrade to. The only one I've upgraded to a pay per use version is SumoMe, and I did that a few months ago because that version allows me to do some really helpful A/B tests with my pop up. I can compare which designs, colours and what wording gets the most clicks. A/B testing is the kind of thing I think is ridiculously fun. But I used the free version for a year before I upgraded.
This post ended up being way longer than I meant it to be but I get passionate when I start talking about blogging. And money. And pop ups.
And how I used to be really stupid.