I know. You're wrapping a shower, wedding or birthday gift and you want your present to be the most unique, prettiest present on the table. But you don't want to spend 700 hours twisting ribbon around your knuckles to make a bow. Enter the 10 minute floral bouquet bow!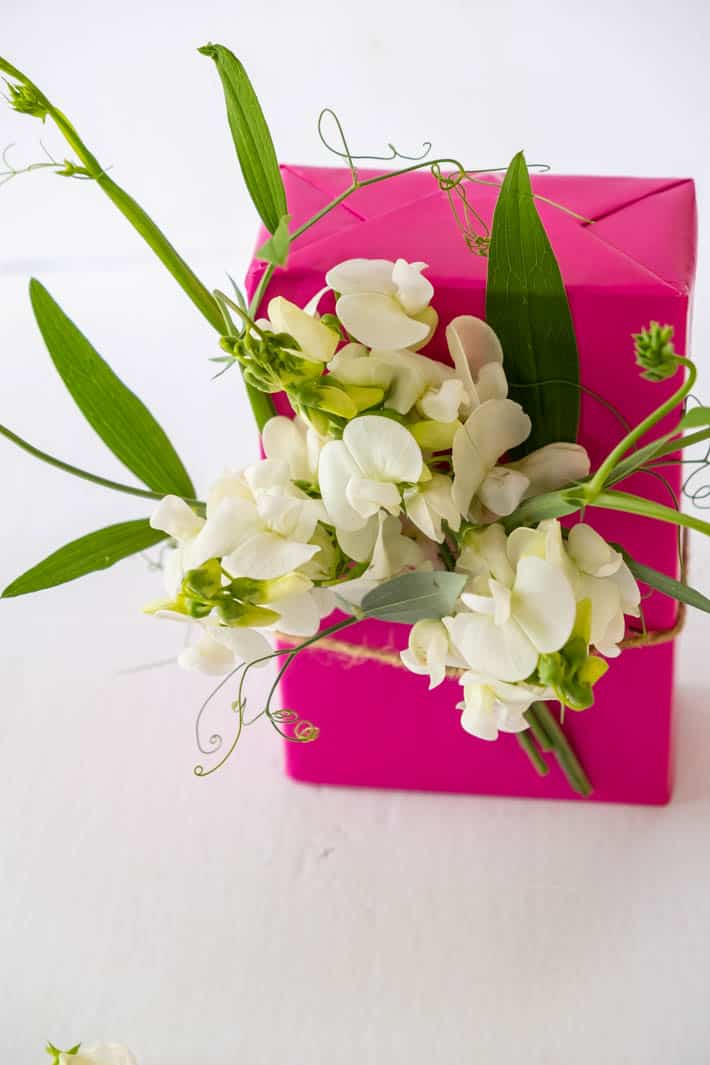 It's a rare project in life that is simple, easy, inexpensive AND impressive. I mean, you can hit two or three of those things every ONCE in a while, but all 4?? That's as rare as an unmodified Real Housewife. None of whom are simple, easy, inexpensive or impressive by the way.
But this project, I promise, is all four of those things.
I should like for you to prepare yourself for the adulation, cheers and mass fainting that will result after gifting someone with a floral bouquet bow.
All you need is ribbon or twine, a few flowers and a flower vial.
These are vials that I've hoarded over the years and I realize it sounds odd but I think everyone should have a stash of floral vials for floral vial emergencies. I use them all the time for different things. Stuff like these floral bows, for keeping my Monarch milkweed alive and .... O.K. well that's all I can think of at the moment but I'm pretty sure I use them for more than that.
You should be able to buy a few from your local florist, or they might just give you a couple. If you can't manage that you can buy them in different sizes from Amazon.
O.K., let's kick off our shoes and get to this.
Let's start with the easiest version of a floral bow.
All of these flowers are from this year's cutting garden. I buy most of my flower seeds from Floret Flower and William Dam seeds. You can see all the varieties I grow and how they look as casual arrangements that anyone can do here.
1. Small Bouquet tied with a bow.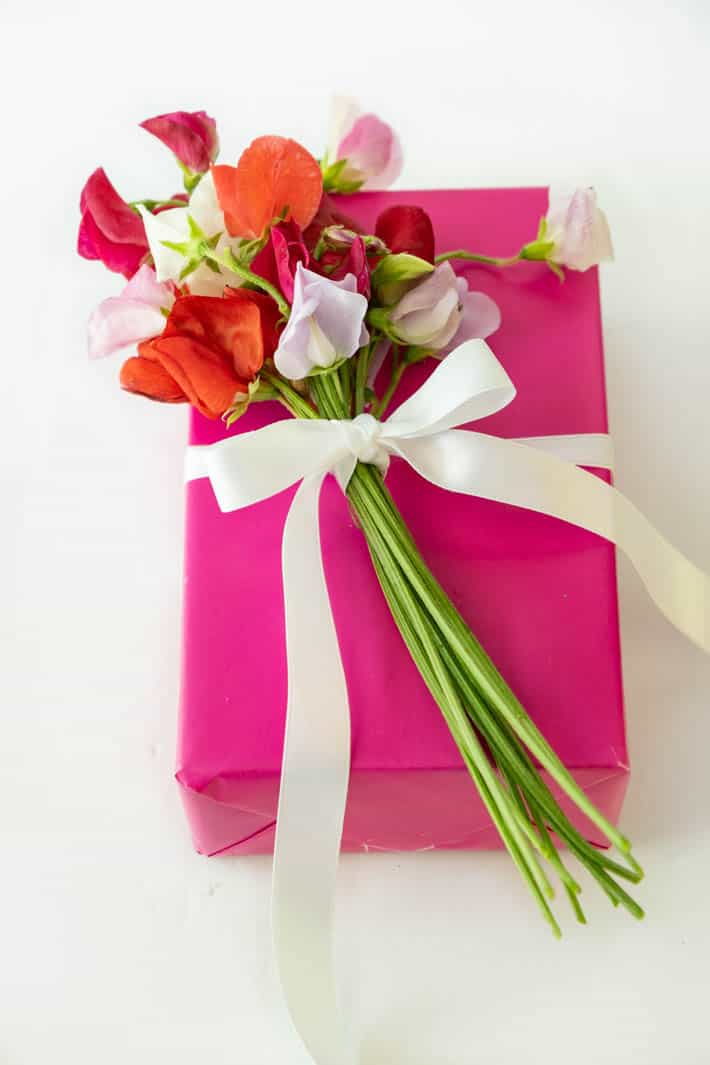 Just tie a ribbon around the flowers and then around the wrapped gift. That's it. No floral vial, no nothing. Because there is going to come a time when you need to wrap a present but you don't have a floral vial. Some flowers will do just fine making it from your house to the event without wilting to the point that they look pathetic. Others? Not so much.
Flowers to avoid if you don't have a floral vial:
Queen Anne's Lace, Chocolate Lace Flower, Lily of the Valley, Hydrangea, woody stemmed flowers (like Lilac).
Any flower that's lacy or airy with thin stems doesn't do well at holding water on their own. So they wilt very quickly.
---
In This Floral Bow
Spencer, giant mixed old fashioned Sweet Peas.
---

2. Just a few flowers.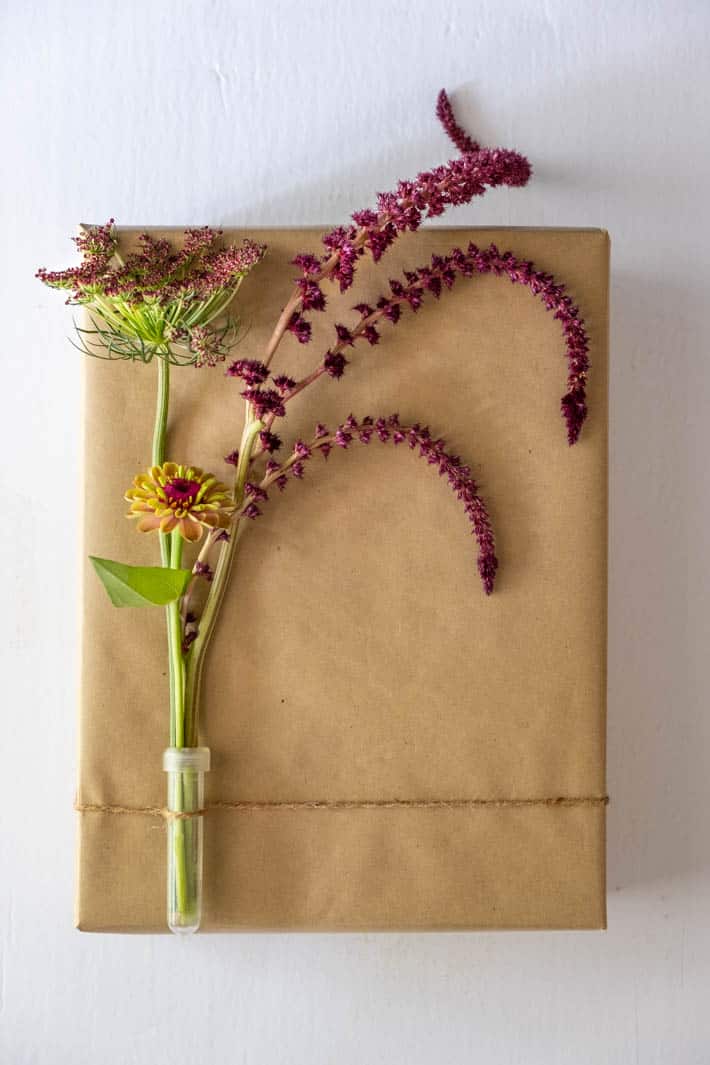 Think you need a whole fistful of flowers to make it look good? Not necessarily. Although I will admit on this particular occasion that this present and minimal flowers looks much better in real life than it photographed. Kind of like you. And me. And everyone in the world who doesn't have a lighting director with them every time they get their picture taken.
If you only have a couple of flowers just make sure there's something that ties them together in terms of colour or shape. If your flowers are unique you can get away with just a couple of them.
To Wrap or Not to Wrap - the naked vial question.
Whether or not you wrap your vial with twine or ribbon is up to you. Depending on the wrapping, I don't mind if the vial shows. Like on this present that's minimal and earthy.
---
In This Floral Bow
Chocolate Lace Flower, Queen Red Lime Zinnia, Opopeo Amaranth
---
3. Small bouquet with greenery.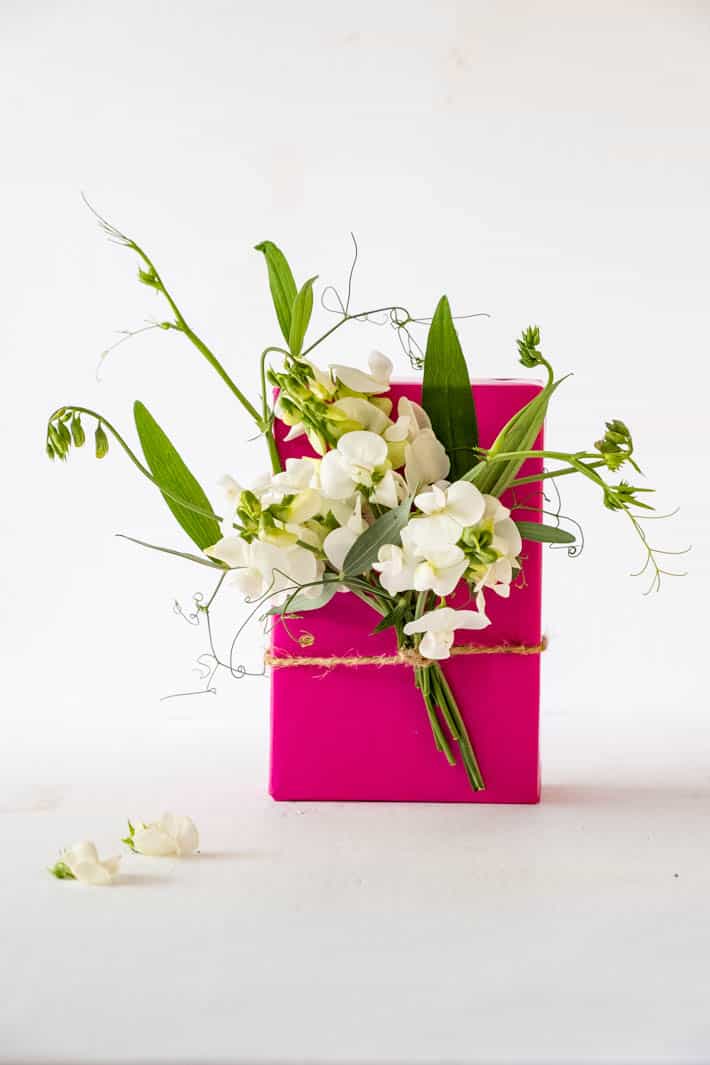 Just a little bundle of flowers is fine, but with any floral arrangement, even a floral bow, the greenery is what makes it.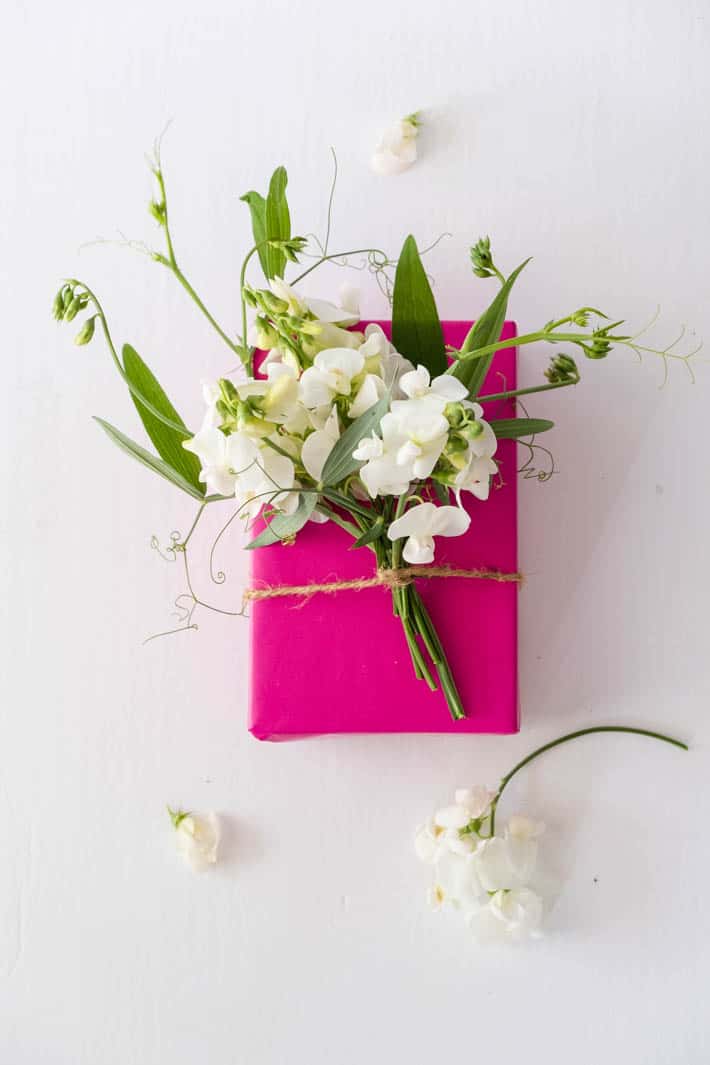 What to use for greenery:
Leaves from whatever flower you're using make the best greenery, but if that isn't an option then these common garden leaves work great.
Hosta
Peony
Geranium
Coral Bells
Raspberry canes
Herbs (parsley, oregano, dill)
Ivy
Dusty Miller
Fern
Lily of the Valley (just the leaves)
Sweet Pea tendrils
---
In This Floral Bow
Perennial Sweet Peas, Sweet Pea tendrils
---
4. Flat Against the Box
By punching a hole into the box you're using, and then again through the wrapping you can stick your floral vial down into the contents which lets you do an floral "bow" that lays completely flat on the box with no sign of the vial at ALL.
Just use a pencil to punch a hole into the box and then push your vial into that small hole. The round vial will push through making the exact right sized hole.
Wrap your present up and feeling for the hole underneath the paper, punch another hole through the wrapping paper, and stick your vial in.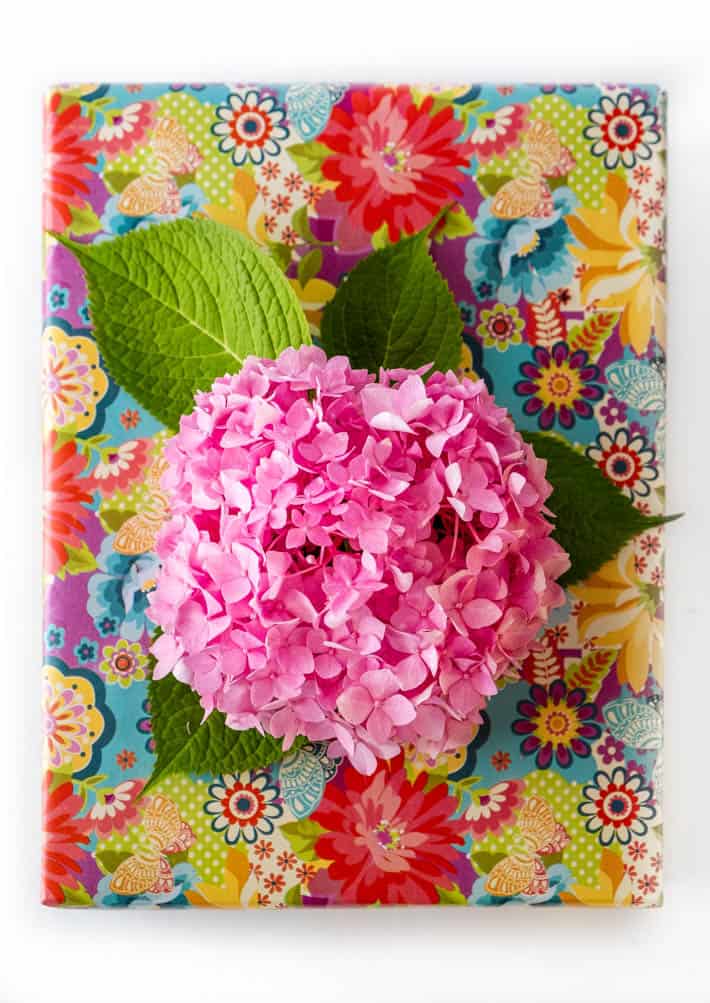 Keep it simple, or add a few extra sprigs. Dealer's choice.
---
In This Floral Bow
Hydrangea, Perennial Sweet Pea, Opopeo Amaranth, English Lavender
---
4. Going All Out.
With 2 floral vials, and a few more flowers you can go all out.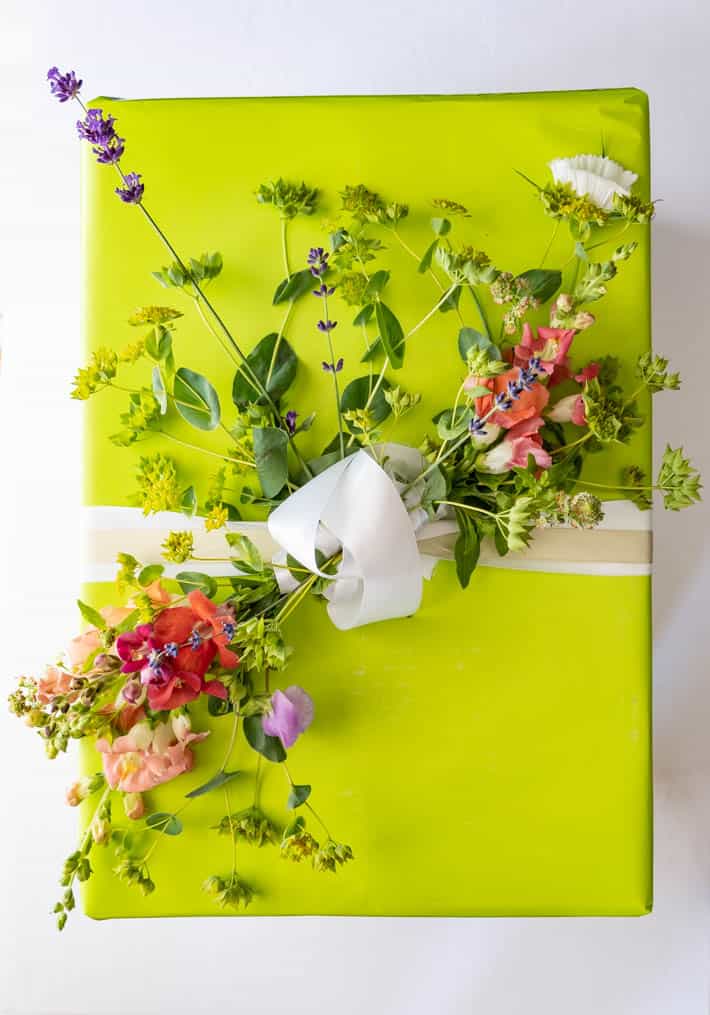 This isn't the kind of present you want the vial showing, so make sure they're hidden with ribbon.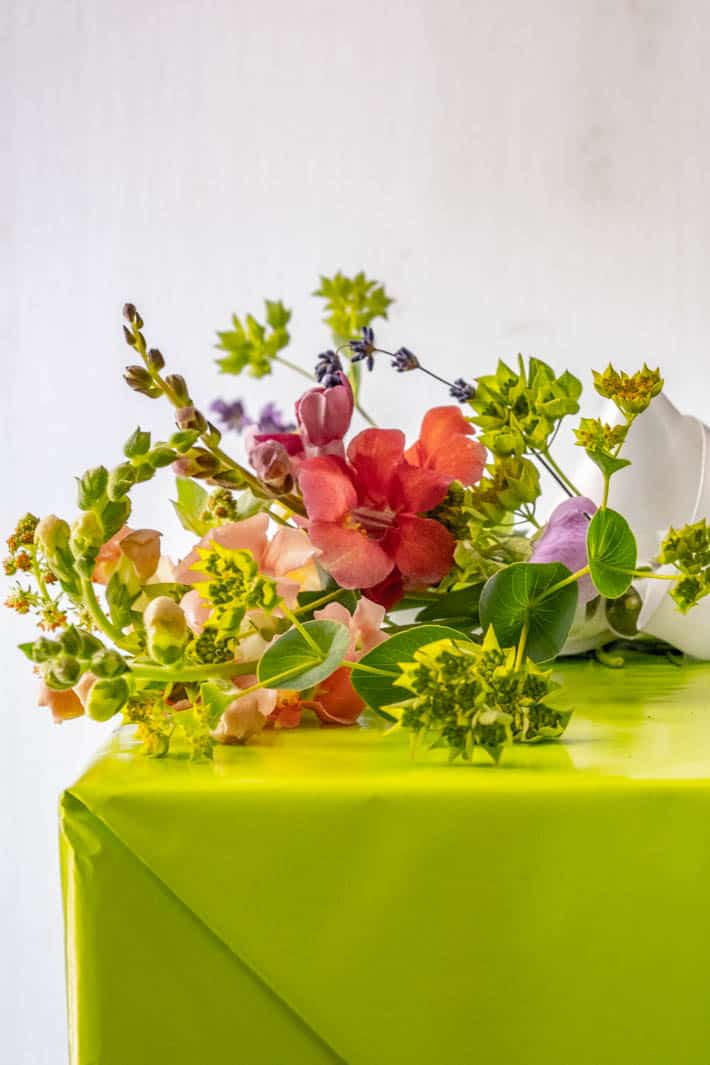 Before you lay the vials down on the paper double check to make sure they aren't leaking. Old vials can get tears in the rubber that make them leak and stuffing too many stems into the vials can make them leak as well.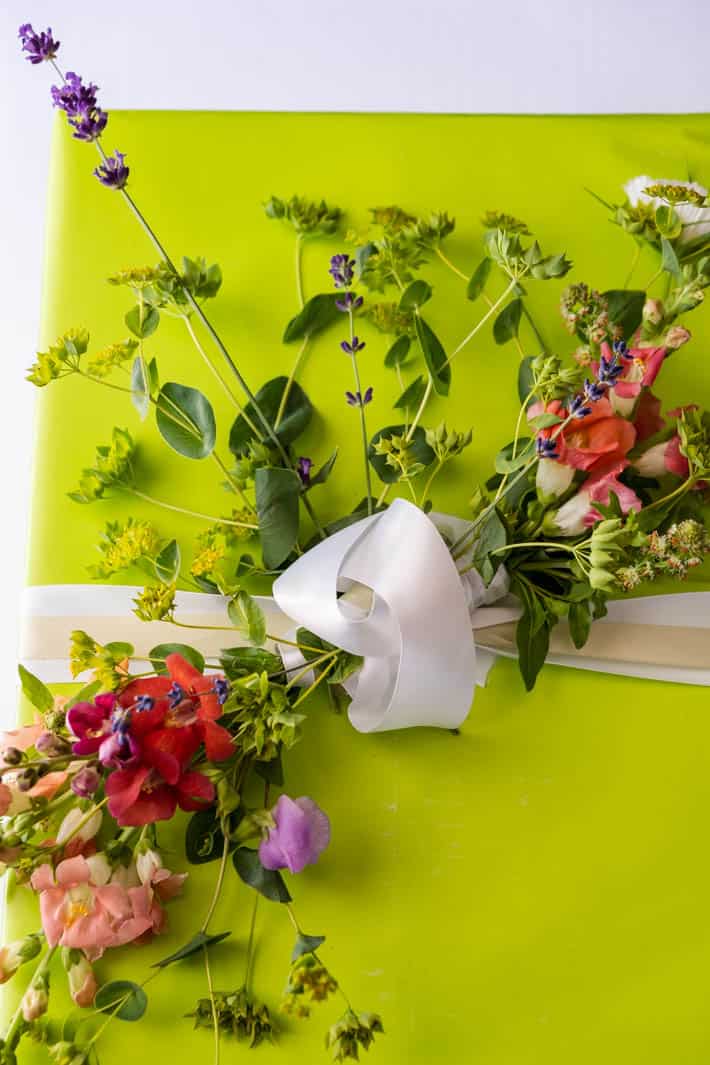 ---
In This Floral Bow
Spencer Giant Mix Sweet Peas, Chantilly Lace Snapdragons, Bupleurum, English Lavender, Cupcake Blush Cosmos, Mignonette.
---
Happy wrapping and don't forget to get the smelling salts handy.