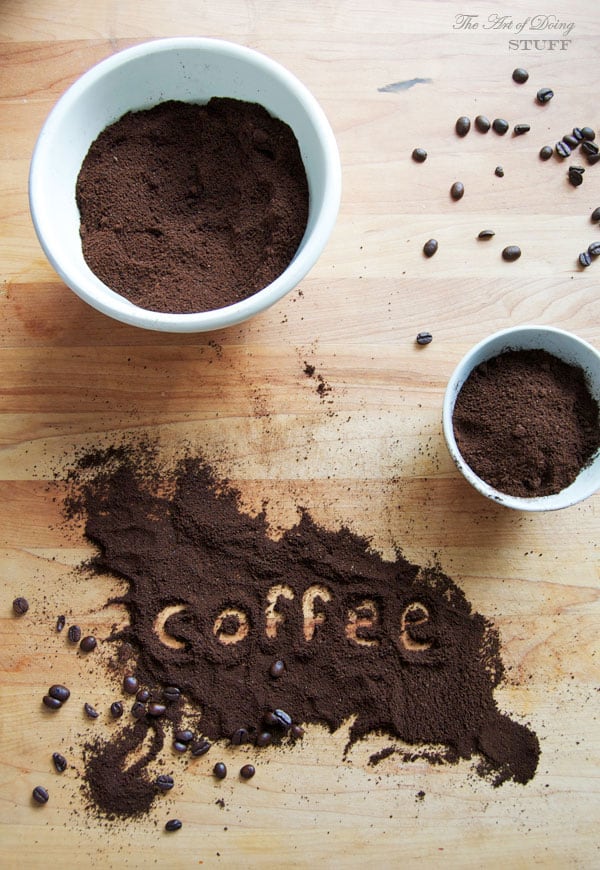 Coffee is one of the simple pleasures in life. I love it so much I don't even know how to explain it without making myself sound like someone you'd warn your children about. I will talk about coffee, drink coffee, go to bed early just so I can wake up and drink coffee.
Sometimes I even have a little shot of coffee before I go to bed to tide me over before I can have more coffee. I am suspicious of people who do not love coffee as much as I do. I'm REALLY suspicious of tea drinkers. Why stop at tea? Why not be one of those weirdos who drinks hot water with lemon?
So it comes as no surprise that this house produces a lot of coffee grounds. I usually throw them in the compost bin, occasionally I actually (gasp) throw them in the garbage like a regular person and other times I just roll around in them. A few months ago I realized people react weirdly if you smell of pure coffee so I thought I'd try to figure out a few other things I could do with my spent grounds.
From me to you .... 5 uses for coffee grounds.
1. Make a pincushion! (I'm getting the stupid/weird/least useful tip out of the way first)
Apparently dried, used coffee grounds make the perfect pincushion filling because they prevent the pins from getting rusty. I've never had a problem with rusty pins, but if you have then I've just saved the day for you. And that is why I chose to include this weird little tip.
2. Use it in the fridge to absorb smells instead of using baking soda.
This really and truly works. I've tried it and was amazed. Just fill a bowl with old coffee grounds and set it in the refrigerator like you would a box or bowl of baking soda. The other added bonus is when need baking soda it'll be in the cupboard not sitting in the fridge absorbing 2 years worth of smells. This in turn means you won't have to stare at the smell filled bowl of baking soda and contemplate whether you could get away with using it in your cookies.
3. Turn pink hydrangeas blue.
Boost the blue in your hydrangeas by amending the soil with coffee grounds. A lot of sites throw this tip around. What they don't tell you is you need to add a LOT of coffee grounds to turn the soil acidic enough to grow blue hydrangeas. So if that's what you want, every time you make coffee, put your grounds on the hydrangea. Crushed egg shells will help too. But if you really want to change the colour of your hydrangeas use aluminum sulphate like I show you here.
4. Clean your pots and pans.
Out of abrasive scrubbing pads? Coffee grounds in the pan will scrub off most messes.
5. Exfoliate your skin.
This is easily my favourite coffee grounds use and I use it all the time. Mix up some coffee grounds with olive oil until it's like a paste. Keep it near the sink to clean up after gardening, painting or anything else that gets your hands a mess. It's also reportedly a great face mask. I've never tried it but I don't doubt it for a second. The coffee grounds exfoliate your skin while the olive oil leaves your hands feeling soft and moisturized. I've always thought salt scrubs were pointless because salt extracts moisture which is the exact opposite of what you want to do for your skin. Coffee grounds also have the added bonus of making your hands smell like coffee.
But not your whole body. That's just weird. Apparently.