When I was in University I wanted to be a lawyer. I'm not really sure why, other than I thought I'd like to dress like a lawyer, and I was pretty sure lawyers drove Jaguars. As it turns out I was right. Lawyers drive Jaguars, doctors drive golf balls and sociology graduates drive their parent's crazy until they finally move out at the age of 30.
I ended up being a sociology graduate. It wasn't quite 30 when I moved out but it wasn't far off from that. And for a long time I drove a Chevy Citation. I hated that car. I didn't become a lawyer obviously; I somehow ended up as a television host and writer. Well, not somehow, it was pretty planned out actually, I just can't be bothered to get into it right now but if you're interested you can read my About Page.
One of the fun things about television is the variety of people you meet and work with. Prop stylists, set builders, directors, celebrities, graphic designers, sound engineers, librarians, accountants, food stylists … there's a HUGE variety of different types of people in the world of television.
One of the people I met when I was a television host was Harrison Ford.
That fact has no relevance to this post at all. I just wanted to casually mention I've spoken with Harrison Ford. At length. And I made him laugh. And I gave him a Tragically Hip C.D. And I kept winking at him. And then he left the room.
Another person I met was a makeup artist and hair stylist named Andrea. Andrea also did on-air work and worked with me on the makeover show Stylin' Gypsies.
Andrea is the one with the red hair laying in the grass in the opening of the show being very, very mean to me.
The show ended after a few seasons and after a few years I was working at HGTV and Andrea was working in Singapore. She went and got hitched to a big shot … wait for it … lawyer; who worked in Singapore. But we stayed friends through the magic of social media and Skype. She visits whenever she comes back to Canada and every once in a while, when I'm least expecting it … Andrea sends me a box of ridiculous stuff from Singapore.
My latest care package was filled with so many things I had no idea even existed it would have been rude of me not to share. Because unless you live in Singapore and have an eye for weird things, you probably don't know these things exist either. And to be clear, I mean both culturally strange and just plain weird. Which when combined spells F.U.N.
Here we go.
Granted, burgundy earmuffs with a bow on top might not seem all that weird, but when they're sold in a country that has an average temperature of 31º C (88º F) and has never, EVER recorded a temperature below 19º C (66º F) … well then it's a bit weird.
I pulled out the first bag o'stuff. It ended up being the "food bag". In past boxes, this food bag has had things like Ginseng beard. Yeah, I still don't know what that is.
Coconut jam seems much more civilized than any food product made out of beard. Coconut jam is delicious. In case you were wondering.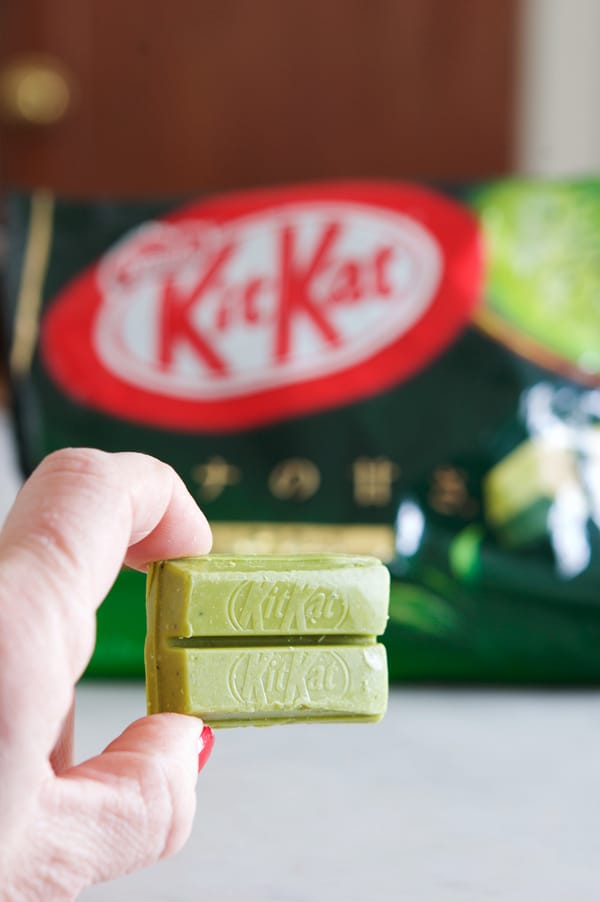 Green tea KitKats seem like something I would love but I once made myself sick eating an entire pint of Green Tea ice cream and that flavour has made my stomach do nausea waves ever since.
Some flavour packets that I can't really read or understand other than the one on the left from Blue Elephant which is actually in English. I went to the Blue Elephant cooking school when I was in Thailand a couple of years ago and it was a really great school. I'm staring to worry Andrea is sending me things I actually need and want as opposed to ridiculous things I can make fun of.
I devoted an entire post to people's favourite cookies and the calories in them once. Oreos were very popular and came in at 53 calories each. The Singaporean version is the Double Delight, chocolate and peanut butter Oreo which doesn't seem to have calories listed on the package. So we all know what that means. It means people in Singapore aren't forced to feel food guilt and yet are somehow all still a size 0.
MINIONS BANANA TICTACS, MINIONS BANANA TICTACS.
The food bag was pretty tame so I'm not at all worried about what might fall out of bag two, which turns out to be the facial care/make up bag. (Andrea being a makeup artist and all)

And there it was. Snail Mucus. For the woman who doesn't buy into that whole moisturizing with whale snot trend.
Face lift tape, which is just clear tape that's so sticky you could use it as a trailer hitch.
No more sagging look. AND minimum of discomfort can be feel as the tape adhere well with the skin.
You just tape your face back, blot on some makeup and out the door you go, doing your best to pretend no one can see the scotch tape pulling one side of mouth at an odd angle like you've had a stroke.
Lipstick is so North American and stupid.
Violent Lips are the way to go. Printed lip stickers. For those times you don't plan to eat, kiss, talk or maintain any illusion of sanity.
NO idea what this is supposed to do. At all. Not a clue. It's a Kiss Kiss lip shaped sack of mushy goo.
These are those foot patches you put on the bottom of your foot and then remove. The chemicals in your feet react to the paper and turn it a disgusting black colour making you think they removed a bunch of ick from your body.
More lip stuff I again have no idea what to do with. It's Choosy Milk for your lips. Unless, (which is entirely possible) it's actually CHOCOLATE milk for your lips. (I just checked … According to Amazon it's for plumping up either your lips or your nipples) You know. Whichever you feel needs a bit of a boost.
Little lego kit with a girl sitting under a palm tree reading a book and having a drink. Cute, right?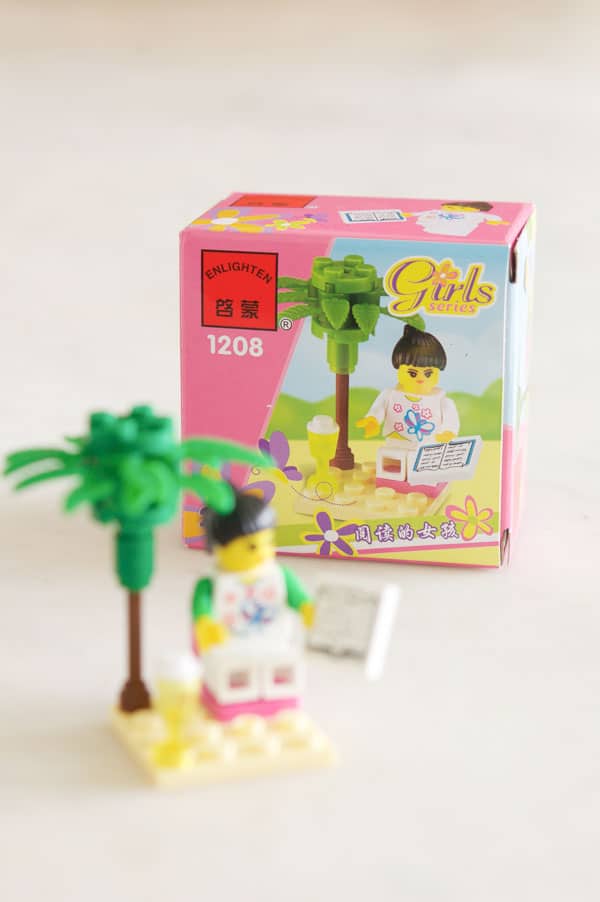 It's the enlightened Girl Series of fake lego. For girls. Because that's what girls can aspire to. Sitting under a palm tree, getting wasted and reading a book.
Sounds good.
Character face mask. So a face mask that's also a face mask. I also got, … the Kiss Face Mask. You will never have to choose between your moisturizing routine and the office Halloween party again.
I should totally wear more black lipstick.
And don't forget! Have you tried a new food or meal this week? Anything? O.K., don't forget to try something new this weekend. The photos of the new things people have tried to make since reading my Blue Apron post have already started to come in INCLUDING a reader who made a vegan hotdog. FROM SCRATCH.
Email your photos by Sunday night to karen@theartofdoingstuff.com .
Have a good weekend!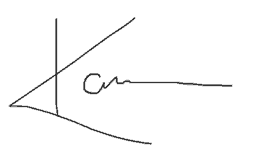 (and Ernie)