We've all seen this. We stare into our bin of potatoes and there they are … staring back at us. Those creepy long eyes.

Potatoes that have sprouted eyes are fine to eat as long as they're still relatively firm. They aren't poisonous or anything and won't make you sick. Unless you find their appearance so terrifying you get nauseous and vomit.
I know a little bit about this because my mother, the caring, nurturing being that she is, used to break the eyes off of potatoes and chase me around the house screaming that were some rare and poisonous insect.
For a further look into how this affected me, please enjoy this post on my superior fear of centipedes.

In fact, it's those eyes that eventually grow another potato plant. I did a post a couple of years ago about how to grow potatoes, and it involves cutting potatoes into chunks (that each have at least 2 eyes) and planting them. I usually do this with seed potatoes (which are just potatoes that are guaranteed to be without disease or pesticides) but this year I have so many potatoes left over from the ones I grew (disease free) last year that I'm going to plant these.
When I took a peek into my bin of eye growing potatoes I came across something pretty remarkable.
A seed potato that had not only grown eyes … but potatoes too.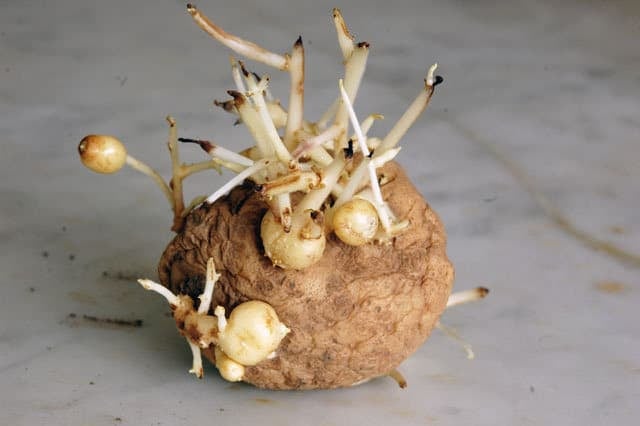 May 1st is the day potatoes git buried in the dirt round these parts (I like to occasionally speak like an old farmer because it makes me feel more rural) but I still haven't even cleaned up my yard yet. It's still too cold. And now rainy. And cold.
So for now I just sit and stare at my potatoes, eyes in hand, scanning the street for unsuspecting children.