I told you a long time ago that if you gave me money I would give you porn.
And then I didn't give you porn because I already had your money.
I need more money.
So I have your porn. It's a picture of me in bed.
But you must promise, that if you look at it you will do the right thing and donate money to my cause. My cause by the way, is me. Yes I have advertising. No it doesn't pay very much. And it won't until I get more readers. Which no doubt will happen. Probably right around the time I show my porn.
Are you ready? This is all very embarrassing for me, but a promise is a promise and a gal's gotta make money somehow. There's a huge, old historic home in town that I often say I'd happily prostitute myself for, so this bedroom shot really isn't such a big deal.
(scroll down)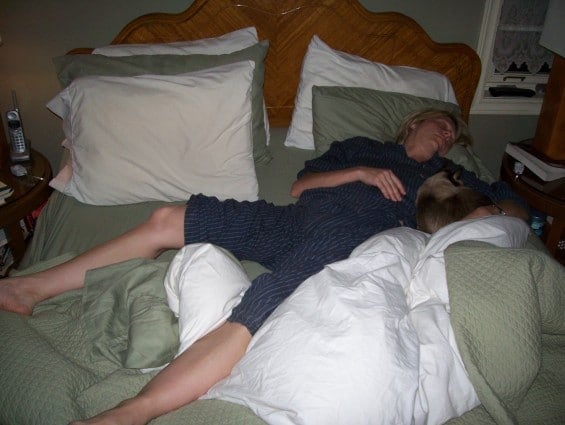 There you have it. As promised. Your porn. Me in bed.
Now pay up.
Think of me like a busker. Through my posts, have I entertained you? Have I made you laugh? Have I taught you something? If so, throw a few dollars in the hat by clicking the button below.
Now, for those of you who'd like to donate more than a few dollars …
For any donations over $100 I will proudly wear a tee shirt with your company logo on it (which you will provide) in either one of my video or photo tutorial posts.
For any donation over $50 I will send a "shout out" for you in one of my Friday posts. Want me to say Happy Birthday to someone from you? I'll do it in a very public way in a Friday post. Want me to break up with someone for you? I'll do it in a Friday post. Whatever your "shout out" needs, we'll work something out.
All other donations, get a sincere thank you email. And I truly do sincerely thank you. Without your donations, without your reading this site, without your hilarious comments, I couldn't create The Art of Doing Stuff. I sometimes think the comments are the only part of my posts my mother reads. (I happen to think I have the best commenters ever)
Have a great weekend everyone! And if you can't donate, don't worry. I won't hold it against you. Although if you don't, I may be forced to post more porn. And I'm pretty sure neither one of us wants that.
(new readers: I've only done this begging thing once before, it's not like it's a regular occurrence so don't worry)