Book, vase, bowl, painting. Book, vase, bowl, painting. Book vasebowsle,painitgn,… UCHHHHH. I am so SICK of accessorizing with the exact same things over and over again I could throw up.
At least I read the books. You can never have enough books.
And if I see one more white painted woodland animal (deer, bird, owl) I might kill someone. Yes. I have two of them on my bookshelf right now. That's beside the point.
My sister and I have this discussion all the time (when we're not talking about how most things look better when they have sparkles on them). We say, Is there NOTHING else to put on a coffee table or bookshelf than a book or a vase??? And then we continue talking about sparkles.
I know there are other things to accessorize with, but it seems everyone resorts to the same things because they're easy, they look good and you can find them in any store. And sometimes your basement. Or a really boring dream.
So when I bought this hunk of rope at Christie's Antique Show and Sale earlier this summer, I knew exactly what I was going to do with it.
I was going to copy the now famous David Stark rope bowl.
After sitting dormant in the corner for several months I finally got around to doing it. And then I didn't want to. I was fully prepared to coil the rope into yet another bowl for display when something FANTASTIC happened. I had a horrible accident.
After gathering up my glue gun and everything else I needed to make the bowl, I plunked the mess of rope onto my coffee table. In the process I spilt over a can of Diet Coke. When I ran back into the living room with some paper towels I stopped dead in my tracks.
My hunk ole' rope looked great. Just sitting there like a big ole hunk of rope. It actually had rays of sunshine coming out of it.
I wiped up the Diet Coke and commenced marching my scribble of rope all around the house.
I can tell you right now, there isn't a single, solitary place a balled up bundle of rope doesn't look good. And the best part about it? It isn't a book, a vase, a bowl or a painting. It's none of those things.
It's a scribble of rope.
Pretty much anything you place on a glass block looks good.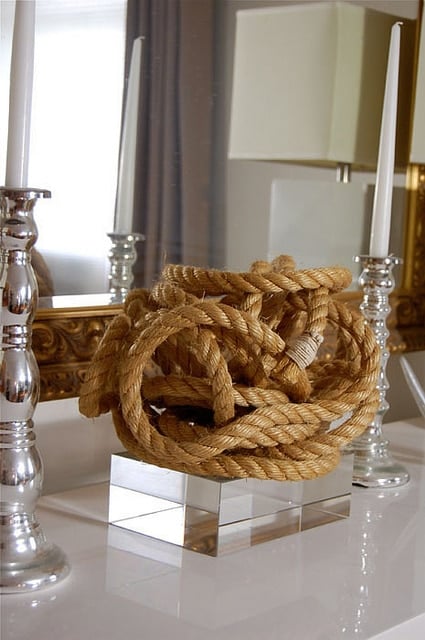 What I love so much about the rope is it's unexpected.
My boyfriend doesn't "get it". He just sees rope.
I see art. And rustic charm. And not a vase.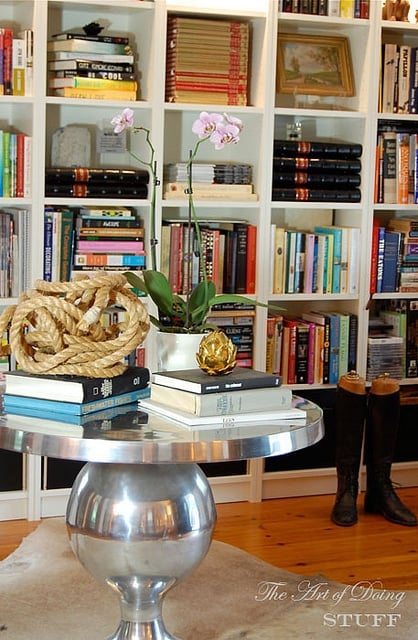 Instructions to obtain scribble of rope look
Take rope, mash it up into a ball.
Display.
You can buy old coils of thick rope like this at flea markets. Newer stuff this size is harder to find but if it were me, I'd go looking for it in ship/sailing stores. Feed stores might carry something like it as well.
For a total cost of $12 you really can't go wrong. Plus … if you don't like it or happen to get sick of it. You've always got some rope. You can never have enough rope.