I think I made a pretty good point the other day about how, even if we know better, we can make absolute pigs of ourselves over the holidays. Yeah sure, we hear the advice "Don't overindulge. Don't wake up in the middle of the night and eat a ham sandwich. Drink 14 glasses of water before you go out so you'll be peeing all night instead of eating appetizers."
The problem with all of this advice is the only reason I go OUT is so I can eat every appetizer in sight. It certainly isn't for conversation. I can have a perfectly good conversation at home, with myself while wearing a cat on my stomach.
The point is, I, and I suspect most of you, ate like crap over the holidays and now we feel gross. It's a lot of heavy, chocolaty, creamy, fat filled food turning into big globs of goo travelling through your body until it finds a nice place to stop and set up house. Usually your thighs or ass.  Which still sounds delicious to me.
However, it also makes me feel sick just thinking about it. So to get that spring back in your step I'm going to show you how to grow pea shoots.
Pea shoots are the MOST delicious little tendrils you'll ever try. And the greatest thing about them is they taste exactly like raw peas. So if you're like me and have never actually eaten a cooked pea because they never make it to a pot, pea shoots are going to be your new favourite thing.
Pea shoots grow in a couple of weeks. All you need is a sunny windowsill.
(my windowsill is only kind of sunny and it still works great)
Don't worry about getting official pea seeds.  Just buy a box of dried "marrow peas" in the grocery store.
I bet you didn't know they even existed. They do. You'll find them in the canned vegetable aisle.
It's way cheaper and easier to buy them this way.
You can start pinching off the shoots once they get about this size.
Don't pull them out, pinch them off, because they'll grow another shoot from the same root.
To plant them just put them in whatever soil you have around (compost, potting soil, whatever).
Just push them into the soil until they're about the same depth as the seed itself.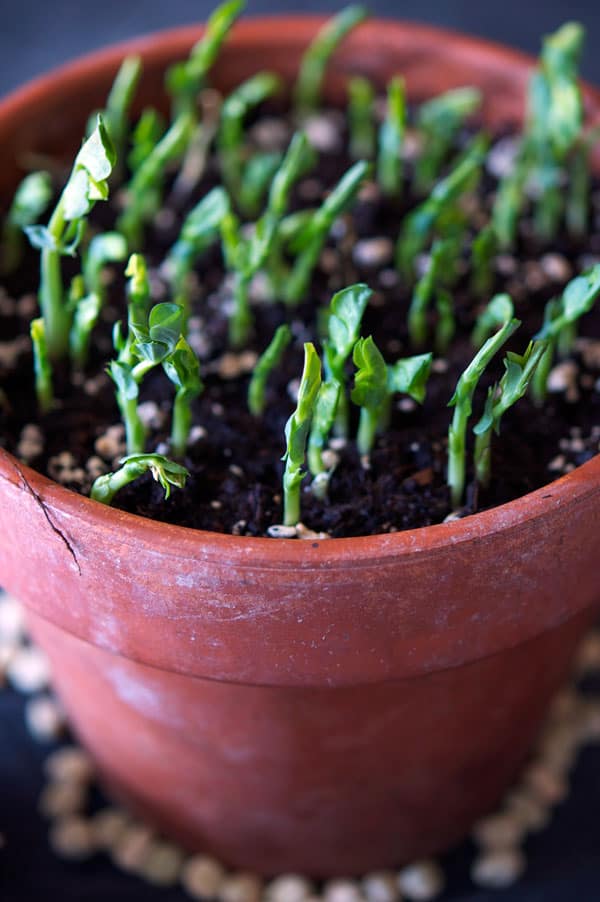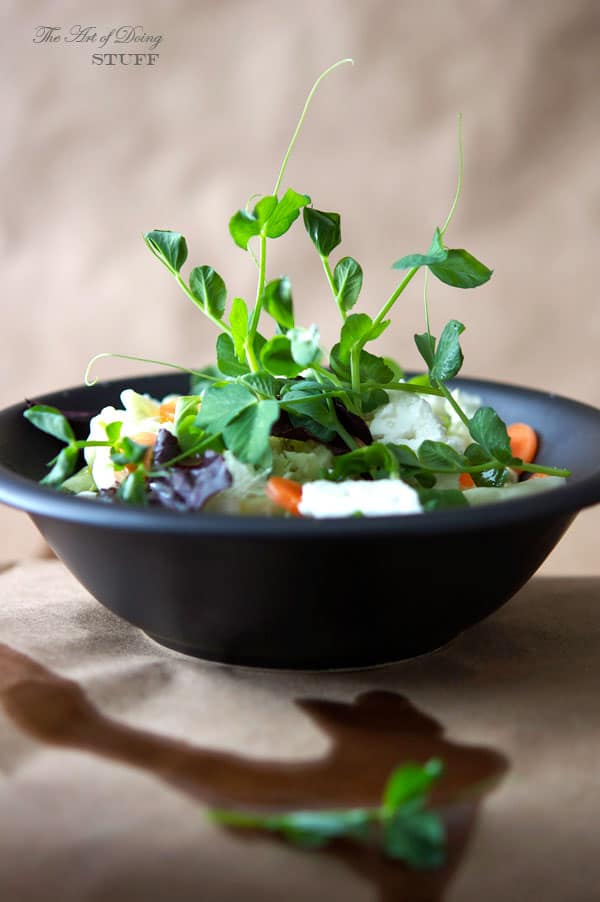 The shoots can also grow longer so they have pretty little tendrils.
Just like THAT you've added some spring to your winter salad and your step.  I've also topped a beef stew with them when I didn't have any frozen peas to add to the stew and they were perfect.  But that wasn't recently because stew is one of those globby foods that I need a break from for the next couple of weeks.
Yup. From here on in it's just me, my pea shoots and lettuce.
Unless any of you are having a post holiday party with plenty of appetizers that is. In which case the pea shoots can suck it and I'll be windmilling canapés into my mouth faster than you can say bad idea.
Have a good weekend!
[shareaholic app="share_buttons" id="5342563"]