I love Rough Linen. I really love it. In fact, if the Jerry Springer Show called up and asked me to star in an upcoming episode called "I Married My Duvet Cover", I'd say, YUP. And I married my sheets too.
I own a Rough Linen Pinafore (2 of them), Rough Linen sheets, a duvet cover, napkins, bread bags and even curtains.
I CANNOT GET ENOUGH OF IT.
So when Tricia Rose the inventor and proprietor of Rough Linen agreed to partner with me on a linen product I was THRILLED.
High Five my cats thrilled.
That's right. Rough Linen and The Art of Doing Stuff together as one.
Love baking bread? Then this one's for you …
Introducing the Rough Linen/ Art of Doing Stuff dough proving cloth.
I make bread every week. It's become a ritual. It's not as time consuming as it sounds since I make enough dough to make several loaves of bread. The dough stores perfectly in the fridge for a couple of weeks. All you have to do is pull the dough out of the fridge, rip off a hunk, let it prove (rise) for half an hour and bake it.
from
(The New Artisan Bread in 5 Minutes a Day)
But when I first started baking bread I had HUGE issues with the dough sticking to the counter, sticking to my tea towels, sticking to everything. Then I started doing a bit of research and discovered the proving cloth. Also known as a couche (pronounced koosh), also known as a proofing cloth.
What is it and why do I use one?
A proving cloth is a heavy, rough fabric that a baker uses to allow their freeform breads to rise on. Breads that are baked in pans can rise in those pans. But if you're baking a baguette, boule, or any other free formed bread then you need something to allow the dough to rise on.
The proving cloth has historically been made from flax (linen) because the fibre has all the properties you want. A bit of roughness, tight weaving and yet is still loose and pliable. (it only sounds like I'm reciting this from Wikipedia because I become very serious when talking about carbs)
So. You use a proving cloth if you are baking free form loaves of bread and want to make sure the dough doesn't stick.
I'm convinced. Stop talking! I want to buy a Rough Linen / Art of Doing Stuff Proving cloth NOW.
*shipping charges to the Canada will say $30 US but this is NOT the case*
Shipping to Canada will cost a maximum of $6 US. The $30 quote is a glitch in the system.
Rest assured you will be charged $6 or less to ship to Canada.
When you get your proving cloth it will come to you folded nicely in tissue paper looking clean and beautiful. If you're doing things right, it is the last time it will look that way.
Unwrap your proving cloth and lay it out. Then DUMP a whole lotta flour on it. At least a cup, probably closer to 2.
Rub the flour into the fabric. Rub it right in, pushing it into the weave. Cover the entire cloth.
Once you've done that, dump the excess flour onto your counter and scoop it up and return it to your flour bin.
You have now seasoned your proving cloth and it's ready for its first blob of dough. Like a cast iron pan, the more you use it, the more non stick it will become.
Place your dough on the proving cloth. If it's an especially wet dough, I roll the bottom of the loaf around in a bit of flour to help absorb some water from it.
Now you want to loosely cover your bread. It doesn't have to be airtight, just covered up. It's actually good if your bread develops a little bit of a skin because it makes it easier to slash the loaf later on.
If you're proving 2 loaves of bread pull the centre up between them.
Lay the centre fabric over one loaf and then wrap the edges up.
Leave your dough to prove for as long as it needs. The longer you prove, the bigger the holes in your bread will be. The wetter your dough also results in a nice open crumb (big holes). But OVER proving your dough results in disaster loafs so don't do that. You know you overproved if the second you touch the dough it completely collapses and when you bake it, it comes out a flat, brick-like disk.
I proved this dough for around half an hour on a warm day.
THIS IS WHERE THE PROVING CLOTH MAGIC HAPPENS
With this proving cloth your dough should easily release from the cloth.
Just lift the edge and it should roll right away from the cloth.
Here … this will give you a better idea …
Then to flip the dough onto a pizza peel (for sliding it into the oven), flip it the same once more.
Like this …
Now your dough is right side up on your pizza peel.
Slash your bread.
My two favourite slashes are straight across for an oblong loaf and a fan pattern for a round loaf.
Hot, crusty, warm bread.
From The Art of Doing Stuff & Rough Linen.
I gave a loaf to my neighbours.
Because otherwise I'd eat it all that very night. As it was, I only ate one loaf that night. I put the other loaf in the freezer.
Which I've since eaten. With butter and homemade strawberry jam.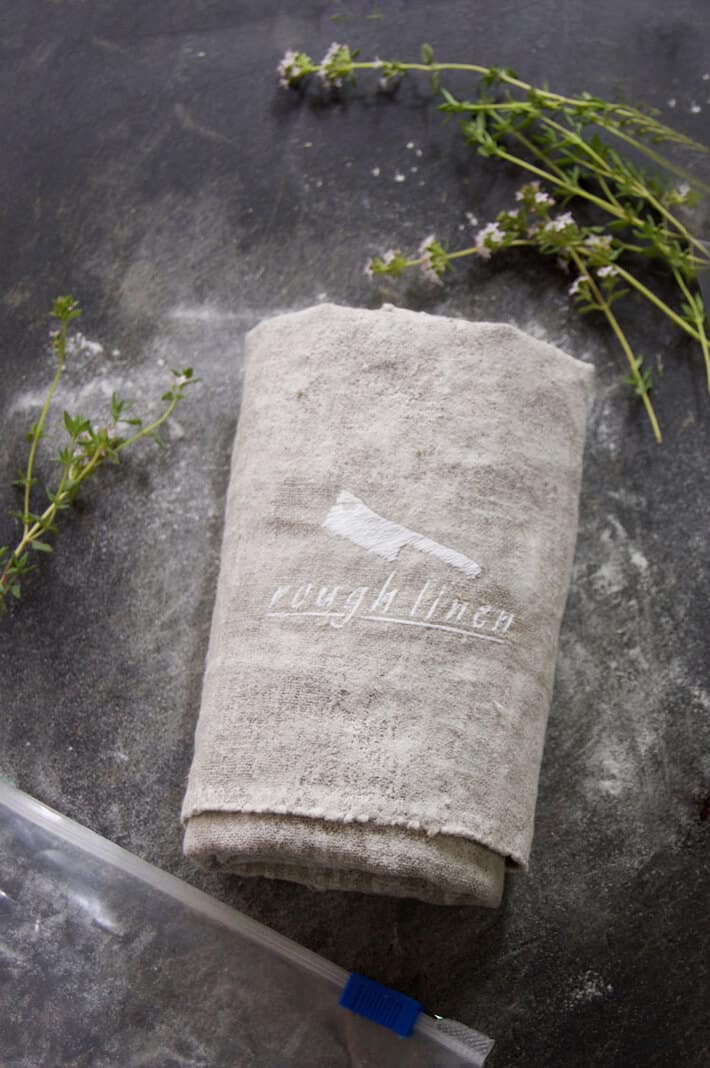 To store your proving cloth, artfully sprinkle some thyme on your counter just for looks, fold it up and put it into a plastic bag so critters won't get at it. You do NOT wash your proving cloth.
The only time you would wash it is if you had a big mishap with an incredibly wet dough and you get your cloth hard and wet and crusty. Then you can wash it but remember to season it again with flour.
Each time you use your linen proving cloth dust it again with a bit of flour.
You'll love it.
I'll be watching for the marriage announcements.