SHHHHHHHhhhh. Please. Just shut up for a minute. I'm trying to figure out a way to make this DIY seem more complicated than it is. To, you know, give me street cred.
Ummmmmmmm. Nope. Can't do it. It's too easy.
Every year I go into the grocery store and see huge bins overflowing with weirdo looking gourds. After I get everything I need to buy, which is usually milk, bread, olives and cat food, I saunter up the "the bin", position myself right in front of it, and stare.
I've been known to stare into that bin until my milk goes bad and the produce manager has to call security because I've gone into one of my gourd trances. There are so many to choose from. So many colours and shapes and sizes. After spending somewhere between half an hour and 3 weeks in front of this bin, I walk away. Empty handed. ('Cept for the cat food, some kind of loitering ticket and a stern warning from the grocery store police.)
But this year when I started my gourd gazing, what I was going to do with them and which ones I needed, came to me instantly. As to why this happened, your guess is as good as mine. Providing your guess is my fear of grocery store jail time. They shove you in with all the rotten produce, you know.
Yup, I was quick, quick, quick with my selections this year. My plan: Get all different shapes and sizes, but keep the colour palette the same. Whites and light greens.
I also knew exactly what I was going to do with them once I got home. Each gourd was going on top of one of my many silver(ish) candlesticks.

I'm not sure how I got so many of these silver candlesticks but apparently I have a collection, even though I had no idea I was actually collecting them.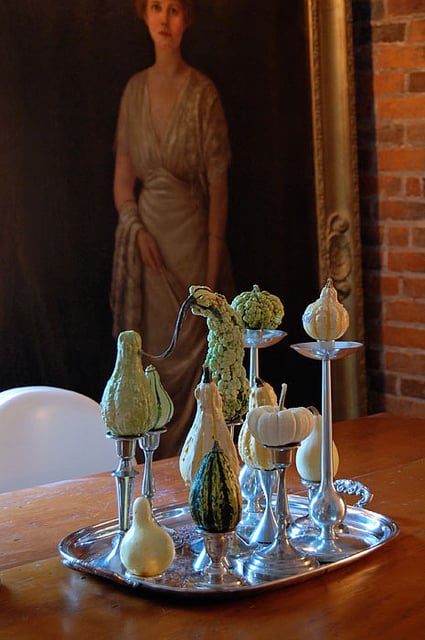 Thrift stores are great places to get these sorts of candlesticks cheap.

To finish the whole thing off I set the candlesticks on a silver tray. This happens to belong to my mother. A silver plated tray like this one usually costs around $75 from an antique store.

A loitering ticket on the other hand, will cost you $195.