An old fashioned baked bean recipe made with dried beans, molasses, brown sugar and patience. Classic baked beans cooked low and slow in a bean pot just like grandma (or everyone's favourite pioneer mother Caroline Ingalls) used to make.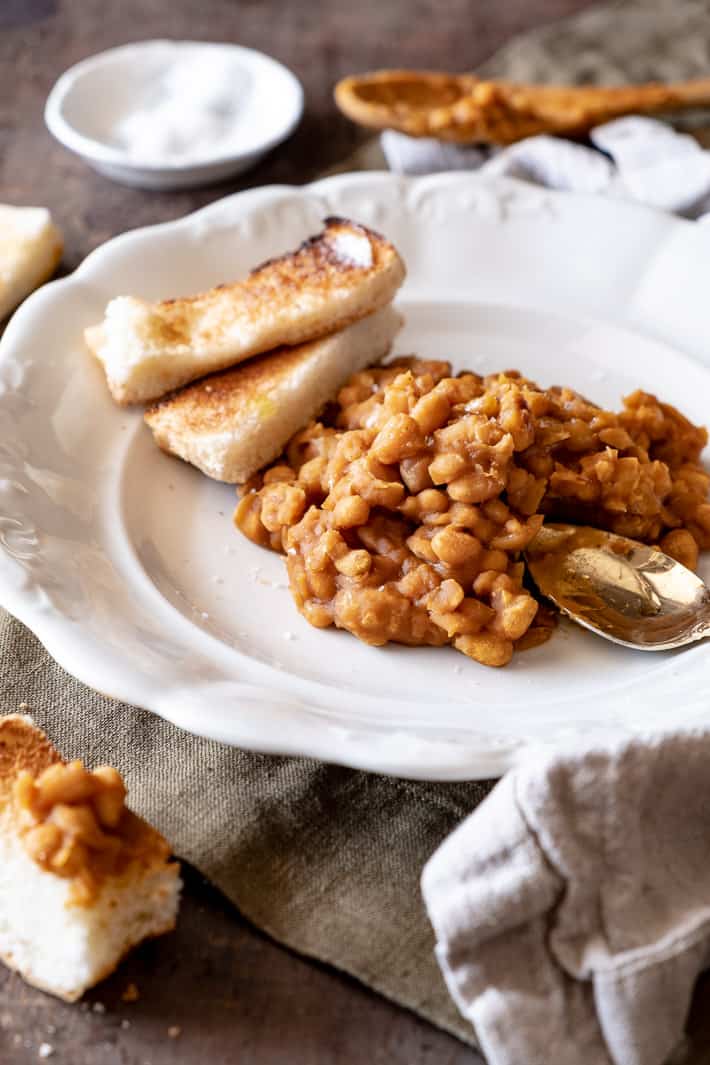 I started bringing a pot of good old fashioned baked beans to Easter dinner a few years ago and I enjoy the holiday much more now.
I have two criteria for judging holidays - how good is the food and how good is the decorating? Easter is filled with ham and pastel colours therefore I judge it harshly.
Sneaking baked beans into the menu makes perfect sense. When paired with ham they create a bundle of sweet, savoury, smoky goodness in your mouth.  Plus you get to cleanse your palate during dinner with the ever popular "salad" made out of marshmallows and canned fruit.
My Marshmallow Salad recipe is here if you're interested, because yes, I am a sucker for it.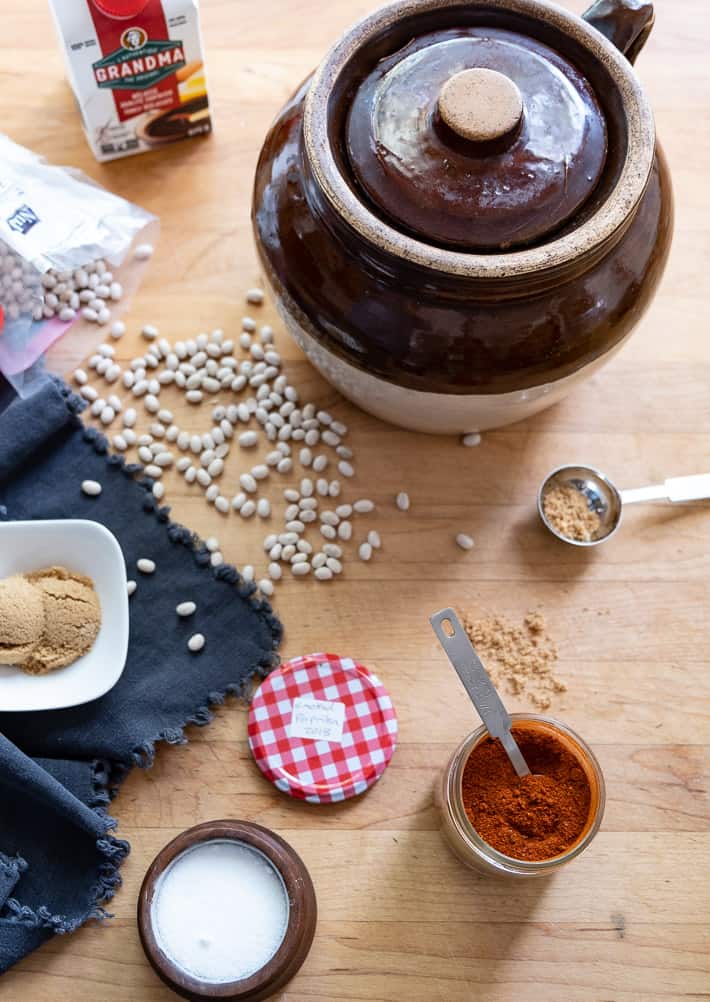 These baked beans also go perfectly with any meats you pull off of your summertime grill or smoker. And as a quick autumn or cool spring day lunch to fill yourself up, beans on toast is fantastic! 
Filling, nutritious and - O.K. I know you're ALL thinking of the tooting. So go ahead and giggle about the toots so we can continue with this serious baked bean discussion.
Alright.
These are traditional baked beans done in the oven in a bean pot with molasses and brown sugar and yes they take two days to make.   BUT you can make them in an Instant Pot much faster and in a pinch if you have to.  I'm not a fan of the Instant Pot but I know I'm in the minority with that.
I've included instructions for Instant Pot baked beans as well in the recipe card. Even though you're not allowed to call them baked because they're Instant Potted.  Not baked.
---
Baked Beans From Scratch
Delicious, smoky and filling these can be made ahead warmed up prior to serving. You'll need a 1 lb package of dried beans, molasses, water, brown sugar and a few other pantry staples.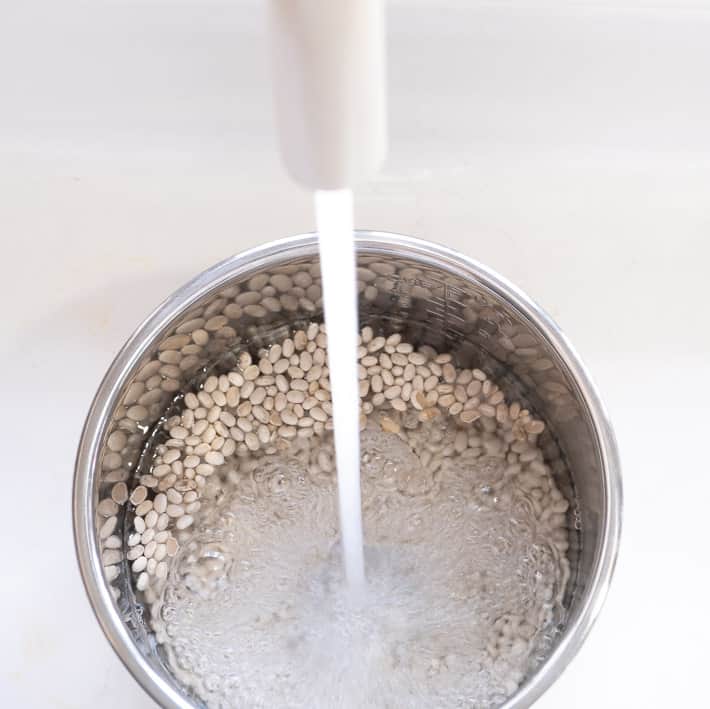 Reducing the gas
If you're worried about the impending flatulence caused by eating beans you can do two things to help reduce gas.
Throw away the water you soak your beans in.
Change the soaking water and rinse the beans every 3 hours.
There's evidence that throwing away the bean soaking water will eliminate much of the indigestible carbohydrates that cause gas.
HOWEVER after soaking my beans I use the same bean water later in the recipe because I like the added flavour using the bean water gives.  If you want to reduce the potential for toots, do not reuse the bean water.
What kind of beans are baked beans?
White Pea Beans (Navy beans) are traditionally used for making baked beans because they're creamy once cooked. Navy beans have the highest amount of fibre of all the dried beans.
Great Northern Beans can also be used for baked beans. They are less creamy but hold their shape better than navy beans. Because they're bigger they take a bit longer to cook until tender. If you prefer a creamier texture but only have Northern Beans, after cooking remove about ½ cup of the beans, mash them then stir them back into the pot.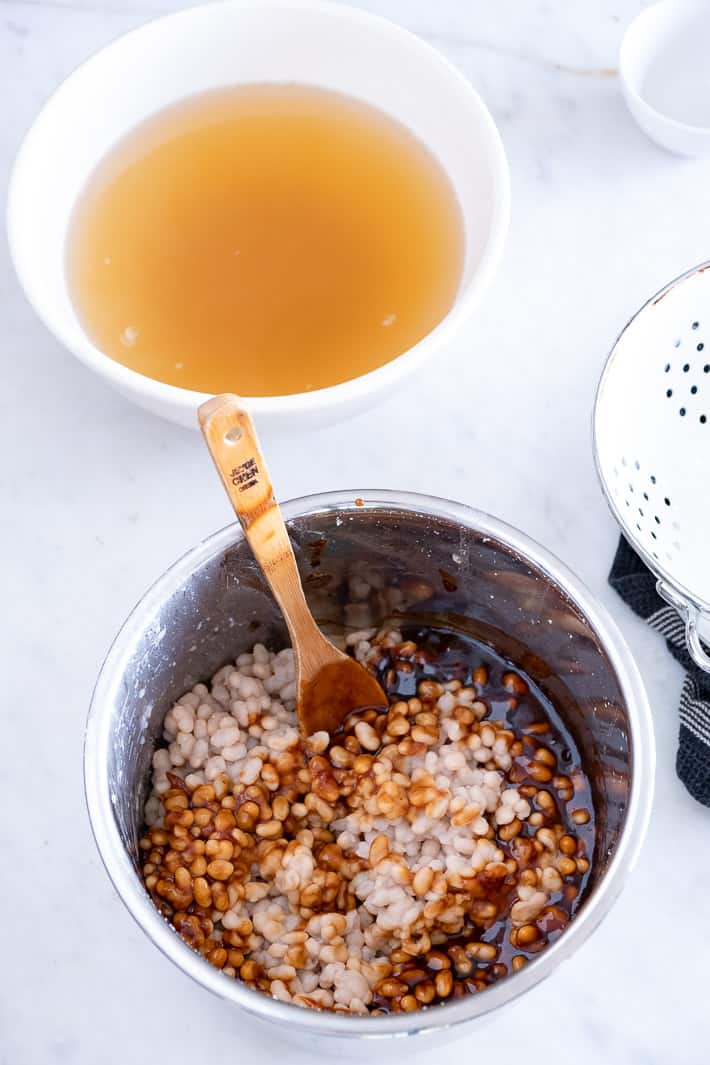 The ingredients for this recipe are classic baked bean ingredients. Nothing super fancy and no heat.  To me, baked beans shouldn't be spicy. But if you like spicy baked beans you can add a couple of finely diced jalapeño peppers or cayenne pepper.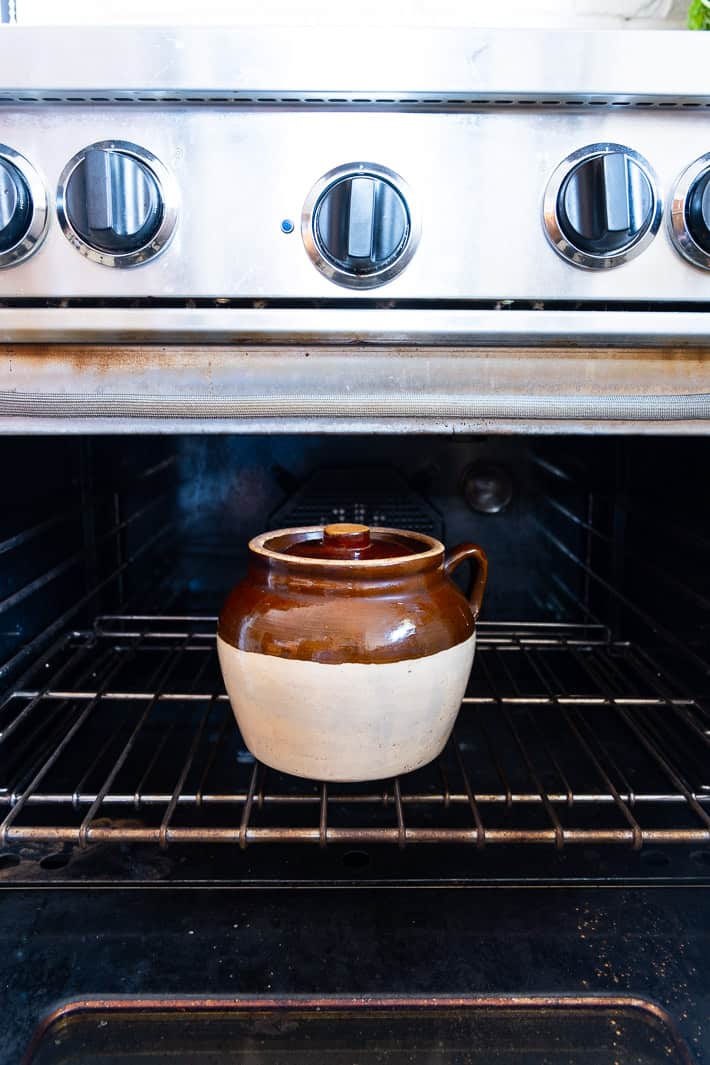 These beans technically take 2 days to make and that seems like a long time but 95% of that time is dedicated to slow cooking. You aren't actively doing anything other than smelling the scent of baked beans waft throughout the kitchen. You soak the beans, mix the ingredients together and then pop the beans in the oven for 8 hours or so.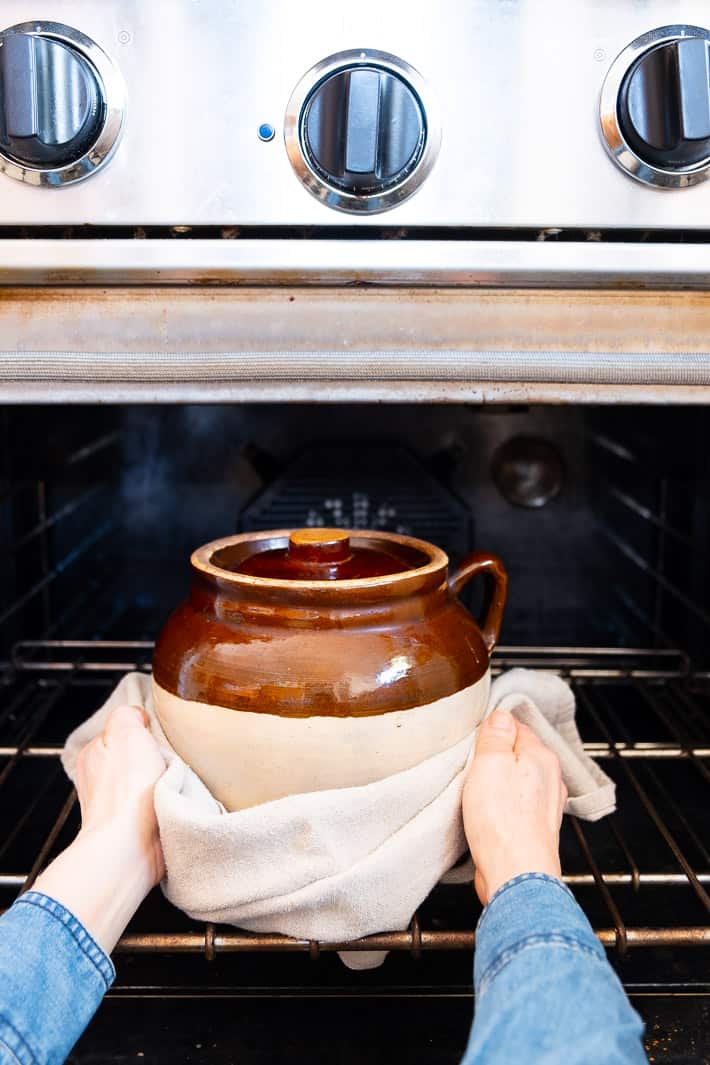 If you love old timey things like this, you can buy a brand new old fashioned bean pot here.
When they're cooked, the beans come out and they're ready to serve. Just like that. So it seems like a big ordeal, but it really isn't. It just takes a long time.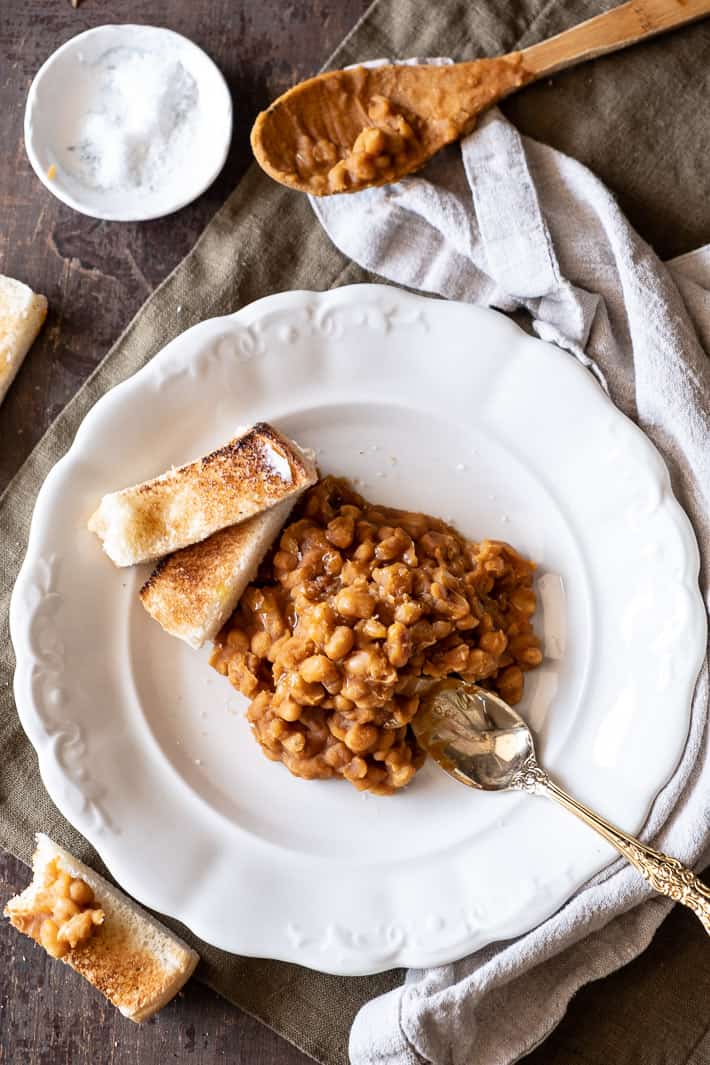 As an aside, I am absolutely STUNNED at the amount of Baked Bean recipes on the Internet that are made with ... CANS of baked beans.  What the???  As I mentioned, this recipe is made with dried beans.  Not a can of them. This is a recipe for actual baked beans from scratch.
For your tooting pleasure.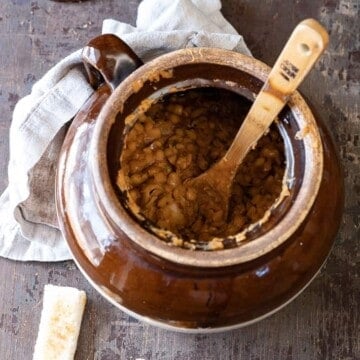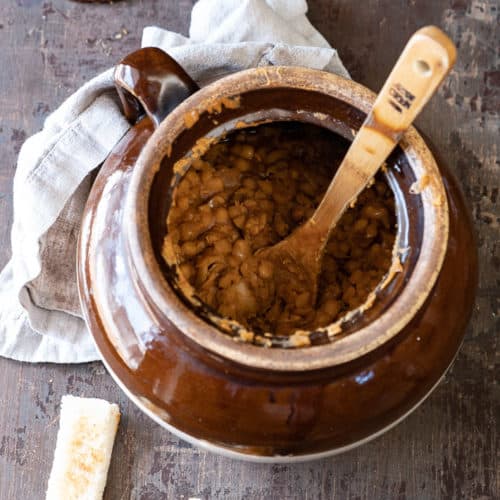 Old Fashioned Baked Beans
Old fashioned baked beans go well with any grilled meat and especially salty pork products.
Print
Pin
Rate
Ingredients
454

grams

dry beans

white pea (navy) beans

water

enough to cover beans

1

onion

diced

½

tablespoon

salt

2

tsps

cider vinegar

¼

lb

bacon

or salt pork

1

teaspoon

mustard

2

tablespoon

brown sugar

¼

teaspoon

smoked paprika

¼

cup

molasses

½

cup

ketchup

pinch

black pepper
Instructions
Soak the beans overnight in water.

The next morning heat the beans to boiling and simmer for around 30 minutes. If the skin of the bean peels back when you blow on it the beans are done.

Drain the beans and SAVE the bean water.

Mix all of the sauce ingredients together and mix in the cooked beans. Put everything in a bean pot.

Add enough of the reserved bean water to the bean pot to cover the beans by ½".

Add bacon or salt pork to top of beans, cover and bake at 250 F for 7 hours.

Remove lid and continue to cook uncovered for 2 hours to help the beans develop a dark brown colour.

Serve with grilled meats as a side dish or on toast for a lunch.

Remove from oven and remove bacon or salt pork. If you like your beans with some meat chop it up and mix it into the beans. I prefer to remove the pork entirely and just use it for the flavour and smokiness it infuses in the beans while cooking.
Notes
TIPS
To eliminate the overnight soak, you can boil the beans for longer during their initial cook in water. Instead of simmering for 30 minutes, simmer for (apx) 90 minutes.  
If you're vegan or vegetarian and want to eliminate the bacon then double the amount of smoked paprika from ¼ teaspoon to ½ tsp.
TO COOK BAKED BEANS IN THE INSTANT POT (bleh)  1.  Add your dried beans to the Instant Pot with enough water to cover them quite well.  Cook on high for 25 minutes. They might be perfectly done or they might be overdone and mushy. It depends on the bean. And that's why I don't like the Instant Pot.     2. Drain the beans and return them to the Instant Pot.  Add all of the other ingredients and cook on high for 10 minutes.   
Nutrition
Calories:
315
kcal
|
Carbohydrates:
51
g
|
Protein:
15
g
|
Fat:
7
g
|
Saturated Fat:
2
g
|
Polyunsaturated Fat:
2
g
|
Monounsaturated Fat:
3
g
|
Trans Fat:
1
g
|
Cholesterol:
9
mg
|
Sodium:
681
mg
|
Potassium:
929
mg
|
Fiber:
14
g
|
Sugar:
17
g
|
Vitamin A:
114
IU
|
Vitamin C:
2
mg
|
Calcium:
115
mg
|
Iron:
4
mg
If you don't have a bean baking pot, just use any oven safe casserole with a lid like a dutch oven. Keep your eyes open at antique shops and flea markets for vintage crocks.  Just check the inside to make sure it's still in good shape inside with the glaze intact and no crazing.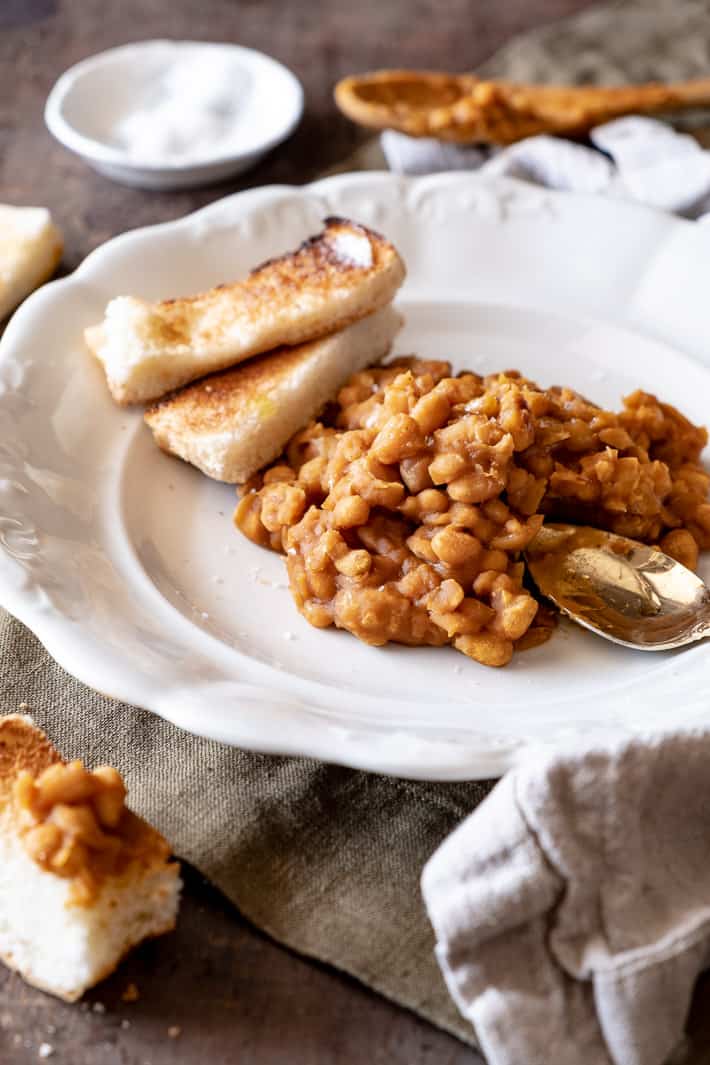 Can you freeze baked beans?

You bet you can. I freeze them in individual portions and they reheat perfectly.
Are baked beans healthy?

Well, beans are very nutritious and healthy! But baked beans contain a lot of molasses and sugar which isn't ideal. Still, they aren't terrible. A large serving of these baked beans contains 17 grams of sugar. A small piece of yellow cake with chocolate icing has 56 grams of sugar.

As long as you eat a reasonable amount of baked beans and not an entire pot (and you don't have diabetes) then they're a perfectly healthyish side dish.
Is there a substitute for molasses?

Yes, there are a few things you can sub in for molasses if you don't have any:
To replace 1 cup of molasses use one of the following:

¾ cup of firmly packed brown sugar
1 cup dark corn syrup
1 cup of honey
1 cup of maple syrup

Brown sugar is the best substitute in terms of flavour because brown sugar is actually a mixture of white sugar and molasses.
Baked beans for Easter dinner. Is that weird? Or just risky? ;)
→Follow me on Instagram where I often make a fool of myself←