I should tell you I'm not afraid of needles, I don't faint at the sight of blood or the site of blood. I am unperturbed by blood unless it is gushing out of my forehead from either side of an axehead. So when I trekked into my local blood donor clinic, veins held high, ready to give blood and find out my blood type, I was not worried. My plan was to confirm the results that I got from testing my own blood type at home with an Eldoncard. I would then go home immediately to devour 14 blocks of cheese. People with type B blood you see are the only ones who can eat 14 blocks of cheese without experiencing any gut trouble, according to the book Eat Right For Your Type. I thought I was a B- but I wanted it confirmed so I could continue to eat lots of cheese.
I also wanted to give blood, because I can't think of a faster or easier way to save a life than by sitting in a chair for 7 minutes and then eating cookies.
As soon as I got to the blood donor clinic I was informed that it would take 8-12 weeks before I was told what my blood type was. Right there and then, when things started going off script, I should have been spooked. But I wasn't. I ploughed forward, shoving my veins at anyone who I thought might want to poke them.
And poke they did. A nurse asked me if I was O.K. as she positioned a needle over my finger, I said, yup, I'm fine and away we went. The first poke was to see if I had enough hemoglobin in my blood. I did. After answering several questionnaires and declaring I'd never had intimate relations with anyone who had spent time in a Turkish prison, I was ushered into a blood donation chair.
They asked me if I was O.K., I said yup, and they slid a needle into my arm. Then I just sat there as the bag beside me filled up with my hopefully Type B blood and sloshed around. I smirked a little with pride as the woman taking my blood told me I was a good bleeder and I should be done in no time. I've always been a bit of an overachiever. I don't even have to try. I'm quite amazing.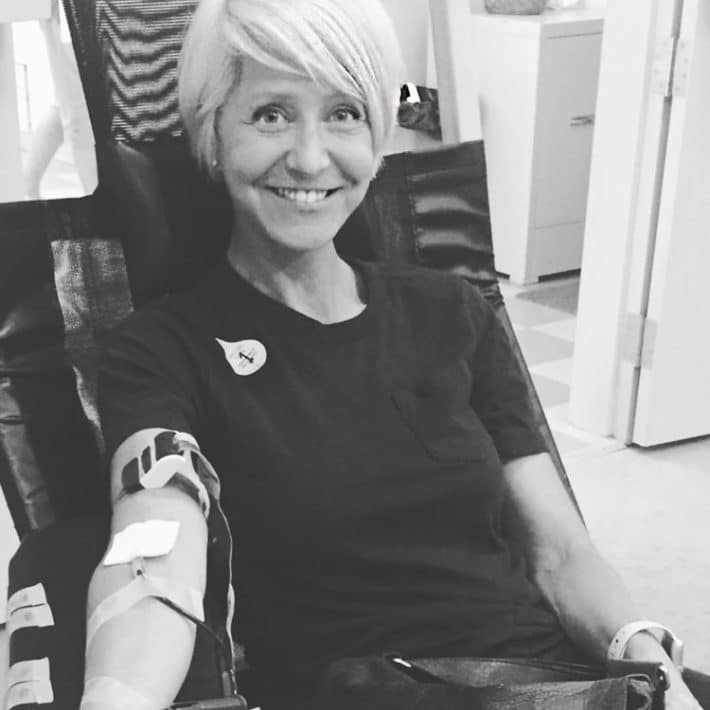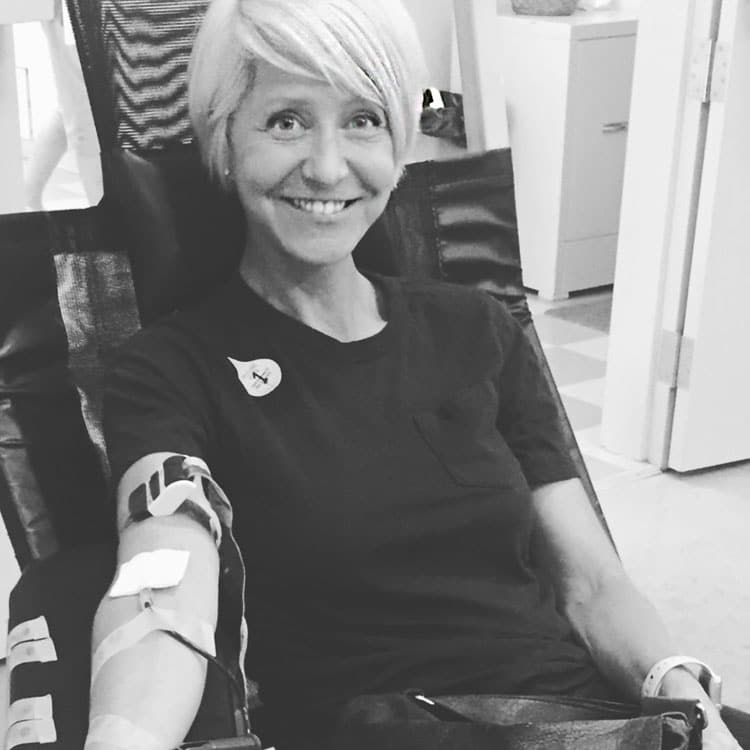 About 7 minutes later my buzzer went off and I was done. My Phlebotomist removed the needle and asked me how I was. Fine. I was FINE. Stop asking me that. I'm super tough. I've pulled maggots out of a chickens ass. Seriously, just point me in the direction of the cooki ....... Uh oh. I'm super thirsty. I wonder if I should tell anyone I'm suddenly so thirsty I feel like my tongue is made of velcro. Nah.
Huh. Things seemed weird. Not fainting weird, just weird. I decided I'd better let someone know that I think they might have accidentally taken all of my blood. I wasn't mad, I just, ya know, wanted a bit back. Enough to give me the strength to make it to the snack table. I got the words "I don't fehleighvmkdmv ..." out of my mouth and in a split second a flurry of nurses were running towards me, tilting my chair back, ramming cold compresses on every inch of my exposed skin and throwing around a lot of medical terms like, "Wow. She's really sweating. Are her eyeballs sweating? I think her eyeballs are sweating."
And they were.
I was now in what felt like an almost upside down position, covered in sweat, wondering if I could telepathically tell anyone I might barf. Because I didn't have the energy to form actual words out of my mouth. Although, being a through and through Canadian I managed to eek out a thank you when one of them put a huge block of ice under my neck.
The nurses circled around me like I was Charlie Brown's Christmas Tree and told me this was perfectly normal and I'd feel better soon. No. No, this is not perfectly normal because if it was, no one would ever donate blood ever, on account of the fact that it leads to death.
Were my bowels loosening? I think my bowels were thinking of loosening. For the love of all that is holy, please don't let me be sick to my pants right here next to the snack table. This is bad. This is really bad. I rolled my eyes in a way I thought let everyone around me know I still didn't feel tip top.
Nobody seemed nearly as worried as I thought they should be. No one even tried to ask me who my next of kin were. Indeed after 7 minutes or so of sheer hell I was well enough to ask if someone could please find my iPhone, this was a definite Instagram moment.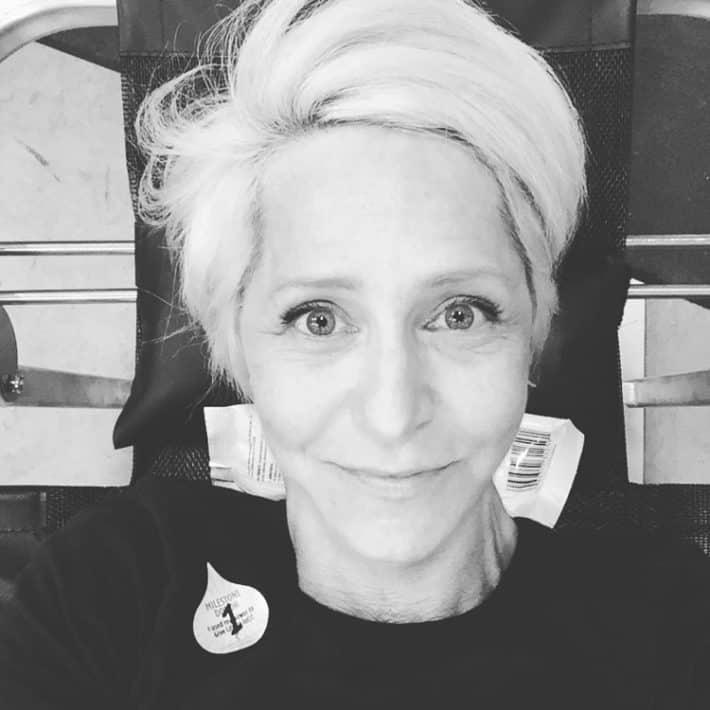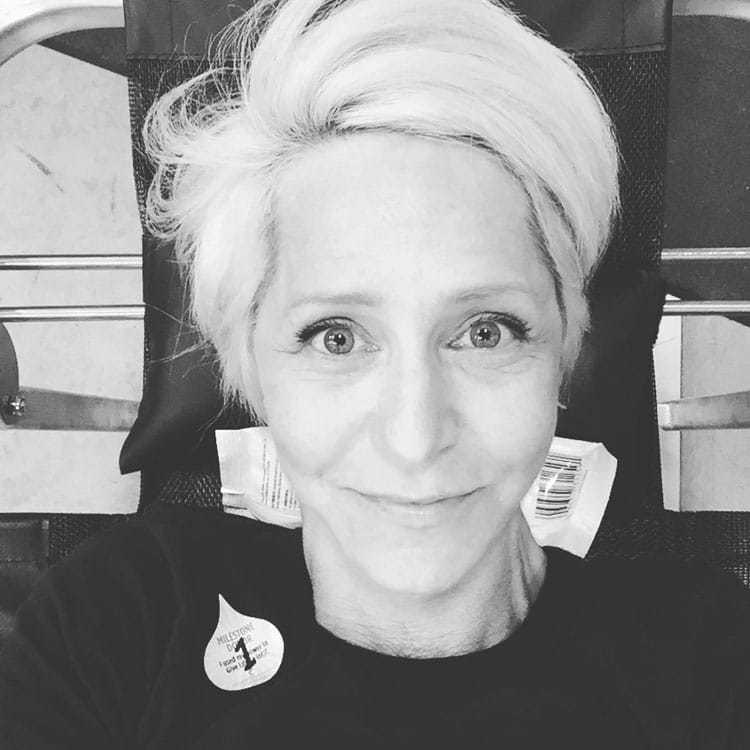 Did I mention one of my sisters came with me and was sitting right across from me giving blood as this all went down? No? I might not have mentioned her because as they ushered me to a stretcher (once I stopped drooling), I glanced over expecting her to be crying into a lace handkerchief and forming a prayer circle. Instead she greeted me with a big smile and a wave. Like no biggee. We all die and shit our pants in public every so often.
I didn't by the way. Poop in my pants. I didn't even faint. I didn't throw up. I just decided I needed to sweat and try to nap profusely. They wouldn't let me nap though because every time I closed my eyes some nurse yelled at me to STAY WITH US. I had saliva running down my chin so I'm not sure where they thought I was going.
I still wasn't allowed to sit up, and there was great discussion about whether I should actually try to stand as I shifted over to the stretcher.
"Can your legs hold you? Do you think your legs will hold you?"
Lady, my bowels just proved to be as loyal and strong as a German Shepherd, my legs are gonna be fine.
So onto the stretcher I went, wondering how exactly I ended up here, eyes toward the ceiling, my pint of blood probably lonely and scared in some cooler somewhere. Who DOES this? I mean people do this all the time but who ARE they? From my vantage point on the stretcher I could pretty much stare at everyone without fear of seeming suspicious and gawky because I was obviously in distress and possibly even suffering from some sort of brain damage.
Across the way I saw a girl of about 19 who I recognized as a cashier from my local garden centre. She was fine. Beside her was a man around 70 sounding a bit crotchety and letting the Phlebotomist know they should use his other arm; they always use his other arm. He was fine. Eating their recuperation snacks and juice were a wealthy looking woman and a friend of the 19 year old. They were fine. There were white people and brown people, women and men, young and old. All of them spending the end of their holiday Monday in a church community room giving blood for someone they've never met, would never meet and who would never get the chance to thank them. Why is giving blood so easy for them? Why not me?
When I was finally able to sit myself up, an organizer brought me some juice and thanked me for coming out. She kneeled down close to me, touched my knee and in a concerned voice, gently whispered into my ear "Did we get a full pint out of you?"
I laughed so hard I thought blood was going to start gushing out of the pinprick in my arm again. I don't blame her. I wasn't insulted. Getting and giving blood is important stuff. YUP. You got the full pint and judging by the way I feel, you got one of those big pints. You super-sized it.
The nurses who flurried towards me earlier all asked if I was feeling O.K. and of course I said Yes.
I'm fine.
I'm super tough.
I've picked maggots out of a chicken's ass.
Or as I'll say from here on in;
I'm fine.
I'm super tough.
I've given blood ... without losing control of my bowels.
That was a pretty funny post, right? Wanna read something even funnier? I'm gonna give blood again.