That chicken with the come hither eyes is Cheez Whiz. She looks at chicken scratch the way I look at Idris Elba. She's the last of my original flock. She started out as an ugly thing. A runt really. In fact, I didn't really like her because she didn't seem to have any personality. And then this happened, a fairy tale ending where I learned everyone has something special about them, even the most boring of people. Or something like that.
Cheez Whiz turned 5 this year which means she's old. Definitely too old to have her eye on Idris Elba. Chickens have a very definite life span of anywhere between a peep and 16 years old. Which is why you rarely see a chicken driving a car.
Matilda was the oldest living chicken recorded (as recognized by The Guinness Book of World Records) and she lived to the age of 16, but she was a working chicken who performed in a magic show until retiring at the age of 15 and a half. So her death was kind of pre-determined when she quit her job since studies have shown that most chickens die soon after retirement.
Anyhow, Cheez Whiz has already outlived her siblings so she could go any day now or she could pull a Matilda on me. I just don't know.
If she does die, that would leave me with just two chickens.
I got Mabel my Blue Copper Marans in October 2014 as a pullet which means she's still young and should have several years ahead of her. Ditto for Josephine.
And I got Josephine in June of 2014 as a 2 day old chick. Josephine doesn't like me very much. Neither does Mabel.
She may be old but Cheez Whiz still lays an egg every day when she's laying which is incredible for a 5 year old chicken. The older a chicken gets the fewer eggs they normally lay. Which leads me to believe she is a robot chicken which makes her even more special.
I'm really good at math so I figured out that if Cheez Whiz dies, I'll only have 2 chickens left. And if one of those chickens die I'll only have one. And then that chicken will die of loneliness.
And then I won't have any chickens. But I'll still be really good at math.
So with a flock of only 3 chickens, one of them teetering just this side of Wheel of Fortune, it's time to start thinking about getting another chicken or two.
By the way, if you're thinking of getting chickens, expect to see them in this position. Always. It's the bug hunting position.
They look, they scratch with their feet, they take a few steps back. Like a dance. That one might do at an open bar wedding with a painfully bad D.J.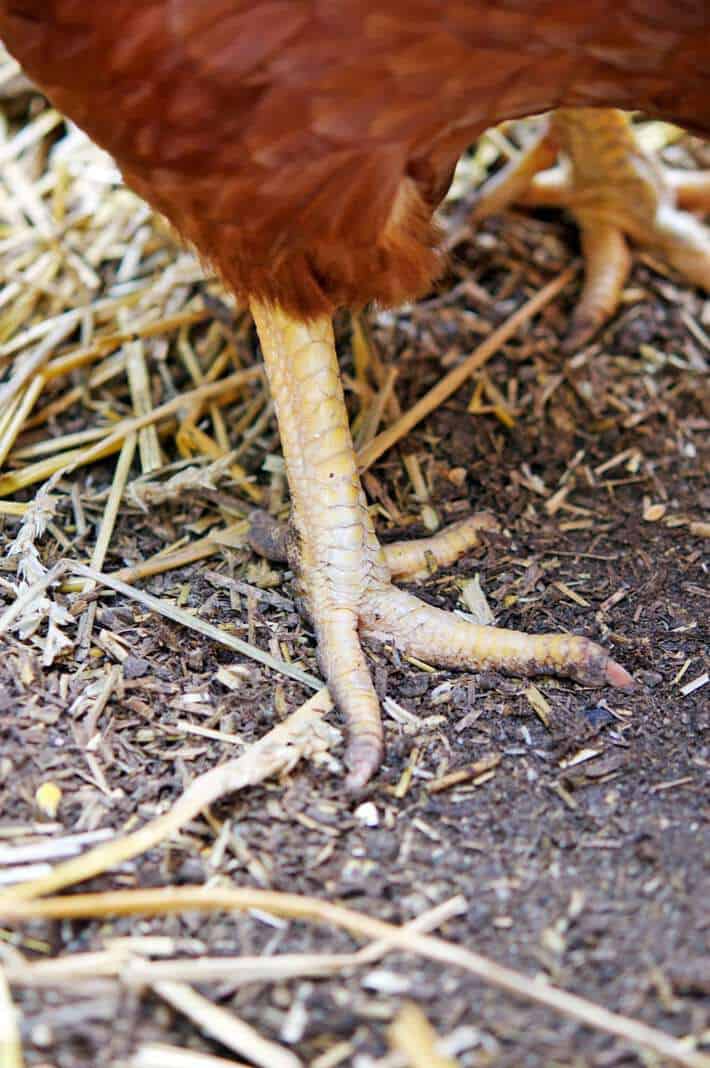 You're humming it now aren't you? The chicken dance? At the very least you're wiggling.
So I've started to look into getting one or two more chickens. And in fact, I have a lead on a couple that I'm hoping to pick up in the next month or so.
You remember Dr. Camilleri who helped with Cuddles? He put me in touch with a woman who breeds and shows Ameraucanas and Marans. She thinks she has one Ameraucana pullet (a chicken that's just started laying or is about to lay) and … SOME HATCHING EGGS.
And I just happen to have a hen that's been dying to hatch some eggs. Josephine, my Black Copper Marans is always, always broody. Meaning, all she wants to do is sit on eggs and hatch them. Some chickens are more likely to be broody than others.
Josephine is so hell bent on being a mother to anyone's eggs I wouldn't be surprised if she ran away to join the show Sister Wives.
So the next time Josephine goes broody I'm going to go and get some hatching eggs for her to sit on and hopefully she'll finally get to be a mother and I'll finally get another chicken or two.
I just realized you might not know what hatching eggs are. Hatching eggs are regular chicken eggs that have been fertilized. In other words, there's a fox in the henhouse. And by fox, I mean a foxy rooster getting some action.
Because I don't have a rooster none of my chickens eggs are fertilized. So I need to buy them from someone who does have a rooster in with their hens.
Eggs that are fertilized stay viable and ready to be hatched for at least a week, sometimes more after you gather them. You just have to candle them to make sure they're fertilized and set them aside until you have enough for hatching. They don't kick into action until they're in the right temperature and humidity conditions, either by being set in an incubator or under a broody chicken. That means they can just sit on the counter for many days until you're ready to start hatching them.
So I am officially on broody watch. And if you have any interest in seeing a hen hatch and raise a fistful of fluffy chicks, then so are you.
I'll be posting updates on Josephine's broody or not broodiness on Instagram daily so follow along to find out when she's broody. The minute she is, I'll be heading out for about an hour's drive to pick up her eggs and the egg hatching extravaganza will begin.
And yes. I'm already thinking of naming one of them Matilda.