Before I get into today's post, just a quick note that my Seed Starting Course: Sow You Wanna be Startin' Somethin' only costs $35, and that includes 3 packs of seeds selected just for you from Laura at Cubit's! As you were … onto the post.
I'm nothing less than notorious when it comes to Easter decorating. I don't like it. I'm not sure why, other than the fact that most Easter decorating is hideous, ugly and awful. And pukey. Other than that … dunno. Oh yeah, also Easter decorating is universally cutesy. And pastel. There's no quicker way to my gag reflex than a cute pastel rabbit. A box of Trix cereal is the only exception to that rule obviously.
Spring decorating on the other hand? That I like. Moss and birds' nests and pretty bulbs reminding me that there's life under the dirt coloured snow outside my window. There's probably also pop cans, dog poop and plastic bags but those don't lend themselves to my current decorating theme.
So even though I say I decorate my house for Easter, (because what kind of crappy design blogger would admit to NOT decorating for a holiday), what I really decorate for … is SPRING.
In keeping with my Easter decorating is really Spring decorating, theory I have for you a REALLY easy, REALLY inexpensive spring arrangement that's perfect for the Easter table.
Unless you already have a straw rabbit wearing check overalls picked out for that spot.
This is the sort of thing anyone can do. You don't have to be particularly artistic or good with flower arranging. You just need to have at the very most, $18.
Materials
2 pots of small spring bulbs. (one 6″ pot, one 4″ pot) ~ total cost $10
sand (or soil) ~ total cost $3
Aquarium rocks (you can also use floral rocks known as vase fillers but they're way cheaper when you buy the same thing labelled as Aquarium rocks) ~ total cost $5
bowl
Method
1. Fill your bowl (preferably a low one so you don't need as much sand) with damp sand. I used sand because a) that's what I had around and b) originally I was going to put a few taper candles in the centrepiece and sand is perfect for that. Because it's so dense you can push a taper candle into it and the sand will hold it in position. There's a handy little tip for you. If you only have a bag of soil around, just use the soil.
2. Carefully remove the bulbs from their plastic pots and tease the roots apart. Try not to damage the roots. Gently push the bulbs into the sand. I like the look of the roots showing a bit, and since this arrangement is only going to last a week or so it doesn't matter if the roots dry out a bit.
3. Keep pushing the bulbs into the sand until your bowl is as full as you want. I wanted my bowl to be a bit sparse looking. Some of you might even want to leave the centrepiece like this with the sand and roots showing. Others, will not.
If you don't like the look of the sand showing, that's where the aquarium rocks come in.
4. Pour your aquarium rocks over the sand until it's covered. Remember to get in between all of the bulbs. Yes. Even the places it's hard to get the rocks into. If you don't it will look stupid and people will laugh at you.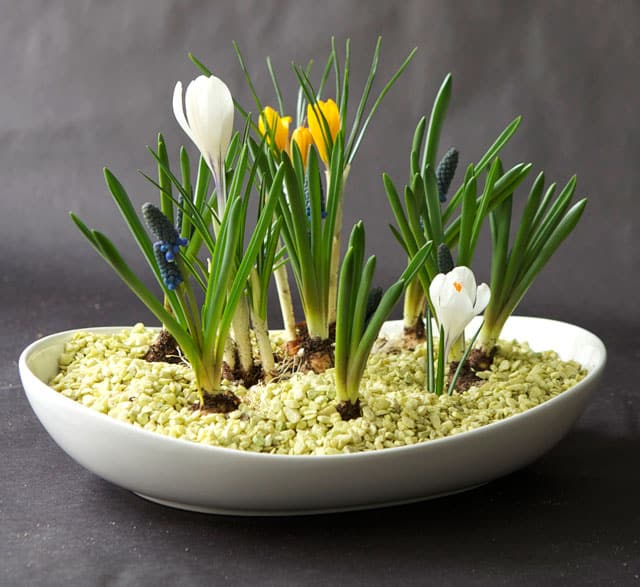 Ta da! I bet you think we're done! We're not.
I bought one 4″ pot of crocuses. There were around 3 bulbs in there.
And I bought a 6″ pot of grape hyacinths.
If you fill your bowl up to be fairly sparse like I did you'll still have bulbs leftover.
Which means you can get one or two more mini arrangements out of your investment.
For a total of $18, assuming you had to buy the gravel (aquarium rocks) and the sand you'll end up with 3 nice Easter (Spring, really) arrangements.
They're pretty, springlike and simple.
What they're not, is pastel.
[shareaholic app="share_buttons" id="5342563″]