HOW DELICIOUS DOES THAT LOOK?!
No,  I'm serious, I need you to tell me if that looks delicious.   I'm not a huge dessert fan so to me it looks about as appealing as a sweaty, rubber clown nose.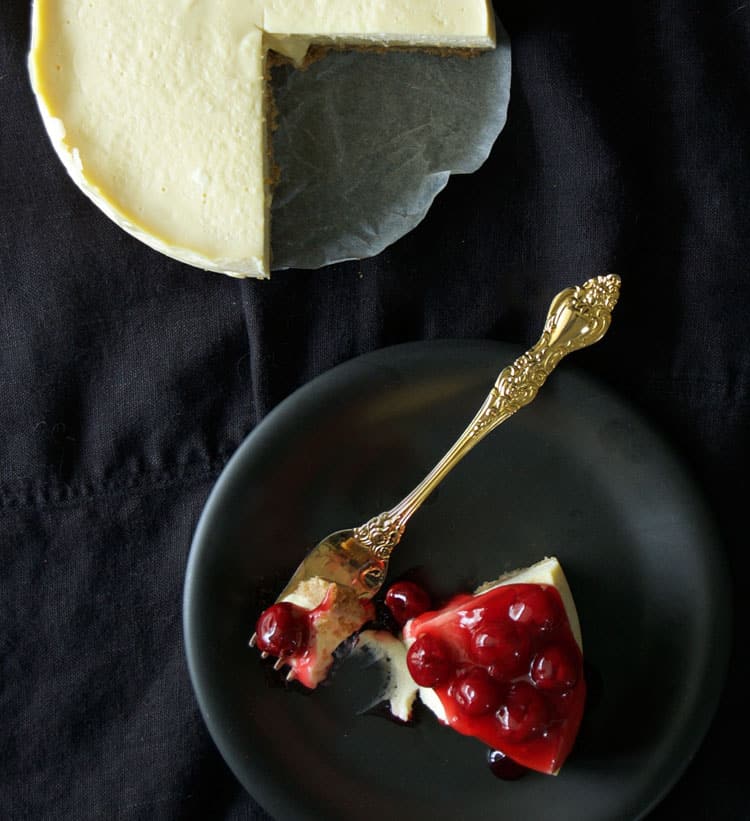 However, in keeping with the great Instant Pot experiment of 2017, I made a cheesecake.  Along with hard boiled eggs, people go nuts over making cheesecakes in their Instant Pot. And by "people" I mean the collective cult of Instant Pot enthusiasts who will proclaim anything and everything can be made in an Instant Pot (whether it actually makes sense to make that thing in the Instant Pot or not).
Why do they cook everything from a whole chicken to cheesecakes in their Instant Pots?  Because they can.
Because I don't cook a ton of desserts I researched as much as I could about cooking cheesecakes in the Instant Pot.
I scoured and studied and sleuthed until I found all the tips, tricks and techniques I thought I was going to need to make a photogenic cheesecake.
And yes that's totally a can of cherry pie filling on top.  I was not going to spend my day making a topping for a sweaty, rubber clown's nose.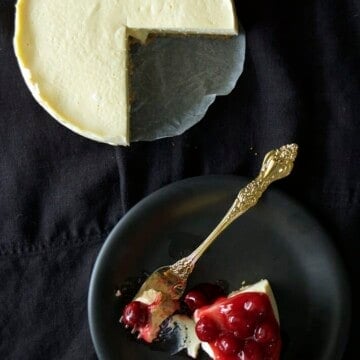 New York Style Cheesecake
This creamy, tangy cheesecake base can be transformed to whatever you want it to be depending on your topping.
Print
Pin
Rate
Ingredients
120

grams

of finely ground graham crackers

crust

4

tablespoon

unsalted butter

crust

1

tablespoon

dark brown sugar

crust

¼

cup

of flour

crust

pinch

of salt

crust

2

packages of cream cheese

500 grams

2

eggs

⅔

cups

sugar

½

cup

sour cream

2

teaspoon

vanilla

pinch

of salt

1

cup

of boiling water
Instructions
Process the graham crackers in a food processor until finely ground OR use a handy dandy crumb roller/rolling pin to crush them.

Mix graham cracker crumbs with 1 tablespoon brown sugar, ¼ cup of flour, pinch of salt.

Add 4 tablespoon of butter and mix. Add more butter if needed to make crust mixture hold its shape when pressed.

Press crumb mixture into bottom of parchment lined 7" springform pan.

Bake at 325 F for 15 minutes. While the crust is baking ...

Mix ⅔ cup sugar and pinch of salt together. Set aside.

In large mixing bowl beat the 2 packages of cream cheese with a hand mixer on low until it's just mixed together. Don't over beat.

Incorporate the sugar a bit at a time until well mixed. Again don't over beat.

Add ½ cup of sour cream and 2 teaspoon of vanilla. Beat with hand mixer until fully combined and mixture is smooth.

Add in the 2 eggs and beat just until combined.

Pour batter into pan with cooked graham cracker crust.

Bang the pan a few times to help release air bubbles.

Add 1 cup of boiling water to the Instant Pot.

Insert trivet and place cake on top.

Close lid immediately and set Instant Pot to 18 minutes using manual button.

When done allow natural release of pressure.

Blot top of cheese cake with paper towels (there will be water on top of it)

Cool in the fridge for at least 4 hours, preferably a day.

Serve and enjoy.
TIPS
Buy a 7" springform pan for this.  Anything bigger won't fit in the Instant Pot.
A hand mixer works much better for mixing the filling than a Kitchenaid or Food processor.
Use a flat bottomed cup to press the crust down into the bottom of the springform pan.
Using boiling water in the bottom of the Instant Pot decreases the amount of time it takes to get up to pressure so add the water, trivet, cake and close the lid as quickly as possible so you don't lose too much heat from the water.
After cutting a piece wrap the outside and top of the cake in parchment paper to keep it from drying out.
Freeze, freeze, freeze.  Cheesecake freezes perfectly.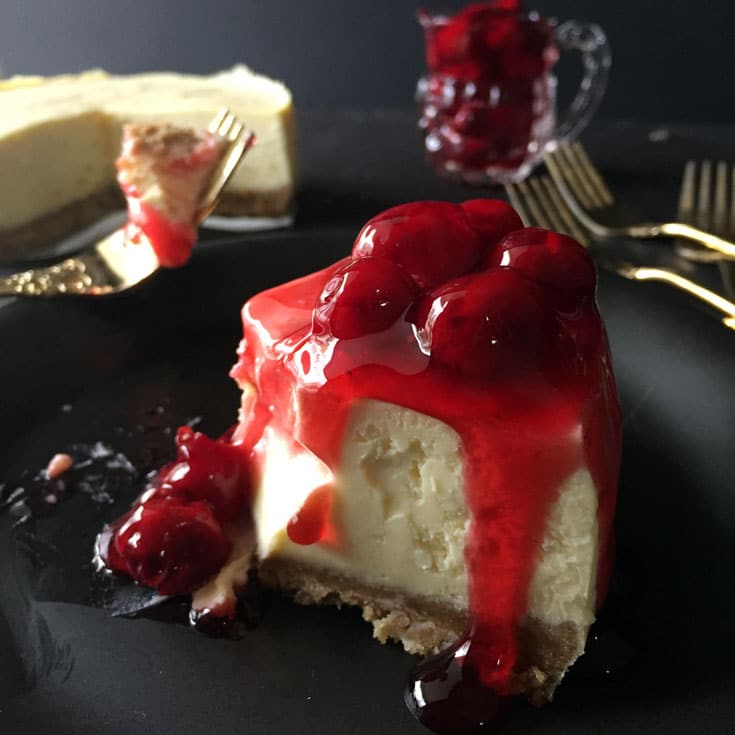 The cheesecake turned out perfectly in the Instant Pot.   It looked great, had no cracking, wasn't dried out and had perfect texture.
Seeing the thing covered in water when I pulled it out of the Instant Pot was a bit disconcerting but the paper towels cleaned the top of the cake up perfectly.
The last part of the test was to taste it. I ate a small piece and immediately felt sick.  Again, sweaty, rubber clown's nose.  Knowing I couldn't trust my own judgement I fed the cake to everyone who came into or even near my house over the next couple of days.
The consensus was - delicious.  The cake turned out creamy, tart, and sweet with a smooth texture.  All the things you apparently want a cheesecake to be.  So the Instant Pot cheesecake was a 100% success.
But even after this success I kept asking myself one question.   Why?  Why cook a cheesecake in an Instant Pot.  It wasn't any faster than cooking it in an oven.  I don't think the flavour was any different.  So why?
And I think it simply boils down to "because you can."