Twice every year, at the end of May and the beginning of September, Christie Conservation Area in Greensville, Ontario becomes the site to Canada's largest Antique Show & Sale.
Two weekends ago my sister and I filled our pockets with cash and headed up there.   My sister's pockets were filled with actual bills, my pockets were only filled with change.   Which made me look like I had suspicious growths all around the front area of my thighs and on my bum.
That's lesson number one in antique show shopping.  Don't carry a purse.  Don't carry anything.  You'll need both hands for grabbing, picking and poking all the boys at the show.  Plus, there's the added bonus that your hands will be free to check out all the antiques, too.
To give you an idea of just how huge the Christie show is, here's a map of the show layout. It was also scrunched up in the pocket of my jeans along with my change, some gum, my driver's license, an iPhone, some napkins, a few Advil and a multitude of business cards  picked up along the way.   By the end of the day I looked like I had a mild case of Elephantitis.
My last post on the Christie's brought us up to the middle of the show.  Here for your viewing pleasure, is the second half of the Christie Antique Show as seen through my eyes.


Wherever you looked there were displays like this. I couldn't figure out if they were carefully laid out after meticulous planning or just happened to look great by accident. This display in particular ended with me calling my mother to ask if she still had my field boots from my riding days in the basement. I have the very same lace up boots in black INCLUDING the wood forms for the inside. Sometimes things just work out.
A big box of balls. If they're unique, antique/vintage Christmas balls are expensive. The regular old round variety however are fairly inexpensive. This whole cardboard box filled with multicoloured glass Christmas balls was $10.
Yes. Even a coil of rope for sale. Balls & rope at the antique show. You'd pay considerably more for these things in a sex club. Plus they'd have the disadvantage of having cooties.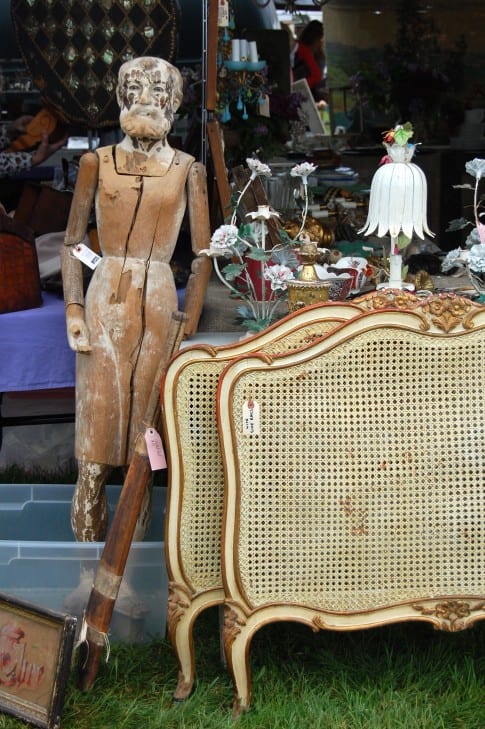 I always gravitate towards pale, old wood and this show has more pale old wood than date night at the Swedish retirement home. I could have stared at this mannequin and set of single beds forever. They're dreamy.
And … something for all the men dragged to the show.
Again … I could have stared at Viola the Mechanical Cow forever. She was from 1947 and apparently plugged in and worked. I have no idea what "worked" means. I'm assuming Viola didn't give milk, but who knows what those crazy people in 1947 did. The Cold War started in 1947. It's entirely possible Viola is some sort of a submarine weapon.
If I had the room for this I would have bought it. Oh. And the money. The room and the money. I'd also need a little girl with pigtails.


For years I had old gold frames hanging on the brick wall in my backyard. Don't try this trick with wood or plaster frames. They'll rot and fall apart. If you want to place gold frames outside in the garden go for the plastic ones.
This is the television I'd like to watch Leave it to Beaver on.
I can't remember the price of this cabinet but it was in the thousands. Overpriced. Some things that are priced in the thousands are worth it. Especially old painted pieces, like the ones often found in Quebec for instance. This was not one of those rare finds that was worth thousands. It was only *priced* at thousands. The drawers are all labelled as you can see. The drawer I like best is the one actually labelled "junk".
Boys toys.
This is pretty much how I looked all day at Christie's. My sister found it annoying. I find the way she phones me while she's loudly crunching her way through a bag of potato chips annoying. So we're even.

One of the few retro pieces at Christie's.


The setting of Christie's is beautiful. It's a huge conservation area that's given over to the show twice a year. Behind the painted gramophones you can see the lake. Well, pond really, but they call it a lake.
The gramophones were a perfect addition to the site. They were shockingly beautiful and sounded great. The music from them drifted across the field. I had to contain myself from buying one and spending the rest of the day looking for '78′s.
Red and white kitchenware. LOVE IT. Love it. Loveitloveitloveitloveit.
Red and white stuff that goes in the kitchen was promptly followed by red and white stuff that comes out of the kitchen.
Banister posts repurposed as candle pillars or decorative structural objects. Great tones of grey and beige. Greige. $15 a piece. Can't find that at a Homesense or Homegoods.
The bear. What else is there to say.
Burled wood bowl from the early 1800′s. How much you ask?
A mere $4,500. This probably isn't the bowl you'd let your kids whack with a wooden spoon at midnight on New Year's Eve. Plus the sound wouldn't really be all that satisfying. Clunk, clunk.
Just some cruddy old step type things I happen to love. If it's old and gnarly and crappy looking, I love it. Go ahead. Ask me how I feel about Keith Richards.
Some more reasonably priced wood doughbowls. Start at around $65. If you're thinking about buying a dough bowl like this try not to buy one that has a finish on it. Dough bowls were used for food and were never coated with any sort of finish. They should be natural wood that feels smooth to the touch after years of use. If the bowl has been shellacked or finished with anything else, it isn't in its original condition.

Winding down. Yes. We closed the place. We're the drunks of the antique show world. Almost always overstaying our welcome.
One last look at my favourite thing … bowls.
My sister and her purchases. A Florentine sconce and 3 of those post pillars.
Until September …
I bought two things at this year's show. Both of which are shown in the above pictures.
And I've given you a pretttyyyyy large clue as to what they are.
In Friday's post I'll reveal the 2 things I bought and exactly what I'm going to do with them. And in case you are swayed by the fact that my pockets were only filled with change and napkins, keep in mind ... stuck smack dab in the middle of that conservation field, was a bank machine.