I guess a lot of you are wondering whether or not I've ever got a peanut stuck up my nose.
I haven't.  And since I don't have children I've never had to take one to the doctor with a peanut stuck up their nose.  I'm not sure what it is about kids and sticking things up their noses but I can say that once they grow up, boys still like to stick things where they don't necessarily belong.  This was proven once again when I was cleaning up to start Christmas decorating and found 14 foil easter egg wrappers smashed between the arm of the couch and the couch cushion.
The fella.
More than 2 years on the lam and I'm still finding weird things he stuck in weird places.
I should have known something was off with him when he told me in no uncertain terms that pizza toppings should be underneath the cheese.  And he was serious.
The thing about decorating the house for Christmas is for some reason I feel like I need to clean the house up first.  Clean, tidy, reorganize a bit and THEN I can start dragging the Christmas crap out to make the mess of all messes.  The sparkle-twig mess.  Once the Christmas decorating is done, I do it all over again, cleaning, tidying and vacuuming up enough sparkle and twigs to choke the Abominable Snowmonster.
Today I'm just going to take you through a casual tour of my perfectly propped and presented house at Christmas.  My house does not look like it does in these photos anymore.  There's currently a mess of gingerbread making stuff in the kitchen (for an upcoming post), the wine is gone and there's a smashed tree ornament in the front hall under the tree.
But for the most part this is what my house looks like at Christmas. Just a little more lived in.  Because I'm living in it and all.
Welcome to my home.
The bedroom high boy.
Guess what  These are original pine floors from 1840.
Guess what again?  I'm probably going to spend my time off at Christmas sanding all of the floors in my house down to raw wood.
Ernie, is unlikely to help me with the floor sanding task.  Apparently.
BRAND new white Rough Linen duvet cover.  This is the article that pushed me over the edge in terms of wanting to sand down my floors to raw, unfinished wood.
The living room.  The DIY snowglobes on an antique silver tray light up the room at night.
The cozy spot. Excellent for reading, snacking or general nesting.
Those cute toast coasters.
Big, HUGE, puffy garland is back in style, but i still like my sparse stuff.  Plus it takes up way less room in small spaces.
Every single thing you see her was either used or discount.
This entire area cost a total of $150. Including dresser, stocking, lamp, and gold foo dogs.
Decorating doesn't always require a lot of money.  Sometimes just some patience waiting for the right thing at the right price.
That white nutcracker however was $742.  Just kidding.  Like $10 or something.
The front hall is where the live tree goes every year. This year I went for a skinny, very, very sparse tree because I wanted it to look as natural as possible. It has holes in it and is kind of sickly looking.
I love it.
I've been collecting (and breaking) ornaments for years now.
The entire tree is decorated with them.
Some have even come from readers who weren't as in love with antique ornaments as I am or whose house didn't suit having them on their tree.
Antique timber wood bench.  Discount store fawn.
My old custom made field boots for horseback riding.  Sadly they were custom made for someone else so they were always a little bit big on me.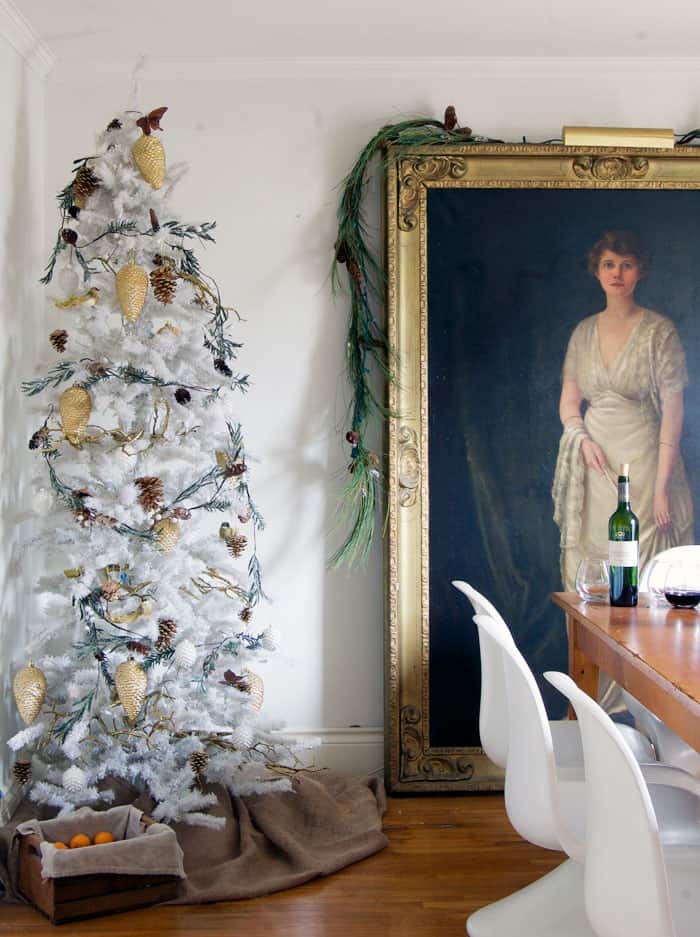 If there's one thing I could leave up all year long it would be this tree.
Downton Abbey meets Duck Dynasty on the dining room table.
This gold tree is the second thing I'd leave out all year long.
Paperwhites.  You love the smell of them or you hate the smell of them.
I love the smell.
My niece things they smell like own vomit.
Christmas doesn't necessarily have to completely sparkle and shine.  But a little bit is good even if it's just wine glasses.
I still love my kitchen.
Which is a good thing since I spend most of my time in this room.
Those curtains you see under the counter are Rough Linen. In the winter I put them up and in the summer I take them down.
Yeah, I bought those two oranges with the leaves just for the photo.
You should too.  Even if you aren't taking a photo of your kitchen, a couple of oranges with leaves have as much homey, Christmas impact as any doo dad accessory (provided you set them right beside two supercool Christmassy doo dads)
Several photos later and I still love my kitchen.
This truck was a Christmas present for myself a couple of years ago.
You know how sometimes you know you like something but have no idea how much you really love it until you get it home?  And for 2 years straight you say I'm so HAPPY I bought that!  This truck is one of those things.
Yup. It's Christmas.
In Wednesday's post I'm going to walk you through some of these photos and give you all the tips and tricks I have for decorating for Christmas or Hanukkah.  It's the one season where everyone can be an expert decorator.  It's very difficult to screw up Christmas decorating.  Because unlike with men, at Christmas you can almost stick anything anywhere and have it be O.K.