Come on in!  Welcome to my Christmas House Tour 2018.  A simple Christmas.  Kind of.
In my defence I really did try to make it a simple Christmas this year. I even went so far as to only dedicate 2 full days to decorating as opposed to 3 or 4. I wrote it on my calendar and everything.
As you can see from the restraint on my kitchen cabinets I went simple here. Simple wreaths, no adornment. Done.  But those cabinets have been decorated with those simple wreaths for years. It was the rest of the house I had to try to rein in.
I'm going to let you know I didn't exactly accomplish my goal of simple Christmas decorating. As it turns out, simple involves restraint.  In just the past 24 hours I've ordered 14 things I don't need off of Amazon, eaten ¾s of a loaf of bread and let a friend know what I really think of his decorating.  So.  Clearly I'm not an accomplished restrainer.
I am that person who goes to an all you can eat buffet and even though I don't want to, even though it'll make me feel sick and it's gross, I pile my plate with foods from 7 different nationalities because I don't want to miss out on something good.  I've dipped eggrolls in beef gravy.  I'm an abomination.
So doing actual "simple" Christmas decorating was never going to happen and you should really give your head a shake if you thought it was going to.  I mean even believing that I might accomplish a simple Christmas well ... , that just looks bad on you, not me.
Having said that, I did absolutely bring things down a  notch this year.  Just a bit.  Just so I don't feel quite so overwhelmed by it all.
I'm sure you know what I mean. You love your house filled with Christmas decorations for the first week or two and then they slowly start to bug you.  Close in on you.
You develop Christmas Claustrophobia. 
So I didn't put out a lot of the little things this year. Like the vintage ceramic salt and peppers.  Or the vintage elves that I really do love a lot and would actually look great on my new kitchen hardware cabinet now that I think of it.  Hmm.
Speaking of the new kitchen hardware cabinet - I love it even more decked out for the holidays.
That's one real (the long needled pine) and one fake (straight from Ikea) garland on the top. I bought real pine rope and cut it in half.  One half is on the cabinet and the other half is in the backyard staying fresh.  When this one dries out in a couple of weeks I'll replace it with the fresh stuff hibernating in the backyard.
The bottom shelf of the cabinet holds my kitchen appliances like my ice cream maker, Sous Vide Supreme machine and Kitchen Aid which look a bit messy, so I've attached a few tension rods to the cabinet and just threw some holiday print tea towels over them.  Later I'll probably make linen curtains for it, or something out of vintage aprons.
---
ALERT!  As of the moment that I'm writing this post,  my Cuisinart Ice Cream maker is on sale for $200 on Amazon.com.  (not Amazon.ca sadly)  That is a great, GREAT deal.  It's wayyyy less than half price.  It's a really good ice cream maker because it has a compressor built into it.  That means it freezes the ice cream as it's making it. (You don't have a bowl you have to take out and store in the freezer)
You can see if it's still on sale by clicking this link to it on Amazon here.
---
So that's the kitchen. Not overly simple but not overly over the top either. I do not feel Christmas claustrophobia in this room.
Onto the dining room!  Walk this way ....
I did two things in the dining room to simplify the decorating this year.
I didn't put any ornaments on the tree.  Just greenery and some sparkly branches.
I didn't decorate the shelves other than two black, glittery reindeer.
CHRISTMAS DECORATING TIP
If you want to go with the least amount of waste with your Christmas decorating, decorate with food.  Nuts, oranges, chocolates.  You can't go wrong with the big 3.  They make any room look festive plus you don't need to make room for storing them in your basement. You instead store them in your handy stomach.
Beautiful and delicious.  Unlike eggrolls dipped in gravy.
No ornaments on the tree meant less time to decorate it and it'll mean less time to put it away.
Here's where simple got hard.  For the past few years I've had a huge, massive garland on my portrait of Margaret. You can see it in this post from my Christmas House Tour of last year.  I had strung together 3 or 4 different fake garlands to make one ginormous garland, and then I wove gold leaves, beads and ornaments through it.
It did not scream simple.
So I had to take  a few garlands apart and dumb it down a bit.  Have you ever tried to untangle 4 swags of garland entangled with beads, lights and glitter?  It's a shitshow.
Wanna see the foyer?
That's pretty simple, right?
If you missed it the first time around, in the background, on the buffet, those are my DIY wax dipped amaryllis bulbs.  No water, no dirt, no nothing, and FUN to make.   Here's how to make them.
When I went into this whole "simple Christmas" mindset my goal was to decorate only with candles, greenery and twinkle lights.  I've done fairly well with that resolve but it ended with my Christmas tree.  The real tree, not one of the fake ones in my house.
I really wanted to do the tree with just  lights on it but then I remembered the dried oranges from last year and I just had to use them again because I love them.
I was stunned and amazed when I opened the bag I stored them in and they still smelled like orange. They're darker than they were last year but they still look great.
Here's how to make those dried orange slices for your tree.
And then there were the candles that I made last year. These are NOT the thing for you to make if you like everything straight and perfect because no matter what you do these flip and flop.  At least they do on a real tree.  They might not on a fake tree.
The last room in the tour is coming up, the living room.
First of all, I'm not a big pom pom fan but I bought this pom pom blanket because it was SO soft. Again, I'd normally  have some sort of official Christmas doodad on the end table but went with a few sprigs of pine.
The only thing that hurts my heart more than a homeless kitten is a flatscreen over a fireplace.  But for now that's the only place to put it.  I've tried it other places and it just looks so messy.
The living room is in transition right now so it's not at its best but hopefully it'll all get straightened out with a new couch and furniture placement n the New Year.
The chair.  It's my spot. I can see outside with the windows open and if I just swivel around a bit I'm staring right into the fire.  It's. My. Spot.
Directly across from my spot is this.  The spot that I have so far refused to stick a chair into because it would make the room feel squished.  I may break down one day and have a chair there but for now I like looking at this view.  My rickety saddle stand and old saddle.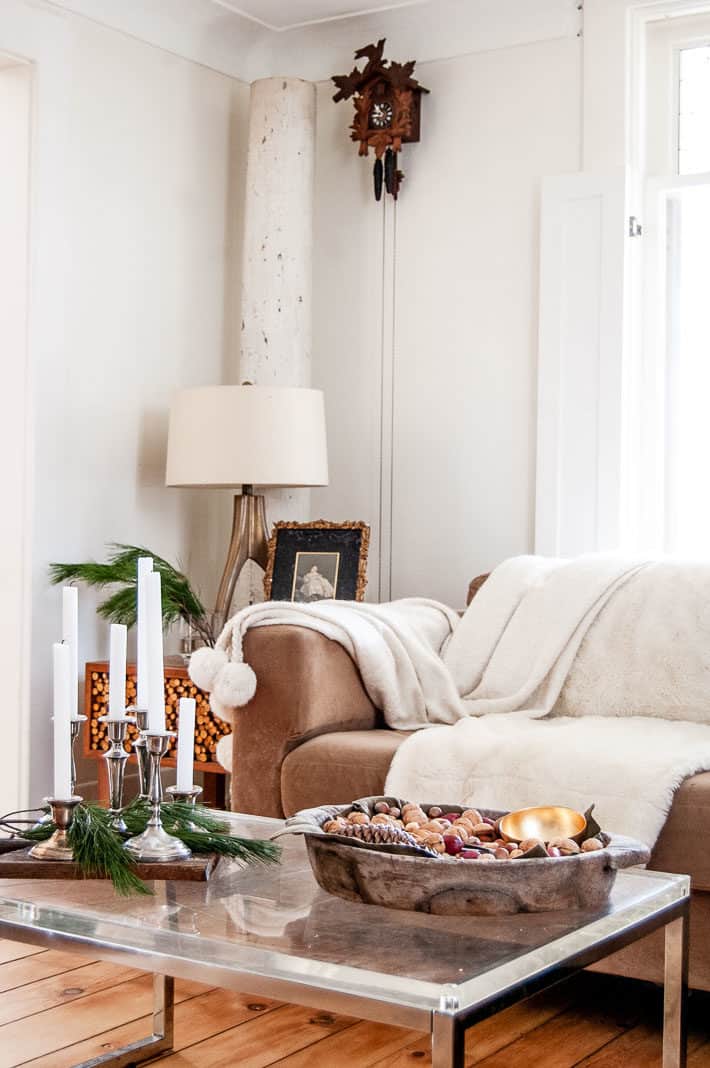 Like I mentioned earlier, decorate with food. I've already gone through an entire bowl of these mixed nuts in the shell this season (see aforementioned issue with restraint).  So I guess my decorating style this really really boiled down to candles, greenery and food.
O.K., and the odd Christmas tchotchke.
O.K.  Tour's over.
To put it all in perspective, take a walk with me through my house.
Everyone put your shoes back on and get out.  I have some vintage elves to find.
→Follow me on Instagram where I often make a fool of myself←