Christmas present dioramas are more work than a simple bow but they're also but more fun and way more interesting. You can make these holiday scenes to match the person you're giving the gift to.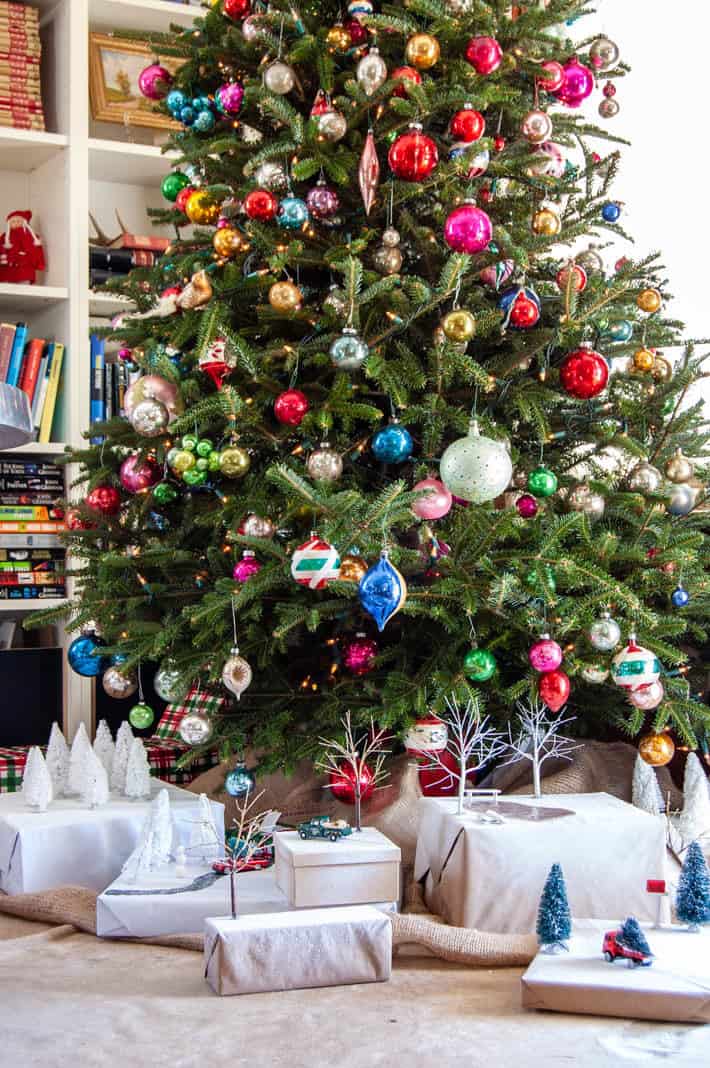 Yup! It's a surprise Tuesday post. I wanted to give you a close up view of the Christmas wrapping I did this year and if I didn't do it on a Tuesday (instead of when I regularly post on Mondays, Wednesdays and Fridays) I wasn't going to be able to fit it in before Christmas. If you read my post on Diorama Present Toppers a few weeks ago you know that I topped all of my presents with little winter scenes. I only had a couple of them done at the time so I wanted show you how they all turned out, and how I got the look.
This is Betty's present. A skating rink and bench. The figure skates are an ode to her Christmases past. The snow on this present and on all the other presents is just regular spray snow that's been allowed to dry. The pond is hot glue.
I made the skates out of high rubber boots that were on a Bratz doll from Dollarama. I just cut them off, painted them white and hot glued on some bent wire for skate blades.
The bench is a section from a miniature white picket fence from Dollarama. I broke it apart and glued it back together in the form of a bench. The fence also came with a tiny Christmas tree which I used on another present.
This is one of the original Diorama present toppers you saw earlier in the month. The skis are made from popsicle sticks and I made the boot imprints in the snow with a potato stamp I carved.
Not all of the presents are entire scenes. Some of them just feature a simple tree. If you're looking to make diorama present toppers but don't want to spend all the time it takes to make skates (like a lunatic) then just adding a tree instead of a bow has almost as much impact.
But of course, it has a little more impact if you add in a truck with hay bale in the back. The most important things with these dioramas are the little details. Like running the truck through the snow as soon as you spray snow it so you get tracks. Without the tracks in the snow this present topper is good. WITH the tracks it's enough to make a Restoration Hardware stylist spit carefully curated antique square head nails with jealousy.
Another one of the original present toppers I showed you a few weeks ago. A black road with silver sparkles embedded into it. On top of the car is the little tree that came with the picket fence.
This might be my favourite. It's a snowy scene with a flatbed truck making its way down a winding, snow plowed road to deliver a Christmas tree to a homestead. Complete with red mailbox.
This car was originally a firetruck, but having a firetruck racing towards a house at Christmas seemed like a slightly bad omen so I broke off the back of the firetruck with a pair of pliers, which resulted in a little flatbed.
I've never had so much fun wrapping Christmas presents in all my life. Ever.
I feel myself filling with rage every time I think of someone opening them, so that might be a problem. Other than that, I suspect it's going to be a happy, happy holiday.
→Follow me on Instagram where I often make a fool of myself←