If you're looking for an easy DIY Christmas ornament to do this year I'm going to put my vote in for these scented ornaments made with a dough of just equal parts applesauce and cinnamon. Not that you asked.
I'm going to talk about ornaments in a minute, but first a little backstory, because the backstory always makes the current story better.
About 3 years ago I got a cold that turned into a really bad cold. That really bad cold turned into Sinusitis. That Sinusitis turned me into an angry, angry, robot person who couldn't smell lasagna. Or other people's toots.
So there was good and bad to it all.
One of the symptoms of Sinusitis is the loss of smell and taste. I lost it all.
You have no idea how important the sense of smell is until you lose it. Sure you can't smell anyone's gut-rot-abscess breath, but you can't smell your own either. You can't smell yourself at all. I went through 14 sticks of deoderant, 18 packs of gum and 142 cases of Tic Tacs that month.
As soon as I got my sense of smell back, I started smelling everything in my path.
Now that Christmas is approaching, my nose is moving into high gear again. I expect everything I pick up to be scented. Pine cones, candles, cookies. If they aren't, I get angry.
Christmas isn't just the season of joy. It's the season of stink with the scents of Christmas (Cinnamon, Vanilla, Pine, Burning Money) wafting through the air.
So when my mother told me about something her quilting buddy told her about, I knew that I had to tell you. How's that for an elegant sentence?
So how do you make these homemade ornaments?
Cinnamon Apple Sauce scented ornaments. All it is, is equal parts cinnamon and applesauce. That's it. Roll it out, cut it with cookie cutters and let it dry.
---
DIY Scented Ornaments
Gather your ingredients and preheat the oven to 200 ° F.
Mix together equal parts applesauce and cinnamon until it forms a dough.
If you want to use other spices like nutmeg or cardamom, mix your dry ingredients first, then add them to the applesauce.
It'll look like regular cookie dough. Shockingly so, in fact.
Roll it out to around ¼ of an inch.
At this point if you want sparkles ... add sparkles.
I roll over them once with the rolling pin to make sure the sparkles are smashed in there good so they stick.
Now cut out your shapes with whatever cookie cutter you're using.
I went out and bought this Moose shaped cookie cutter for the occasion. (around $2) You can get a similar one (nicer shape actually) here. PLUS it comes with a bear shaped one too.
Carefully lift the "cookies" up and place them on a cookie sheet.
Using a straw, poke a hole in the "cookie" so you have somewhere to add a ribbon or hook later.
Place the cookie sheet in the oven at 200° F for at least 3 hours.
You can also dry them on the counter but it'll take days.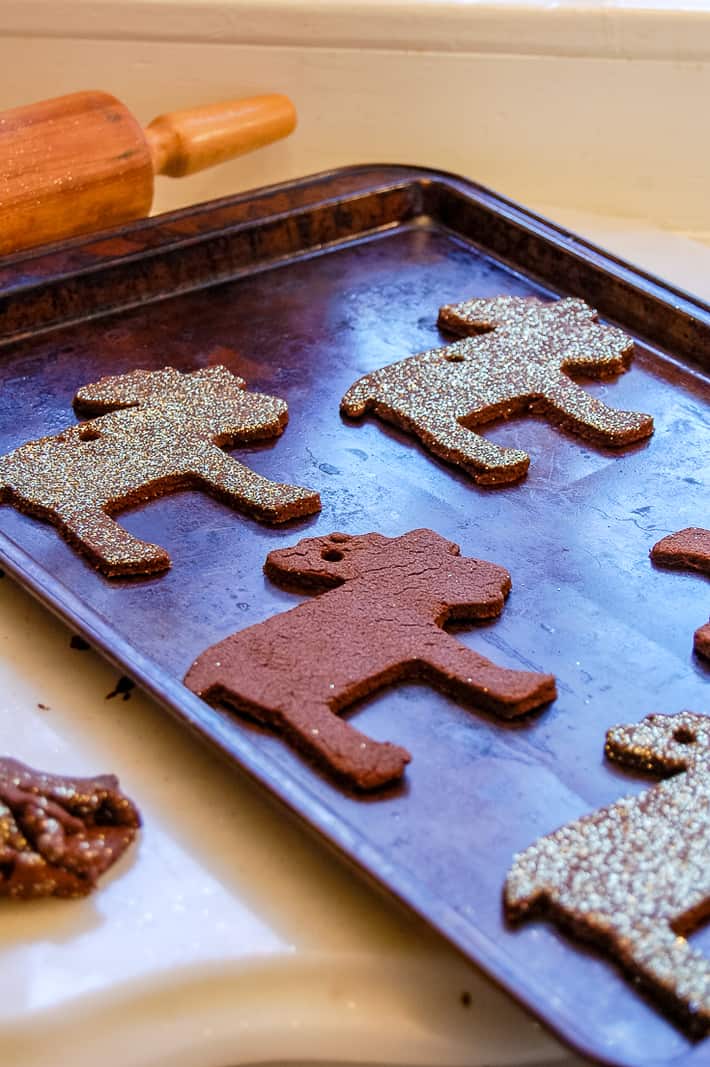 Now you can string them together like a bunting ...
... or hang them in a window or on your tree.
To store these from year to year just put them in an airtight container, like a Tupperware container. They scent will last for years, especially if they're displayed somewhere warm.
Did you notice? The finishing touch I added. Or do I need to draw your attention to it? If you didn't notice, take a look at the above photo again.
That's right. And it too smells like apples and cinnamon. Unless you happen to have have sinusitis.
→Follow me on Instagram where I often make a fool of myself←