Classic Caesar Salad recipe with romaine, bacon, croutons and yes - anchovies. You can leave those out if you want but then it won't be CLASSIC caesar salad, just caesar salad. If you're fine with that, I am too.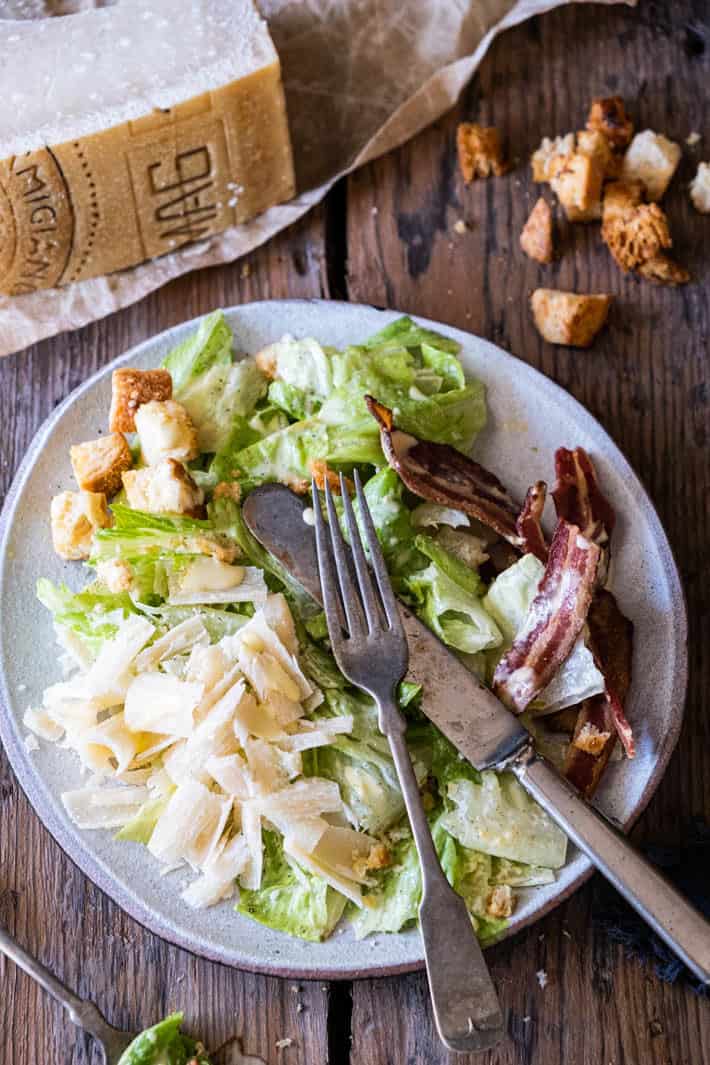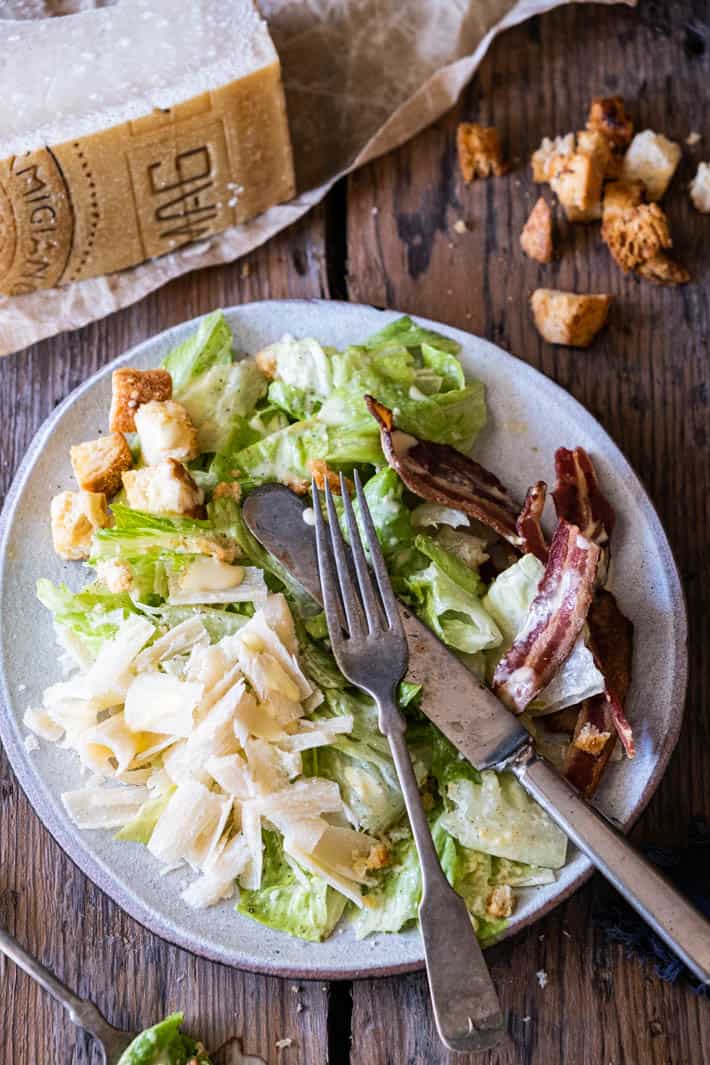 I can't rest until I've completely figured out the best way to do something. A lot of times this obsession really starts to rage when the focus is food. I'm just not satisfied with something that's pretty good. It has to be the absolute best version of itself that it can possibly be.
As you can imagine, those around me find this tiresome. Until they need the perfect caesar salad recipe.
Because my homemade caesar salad recipe is going to make them the hit of the pot-luck dinner they're going to and everyone will think they're smarter and prettier and better at math than they really are on account of it. They will appear so impressive in the glow of the caesar salad that almost any number of good things could happen! They could be offered jobs, company cars ... pet monkeys! Anything is possible when you hold the recipe to this crowd favourite.
Classic Caesar Salad
Ingredients:

So that's what you need to make the best Caesar Salad dressing you've ever made.
Want to make a meal of it? Add grilled chicken for a Chicken Caesar Salad. Although, weirdly, even though I like both chicken and caesar salad, I don't like them together. But you might. Most people do. They're weird like that.
This recipe is made a lot like my mayonnaise recipe using that whole immersion blender technique. Like this ...
How to Make this Caesar Salad Dressing
Just whack your egg into a mason jar and then add all of the other ingredients.
You don't even need to chop the garlic. Just throw the whole clove in there.
Place the base of your immersion blender directly over the egg yolk until the blender is resting firmly on the bottom of the jar. Now turn it on. Don't move the blender! Just leave it pushed down to the bottom of the jar and everything will immediately whirl and emulsify.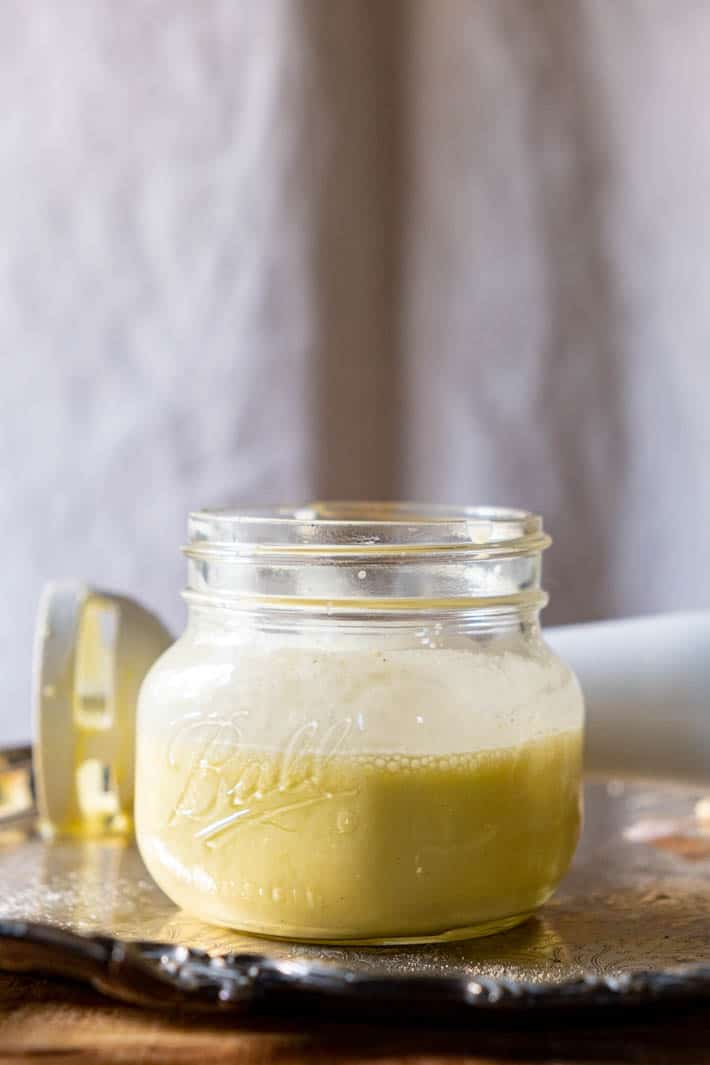 Once everything is emulsified you can slowly lift the immersion blender (while holding the mason jar firmly) and it will release it's little tornado-like suction. Blend up and down a couple of times.
Let it sit in the fridge for a day if you can and you're done. (Just like chili, caesar salad dressing is the best the next day.)
Classic Caesar Salad Recipe
Classic Caesar Salad
A classic caesar salad recipe that's garlicky, rich and creamy. Just add romaine! (well and croutons and bacon)
Print
Pin
Rate
Ingredients
½

cup

vegetable oil

OR very light olive oil

1

egg

1

clove

garlic

1

tsp.

Worcestershire sauce

½

teaspoon

dijon mustard

4

tbsps

parmesan cheese

1

tablespoon

vinegar

scant

1

tablespoon

lemon juice

½

inch

Anchovy Paste

¾

tsp.

salt

¼

tsp.

pepper
Instructions
Crack egg into bottom of a wide mouth mason jar or immersion blender jar.

Add remaining ingredients.

Place the bottom of the immersion blender and blade directly over the egg yolk and press the bottom of the blender to the bottom of the jar. Turn on the blender and let it mix. Once the ingredients are emulsified slowly pull the immersion blender straight up. You will feel a vacuum and then the vacuum seal with break. This technique creates a mayonnaise consistency from your two main ingredients, egg and oil.

Pour the dressing onto torn romaine lettuce leaves. Mix dressing into the leaves by hand. I mean, you can use salad tongs if you're fancy like that, but mixing it by hand will do a better job of getting all the dressing evenly distributed over the lettuce.

Top with shaved parmesan cheese, croutons and bacon.
Notes
Can't stomach the thought of anchovy paste? Don't worry about it, just leave it out.  You just won't have classic caesar salad. You'll have regular old caesar salad. And everybody will judge you. No big deal.
Can't stomach the thought of raw egg? Don't worry about it, substitute the egg and oil with ½ cup of mayonnaise.
I used to make this ALL the time with olive oil but it was hard to find an oil that was light enough so now I usually make it with a vegetable oil.
If you DO use olive oil make sure it's *very* light in taste or it will overpower the other ingredients.
The dressing is good right away but is even better after sitting in the fridge for a day or two.
You can also make mayonnaise with the same technique with the immersion blender and it's DELICIOUS. Here's the recipe for that.
Want an EXTRA CREAMY dressing?  Use 2 egg yolks instead of 1 whole egg.
Here's my recipe for insanely good homemade croutons to top the salad with.
Nutrition
Calories:
93.08
kcal
|
Carbohydrates:
0.38
g
|
Protein:
1.12
g
|
Fat:
9.8
g
|
Saturated Fat:
1.64
g
|
Cholesterol:
14.86
mg
|
Sodium:
188.67
mg
|
Potassium:
9.06
mg
|
Sugar:
0.11
g
|
Vitamin A:
32.82
IU
|
Vitamin C:
0.56
mg
|
Calcium:
21.79
mg
|
Iron:
0.14
mg
Like I said, I love my immersion blender for this. It's the only way to go. Mine is similar to this one by Kitchen Aid, although I'm sure the cheaper ones probably work just as well. I do like the way mine and the one I've linked to have a flat bottom which helps create the great suction for emulsifying (as opposed to the style of blender that have more of a prong bottom)
Now if you'll excuse me I have some very complicated math problems to solve whilst watching my pet monkey.
---
→Follow me on Instagram where I often make a fool of myself←