First off let me say if the tin lining in your copper cookware is stained you do NOT need to clean it. Having said that … here's how to clean it, lol.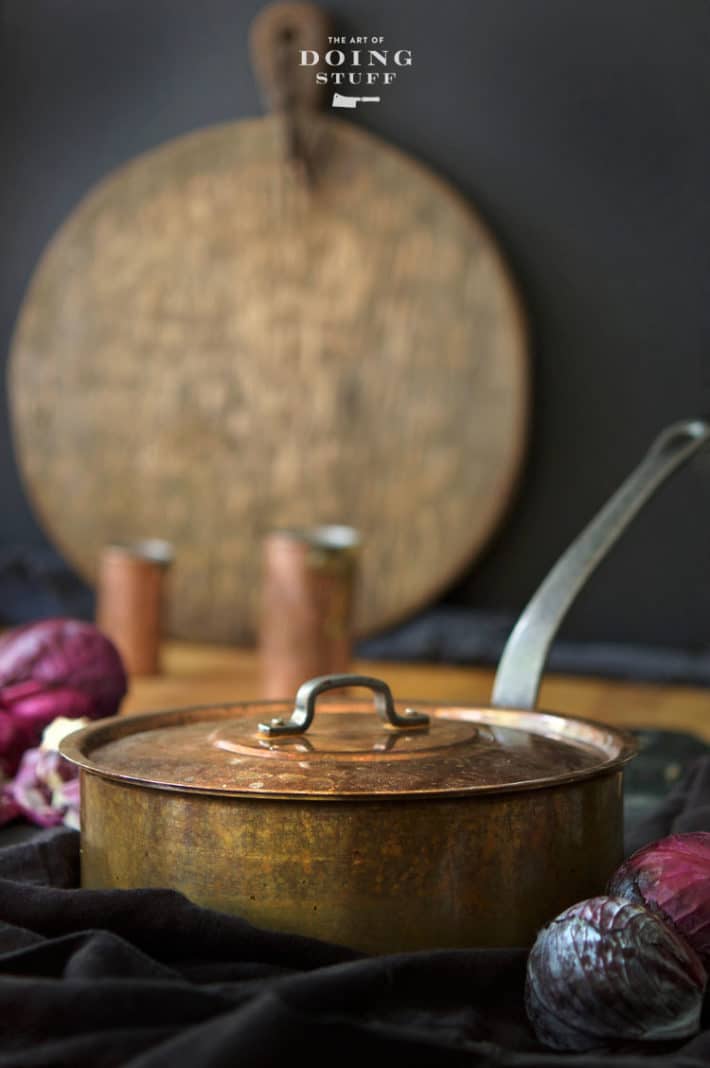 Copper pots tarnish. True story. I don't mind the look of copper pots that are tarnished so I don't clean mine very often; maybe once or twice a year? I just use the standard copper polish or a lemon and salt if I'm out of polish.
I've never even thought of cleaning the tin lining of them. I mean other than washing the pot.
I'd never had to think about cleaning the tin lining … because I'd never left pasta with rapini in a pot for 3 days straight. Until I did.
I made one of my favourite, go-to recipes, this penne and rapini recipe from chef Cory Vitiello on the Catelli website. This has nothing to do with cleaning the tin lining of pots but if you want a GREAT Italian recipe that doesn't involve a red sauce try this one. Lemons, chorizo sausage, penne, rapini, lemon juice, Fontina cheese and hot peppers. SO good.
If on the other hand you'd like a classic spaghetti and meatballs recipe, I'm pretty fond of my own recipe for that.
Right. Back to cleaning the tin lining of your copper pots. So what I did was leave an entire pot of this dish on my stove for 3 days. Maybe 4, I can't remember. I ate my dinner the first night I made it and just put the whole pot of leftovers in the fridge instead of transferring them to a bowl. Stupid mistake #1.
Then after 2 days in the fridge I took it out and put it on the stove to have for dinner. Then that night I had a hideous migraine and couldn't even think of moving let alone eating. So there the pot sat until the next morning at which point I decided it looked quite pretty on the stove and decided to get to dealing with it later in the day. Which turned into the next day. Which turned into the day after that.
Which turned the tin lining in my copper pot BLACK. You could see every single spot that the rapini had touched as blobs of black.
I washed it and washed it and it still looked like this.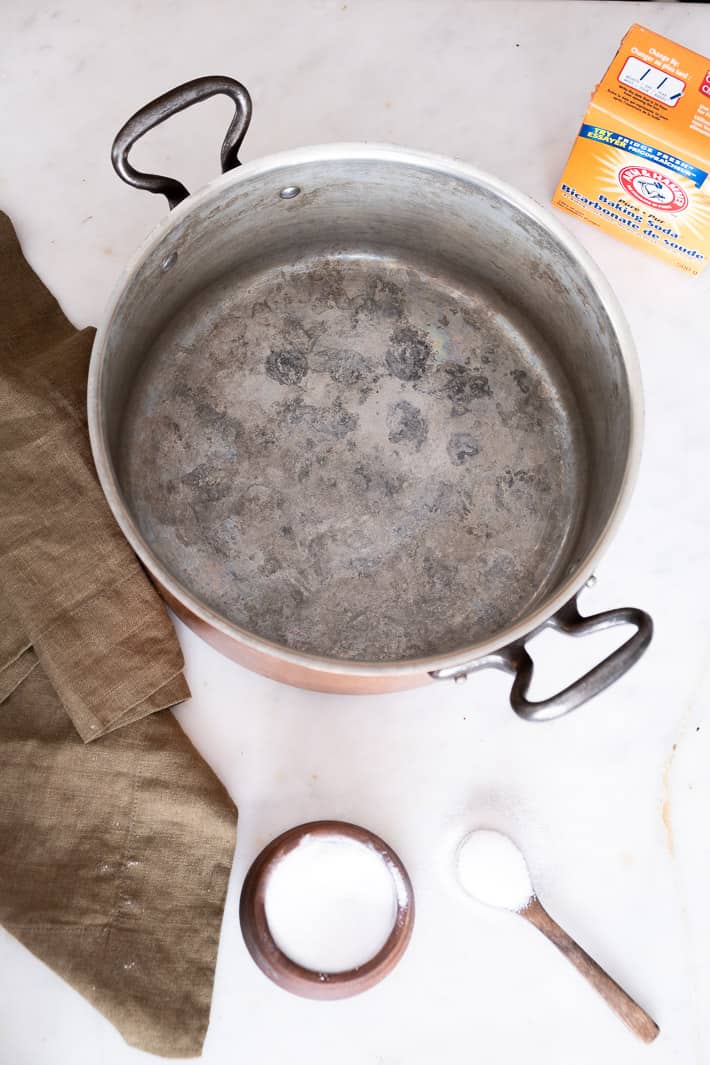 See? Blobs of black. Normally discoloured cookware like this wouldn't bother me. That's what happens when you use pots and pans. They get used looking. But this dark, random blobby mess bugged me and I wanted to clean it up.
Why not just scrub the copper pots tin lining?
You can't scrub the tin lining in copper pots because the layer of tin is thin and soft, so vigorous scrubbing will remove it.
How to Clean the Tin Lining in Copper Pots.
Materials
Aluminum foil, the size of the bottom of the pan
Baking soda, 1-2 Tbsps
non-iodized salt, 1-2 Tbps
water
Method
Fill your pan or pot with water and bring it to a boil on the stove.
Once it boils, remove the pan from the heat and add the baking soda and salt.
Fold a long sheet of aluminum into thirds and put it in the pot. Push it down with a wood spoon and set a bowl on top to keep it from floating.
Put a lid on the pot and leave it for at least half an hour.
Remove the lid, aluminum foil and water then wash the pot like you normally would.
Repeat as many times as necessary.
TIPS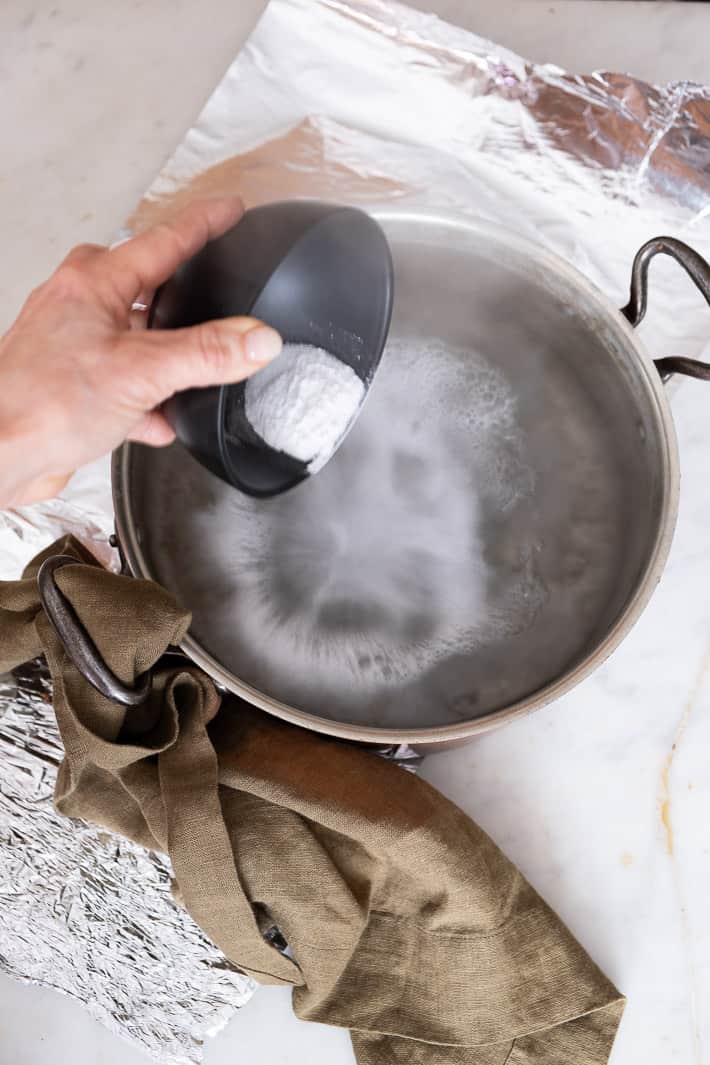 The baking soda and salt will bubble up so add it slowly so you don't have an accidental volcano situation.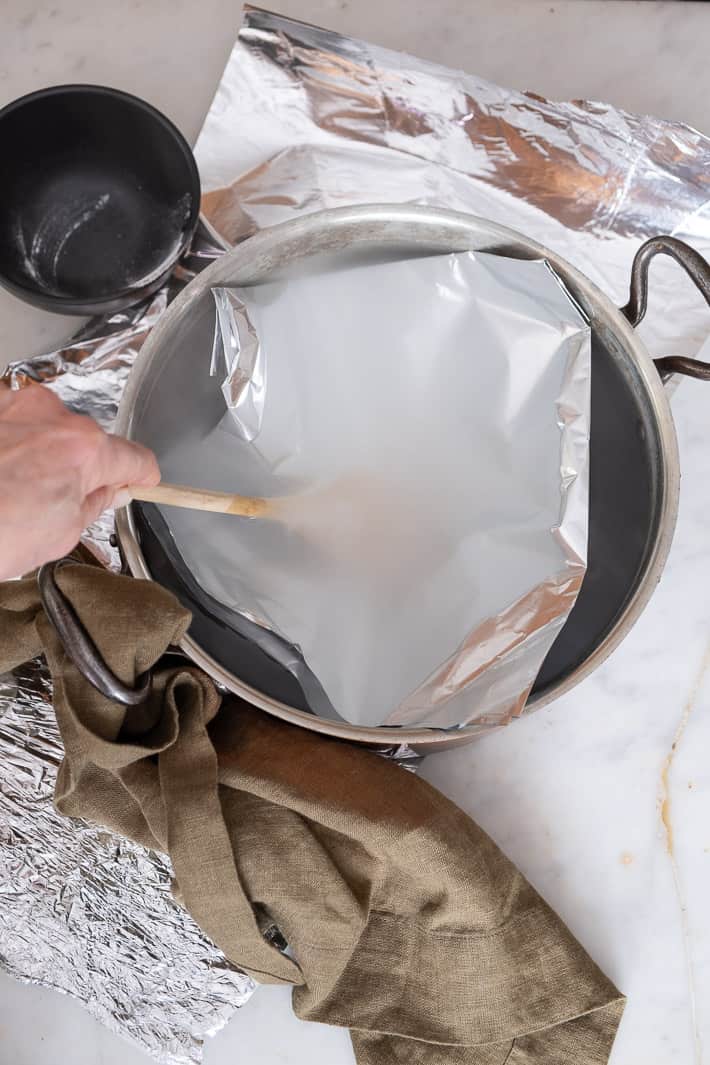 Don't use metal spoons or bowls. It'll affect the reaction.
To make sure the entire inside of the pot gets lean, top the water level up so it comes right to the rim of the pot. Don't bother boiling this water, just use hot out of the tap.
This isn't going to make a really discoloured pot look new. Unless you do it 30 billion times.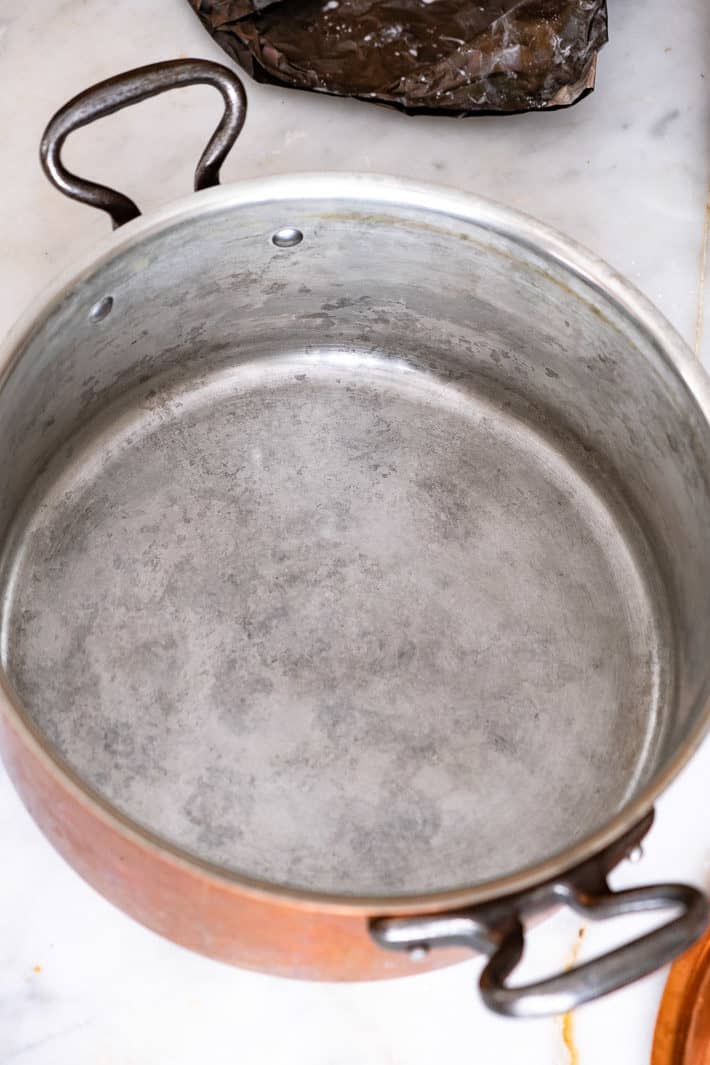 But it'll make it better.
When you remove the aluminum foil it'll be black from attracting the black staining. The foil was every bit as black on the last attempt as on the first!
For me, repeating as many times as necessary meant doing this 6 times. I did it twice and thought, that's good enough. Then I'd look at it and think, well maybe just one more time. And repeat until I ran out of non-iodized salt.
The non-iodized salt is important. I tested the method with regular salt and it did not work at all. I folded my aluminum foil so the shiny wide was out but I really don't think it would make any difference.
How does this work?
Kind of like a magnet. The aluminum foil attracts the tarnish from the tin.
It's possible that it's a little more scientific than that, but that's the gist of it.
Why you really shouldn't do this.
As the tin in your copper pots darkens, oxidizes and stains it's actually IMPROVING. It won't stain as easily, becomes harder and retains heat better. All good things. Letting the tin in your copper age over time is the best thing you can do for your pot.
So why did I do clean my tin?
I did it because the pan was really stained dark and I was a bit worried about it transferring a weird taste to any food I cooked in it later. This, I will admit, is probably a completely unreasonable fear.
But there you have it, I'm not one to be entirely reasonable all the time. (please refer back to leaving my dinner in a pot on the stove for 4 days for further evidence of this)