Settle in, this is a long post, describing every tip and trick I've used so far to make over my living room as inexpensively as possible.  Get a coffee.  Better yet, a pumpkin latte.
This is what goes on around here pretty much once or twice a year.  And because I am extremely psychic (everybody says so) I'm going to predict that this is what goes on in your house too.
I declare the house a disaster and start doing what I *think* is decluttering, but is really just moving things from the one room into another room until the cluttery room becomes decluttered and the other room (which was decluttered) becomes cluttery.  Understand?
On and on this goes in a never ending carousel of cluttering and uncluttering the same rooms.  Room to room, room to basement, basement to room, room to closet.  And repeat.
See?  Psychic.  I'm still working on bending spoons with my mind (mainly so I can evolve the trick into moving spoons into the dishwasher with my mind.)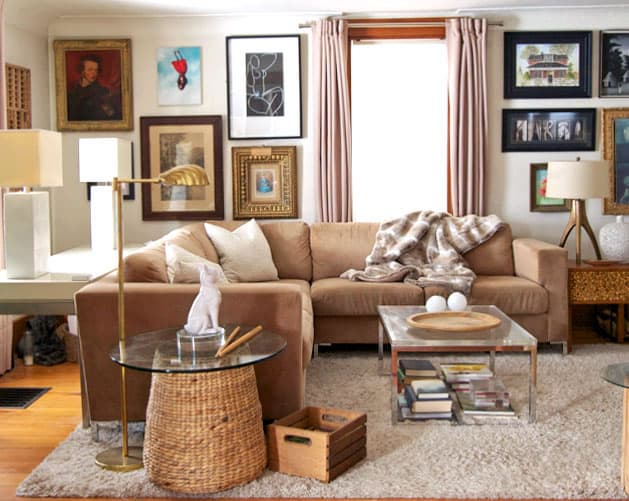 A couple of months ago I started the process of making over the lower floor of my house, including the foyer, living room and dining room, with just paint and rearranging furniture.  I might have to buy and sell a couple of things, but basically I decided to change as much as I could with what I had.
The above photo is the before shot believe it or not.  I know.  It looks pretty good.  But the shag carpet from Costco was a disgusting, flattened, haggy mess.  Not shaggy ... haggy.  It lost it's shag about 2 years ago.
There were maybe 12 too many lamps in the room.  Living in an old house with little to no overhead lights gives you an unnatural affinity and need for lamps.  In this small living room I had 8 lamps.  EIGHT.
The side panel curtains were cheap, like really cheap, and I got them when I first made over my house.  They almost matched the couch, but not quite.  But for $16.99, almost was fantastic!  As you can see they're a curious shade of rose/taupe.
I've never liked that coffee table (which yes I got on sale) but it fits the space perfectly.  That table is pretty but it ain't got no soul.  Even though I'd love to have a huge square coffee table the room just won't allow it.  Because the room is a jerk.  So I've kept the coffee table.
The couch? I'd love to replace it with something a little less puffy but for now it stays.  In the back of my mind I have something either a bit more country or a velvet or leather Chesterfield sofa.  Probably in sectional format because again, it's what works best in my jerk of a room.
I still love the idea of the gallery wall but these prints were every single thing I could find in my basement, most of them not even framed properly.  They weren't necessarily artwork I loved.  Just stuff.  That happened to look fairy good when grouped together.
So with all that in mind, my new decluttered living room.  The makeover is not complete, the canvas has been cleaned up a bit, waiting for some fresh, new brush strokes.  It may take a month, it may take a year, but it is on its way to completion.
I know. It looks empty.  And naked. And almost the same.  Don't be alarmed.  It's because it's missing the number one most important ingredient to successfully decorating; layering.  That's what the new brush strokes on the room will do.  They'll add layers which is what makes a "nice" room a "jawdropping" room.
Take a look at one of my inspiration shots from Ellen Degeneres' home.
There's layering.  Different colours, textures, styles and periods.  There are interesting pieces and billion dollar Hermes blankets (substitute with Hudson's Bay blankets my Canadian friends), flea market finds.  It. Is. A. Layered. Room.
So don't worry (as if you are), I'm going to get that layered look again, it just might take a while to get it the way I want it.
So what have I done?
I got rid of the rug.  I threw the damn rug out.  I may never even get another rug.  My living room looks kind of bald in the photograph, but in real life it  looks clean and calm without another element to busy it up.
Don't worry.  I'll mess and clutter it all up as soon as I declutter my dining room.
I have scaled down the number of lamps from a whopping 8 to a paltry 7.  I know.  Living by the light of 7 lamps.  I feel like a bat.
As you might know, I painted the trim.  You couldn't see a lot of the trim in the living room because of the rose/taupe drapes, but now that they're down you can see the architecture of the woodwork.  There are a few different directions I could go in terms of window treatments (more on that further down in the post) but for now I'm still getting a thrill out of looking at the naked painted trim.
So far we've ascertained that my new living room is batty, bald and naked.
I've kept my 3 favourite prints up on the walls and I'm going to get the Picasso on the right, properly framed. As it is now, it's just sitting in a gold frame.  As in, just set on the edge of the inner lip of the gold frame, not even inside of it.
I was considering getting it set into a much bigger frame so it would take up more wall space and be more dramatic, but from my Photoshopped version of it below, I feel like it would draw all the attention to the frame and not the Picasso.  I keep saying Picasso as if it isn't just a print from the 60's that my Uncle bought at a carnival.  I think it was a carnival anyway.  I have no idea why I think that, but since I'm psychic, I think you can believe me.
I might paint that table too, I haven't decided.  Not the little ends of cut wood, just the surrounding veneer.
The other end of the room holds the corner you don't often (if ever) see on this blog.  Why?  Because for the first few years of this blog I STILL had a Fred Flintstone sized television taking up the entire corner.  Yes I did.  I didn't want to show it off and make you all feel jealous.
Then I had my famous furry chair there, but it never looked very good there either.  Loved the chair, but the corner was always icky and I couldn't get it right for the life of me.
Which corner?  This corner.
It's right now.
That's a settee that I've owned for years.  For a few years it was classing up my mother's garage, but a couple of years ago I brought it back home and put it in my foyer.  Where it didn't really fit.
I love it with all of my heart in the living room, but it's not going to be able to stay there.  Why?  It isn't what you'd call curl up comfortable.  It's not uncomfortable, it just isn't the kind of thing you're likely to fall asleep on while holding a book, a string of saliva reaching from your mouth to a puddle of drool on the floor.  I like things to look pretty but I LOVE things to be useful and comfortable.
Am I right?
Part of what I love about the look of the settee in the room are the different materials used in it like the caning and wood frame and the interesting shape of it.  It's not just a big lump of fabric in the corner.  So it may take me a while to find something that has the look I want with the comfort I need.
Part of the mini-makeover included a COMPLETE overhaul on my bookshelves.  Since I've installed an entire 3 walls of bookcases in my dining room I could take some of the books out of the living room bookcases and put things I love in there with a bit of space around them so you can actually see them.
I removed the 2 rectangular Homesense (Homegoods) lamps on my sofa table and replaced them with the one lamp that I've always loved.  It wasn't a cheap lamp but I still love this Crate & Barrel Cleo lamp 10 years after buying it.  Plus they're still selling it and it's gone up in price so basically it's an investment. I think.
The Cleo lamp has moved and for now the rest of the sofa table behind the couch is empty.  Until I find things I really want there other than  my favourite wood carved Buddha.
Rearranging things also gave me the chance to change up another corner you don't see a lot of, in behind my couch.
As you can see I haven't yet dealt with the squirrel's nest of cords at the bottom of my dresser but I'll get to it.
Actually one of the things that took the MOST time in this room and had the biggest impact was rerunning and concealing cords, especially the ones around the fireplace that run the television, speakers and turntable.
You can see at the top of my bookcases there are 2 speakers, one on either side.  There are another 4 speakers (and their stupid wires) around the room.  It was my mission to hide them all. Part of what makes a room look messy are wires everywhere.  But when you live in an old house with plaster walls, running wires through walls isn't so easy.
So after living with wire nests everywhere for 17 years I did my best to hide them.  This included painting them and using finishing nails and 2 way tape to conceal them in existing trim.  Like on the fireplace.
And no.  I didn't paint my fireplace black.  Yet.
This wire wasn't quite long enough to run where I wanted it to, so I had to hammer in a staple to hold it in place.  But I have glued, yes GLUED this wire to my fireplace trim.  You notice it here obviously because I'm pointing it out and it's a close up shot, but in real life you don't notice the painted wires at ALL.  Doing this will neaten up any room.  Just painting your wires the colour of whatever it is they're sitting against or on top of.
I also drilled holes through the floor down to my basement so I could run my television cable in behind my bookcases.
I still have some wires to deal with as you can see down by my baseboard.  These I'll paint, bind together and then attach them to the baseboard so they just blendish in.
The lamp on this table (which replaces the Crate & Barrel lamp that was there) used to be on the blue dresser.
Finally, to help hide wires I even drilled into my bookcases to run wires down and inside of the bookcase instead of over them which makes them much less noticeable.  I pulled the lamp forward a bit here so you could see what I'd done better.
O.K., if anyone needs to go to the bathroom or give their legs a stretch now's the time.  You can have one little break and then we'll talk about the window treatment options.
Here we go.
To the right we have my old rose/taupe curtain panels.  To the left, nothing at all.
I could throw caution to the wind and have nothing on my windows at all but since this isn't a Frank Lloyd Wright home and I'm not living in the middle of nowhere, I'll probably opt for some sort of window covering.
My first instinct was to just switch out the rose/taupe side panels for white ones so everything just sort of disappeared, but then I thought ... what if I tried the opposite?  What if I tried dark grey, almost black?
And I love it.
But maybe I should just try the white, just in case.
And I love it.
But maybe I should think about recessed interior shutters (on the left, below) and painting the cold, chrome coffee table (on the left and right, below) black.
And I love it.  I really like it all.
Interior, wood, Shaker style shutters would be appropriate for the age of my house (1840) plus Shaker style compliments another love of mine, Mid-Century Modern.
Needless to say I haven't got anywhere with the whole window treatment thing. I'm in that decorating stage known as frozen.
For a quick 1-2 month mini-makeover I'm happy with it. The living room is the room that's going through the smallest transformation of my 3 rooms because it was pretty good as it was. Plus, because I didn't buy anything, and just cleaned everything up, I feel like now I can slowly, as time and money permit, layer the room up until it's perfect.
Or in layman's terms, clutter it up until it's perfect.