A Halloween bone crown that you can use for decoration or a costume? Um, YES! For optimal "creep" effect use real bone, but for the squeamish (or vegetarian/vegan), you can DIY it out of plastic bones from the Dollar Store.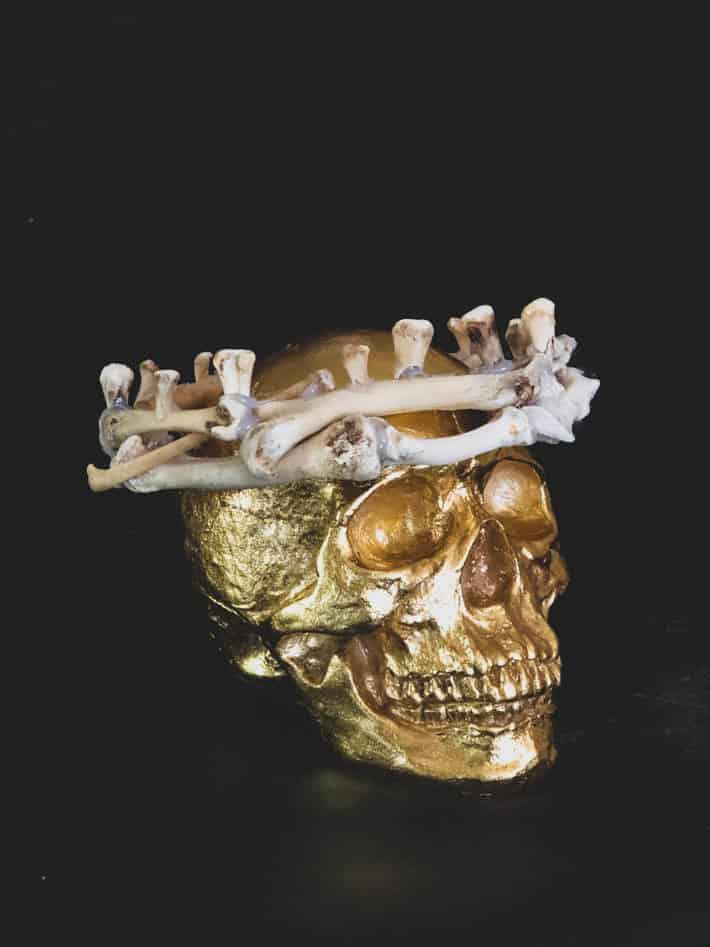 It's chicken bones.
Skip right to the tutorial.
When I was in grade 2 or 3 my friend Susie brought her prized possession to school for show and tell. A stuffed bear named Razzmatazz. Everyone clapped wildly and wanted to hold Razzy. It was a feel good, Hallmark moment for everyone. Susie, and her cutsie bear, finally took their seat. Then I stepped out from behind my desk and walked my little feet up to the front of the class, one hand gripping a plastic bag. The slightly crumpled grocery bag held my prized possession.
The class was still on a sugar high from Susie's sweet stuffie so I waited for them to settle down. Once the class settled and I knew all eyes were on me, I reached a hand into my bag and pulled out my prized possession.
A human skull. An actual human skull.
I held it up, perched on the palm of my hand, Othello style and watched as each and every eyebrow in the room shot upwards. Except for the teacher's, whose eyebrows went in the opposite direction.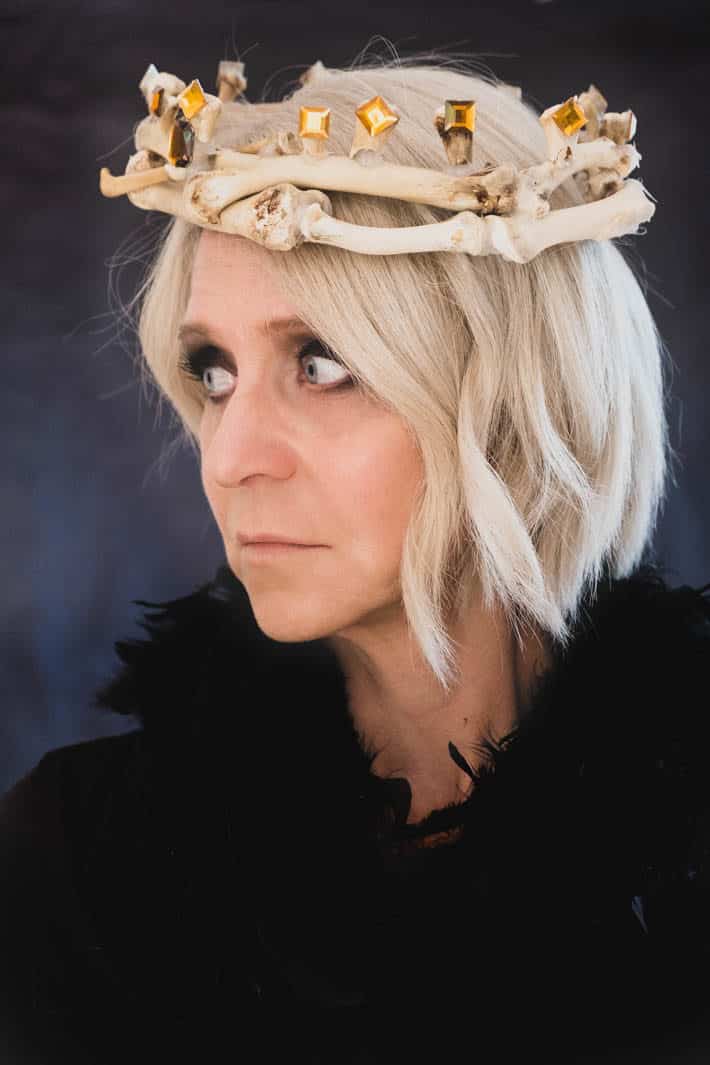 That's me! I Photoshopped a wrinkle away from the corner of my mouth!
O.K. I get it. Some of you don't wanna wear chicken bones on your head. That's O.K. This also makes a GREAT Halloween party decoration. ORRRRRR you can turn chicken bones into this bone wreath.
HALLOWEEN BONE CROWN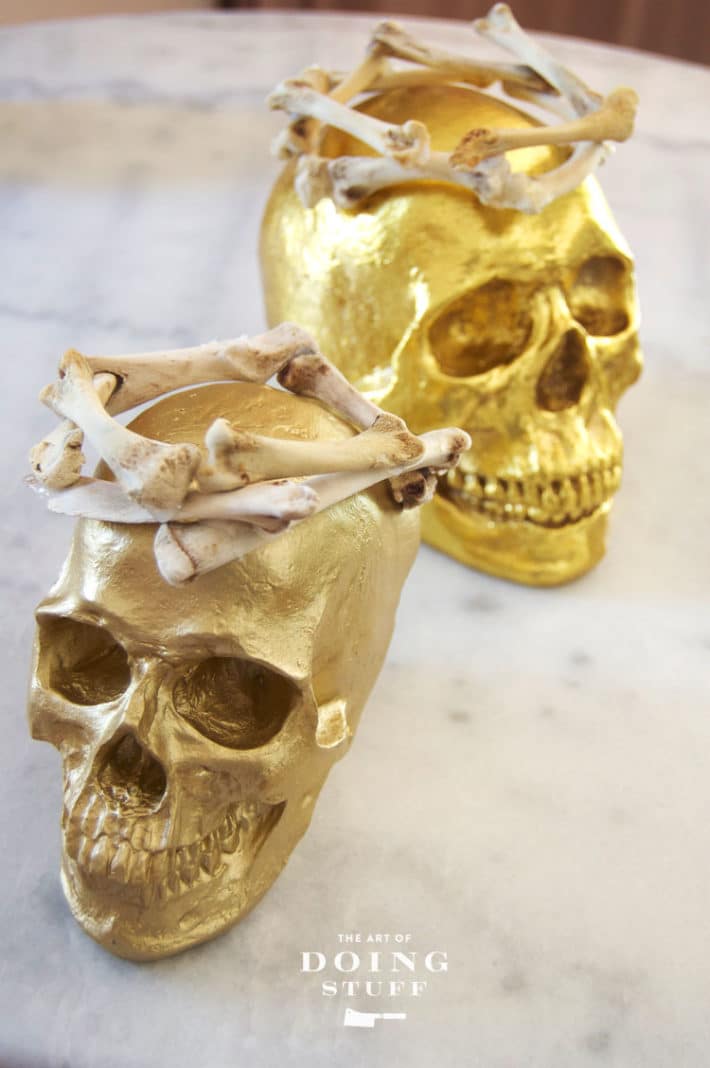 These bone crowns look good all on their on set on a table but are at their best when resting on a skull.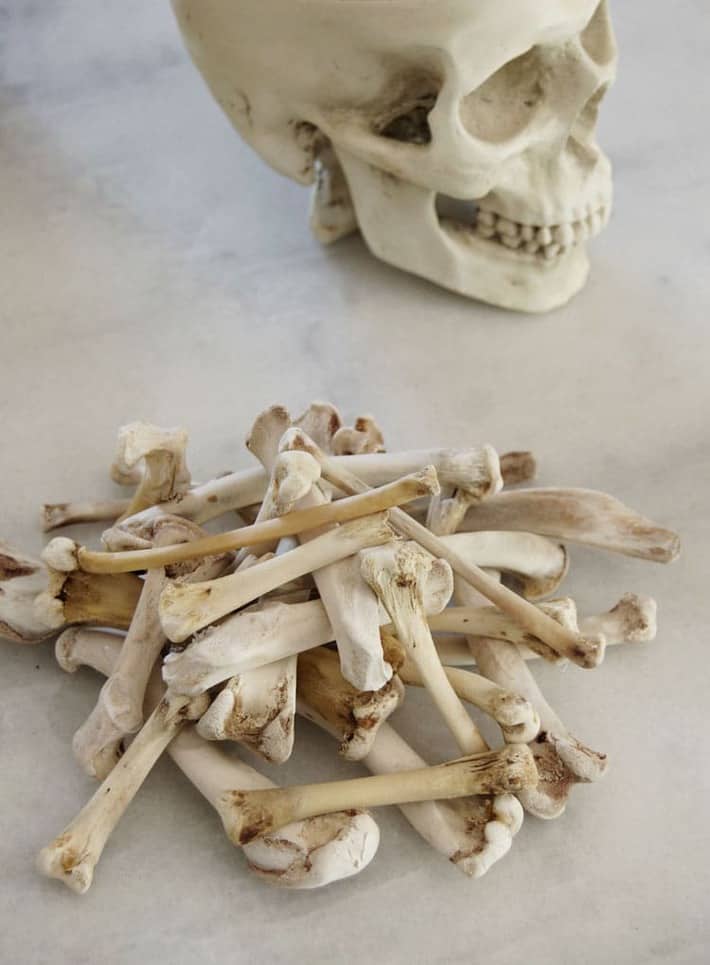 How to Make a Halloween Crown (out of bones)
I've found the easiest way to make fake bones look real, is by not using fake bones. I'm not suggesting you use human bones. That's just weird. But you can save all the bones from your chicken and turkey carcasses throughout the year and use those for Halloween decorating. Which is not weird at all.
Where to get Chicken Bones
I bet you eat rotisserie chicken the odd time don't you? Turn those carcasses into broth (here's my tutorial on making and canning chicken broth) and then save the bones! Ask your friends and family to save their carcasses for you. I actually ask my neighbours for their bones at Thanksgiving.
High end butcher shops will sell or save chicken carcasses for you. You just have to ask them. I haven't had as much luck with grocery store butchers doing this but you can try.
If you get a local food delivery or are a part of a CSA program they sometimes have bones and carcasses available if you ask as well.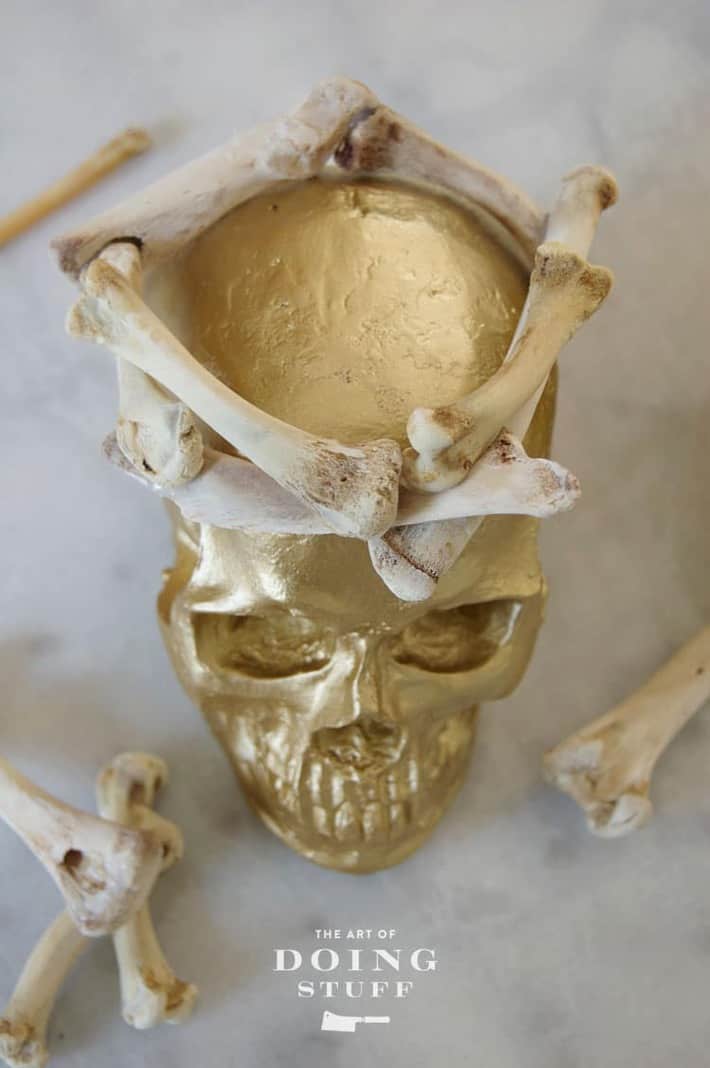 How to Clean the Chicken Bones.
Clean the bones of any meat. If you use them to make broth first there won't be much to clean. Scrub them with a scrubby pad or the rough side of a sponge.
Once the bones are clean, put them in the sink with a little bleach and water. Around a cup of bleach for a sink half full of water. This lightens them and takes away the yellowish tinge they have.
For REALLY white bones, soak them in 3% hydrogen peroxide.
How to Make the Halloween Bone Crown.
Gather your cleaned chicken bones and plug in your hot glue gun.
Start gluing your bones together in a circle. Put hot glue on BOTH surfaces you're gluing.
Form your bone crown on whatever or whoever is going to wear it. The bones need to conform to the surface you're putting it on or it'll slip off. If you form it on a flat surface like a tabletop, the crown will be completely flat and it it won't fit the shape of a skull (human or fake) and will slip off.
Let the glue dry and add extra glue and bones where you think things are shaky. The more bones you use the more stable the crown will be.
Now make another crown of bones on top of the first one. You'll end up with two levels of bones.
If you want to get fancy, add some bone ends around the top of the crown and add jewels.
You're done.
** If you plan on wearing this as part of a Halloween costume a good tip is to measure the size of your noggin and then mark a circle onto a piece of plastic. For the crown around that so it'll be the right size.
---
Use a lot of hot glue. Don't be shy. It'll disappear once the crown is formed. You DON'T want it to fall apart while you're parading around in your award winning creepy Halloween costume.
Using shorter bones will make a better fitting crown than using huge turkey leg bones. Unless you have a MASSIVE head.
Once you finish the first circle, do another row on top.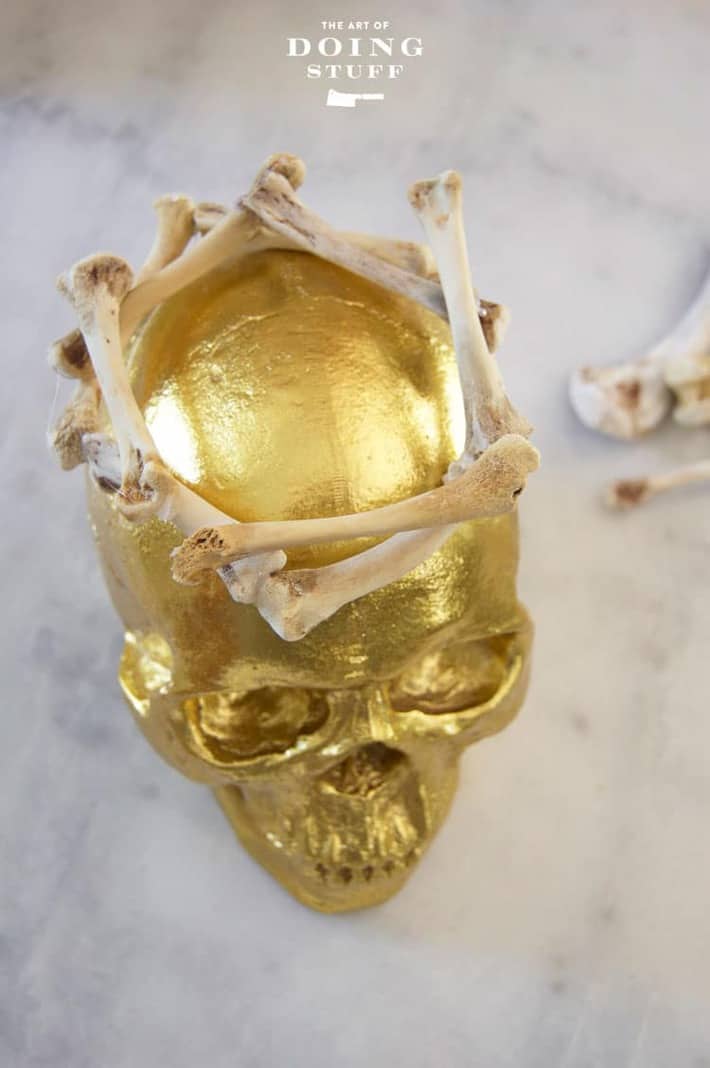 I really love Halloween decorating. It brings me back to those carefree days of my skull wielding youth.
If you have blobs of hot glue don't worry about it. No one will notice them because they'll be busy looking at the bone crown you made and assessing your mental state.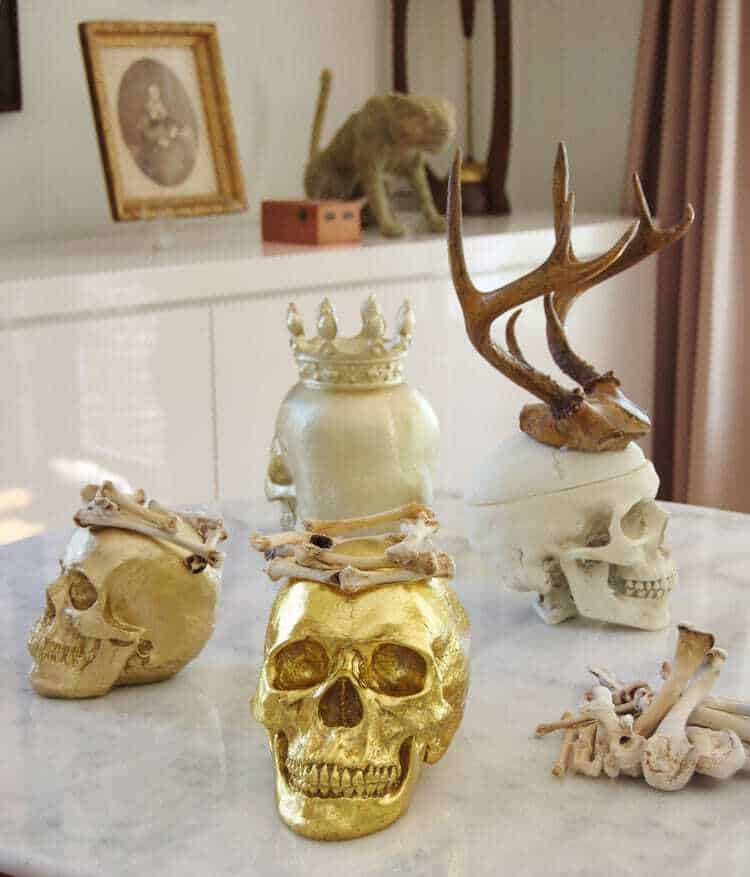 See? Creepy but still elegant Halloween decorations. I mean, compared to plastic vomit or something.
Halloween Bone Crown Tips
If it's to wear, mark a circle that's the size of your head on a piece of plastic and form your crown on that.
If you're having trouble getting your bones to glue you can sand them to rough them up a little bit. But if you glue BOTH sides of the bone and let them sit before fiddling with them you shouldn't hav any problems.
To make sure the crown stays secure on your head all night glue it to plastic headband the same colour as your hair and then just put the headband on.
Remember this IS bone and it is only hot glued together so it's moderately fragile. Be mindful when you're wearing it.
→Follow me on Instagram where I often make a fool of myself←