HALLOWEEN BONE CROWN
When I was in grade 2 or 3 my friend Susie brought her prized possession to school for show and tell. A stuffed bear named Razzmatazz. Everyone clapped wildly and wanted to hold Razzy. It was a feel good, Hallmark moment for everyone. Susie, and her snivelling bear, finally took their seat. Then I stepped out from behind my desk and walked my little feet up to the front of the class, one hand gripping a plastic bag. The slightly crumpled grocery bag held my prized possession.
The class was still on a sugar high from Susie's fluffy, glorified pacifier so I waited for them to settle down. Once the class settled and I knew all eyes were on me, I reached a hand into my bag and pulled out my prized possession. A human skull. An actual human skull. I held it up, perched on the palm of my hand, Othello style and watched as each and every eyebrow in the room shot upwards. Except for the teacher's, whose eyebrows went in the opposite direction.
Either my mother didn't know I was bringing human remains to school or she just didn't see a problem with it. No other child brought a stranger's detached head for show and tell that year but I'm not sure if it's because their mother's said no, or because their families kept their skulls in locked showcases at home.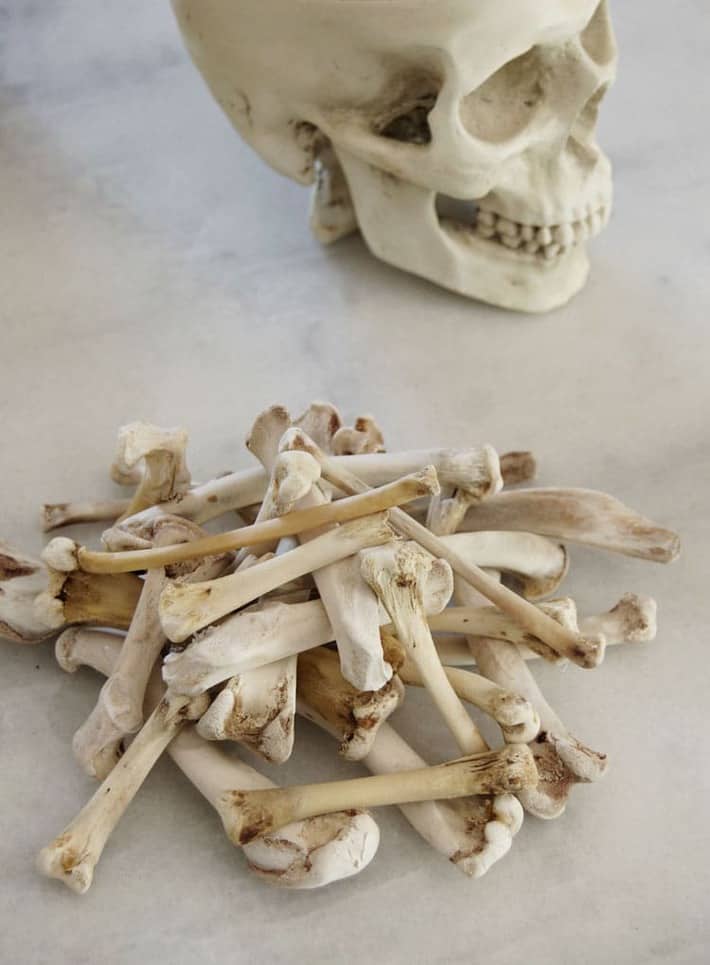 PILE O' BONES.
The moral of this story is that I've always been fascinated with skulls and bones. So it made sense that when I got to decorate my own house as an adult, I'd want to do it with real skulls and bones. Sadly my human skull disappeared some time after the show and tell. Actually, now that I think about it, I might have throw the skull out along with our Ouiji board just after watching the Exorcist at an incredibly inappropriate age.
I've found the easiest way to make fake bones look real, is by not using fake bones. I'm not suggesting you use human bones. That's just weird. But you can save all the bones from your chicken and turkey carcasses throughout the year and use those for Halloween decorating. Which is not weird at all.
Need a skull? THIS is the best fake skull I've ever seen. I desperately want it.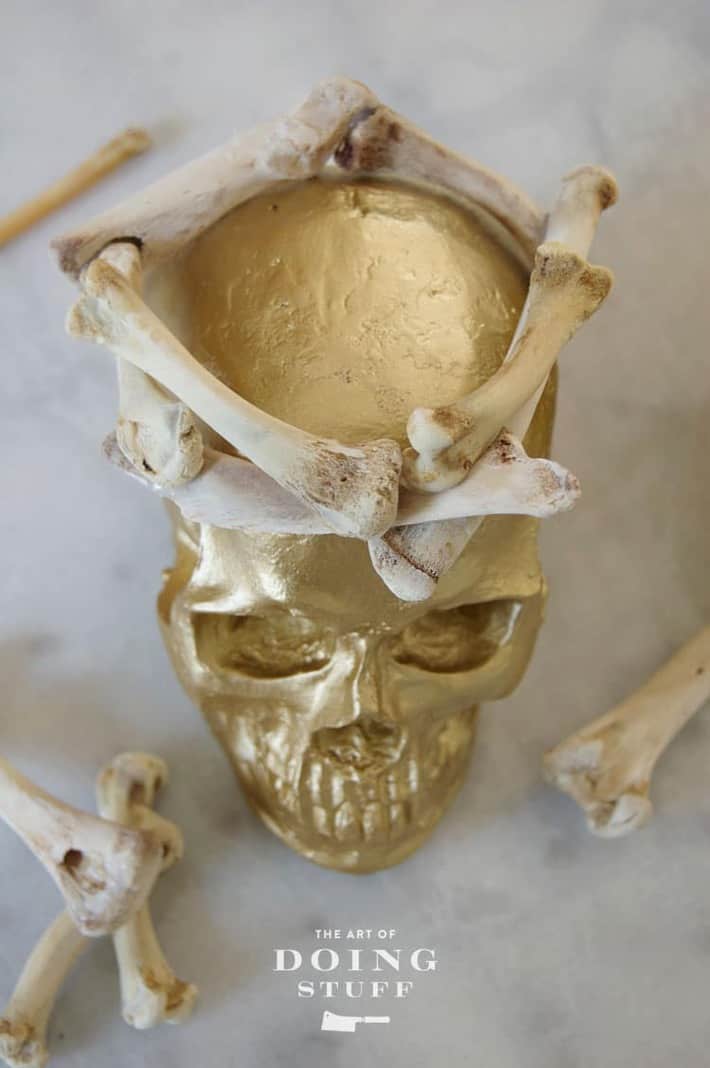 CROWN OF BONES.
Just clean the bones of any meat (I make my carcasses into chicken broth so all the meat falls off anyway), scrub them and put them in the sink with a little bleach and water. This lightens them and takes away the yellowish tinge they have.
If you don't feel like making anything out of them you can just pile them up on a table for a little display of creep.
But if you want to delve a bit further into Halloween bone crafting you can make a Bone Wreath, or this year's Halloween DIY, The Bone Crown.
The Bone Crown looks nice on a skull or any other head shaped object you might have. Like a pumpkin. Or your cat.
To create the Bone Crown you just need to hot glue the bones together.
The one important trick is to form the crown on the skull you want to put it on. If you form it on a flat surface like a tabletop, it won't form to the skull head and will just slip off.
Just keep gluing bones together until you've made a circle. It looks best and is easiest to make a circle if you use shorter bones.
Once you finish the first circle, do another row on top.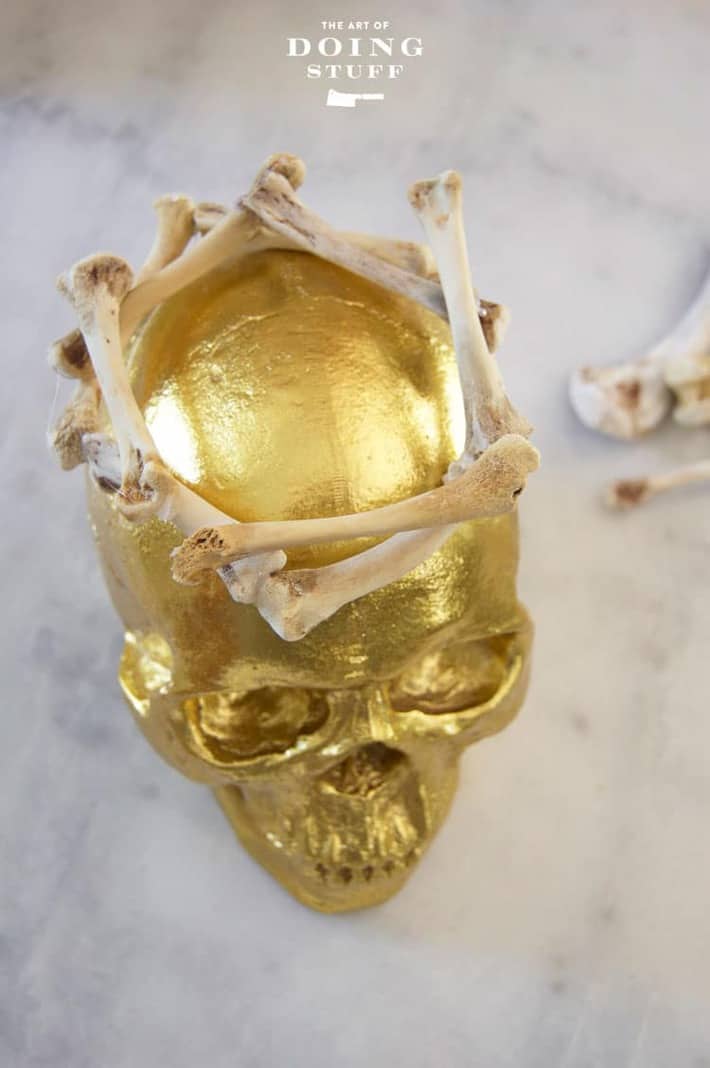 I really love Halloween decorating. It brings me back to those carefree days of my skull wielding youth.
If you have blobs of hot glue don't worry about it. No one will notice them in real life because they'll be busy looking at the bone crown you made and assessing your mental state.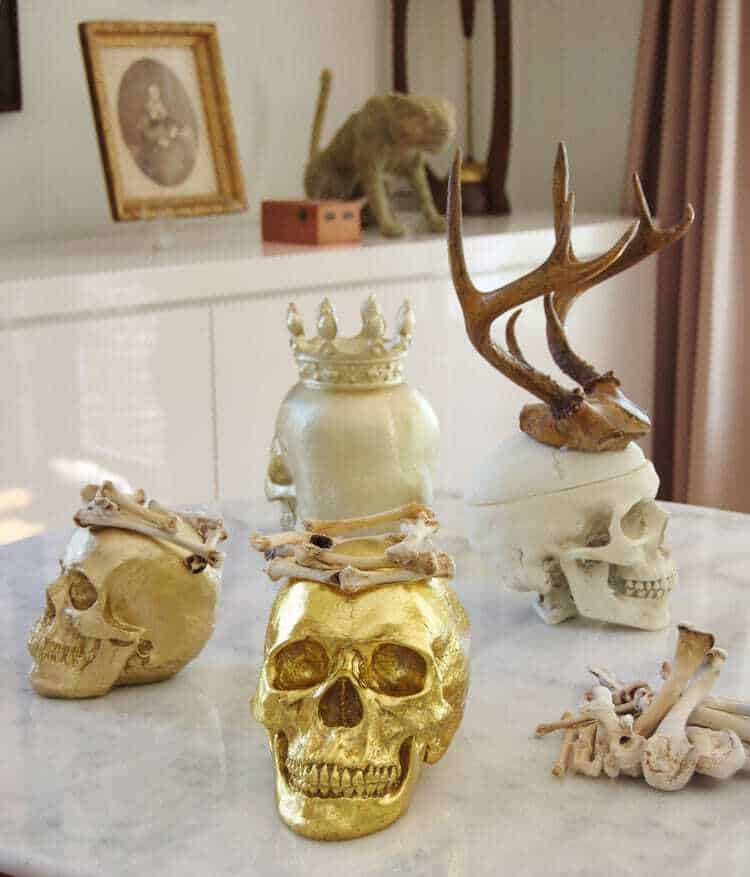 THIS is why I told you all to start saving your chicken bones earlier this week. Don't be a Snoozy Susie. This year, grab Halloween by the bone.
Have a good weekend!