Attention my fellow Thanksgiving celebrating Canadians! You need to make these turkey pot pies with your leftovers. They're the epitome of comfort food. Plus you can freeze 'em.
If you're here for the story settle in & get a coffee because I have more to say about my long relationship with pot pies and any normal person should. If you're here for the recipe click right to it.
This is - for real - a delicious turkey pot pie recipe.  I know because I have very acute memories from my childhood to compare it to. The sound of the little cardboard box opening, the frost covered mini aluminum pan landing on the counter with a thud. 
Always, ALWAYS with a bottle of ketchup and canned peas served through the blue cloud of Craven 'A's.  Some nights if we were very lucky and the pot pies had been sitting in the freezer for long enough we could actually taste the metallic aluminum with every bite.
These kind of meals were pretty common in my neighbourhood at the time.  Every kid who ran outside after dinner to play a quick game of hide & seek either had fish sticks, frozen pot pies or canned mushroom soup on their breath.   
Mothers worked, frozen stuff was always on sale and kids would eat it because it was a non threatening shade of beige and all pretty much tasted the same; like salt.
Years later, when I had moved out on my own, I picked up a frozen chicken pot pie I realized they were actually gross. The great pot pie recipe development began.
I found a recipe online that acted as a good base and over the years I've changed it over and over again until it's now ready to present to the world.
Easy Turkey Pot Pie Recipe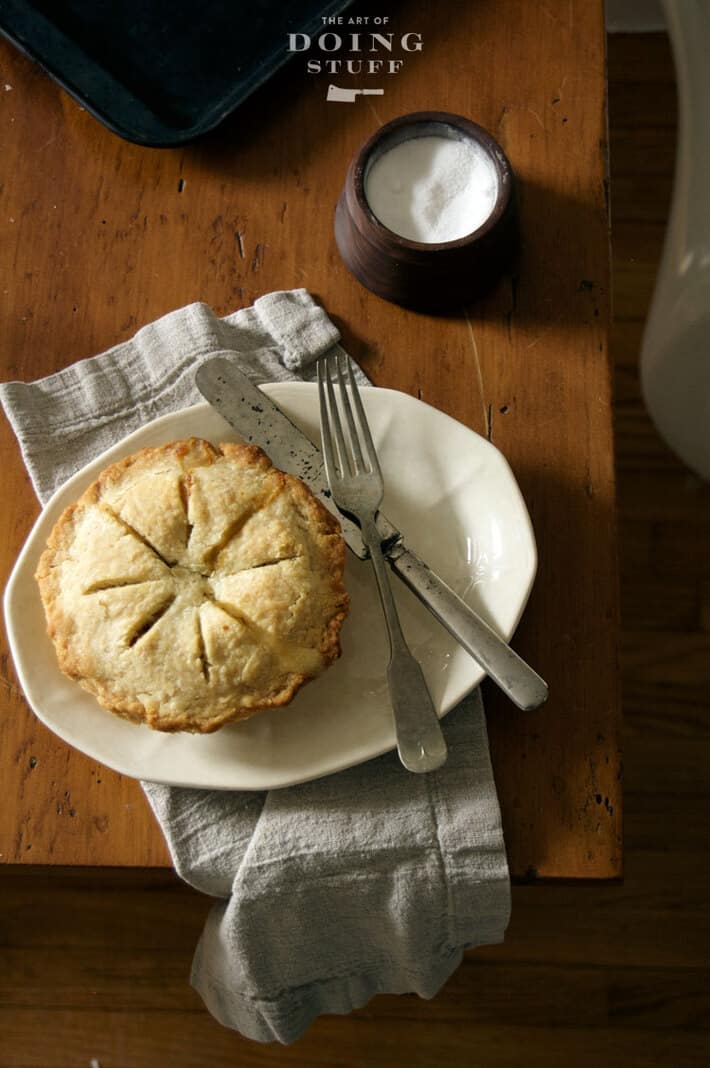 This is an easy recipe. Don't worry about it. You can do it. But when I say easy, I mean it isn't difficult to make, but you ARE going to make it, from scratch.
The best part is you can use leftover turkey from Thanksgiving to make it, which is exactly what these you're looking at are made out of.  After Thanksgiving I stripped the remaining meat off of my turkey and a neighbour's donated turkey carcass.
Those two turkeys gave me over 20 jars of delicious turkey broth (here's my recipe) and several of these delicious dinners.
You can make your own pie dough or just use a frozen crust. You can make it BIG or you can make small individual ones. I used disposable aluminum pie tins from the Dollar store but I just saw that Amazon has reusable 5" pie plates that would be perfect for meat pies.
PASTRY TIP: For a perfectly balanced crust use 60% butter and 40% lard. 100% lard and your crust will be so flaky it'll fall apart. 100% butter and it'll be too dense. I find 60/40 is the perfect ratio.
However, having said that, I often just do 50/50 because I'm math lazy. This is the genuine classic Canadian Tenderflake pastry recipe. It is now the only one I use. It. Will. Never. Fail you.
You can make it with more sauce or drier with less sauce. It, like all recipes, should be adapted to your own tastes.
It's filled with chunks of turkey (you can use chicken if that's what you have), peas, carrots and seasoning. Nothing weird. Nothing you won't have on hand. Well ... except the celery seed. You might not have that and it is CRUCIAL. The celery seed is what gives it that indescribable but delicious flavour.
It took a while to figure out the ratio of liquids I liked. I like the pot pie to be creamy and gravy filled but I don't want it to be so filled with gravy that it oozes all over the plate when you cut into it. If you're an oozer I've got you covered in the recipe, with an adaptation for you.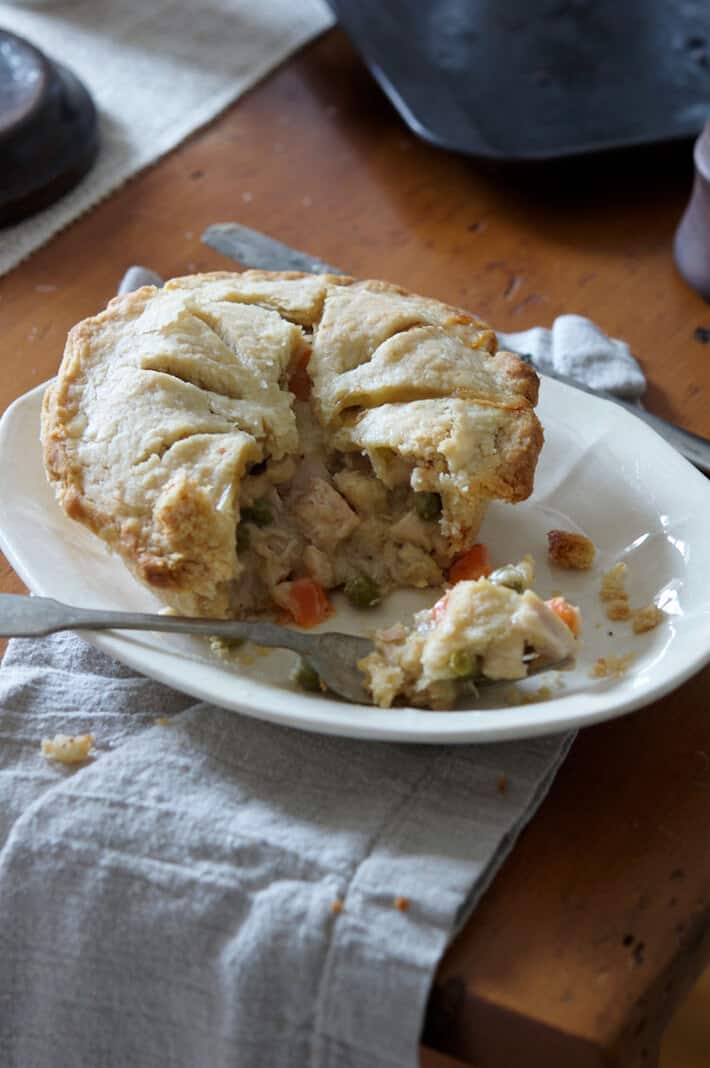 If you're short on time (say maybe it's a weeknight) you can make a quick version of this recipe by taking these shortcuts:
Use a precooked chicken. (if you don't have leftover turkey)
Use frozen pie crusts.
Use frozen peas and carrots. (you can get a mixed bag and use that!)
Use 2.5 cups of canned chicken/turkey gravy.
DELICIOUS AND EASY TURKEY POT PIE
This delicious dinner can be made in advance and frozen, ready to pop into the oven on a blustery winter night. Freeze after assembly, then cook from frozen for approximately 1 hour 30 minutes.
Print
Pin
Rate
Ingredients
1

pound

cooked turkey

cubed or shredded

1

cup

carrots

diced small

1

cup

frozen peas

½

cup

celery

sliced thin

⅓

cup

butter*

⅓

cup

flour*

⅓

cup

onion

diced

½

teaspoon

salt

¼

teaspoon

pepper

¼

teaspoon

celery seed

2

cups

chicken broth*

½

cup

milk*

2

unbaked pie crusts

*If you like a pot pie with a lot of gravy oozing out of it then double these ingredients.
Instructions
Preheat oven to 425 F (220 C)

Combine carrots, peas and celery in a pot with the chicken broth.

Bring it to the boil then simmer it with the lid on until veg are tender.

Remove vegetables from the pot with a slotted spoon and transfer them to a bowl.

(DO NOT DRAIN AWAY YOUR BROTH ... you'll need it later)

Cook onions in butter in a saucepan until translucent.

Whisk in flour, salt, pepper and celery seed.

Slowly whisk in reserved chicken broth and the milk.

Simmer until thick and gravy like.

(NOTE: if you have gravy leftover from Thanksgiving dinner you can simply use that as your gravy base and omit the broth and milk. You'll need 2 ½ cups of gravy.

Add the vegetables and chicken to your saucepan of gravy and mix.

Pour mixture into pie shells, cover with top crusts and seal.

Cut slits into top of crust so steam can get out.

Bake for 30-35 minutes or until crust is golden.
Notes
An Even Easier Way.
Use a precooked chicken. (if you don't have Thanksgiving leftovers)
Use frozen pie crusts.
Use frozen peas and carrots. (you can get a mixed bag and use that!)
Use 2.5 cups of canned chicken/turkey gravy.
To Cook from Frozen
Bake in a 425 degree oven for 50 minutes (or until bubbling).
Nutrition
Serving:
0.5
pie
|
Calories:
372
kcal
|
Carbohydrates:
31
g
|
Protein:
14
g
|
Fat:
21
g
|
Saturated Fat:
9
g
|
Cholesterol:
50
mg
|
Sodium:
671
mg
|
Potassium:
328
mg
|
Fiber:
3
g
|
Sugar:
3
g
|
Vitamin A:
3128
IU
|
Vitamin C:
13
mg
|
Calcium:
51
mg
|
Iron:
2
mg
The really great part about these delicious pot pies is the fact that you can make it in advance and then pop them in the freezer. Just like mom used to make.
---
Can these be made in advance?
You bet! You can make these in advance and then freeze them unbaked until you're ready to eat them.
Can you freeze pot pie filling?
Again, yes!  If you've made extra filling you can freeze that for up to a year for best quality.
What to serve with turkey pot pie?
It's really a whole meal in itself, but if you like to have a side (I do!) then serve it with a salad. Roasted carrots or peas would also work really well with it and if you want to go BIG a classic side dish for pot pie is french fries.
I don't like peas. Can I make this pot pie without peas?
You can do whatever you want with this pot pie! Add mushrooms (I mean, supergross, but you might like it), take away peas, use no top crust ... do whatever you want.  This is how I make it and how I like it best.  Use this as a guide.  But if you don't put peas in it people will think you're a weirdo. You know, normal people who like peas.
How do you keep these pot pies from being soggy?
Because the pot pies have a good amount of gravy but aren't *too* saucy, the crust stays crisp. If you aren't going to cook them right away make sure you freeze the pot pies. If you just refrigerate them, they'll soak the pastry and could be soggy when you cook them.
→Follow me on Instagram where I often make a fool of myself←