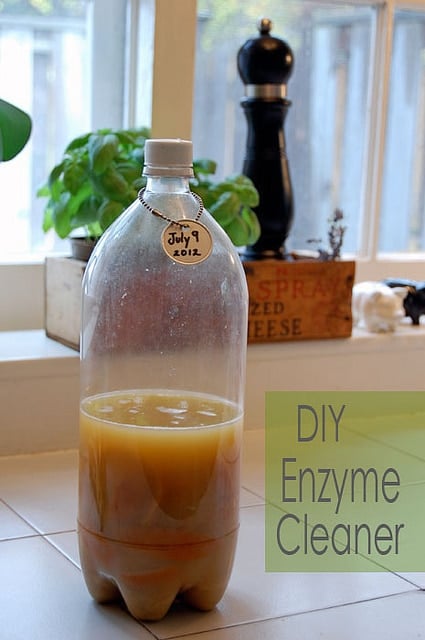 You may remember way back in July I decided to start some enzyme cleaner.  A homemade enzyme cleaner that's supposed to have the magical properties of a thousand unicorns.
Basically it's a combination of water, old citrus peels and some brown sugar.  You can see my original post on how to make it here.  It's supposed to replace regular toxic household cleaners and do an even better job.  The catch?  It takes 3 months to make.  It needs that time to develop and ferment.
What happens is the citrus peels produce a small amount of yeast, which in turns eats up the sugar which somehow turns into enzymes.  I have no idea how.  I don't really care either.  Enzymes are known to be great cleaners and any products that are used for getting rid of pet urine stink are usually made of enzymes.  So homemade enzyme cleaner is good.
Of course I had to try making it because why wouldn't I?  It's what I do.  Try things.  And this was looking especially appealing for some reason.  The 3 months was a pain in the ass but I've waited much longer for far less so I figured I could tough it out.
Besides.  If this enzyme cleaner was as good as the people of the Internet were professing 3 months of waiting was a minuscule price to pay. According to the tribe of enzyme Internet people, once it's done, this stuff will clean bathtubs, mirrors, toilets, food, pet urine, remove brown spots from your skin and of course, warts.  Yes.  That is what they say.
The last thing to get people this worked up was snake oil.
Here's how it all turned out for me ...
July 6th I started my batch of enzyme cleaner.  3 months later it hadn't done a thing.  No fermenting, no gassing up, no nothin.  All instructions for making this stuff warned you about the fact that so much gas will be produced in the bottle while it's working it's magic that the lid might explode off.  No exploding.   3 months later it was the same as it was from day one, with a little extra colour and stink.
I also knew the enzyme cleaner wasn't ready because it was incredibly sticky.   Any of the sugar I put in there was still there.   If the enzyme cleaner had  properly fermented there wouldn't be any sugar left in it.
So after 3 months of nothing happening I added a teaspoon of yeast to my concoction.  This did the trick and within a few days the bottle was bubbling and fermenting and producing more gas than Honey Boo Boo at a chili eating contest.
About 2 weeks later it stopped producing gas and wasn't sticky at all, so I knew it was done.
I measured out the recommended ratio of Enzyme Cleaner to water.  All the sites that extoll the virtues of this cleaner say to use it straight for pet accidents, one part enzyme to 5 parts water for cleaning glass, and 1 part enzyme to 10 parts water for general cleaning, like in bathrooms and kitchens.
And then I started cleaning.  And what did I think?
DIY Enzyme Cleaner is stupid.
I started off by cleaning some sticky windows.  It didn't work.  Windex did.
Then I moved onto a mirror.  It worked.  So did Windex and so did plain water.
Then into the bathroom I went.  It did a fine job on the sink and bathtub.  Just like my regular cleaner only not as good.
Off to the kitchen.  Again it did a fine job on the counters and windowsills but a terrible job on the baseboards (which had some kind of grease on them).
That's where I stopped my experiment.  It seemed pointless to continue because I knew ... I was never going to make this again.
It wasn't that it was completely terrible, it just wasn't worth the effort and really didn't clean nearly as well as commercial cleaners.  Yes, I know ... if you lick it though, you won't die!  You won't die if you lick Windex either so don't worry about it.  Neither will your baby.
If you're worried about that sort of thing there's a myriad of products out there that are safe for you and your baby and your curious licking problem.
I don't know if was just me, or my particular batch but after reading what other bloggers had to say about this stuff I was expecting rays of sunshine to come exploding out of my toilet after I cleaned with it.  They did not.
I'm kind of suspicous about these other bloggers and what they normally use for cleaning products if they're so impressed with this.  I suspect prior to making enzyme cleaner they'd been trying to clean their homes with roadkill.
And that's basically my assessment of this DIY Enzyme Cleaner.  It's better than roadkill.
→Follow me on Instagram where I often make a fool of myself←