It has been a longggg time since I did a Dollar Store post. I'm not "off" the Dollar Store. I'm still quite madly in love with the Dollar Store. We were just on a break for a while. We're back together again.
And it's all because of a plate.
A white, rectangular, sharp cornered plate that has the beauty of a thousand suns at the cost of a 200 Double Bubbles. And with that one plate, I was hooked again. Suddenly, without warning, I was on a mission in a store full of people wearing green crocs with Halloween socks and sweatpants.
Wait. No. That was me. (I don't want to get into why or how I left the house like this but I'm not proud of it. It involves a werewolf. You wouldn't understand)
After 2 go rounds, I had what I needed for my Dollar Store place setting. And then some.
There are 2 things in this setting that are not from the Dollar Store. The placemat, (which is from The Keeping Room) and the napkin which is from Rough Linen.) I couldn't bring myself to buy a polyester napkin and I knew these white rectangular place mats I already owned would be perfect.
Beautiful tumbler … $1.
I have no idea how these fantastic bowls ended up at a dollar store (2 for $2) but I suspect there may have been some sort of mixup and at this very moment a Bloomingdale's employee is trying to sell someone a hideous plastic bowl with purple ducks on it.
It's work great as a nut dish too. The hole in it serves absolutely no purpose as far as I can tell, other than looking really cool.
Faux Bamboo stainless cutlery. $1 a piece.
At this point I suspect you're thinking to yourself … my Dollar Store doesn't have this great stuff. And you're right, it might not. Everything here is from Dollarama in Canada, but if you scour your Dollar Store with an open mind you *will* find things that no one would guess are from a Dollar Store.
These little dishes I use for mise en place when I'm cooking, but they make really cool salt and pepper dishes. $1 for 2.
Glass vase. $2. Perfect size for your hand to fit around for a water jug. Shockingly, even though it doesn't have a spout on it, it doesn't drip water everywhere. Remember … always think of what something could be, as opposed to what it actually is. THAT'S where greatness comes from.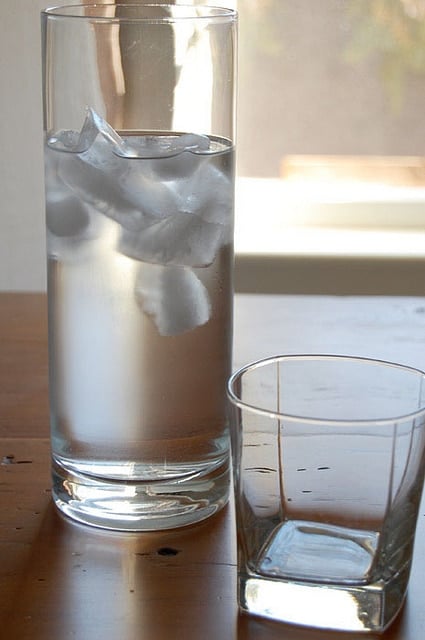 And finally we have the thing that started it all. The lunch sized rectangular plate. $2.
(Greatness also comes from having to cook up some food for a photoshoot and then getting to shove the food down your pie hole after the shoot is done.)
Total cost of the entire place setting (not including napkin and placemat) $10.
Whilst I was shoving small children and people on disability out of the way so I could accomplish my table setting mission I came across a few other things I loved, but they just didn't suit the elegant look I was going for here. So … I will have another Dollar Store table setting for you next week. More of a rustic, country look. I got to eat thick crusty rolls slathered with butter after that one.
I love you Dollar Store. I'm really happy we're back together.