Here we are nearly 2 weeks into January and I haven't even told you my New Years Resolution yet. I don't really make New Years Resolutions of any kind and this year isn't so different. I did however make a January resolution.
Before the holidays I was talking to a friend of mine. He's a director I used to work with who wants to turn my blog into a television show. Don't get too excited. I am not what you'd call on board with this idea. I've done television, I did it for 20 years, now I'm a blogger. It's pretty difficult to do both things well and for the moment I'm choosing blogging.
The Pioneer Woman can achieve both because she's actually 12 people. It's a well known fact.
So anyhow, I was talking to this guy and for some reason I was telling him how much money I spend on groceries every month. He astutely wondered out loud why I spend so much on groceries when I don't eat a lot of meat and grow almost all my own vegetables.
Good question.
Cream? Do I eat a lot of cream? Like by the cup full?
No, that's not it.
So I sat down and tried to answer that question myself. Why do I spend so much money at the grocery store? It turns out I have a gambling problem.
No I don't.
I do, on the other hand, have a recipe problem. I cook. I cook every day. Whenever someone drops by for a visit 90% of the time I'll be in the kitchen cooking. The other 10% I'm in the backyard cooking.
If I see a recipe I think I might like I have to make it. It's a compulsion. Usually these recipes require one ingredient I don't have which means a trip to the grocery store which means a whole world of exciting impulse buying food possibilities.
Speaking of this recipe addiction of mine, the Thug Kitchen cookbook my mother got me for my birthday has yet to produce a clunker. It's a vegan cookbook but I'm nowhere near a vegan and I've loved every single recipe.
Go buy it now before I tell you why you can't buy another thing. It's worth it for the Toasted Quinoa Oatmeal recipe alone.

In addition to offering a plethora of grocery impulse buying options, my particular grocery store also offers a floral department, wine store, clothing, kitchen appliances, and household accessories impulse buying options. So there's that.
It turns out a lot of my grocery bills consist of pillows, sweater dresses and super-cute melamine lemonade pitchers.
All things I love but probably don't absolutely need.
So this month I resolved to not go to the grocery store. Plain and simple. And I haven't. I'll have to go eventually, definitely before the end of the month for some cream and butter but I'm not even going to take a bag in with me. I will not buy a single thing I'm not there for no matter what. And I'm not going to go for anything a new recipe requires. The other night I made a cole slaw recipe (from Thug Kitchen of course) that called for fresh ginger. I didn't have any. Normally I'd hop right in the car and get em some fresh ginger along with a couple bags of potato chips, some mandarin orange and whatever else it took to fill my cart up. Not this time. I used powdered ginger instead. I have a freezer and cupboards full of food. I don't need to buy more food or make new recipes for a month. I'll plan my dinners around whatever is already in my house and leave the new recipes for another time.
Doing this one thing for this one month will literally save me hundreds of dollars. For real. I had no idea I was wasting so much money and I had no idea how easy it would be to stop.
Now I know.
Wanna learn another way to save hundreds of dollars without having to sacrifice your desire to impulse shop down the snack aisle?
Don't buy anything until it's on sale. And everything eventually goes on sale.
Almost all major (and minor) items have months they go on sale. Sometimes just because it's tradition (The White Sale) and sometimes because it's the time of year when manufacturers release new models and retailers want to clear their shelves of the old models.
Some things go on sale a few times a year so if you see an item on the list more than once, that's why.
Linens
Toys
Treadmills and ellipticals (New Years Resolutions anyone?)
TVs (smallish sales because of pre-Superbowl tv buying frenzies)
Winter clothing
Humidifiers
Indoor furniture (to make room for newer models. Floor models often as low as 60% off)
Treadmills and ellipticals (There's still some hope for that resolution)
High end Chocolates (right after Valentine's Day)
Humidifiers
Sandals. (Sandals first hit stores in January! First markdown on them in March which gives you a better price while still having a great selection)
Small consumer electronics
TVs (Retailers visit the Consumer Electronics Show in Jan, order their new stock, which is delivered in March)
Winter sports gear
Golf Clubs
Frozen Food (March is frozen food month … seriously)
LAST season's television model (if you can still find them in stock you'll get the cheapest price possible on last year's model)
Laptop computers
Desktop computers
Lawn mowers
Spring clothing
Digital Cameras (last year's model as they make room for the newer ones)
Thrift Stores (with spring cleaning comes spring heave hoing. Thrift Stores get their biggest influx of new goods at the same time as spring cleaning)
Athletic apparel and shoes
Camping and outdoor gear
Carpeting
Cordless phones
Refrigerators (May is when new fridge models are introduced)
Lawn mowers
Mattresses
Small consumer electronics
Camcorders
Carpeting
Computers
Dishes (both fine china and everyday because June is the month of weddings so most places put their sets on sale)
Tools (father's day means big sales on tools so take advantage even if you're a mother. Or sister. Or orphan.)
Pots, pans
Summer sports gear (already starts to be marked down)
Swimwear
Vacuum Cleaners (new ones come out in June)
Indoor furniture
Outdoor furniture (prices start to get slashed on outdoor furniture now)
Swimwear (if you buy in July you'll get a good price and relatively good selection)
car (dealers are making room for the newer models coming in)
Air conditioners
Backpacks
Dehumidifiers (your best defence against centipedes by the way)
Outdoor furniture (prices start getting slashed on outdoor furniture now)
Snow blowers (if you can find a snowblower in the summer months chances are it's going to be cheap)
Laptops (back to school sales)
Bikes
Large appliances (new models come out in September, other than refrigerators which come out in May)
Lawnmowers
Cars (lower price still as they make room for new models)
Digital cameras
Gas grills (BBQs) (cause the outdoor grilling season is winding down)
Lawn mowers
Shrubs, trees, and perennials (THIS is the time to buy all those expensive trees and shrubs. They're often 60-75% off at the end of the season)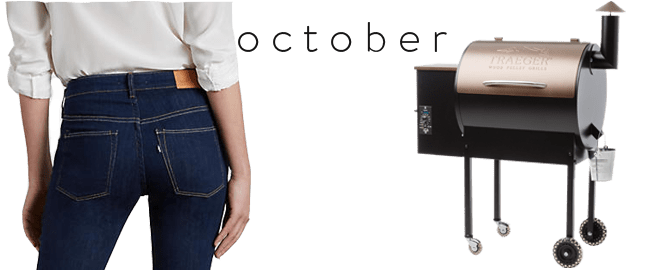 Bikes
Computers
Digital cameras
Gas grills
Lawn mowers
Winter coats
Outdoor furniture
Jeans (once back to school is over retail can start discounting their price on high end denim)
(Black Friday Sales)
Baby product
Cookware
Bikes
Gas grills
GPS navigators
Toys
TVs
December
Pretty much everything
(Boxing Day Sales used to take place on Boxing Day but now they seem to happen weeks before Christmas)
Now you know.