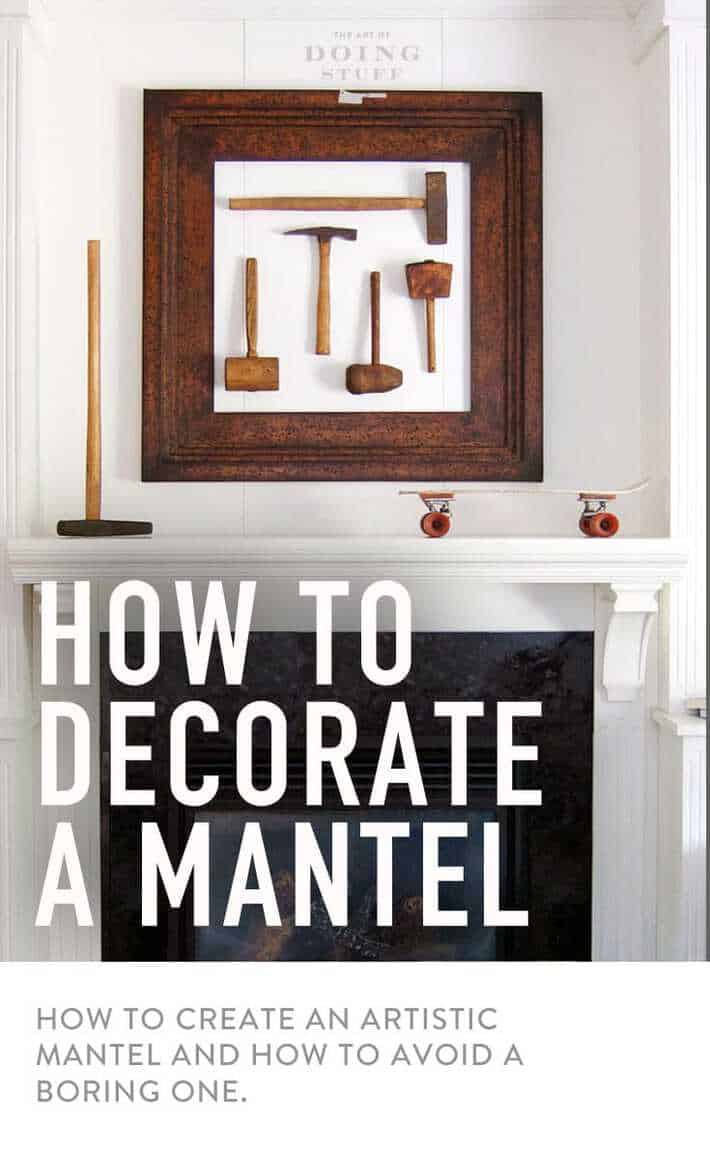 You know why I like wearing dresses? They're easy. You pop that baby over your head and you still have time left in your morning to get angry at your wrinkles and ignore the dishwasher that needs to be unloaded. With pants or skirts you have to deal with tops and tucking or untucking and belts and all manner of obstacles and potentially disastrous combinations. With a dress, you're dealing with one item. Simple.
It's easy to look at fireplace mantels the same way and just do what's easy. Enter the $200 mass produced print of some weird blob next to another slightly less weird blob, that you found at Homesense one day while shopping for socks. It's big, it's easy and it's cheap. Plus the colours match your living room and it's a picture of something therefore it must be art.
Not necessarily.
I'm not dissing anyone who buys prints or paintings from Homesense, I have some in my own home, but it really is the easy way out and I want you to know there are alternatives to slapping a print or mirror on you mantel and calling it a day.

If you read the article featuring me in The New York Times a few weeks ago (I will never EVER tire of saying that) you know I like to decorate with things that mean something to me. Objects that hold memories or meaning in one way or another. And yes, the dead plant that's been on my basement windowsill for the past 5 years is deeply, deeply meaningful to me. Also I'm afraid there's a gang of centipedes in the dirt of it so I refuse to touch it.
So when my friend asked me to help him out with styling his mantel and bookcases it didn't surprise me that his biggest worry was that he didn't have any art. People assume that's what you need on your mantel; a big painting. But if you're just grabbing something at a department store to fill the space, it's probably a better idea, in my mind anyway, to fill that space with something that really means something to you. We went hunting at the Christie Antique Show for a few things for his house and we both gravitated towards the antique tools. Him because he likes tools and building things and me because I'm attracted to warm, worn wood the way most women are attracted to bright, shiny objects. I'm the only woman in history who thinks the ideal engagement ring is an antique pine button blued to a piece of vintage barbed wire.
We picked the pieces you see above for a cost of somewhere around $100 total.
This is what we were starting with. A completely blank space other than some weird, thin, finishing trim in the form of a rectangle over the mantel. The picture was taken before Christmas, hence the Nutcrackers guarding the fire. You'll notice they're elaborately dressed. It probably took them half the morning just to pick out their outfits.
To get a starting point Amos (my friend) put the tools up in the centre of the trim because that's what made the most sense because it was something to obviously frame in the tools.
It looked insignificant and stupid. K. Now we know that.
I had him try putting some pictures on the mantel to fill the space below but that ended up just looking busy. We were doing this through iMessage by the way. Me directing and being bossy and he listening to what I had to say then giving it a shot.
Since I wasn't there I took matters into my own hands and started Photoshopping. It was obvious the tools just weren't being bossy enough. They needed to take up MORE space to have more impact. So I wanted him to remove the trim and space the tools out further. But removing the trim meant having to repaint not only the wall over the mantel, but possibly everything because the new paint wouldn't match the old paint.
My next venture into Photoshop-fixing the mantel was to add one of the other things we picked up at the antique market, a skateboard. Skateboards are another thing he collects and loves. See? Meaningful. A skateboard on my mantel would just be stupid. But on his mantel it works because that's who he is. Remember that little tip as you're browsing through the perfect rooms of Pinterest thinking "my house doesn't look like that". No. It doesn't. Because you have a real house filled with real things and it reflects you. Your home might not look like it can be featured in a magazine but as long as it represents you and feels like you, that's what really matters. Unless of course you're total disaster.
Just to throw a wrench into the whole plan I sent off this photo of a completely different look at got no … response … at all. I kindda like it, but I'm guessing he didn't, which is perfectly fine. It's his room, his mantel and he's the one who has to like it.
Around this time I remembered that he had one of those prints. Those mass produced Homesense type prints, but it was in metal with a rusted looking metal frame. The actual picture was a little bit grim but the frame would the perfect size for the mantel and kindda great. He checked to see if the frame could be removed from the print and it could so I suggested he put the metal frame around the tools to give them bulk and importance. He added in a couple of his own touches and the result is perfect.
If that isn't art I don't know what is. Not only is it beautiful to look at it tells the story of the person who lives here.
Clearly it's a serial killer who escapes into the night by skateboard.
What the mantel doesn't say is, I picked this up while buying socks. We in fact picked it up while buying french fries.
The mantel works for a few reasons.
Everything looks great against a white background.
Straight lines are repeated.
There's a fairly equal distance between everything.
Even though there's a lot of wood it all has different colours and patterns in it.
There's a repeating mixture of materials (metal and wood) that keeps everything consistent without being boring. The metal frame is very important to bringing this look together because it pulls in the metal from the tool heads and also echoes the rusty colours in the woods and axe head.
What takes this mantel from nice to exceptional is the skateboard. It's something COMPLETELY different from everything else on the mantel, and frankly completely different from anything you'd ever expect to see on a mantel. The skateboard updates the look from being "country" to being eclectic and also those red/orange wheels …
In a few weeks I'll feature the whole room with tips on redoing bookcases and making things cozy. Because that's what we all want isn't it? A house that's cozy and makes everyone feel welcome the moment they walk in. Well that's what I want anyway, and anyone who asks me for my help had better want it too because that's what they're getting.
They're getting that, a lecture on Homesense prints and a request to please carry a dead plant up from my basement.