"$1,200 for a floor burnisher??? No, I'll just make one." ... And other idiotic quotes that came out of my very own mouth will all be discussed today on the blog.
First I have to tell you that there's a difference between buffing your floor and burnishing it. Buffing is like rubbing your floor with cotton ball kisses while wearing a floral print dress, drunk on lemonade. BURNISHING your floor is like letting six trillion Tasmanian Devils break dance on it.
Buffing doesn't do much of anything by the way. Burnishing will make your floor shine like a dimpled 6 year on Star Search.
Which explains why when I bought my vintage buffer I was less than impressed with the results. I figured it was because I bought a 50 year old buffing machine from a flea market. As it turns out that machine isn't really meant to make a floor shine, it's just meant to clean it. A Burnishing machine is what you need to make your floor so shiny you consider putting orange cones around the perimeter to warn people of the hazard.
I wanted a hazardous floor.
Once I realized this, I of course immediately looked into getting a burnishing machine. They're, like, $1,200, minimum. And generally not made in sizes appropriate for home use unless your home is something that was handed down to you by your great, great, grandfather Lord Bumblebum.
A floor buffer runs at 175 revolutions per minute. A floor burnisher runs at a minimum of 1,500 revolutions per minute. Cotton ball versus Tasmanian Devil. Dull floor versus dangerous floor.
I thought there had to be a way to make a floor burnisher that didn't cast $1,200.
"I mean, $1,200 for a floor burnisher? I'll just make one." Said no one, other than me. Ever.
But I did it. And it kindda worked. And here's how.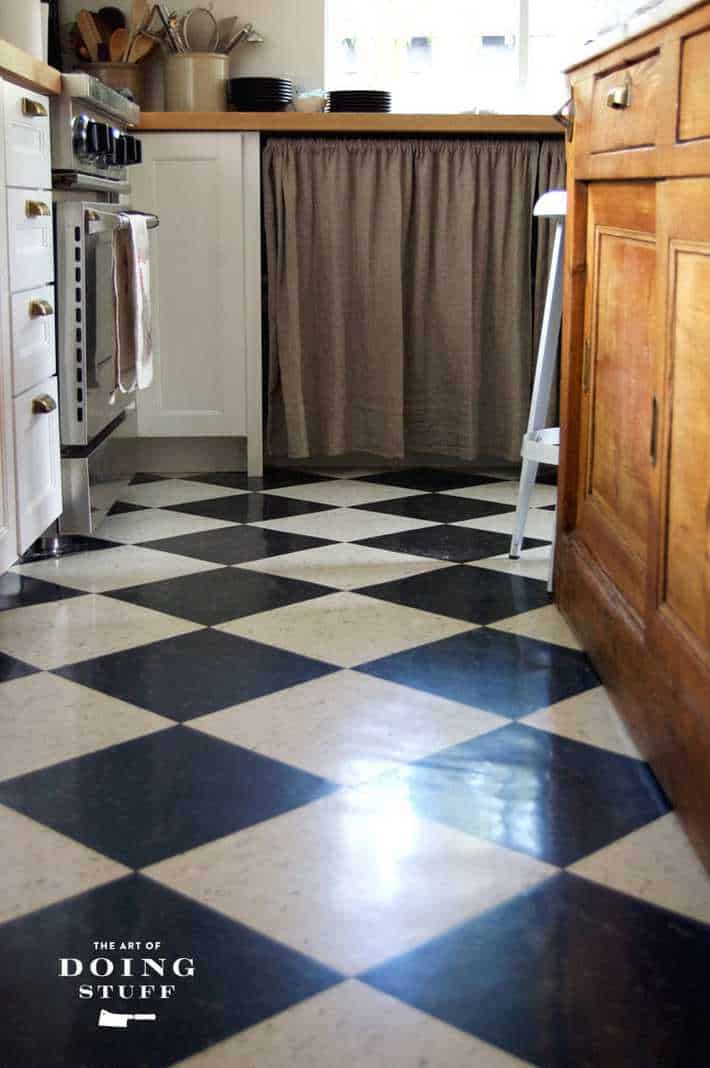 I laid VCT tiles in my mud room, kitchen and bathroom for the low, low price of $265 for everything a few years ago. That even included the glue and snacks. I still love the floor. It's soft, comfortable and easy to clean. I love it a million times more than the ceramic tile that used to be down.
But it's taken me a while to get the hang of cleaning it. It has a "wax" finish which isn't really wax like they used in the olden days, it's some type of water based acrylic shiner-upper. This finish means you have to use a cleaner that has a neutral pH. I use an industrial neutral pH floor cleaner that I got at Home Depot.
To clean it, I use my vintage floor buffer with just the brushes attached for a light clean, or with these green scrubbing pads for a more vigorous (Karen's been walking through the house in her chicken shoes again) clean.
But no matter how clean I kept my floor the finish kept getting duller and duller.
That's when I learned about burnishing. A few Googles and I understood my floor was never going to be super shiny unless I either re-waxed it, or burnished it. I do re-wax my floor about once a year, but I wanted something to shine it up in between floor waxings. I needed a $1,200 burnishing machine that has 1,500 revolutions per minute.
After checking the pockets of all of my winter coats, I'd come up with $1.27 and an already chewed piece of gum.
HEY WAIT A MINUTE. My car polisher that I've never used once has 1,500 revolutions per minute. At this moment my brain started to misfire a bit and I almost thought I could Turtle Wax my kitchen floors. Luckily my brain righted itself and I realized I might be able to fit my car polisher with a floor burnishing pad.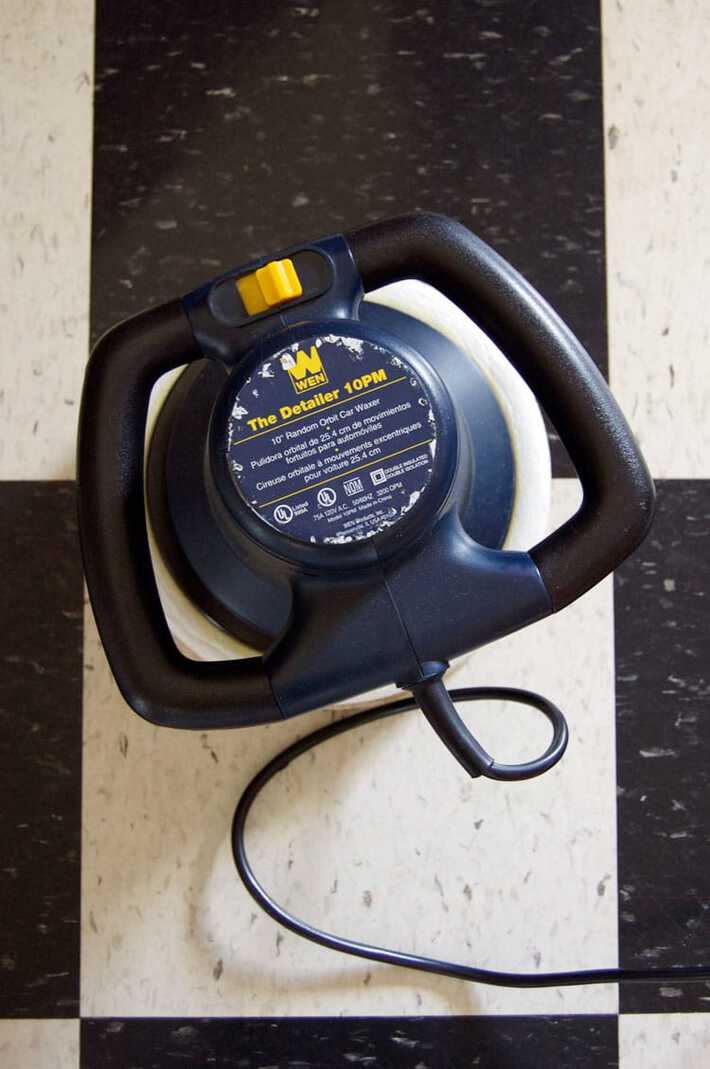 Most car polishers are the same. They have high RPMs but not a huge amount of power. They have a soft sponge at the bottom of them that you normally fit a terry cloth bonnet over which you use to polish the wax on your car. Burnish it really.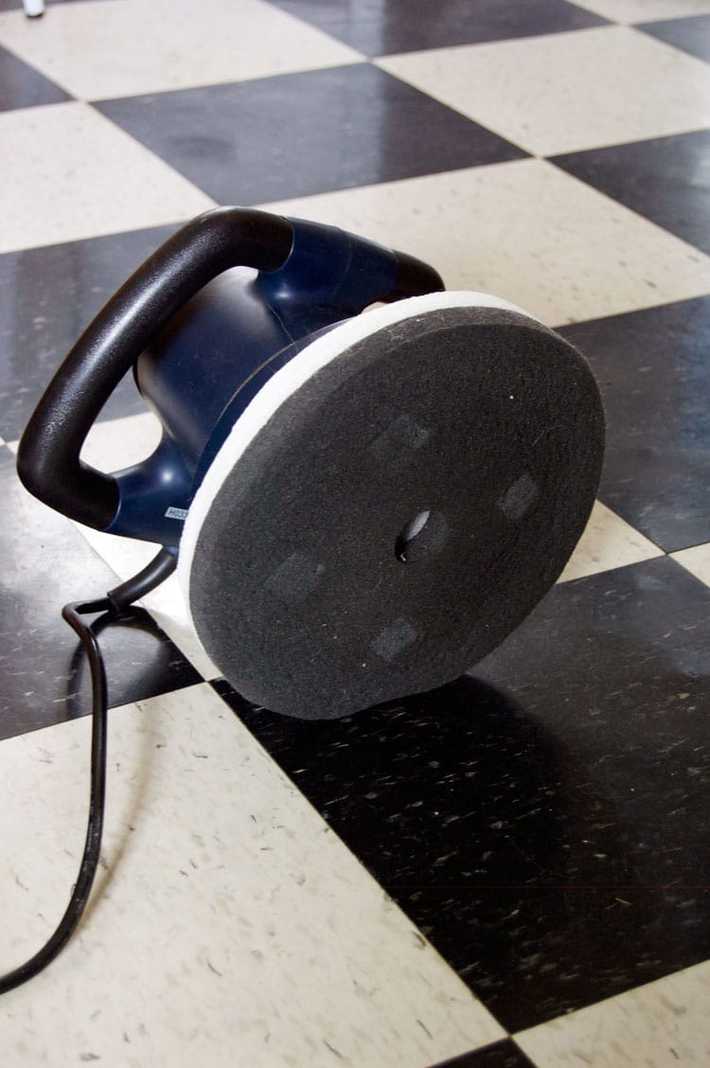 I thought I'll never know until I try and even worse I'll never be able to get it out of my mind until I try ... so I tried. I ordered these 3M synthetic/natural burnishing pads off of Amazon.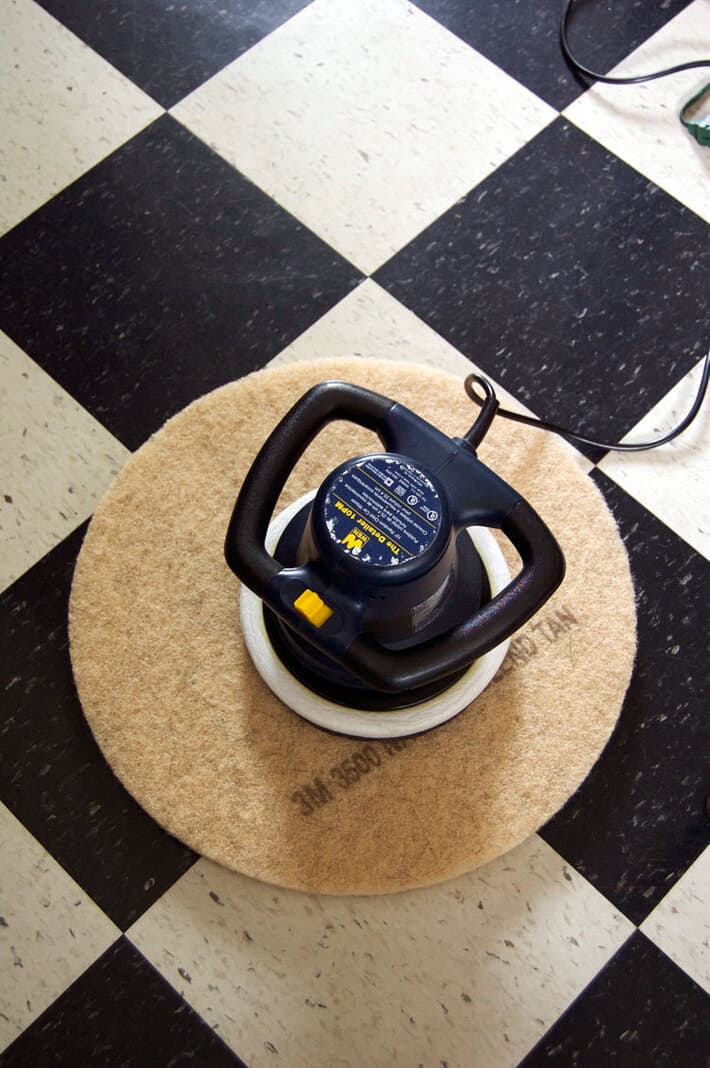 They were a bit big. In fact I could probably turn one burnishing pad into 3 if I was careful.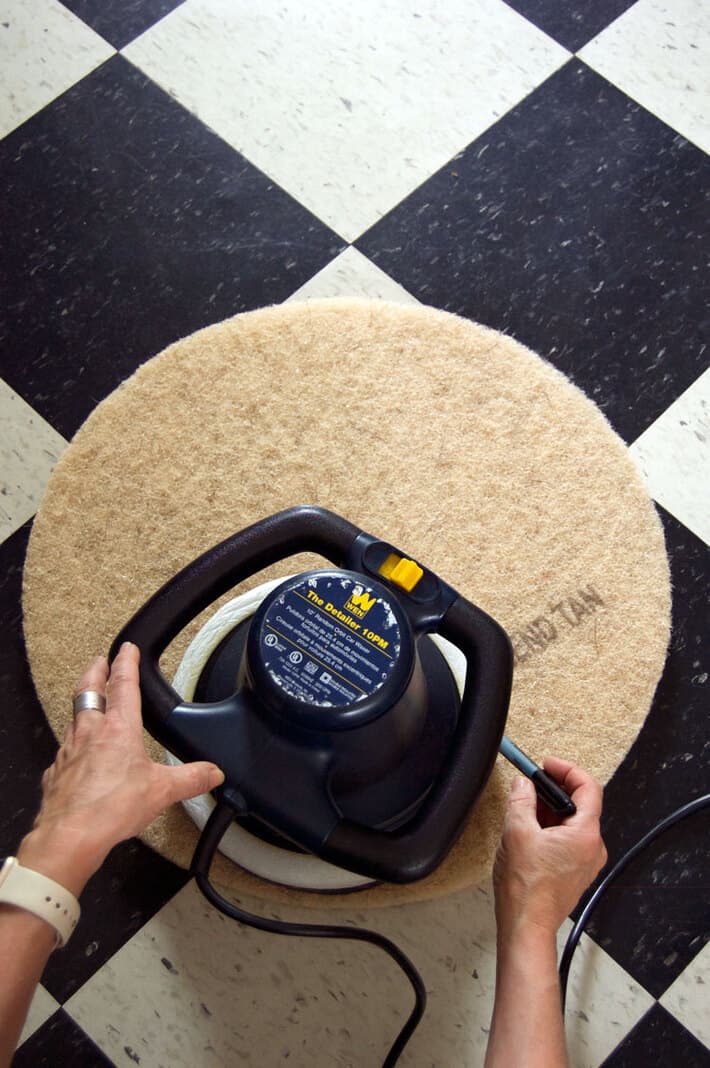 I traced the size I needed onto the burnishing pad and then cut it out with regular scissors.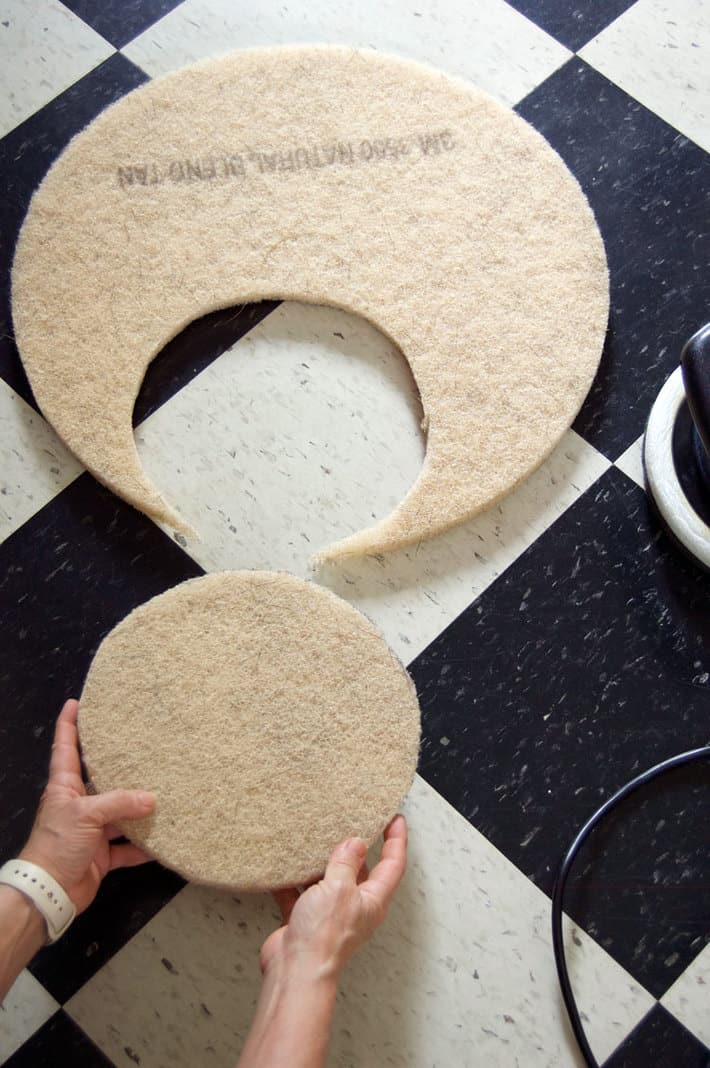 Now that I had a burnishing pad that was the right size I just had to figure out how to attach it to my car polisher.
I was really hoping I could use a blow torch and welding mask but spray adhesive ended up being the answer.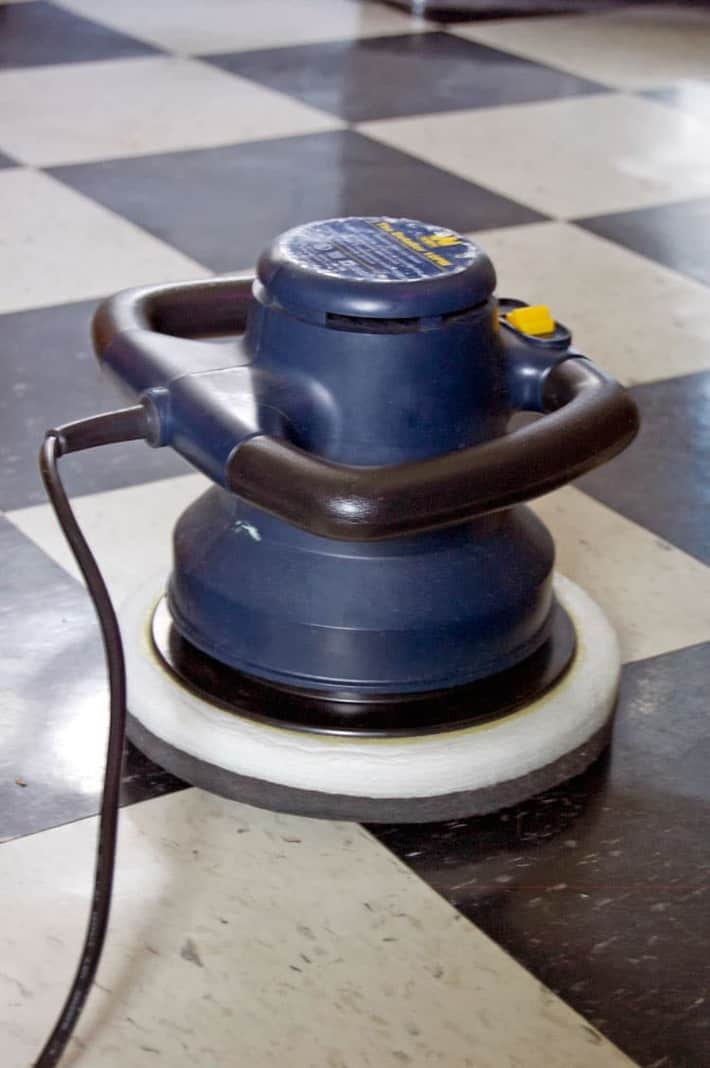 I sprayed a bit of adhesive to the foam on the car polisher and a bit onto the burnishing pad.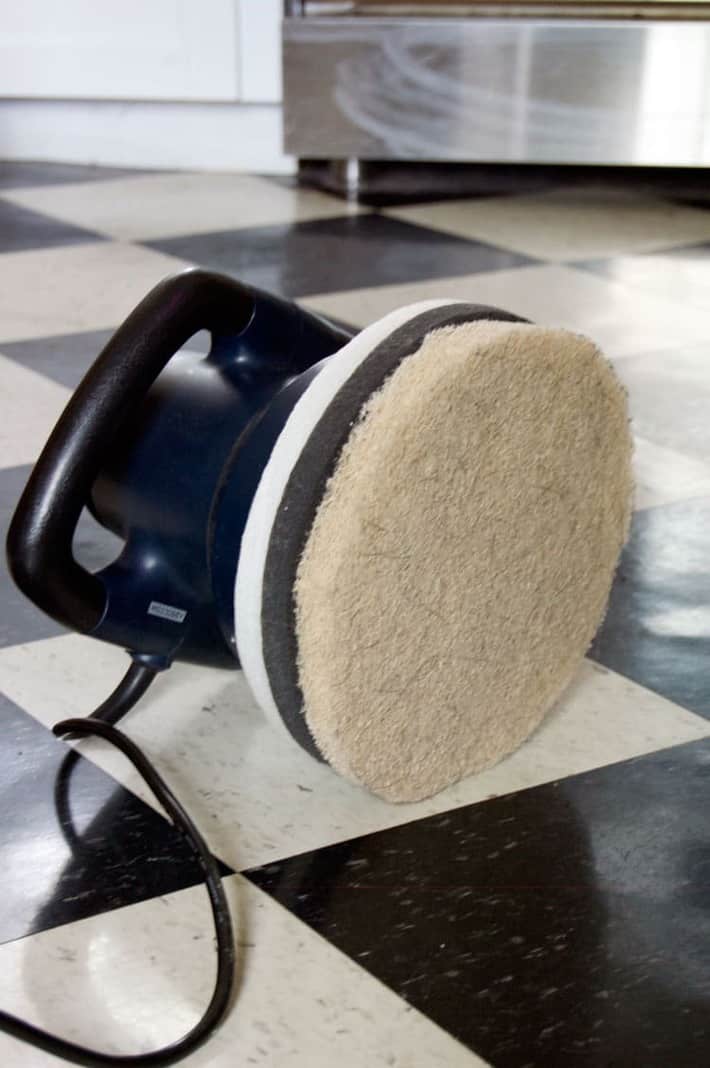 I didn't need it to stick forever, I just needed it to stick a little bit. Because when you polish the floor you're applying pressure down onto the polisher which basically keeps the burnishing pad from flying off. The spray adhesive is extra insurance.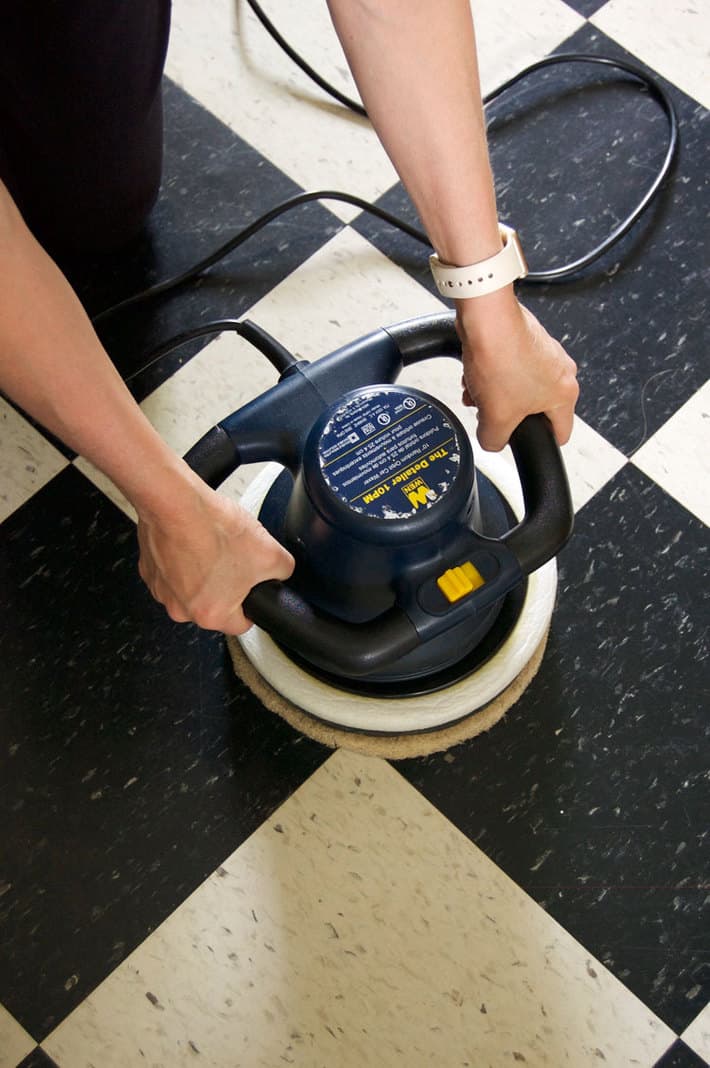 So did it work??!!
Yes!!!! And No!!!!!!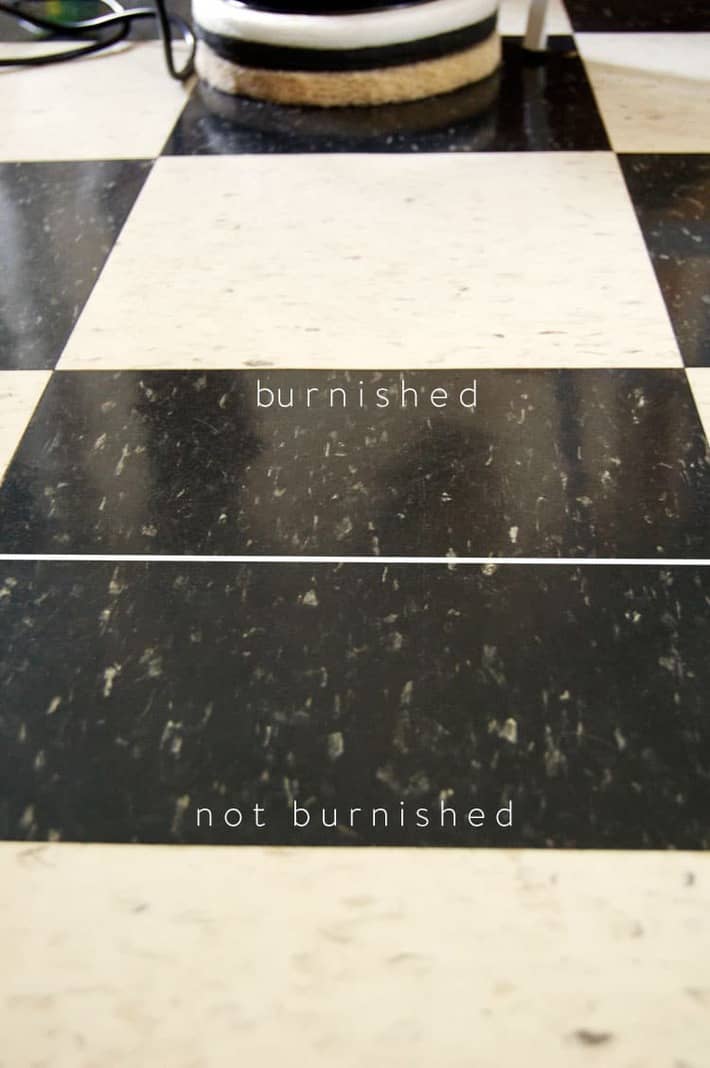 You can see in the photo above (which was a really hard picture to take by the way) the top portion of the black tile has been "burnished" and the bottom portion hasn't been. So there is a visible difference. So that's the portion of this experiment that came out as a YES!!!!!!
But it took quite a while to do and no one would ever walk into the kitchen and say WOW THOSE ARE SOME HAZARDOUS FLOORS!
The car polisher just isn't heavy enough or powerful enough to burnish a floor the way a real burnisher would. Also, this car polisher of mine is a "random orbital polisher". So it doesn't go around and around really fast, it kind of jiggles side to side and around a bit like a dashboard hula girl. Having said that, it did improve the shine on the floor. It just didn't make them dangerous.
I've now looked into this Makita polisher that doesn't seem to be a random orbital polisher, just a regular round and round polisher. For the sake of experimentation I might buy it to test out for you and everyone else who says things like "$1,200??!!! I'LL MAKE THAT INSTEAD!" from the comfort of their mental health facility rec. room.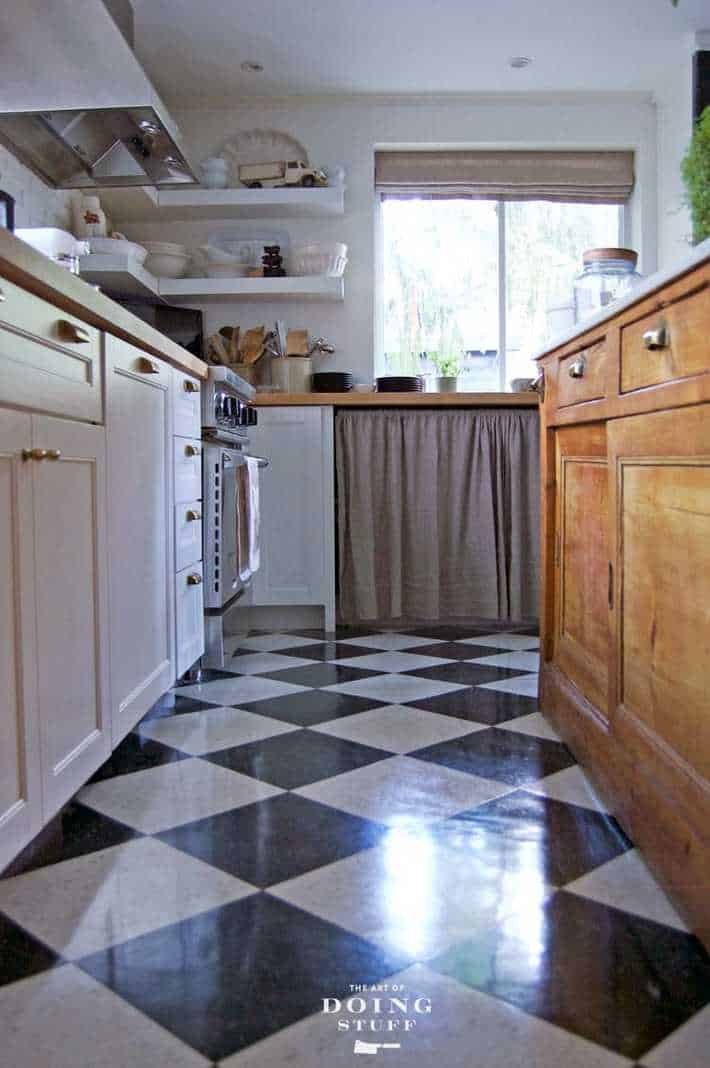 In the end I slapped a couple coats of wax on the floors and called it a success because even if the burnisher didn't make my floors as shiny as I wanted it to, it did prod me into waxing my floors. Sneaky burnisher.
When I test the Makita car polisher on my floors you will be the first to know. I have the orange safety cones at the ready.