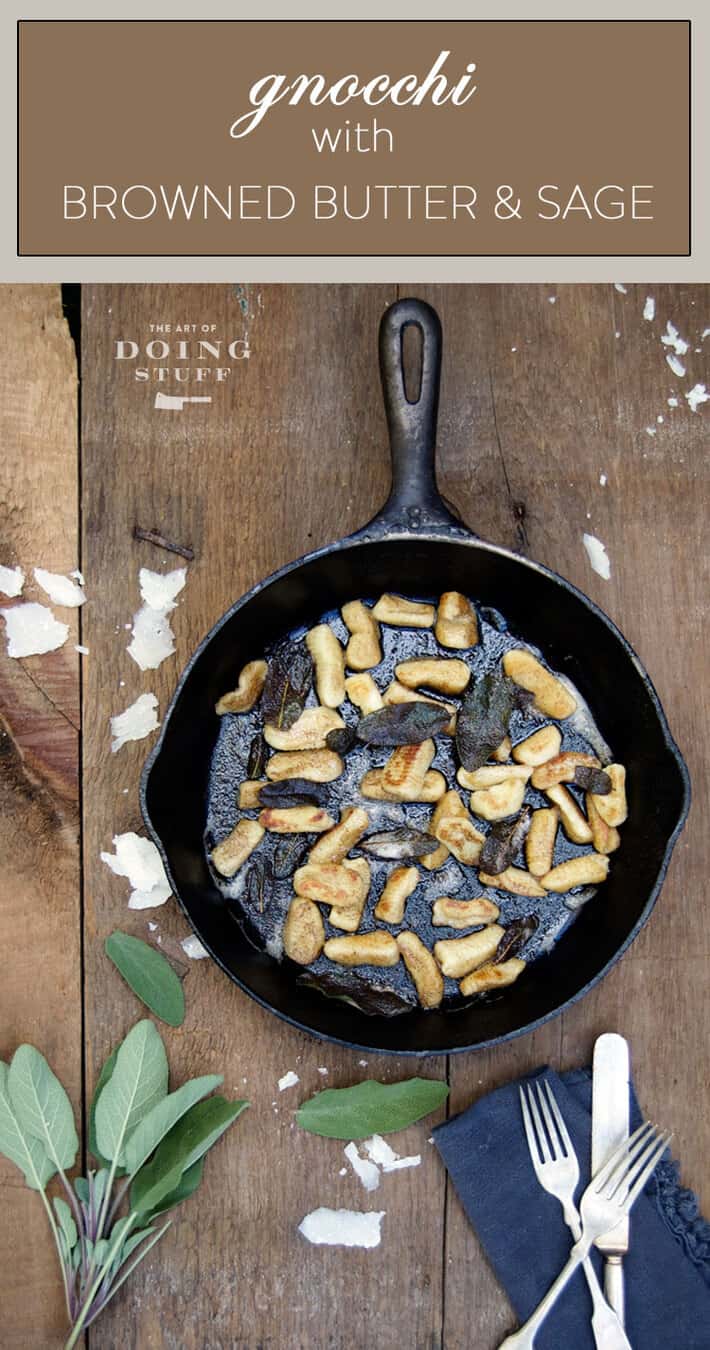 Raise your hand if you love potatoes! Everyone else get the hell out of here. Potatoes are the most versatile vegetable on the planet according to a recent study by me.
Mashed, whipped, baked, au gratin, roasted, boiled, pancaked, fried, shredded … there's NOTHING you can't do with the fluffy goodness of a hot potato. For the love of God, it can even warm the hands of a homeless person on a cold winter's night, which makes the potato not only versatile, but altruistic. If one vegetable had to be appointed the Jesus of vegetables, it would be the potato.
So it should come as no surprise to anyone that potatoes can also answer your prayers for a quick and easy homemade pasta. Potatoes make one of the most delicious pasta dishes on the planet.
Gnocchi is a potato based pasta that is THE best way to use up leftover mashed potatoes. Unless you're considering potato pancakes for that role, in which case that is the best way to use up mashed potatoes. They're both the best.
I know you're wondering how in the world someone would have leftover mashed potatoes, and that's a perfectly reasonable question. I always have leftover mashed potatoes because I make too many mashed potatoes on purpose so I can turn them into gnocchi or potato pancakes.
To make Gnocchi all you do is use a ratio of 2:1:1. Two parts mashed potato, 1 part flour, 1 egg. That's just basic. If you need more flour to make it feel like a dough, you add more flour. No big whoop.
Here's my post on how to make Gnocchi from scratch, it's really easy. But if you don't want to make it from scratch, that's fine, just use store bought Gnocchi for this recipe, it'll be fine!
GNOCCHI MAKING TIPS!
Boil your Gnocchi then pan fry it.
(Gnocchi is better after a bit of pan frying the same way perogies are.)
If you make your own Gnocchi DON'T overwork the dough.
(It'll activate the gluten and make the Gnocchi gluey.)
1 lb of potatoes = 2 cups mashed = 4 servings of Gnocchi
Normally when I'm in the mood for Gnocchi I'm in the mood for Gnocchi with red sauce. Or "gravy" as my Italian friends call it. And by Italian friends I mean Tony Soprano. But every once in a while my taste buds scream out for Gnocchi with browned butter and crispy fried sage leaves. Soooo good.
You have to try it.
GNOCCHI WITH BROWNED BUTTER & SAGE. MMMMMMM!
A supremely delicious way to use up mashed potatoes.
Print
Pin
Rate
Ingredients
1.5

lbs

of gnocchi

homemade or store bought

8

Tbsp

salted butter

Handful of sage leaves

at least 20

Shaved parmesan cheese

optional
Instructions
Melt butter over medium low heat until just melted.

Add sage leaves to melted butter.

Continue to cook butter until browned and nutty smelling. Do not overbrown.

Remove from heat and drain contents of pan into bowl.

Meanwhile bring pot of water to a boil.

Add gnocchi and cook 3 minutes for fresh made Gnocchi or according to package directions.

Reheat pan used for browned butter sauce and pan fry cooked gnocchi until toasted and browned.

Pour browned butter sauce with sage leaves back into pan and coat Gnocchi.

Heat and stir for a few seconds to rewarm butter sauce.

Serve immediately with fresh shaved parmesan on top.
The greatest thing about this recipe is that because it has been browned, the butter sauce has absolutely no calories whatsoever. Not. A. Single. One.
That's a lie. I'm a sinful liar. And it's a sinful sauce.
But eat up! Because this potato, this Jesus of the vegetable world, died for our sins.
Hey you! Please take a second to Pin if you liked this post.
It really helps me keep doing what I'm doing. ~ karen