Like many families around the world, every Easter my family and I discuss religion. It's tradition.
So every year as we gather for Easter dinner we take the opportunity to reminisce about how my mother's parents shipped her off to "the Nunnery" for being bad when she was 15.
Betty was a bit of a firecracker you see.
She jumped out of her bedroom window in the middle of the night, smoked cigarettes and generally carried on in a manner unbecoming to a teenage girl in the 1950's. (This sort of behaviour is now common place in many teenage girls of course, with the addition of wearing underpants, 57 tattoos and a sneer in public).
Betty wasn't thrilled about being shipped to the nunnery, but it pleased her parents to no end. Finally their ill behaved daughter was going to get the guidance she needed.
Everything went along fine and dandy for everyone until the day Betty declared she loved the nunnery and she might just like to become one. A nun.
If this were a movie, the next scene would involve a family sedan comically skidding to a halt at the nunnery and a teenage girl and her suitcase being thrown into the back of the car. Car speeds away with clouds of dust behind it.
Betty didn't become a nun. But the experience did affect her. In fact the whole thing was so traumatic for her she banned me from wearing black until I was in grade 10. Reminded her of the nunnery. Because I wasn't allowed to wear black, black is now my favourite colour. I need it in clothing and decorating and shoes and purses. And it all stemmed from being banned from black for the first 15 years of my life.
I'm pretty sure my grandparents had no idea that sending my mother to a nunnery in 1950 would have any effect on their unborn granddaughter's lifelong colour choices. But that's exactly what happened.
It sort of puts my eyebrows in a squinch to think that something I'm doing at this very moment could randomly impact people 2 generations from now.
When you think about, it's really freaky. And kindda good.
Wishing you … a Good Freaky Friday and a Happy Easter. May you all enjoy your own traditions.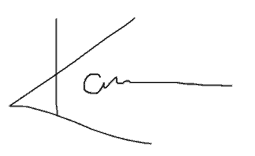 Um … Oops! Totally forgot I was going to give you a sneak peak at something I'm working on for next week …
My lastest creation will be revealed some time next week. One hint … it's not a pistachio covered armadillo. And it's not black. Happy Easter!