Every bite I take of a radish today brings me back to the kitchen table in the house I grew up in. Me, sitting on a worn, colonial maple chair, feet dangling, pushing a crisp red radish into a bowl of salt. In my other hand, a piece of buttered white bread so soft it would stick in your teeth. That's how my mama raised me. To completely obliterate the taste of anything with gobs of salt.
I don't use quite as much salt in my cooking as she does, but I still dip green onions and radishes in a bowl of salt until they look like a bright, sparkling geode before popping them in my mouth. And I grow radishes in the garden all summer long just so I can relive that dangling feet, chasing butterflies moment.
I'm not sure why I feel I have to relive it, I still chase butterflies and quite frankly I'm kindda short so my feet still dangle from most things. A yoga mat for instance.
GROWING THE BEST HOSTESS GIFT
The trick to growing radishes is making sure you're growing them where they're getting the perfect conditions for what they like. They do not like heat. So in the early spring you can plant radishes almost anywhere in full sun and still get radishes. But if you plant them in the same place in the heat of summer you won't end up with much more than an angry, string-like root.
So move them around the garden as you harvest them throughout the season, planting them under the shade of other vegetables when it's really hot and sunny, then bringing them back out into the light once things start to cool down again. You can also grow them under a shade cloth which I think you should because once I explain these bunches of radishes you're going to want to bring them to every BBQ you attend this summer.
They are a great hostess gift.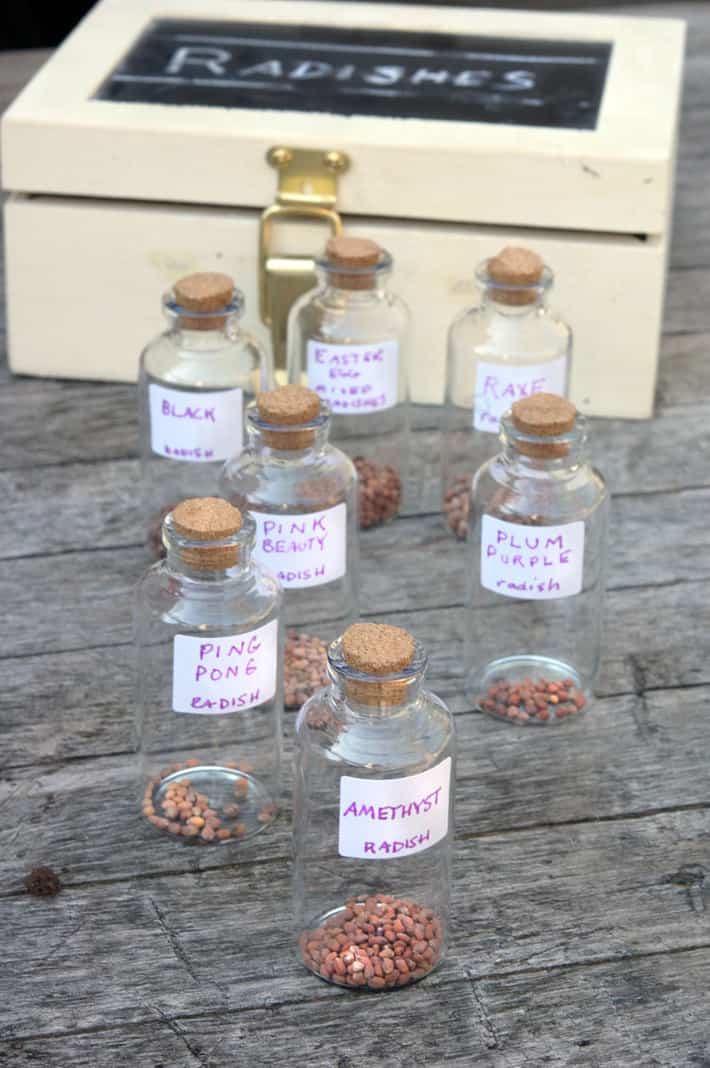 Above all else don't just stick to the classic red radish. Radishes come in a ton of colours and spice levels. The classic red radish (I grow RAXE, a classic cherry type radish) forms a perfect round ball but some of the others are elongated and bi-coloured like my favourite, the French Breakfast Radish.
I also grow purple, pink, pure white, jet black and watermelon radishes, which makes growing radishes and giving them away way more fun than just handing over a bunch of plain red ones.
It wasn't until this year that it occurred to me that if I changed my planting technique in a couple of ways I could create the sort of epic radish harvest that would turn the world on it's head. I'm such a dumb dumb.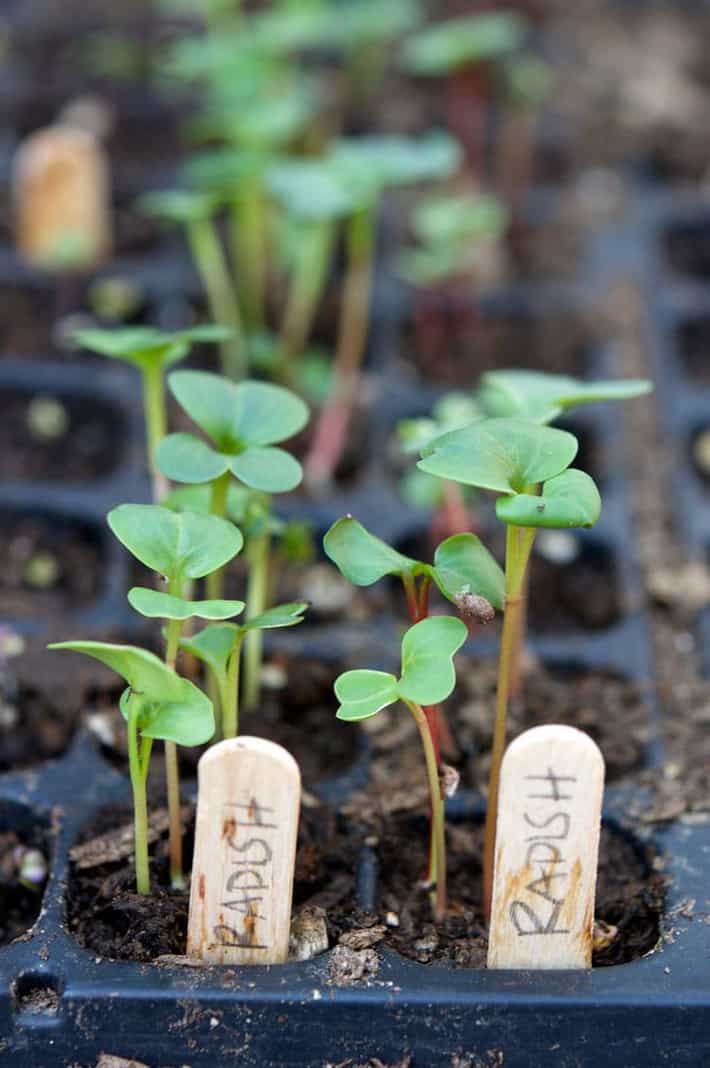 It began with starting the seeds in flats because they'd germinate quicker indoors. But instead of starting one seed per cell, I planted one of each colour radish seed I had.
So each cell contains 1 red, pink, purple, white and breakfast radish.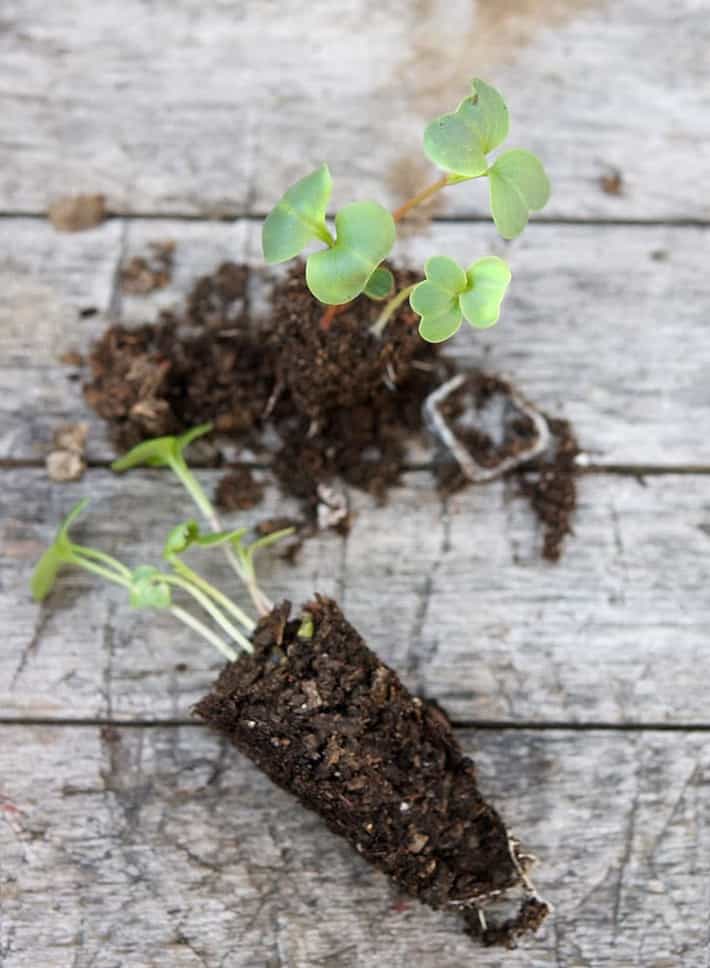 As soon as they were germinated, I popped each bunch of 5 or 6 radishes out of their cell and planted them out as an entire bunch.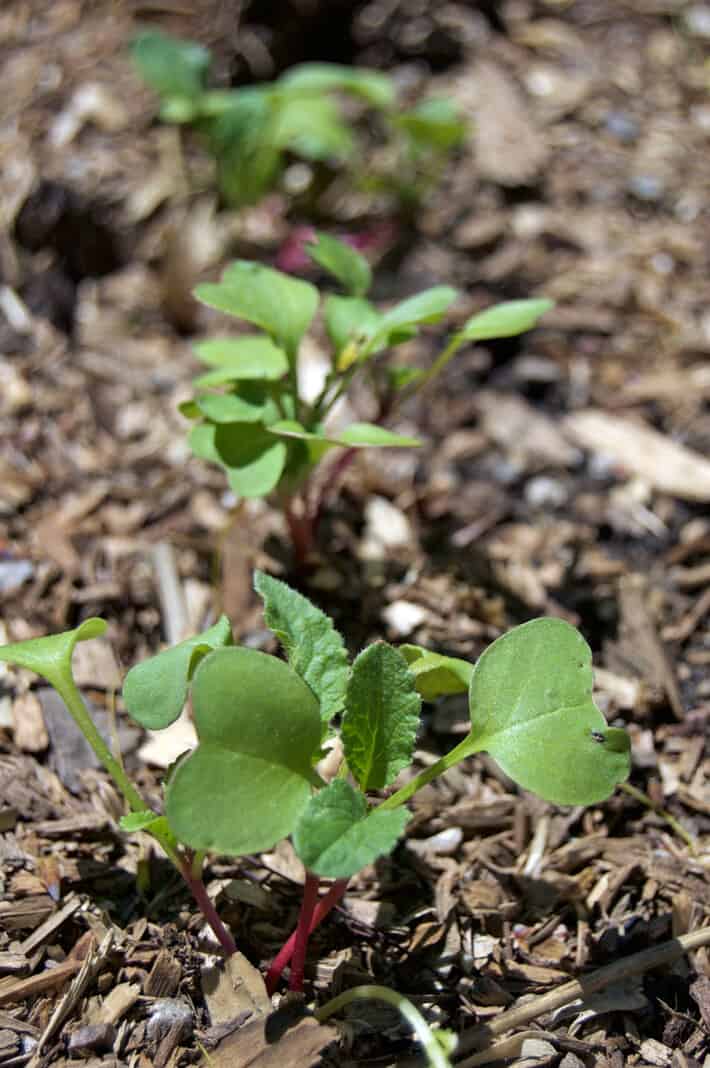 And I walked away and let them grow.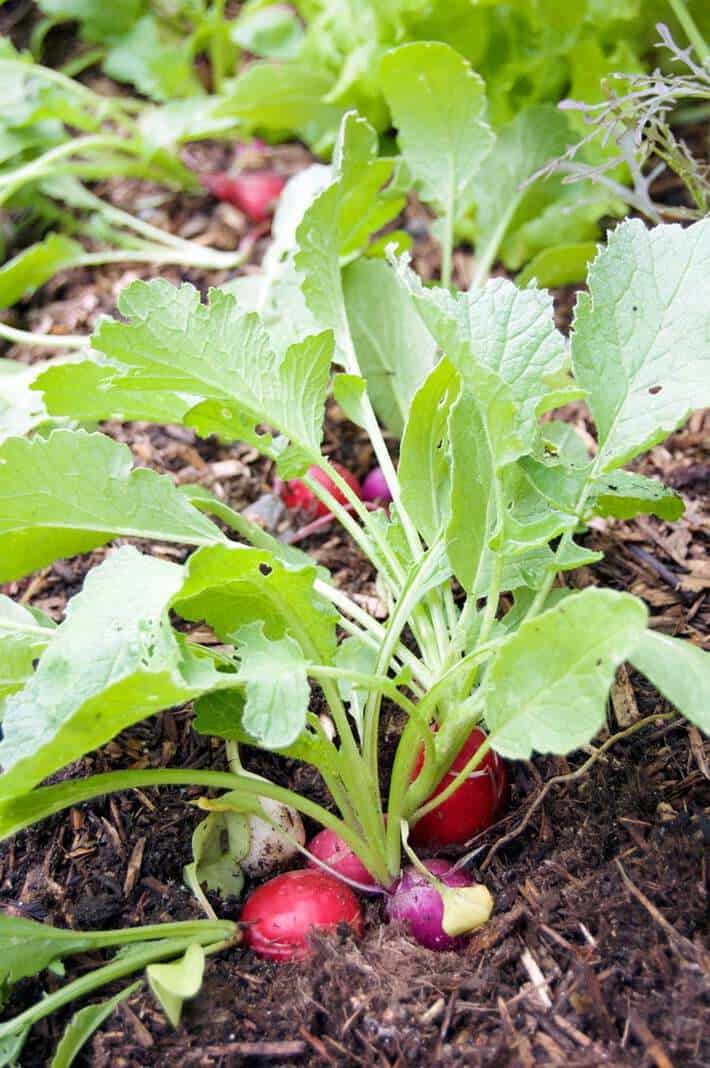 You can see why this method of plating different coloured radish seeds in a bunch, close together is magical.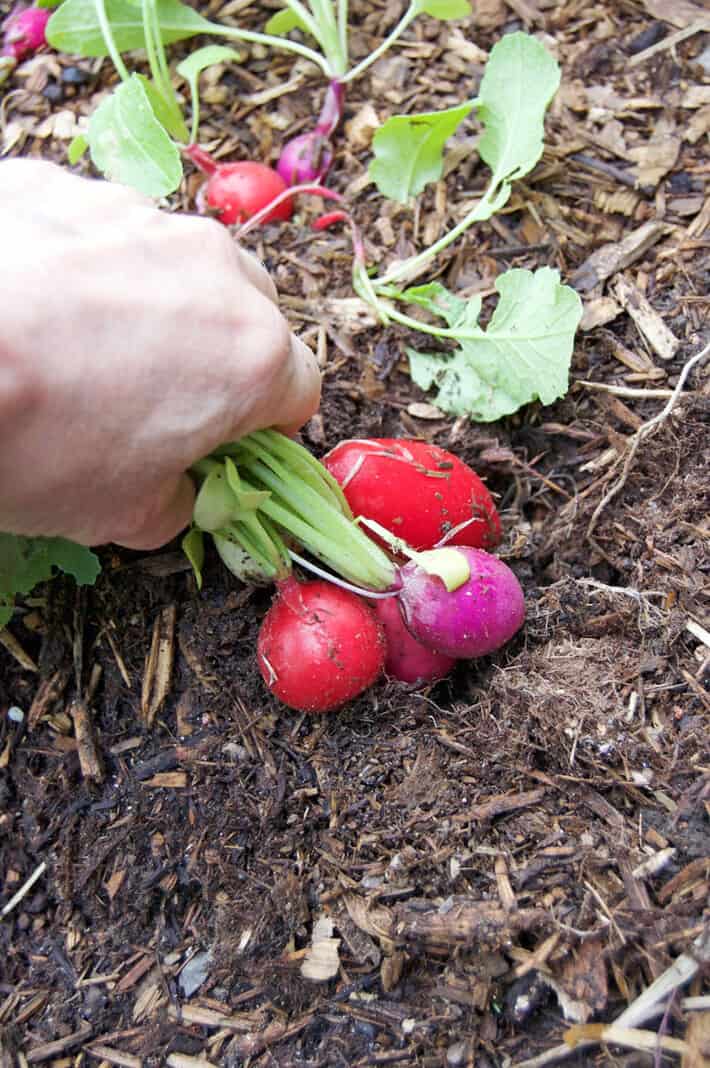 This way when it's time to harvest the radishes I can just grab hold of one bunch and like a fireworks display I have a multicoloured display popping out of the ground in one fell swoop.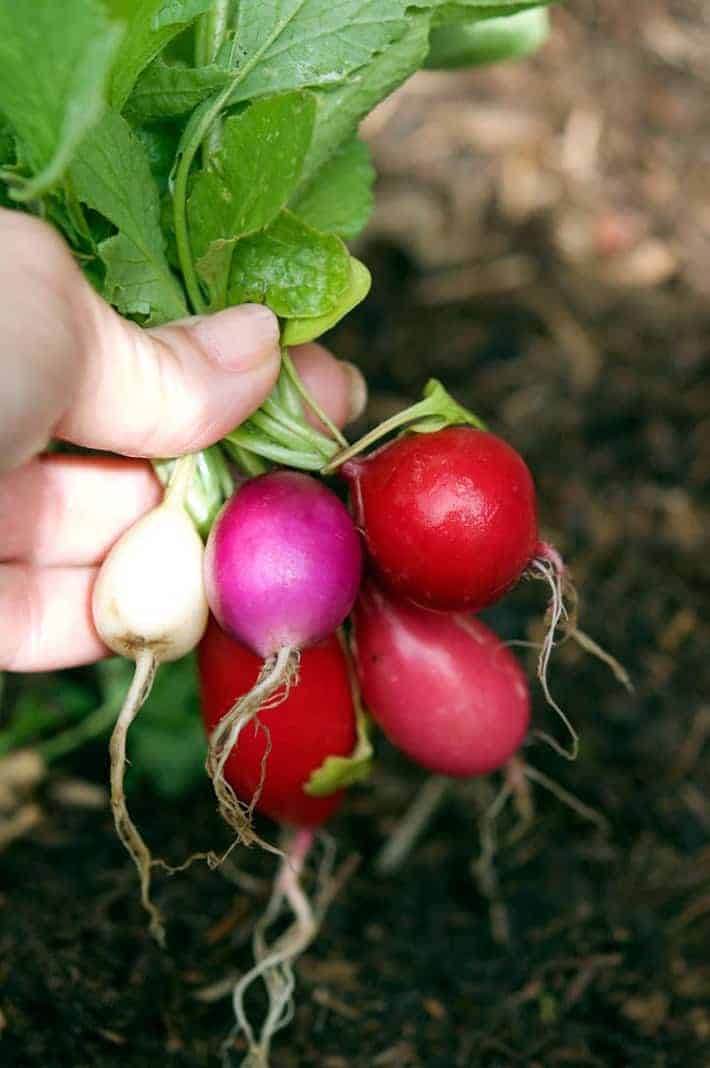 How fun will it be to give someone a tour of your garden and be able to pull out an entire bunch of multicoloured, firecracker radishes for them to take home?
And it's as easy (and logical) as just planting a bunch of different radish seeds in bunches instead of spacing the out. The more radishes you plant per grouped bunch the smaller they'll be but they're perfectly good eating size.
For a hostess gift I would pull 2 bunches and bundle them together with raffia, twine or even black silk ribbon tied in a bow.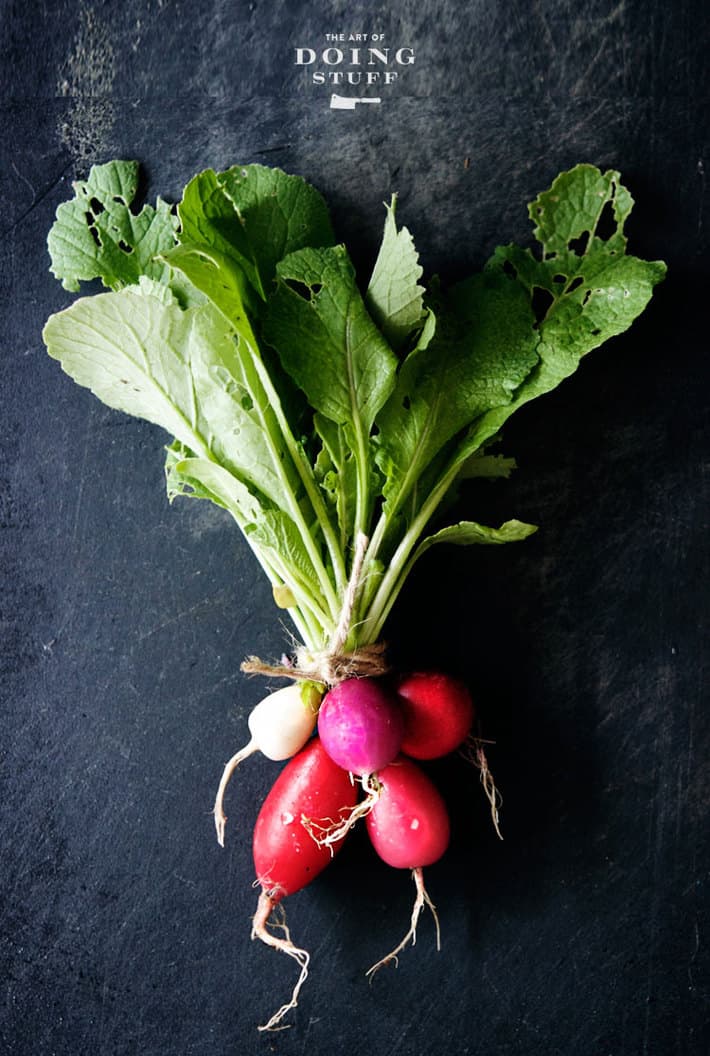 Just add salt.