I saw my first Monarch butterfly of the year 2 weeks ago. One lone Monarch butterfly.
For the past 10 years or so I've been raising Monarch butterflies for fun. WHO knows fun? This girl! The one with the calloused feet and pet butterflies.
It takes almost no effort to raise a butterfly from egg to winged creature and the process is astonishing to watch. If you like watching seeds sprout, wait'll you see a butterfly do the same thing.
Which brings me back to my first point. Only one butterfly this year. Normally I see a few by this time of year and if you think back to when you were a kid there were Monarch butterflies everywhere. We were filthy with butterflies as kids. But things have changed. And they've changed drastically over the past 365 days.
It isn't surprising that I've only seen one butterfly this year because in the past year alone …
The Monarch Butterfly Population has dropped by 90%.
When you consider the fact that only 1-3% of butterflies make it to adulthood in the wild … that's very few butterflies. In fact, as of this year …
The Monarch Butterfly is close to being declared an endangered species.
The Monarch Butterfly!
So how did this happen? Well, mostly it's because their habitat and their food supply has been demolished. Monarchs live, feed and grow on milkweed. Builders put up subdivisions, malls and theatres in areas that were formerly fields. Fields filled with milkweed. Farmers mow down any milkweed around or on their properties to make way for wheat or other crops. Sometimes they mow the milkweed down just to keep it under control so it doesn't run into their cultivated fields. This past year also saw severe weather during the Monarch migration and a huge loss of habitat once they got to Mexico because of illegal logging in the forests.
So this past year was a perfect storm of poor conditions for the Monarch.
I didn't raise Monarchs last year because quite frankly most of my time was filled up with a minor nervous breakdown and coming up with imaginary revenge plots. And I wasn't going to do it this year just because I've done it so many times and I'm really busy living a happy live and coming up with imaginary revenge plots.
But when I saw that lone Monarch butterfly, I ran to the milkweed plants around my house (I leave them to grow specifically for the Monarch butterflies) and searched them for eggs. I only found 3 Monarch eggs, but I brought all 3 inside to save. One is staying with me, one is going to my sister Pink Tool Belt and one is going to her friend Wendy.
If you'd like to give raising a Monarch butterfly a shot (and I really think everyone should do it at least once in their lives) here is the 4 part tutorial I wrote 4 years ago on how to do it. It takes about a month in total and all you need is milkweed for food, a monarch egg or caterpillar (which you find on milkweed) and a glass container so you can see everything that's going on. And believe me when I tell you, you will NEVER see a more fascinating transformation. The metamorphosis of a Monarch Butterfly from egg to caterpillar to chrysalis to butterfly makes a Stephen King novel look about as weird as The Bobbsey Twins. How's that for a current reference?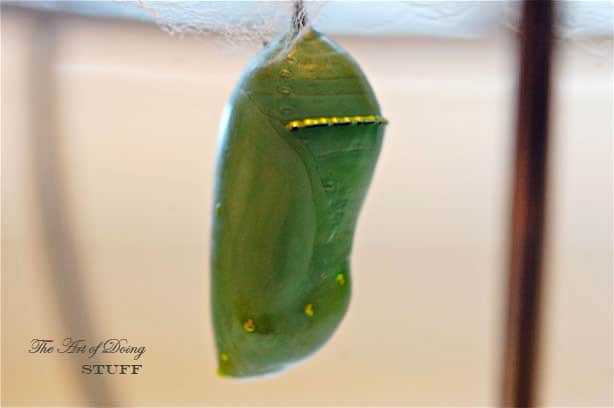 Not the best photographs I've ever taken but it was 4 years ago. I didn't know how to use Photoshop then. Or a camera. Or even Instagram now that I think about it. How embarrassing.
If you're interested in learning more about how to raise a Monarch Butterfly take a look at the tutorials and give it a shot. (Just click on the picture or text)
That picture above shows me and one of the butterflies I raised a couple of years ago. After taking care of it for a month and watching it go from egg to winged creature, I walked outside, and held out my hand where it tentatively flapped its wings then fluttered to a lush and inviting tree overhead.
Then it was eaten by a bat.
Just kidding.
Help save the butterfly population. Because if you don't do it, who will? Also I don't know what to chase anymore. Trains seem much more dangero ..