Growing your own food doesn't mean having to have a huge farm. You can grow a HUGE amount of food for yourself in your front yard, backyard, or if if you don't have those, a balcony or community plot. Here's how you can do it.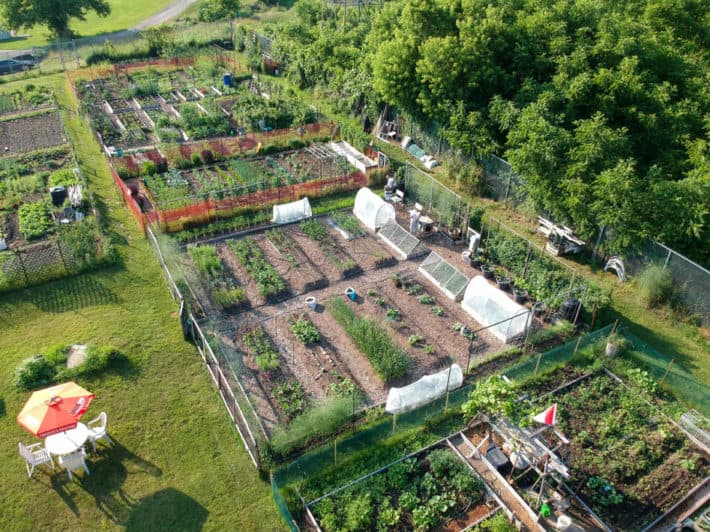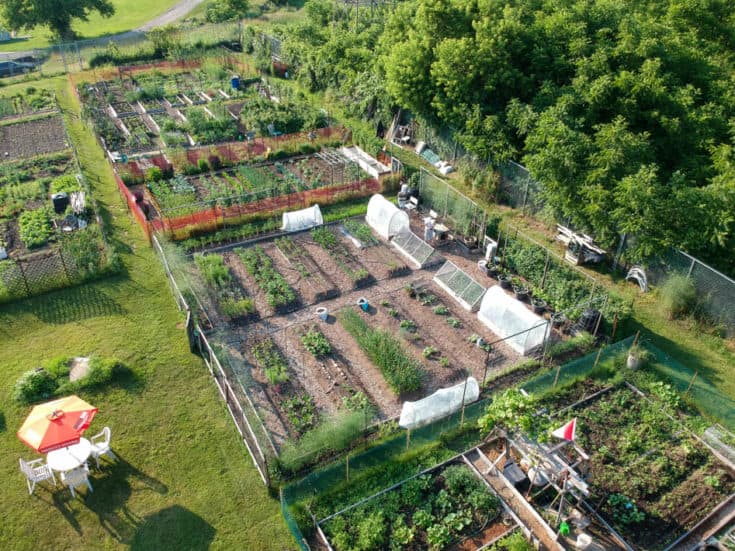 I'm a garden writer for The Old Farmer's Almanac among other publications and the large garden with the hoop houses is my community vegetable plot.
For a lot of people Spring means spring cleaning and a chance to throw open the windows and give everything a good scrub down. I mean, yeah, I guess that's O.K. and sensible and probably advisable, but for me, Spring is more about getting dirty than it is about getting clean.
Spring means Vegetable Gardening. Just in time too. I ran out of my Russet potatoes last week, my carrots are long gone and I haven't had a home grown leafy green in months. I've actually had to visit the produce aisle in my local grocery store like some kind of ... fancy lady. You know you can grow your own food, right? I'm assuming you know that otherwise you'd be browsing The Real Real and not The Art of Doing Stuff.
I've tackled vegetable gardening from all different angles on The Art of Doing Stuff over the past 7 years and in the next three months I want to revisit some of those topics, especially the basics. I also want to take you on my No Dig journey in my new plot where I'm going to fully commit to the No Dig method of gardening. More on that questionable adventure in later posts.
So whether you just want to stop spending exorbitant amounts of money on herbs or are planning full blown off-the-grid-ness like the modern hippie that you are, I've got the gardening post for you.
Over the next three months, as we head full-force into spring, we'll revisit everything you need to know to grow your own food. Here's a quick recap of some of the things you can do RIGHT now starting with a couple of Insta-gardening ideas.

If you have no patience and need a gardening fix IMMEDIATELY, grow some sprouts. Alfalfa sprouts will grow in 4 days and add a great nutritious crunch to your sandwiches and salads. I've grown alfalfa sprouts 2 different ways over the years. The choice is yours, both work. You can get alfalfa seeds at most bulk food stores.
METHOD 1, involves soaking and rinsing the seeds in a mason jar.
METHOD 2, grows them on a damp paper towel.

Alfalfa sprouts' trendier, hipper cousin, the microgreen is exactly what it sounds like. Micro versions of various greens. You can grow microgreens of any lettuces you like including romaine, mizuna, (mustard greens), swiss chard, even beet greens. Microgreens grow in 1-2 weeks.

Easily the most delicious of all these sprouts are pea shoots. I mean, you haven't celebrated life to its fullest until you've eaten a pea shoot. Or travelled in space. But chances are eating pea shoots is actually in your future.
How to quickly grow pea shoots.
O.K. I think you're ready to actually start growing your own seedlings now. Here we go!
I considered holding another live video Seed Starting Course this year but I just haven't had time to organize it. So I'm doing the next best thing right here and leading you to my most comprehensive posts on how to start vegetables from seeds and WHY you should start vegetables from seeds.
The quick story as to why you should start your own vegetables from seeds is variety. You can decide what is important to you in terms of say ... a carrot ... and you can grow the carrot you want.
If you like tiny, cute, golfball sized carrots you can buy the seeds for and grow Parisian Market Carrots.
If you like the health benefits of an all purple carrot, you can buy the seeds for and grow rare Purple Sun carrots.
How to Grow Vegetables from Seed is the first post you should read.
Growing Vegetables from Seedlings, Part II is the second post you should read.
I always say if you're going to grow your own vegetables make sure you're growing things you and your family like to eat. Seriously. You wouldn't believe how many people overlook that tiny little detail and grow things they don't even like to eat. It's O.K. to grow interesting things, just make sure they're interesting things you also like to eat.
Anyone who reads my blog knows that sweet potatoes are one of my favourite things to grow. They aren't something you associate with my Zone 6b climate, but you can definitely grow them here as long as you know a few of the tricks like the fact that NOW is the time to start growing them if you want to harvest anything in September. There are also a few tricks you'll need to know to help deter pests and promote early growth in the heat loving sweet potato. These are the posts you'll need to read if you want to grow sweet potatoes this year:
Want to Grow Sweet Potatoes? Now's the Time to Start!
When and how to plant your Sweet Potato Slips.
Keeping Voles and mice away from your Sweet Potatoes.
If you want to grow something shocking and unusual, you have to grow your own Luffah sponge. Yes you can. I swear to you.
How to Grow your Own Luffah Sponge.

Let's face it. Even if you don't want a garden. Even if you don't want to grow your own vegetables. Even if you think Pftttt, I can just buy it at the grocery store. Even if ALL of those things are true for you, chances are you still want to grow a tomato.
Everyone does. And what's great about tomatoes is you can grow them in a pot, you can grow them on a balcony or you can grow it in the middle of your lawn. It's going to be happy just about anywhere you put it as long as it gets some sun, and one tomato plant will probably give you as many tomatoes as you need. Which doesn't explain why I grow around 35 tomato plants every year.
If you want to venture into the world of Heirloom tomatoes, now is the time to start picking out which heirloom tomatoes you'd like to grow. I have several that I grow every year no matter what. Tomatoes like Black Krim, Green Zebra, Pineapple and Fargo Yellow Pear.
Here's a full list of my top 10 Heirloom Tomatoes
Here's a list of how some of those tomatoes did in a blind taste test.
Finally, before I send you on your way from this epic post, the last thing you'll need if you're planning on jumping onto the Grow Your Own Food Hipster Bandwagon, is my seed starting calculator. Just click on it, and enter your first frost free date and it'll generate the best dates to start most vegetables indoors and when to plant them out.
Want to know when to start your seeds? Click on the photo above to go to The Seed Starting Calculator.
Growing your own seedlings is kind of like cooking a Roast Beef dinner. The hardest part about it is knowing when to start everything so it's all ready at the right time.
Any time you want to know when to plant a seed or set a plant outside all you have to do is click on The Seed Starting Calculator. You can bookmark it, or bookmark this page, or you can always click over to it from the link on the righthand sidebar.
All you have to do is enter your first frost free date and the calculator automatically calculates when to start carrots, beets, lettuce, tomatoes and more. It works whether you're in Anchorage or Acton.
Growing my own food is one of the most rewarding things that I do and I'm constantly forcing the notion of vegetable gardens on people. I know that. But as far as I'm concerned, there are worse things than force feeding people.