I like to do things just because I like to do them.  Can I go to the store and buy Maple Syrup?  Yes.  Of course I can.  I'm not an idiot  you  know.  Well, sometimes I am actually, but not in this particular instance.  The time I tried to teach myself taxidermy?  That's more of an "idiot" instance.
The reason I do so many things myself is because I'm curious.  I like to do things on my own because I think it's fun.  A lot of times it saves me money, occasionally it saves me time, but it always, always is entertaining.
The odd time I come across something that's just too incredible to ignore.
This ... is one such time.
A few weeks ago, The Art of Doing Stuff reader Kim Merry, emailed me asking if I'd heard of growing green onions from the green onion roots you cut off.  After sitting calmly to lower my blood pressure, and taking a good stiff drink to get rid of my trembling hands, I emailed Kim back.  NO!  NO I HAD NEVER HEARD OF SUCH A THING!!!
I thanked Kim for letting me know about this process and immediately started Googling.  From what I read it appeared as though myself and the crazy guy in town with bells on his shoes were the only ones not growing green onions from the onion stumps.
According to the Internet, to grow beautiful green onions all you have to do is stick the roots in water and watch em grow!  Overnight practically!
At this point in my research I was so excited I almost had to put in a piddle pad next to my computer.  It was *that* exciting.  Since I always think I'm out of green onions and therefore buy them every single time I'm at the grocery store, I had an entire crisper full of green onions to experiment with.
I did a bit more research and found you could do the same thing using soil.  Soil, being less exciting than growing something with just air and water only elevated me to a state of "Yay".  As opposed to the near stroke-like condition I was in up until that point.
So I rolled up my sleeves (they were short sleeves so I looked kind of like the Fonz) and got to work.  Cutting onions, taking pictures and documenting the whole experiment for 3 weeks.  Here's how it went.
The Great Great Onion Experiment
Grab a bunch of Green Onions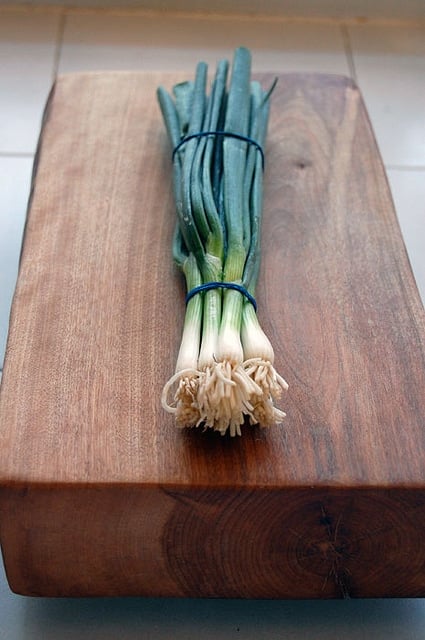 Chop off the roots, leaving a bit of the white part.  I left varying sizes of white from a tiny amount to a large amount.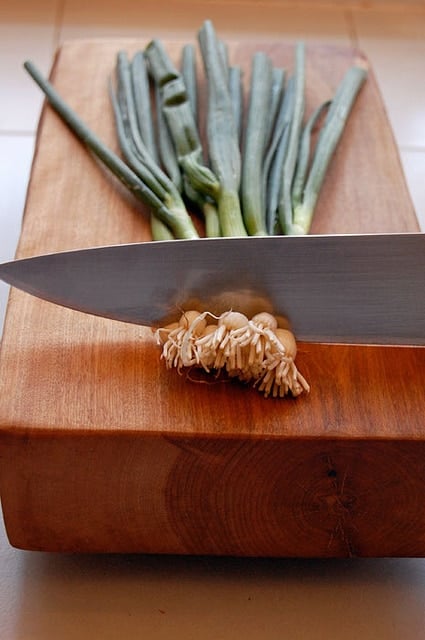 Stick the roots in a jar of water.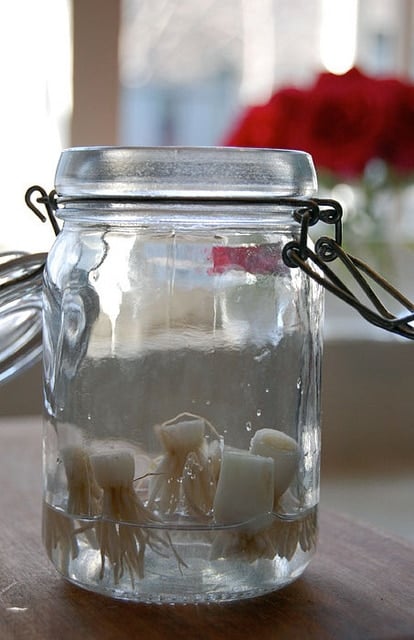 Stick them on a sunny windowsill.  I had quite a struggle keeping the onions standing upright.  I had to use tweezers to get them in the jar and lean them against the side to stand up.  Then they fell down.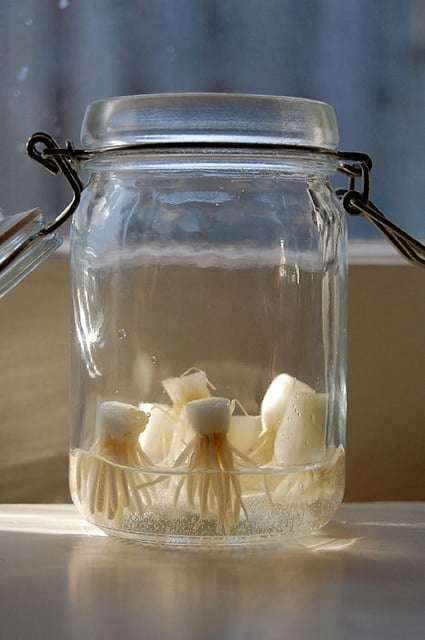 Plant a few green onion stumps in soil.  Just stick em in and leave them.
According to most sites these will turn into lush, green onions in a matter of days!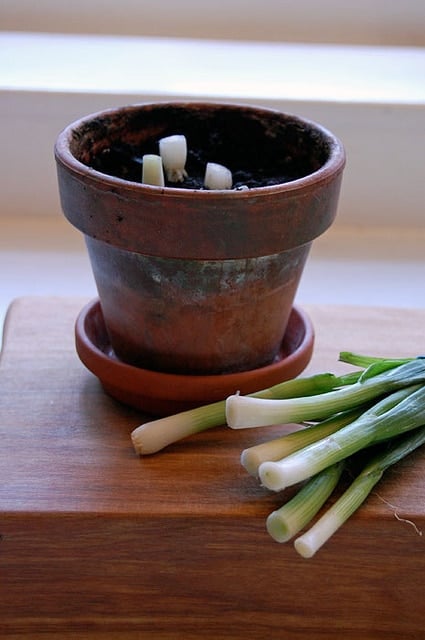 3 weeks pass.
Behold the Great Green Onion Experiment Results.
I ended up transferring the green onions in the jar into this contraption. After 4 days or so the green onions in the water rotted to a disgusting, putrid mess.
So I tried a glass filled with water with a glass flower frog to hold the onions on top.  This way the onions would stay upright and not too much of the base would get soaked.  Brilliant, right?  Didn't work.  Clearly.
The green onions in the soil did much better.   The stumps actually produced green onions.  (just the green part .. the white part doesn't grow)
However, having said that, for 3 weeks of watering etc., and a kind of mediocre result I'm gonna have to call this experiment a fail.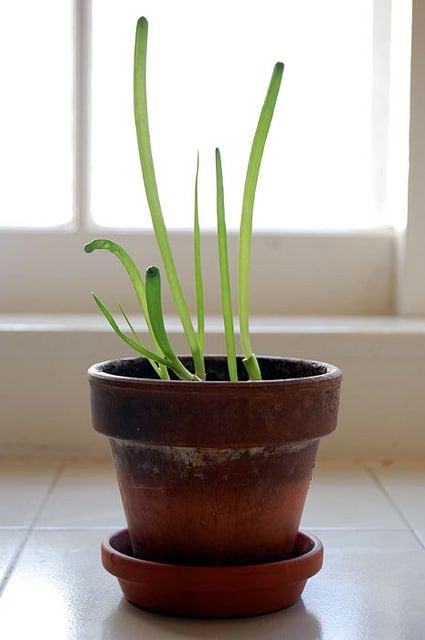 Although technically the technique works ... for me ... it just ain't worth it.
It didn't produce results worthy of a piddle pad.  Which is what I was hoping for.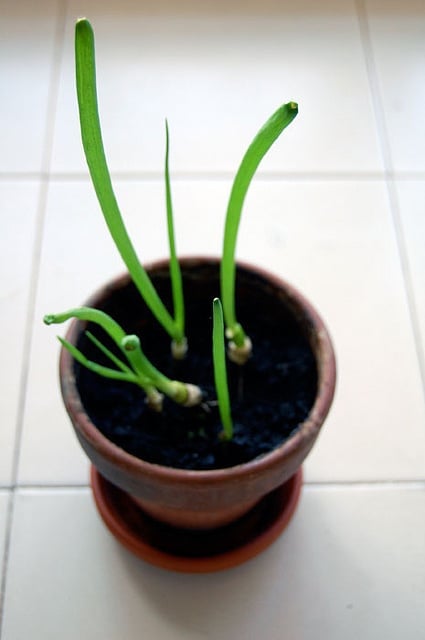 Feel free to give it a shot.  But if after 3 weeks this is all I ended up with, I think I'll continue to spend the $0.69 and buy my green onions.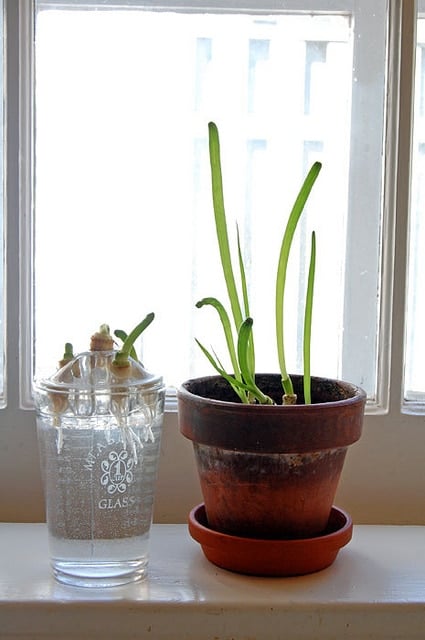 So no more green onion growing for me.  I'll leave the vegetable growing for the front yard.  Funny.  I guess it turns out the guy with bells on his shoes is smarter than he looks.

→Follow me on Instagram where I often make a fool of myself←