Dear Kale,
Look, I feel bad saying this, but nobody likes you - we tolerate you.  If your popularity was based on taste and not nutrition you'd rank just above a hair covered Cheeto found on the bottom of a boot.  
~ Love Karen and everyone else in the world.
It's hard for us not to have been brainwashed by the big, bad kale machine that went tearing through the land a few years ago.  I mean for a while there we really thought we liked kale.  KALE, KALE, KALE!  Eat it and you'll live forever!  And it makes such great chips!  And it's a nutritional powerhouse! All of these things were heard from various health journals, blogs, magazines and restaurant kitchens.  But you know what no on ever stood on their front porch and screamed out?  Kale, Kale Kale!  You're soooooo delicious.
When Blue Apron said they wanted to do another post with me I asked if they'd be into just talking about vegetables.  I wanted their advice on the up and coming new kids on the block.  Vegetables that on trend gardeners should plant this year that are a bit unusual but also taste good and aren't kale.
They agreed.
I actually eat a kale salad almost every day in the summer, but is it my favourite tasting vegetable?  Clearly no.  Though I do like that salad.  I'll admit the food loving cool-girl in me originally liked it because it was unique and rare; normally only seen garnishing the outside rim of Pizza Hut salad bars (true story).
But there are alternative, unusual healthy vegetables out there that actually taste really great.
The first of the 5 unique vegetables Blue Apron and I agreed were worthy of trending this year is one that the food company has been using since its inception.
This teeny, tiny Fairy Tale eggplant is creamy and flavourful with no bitterness.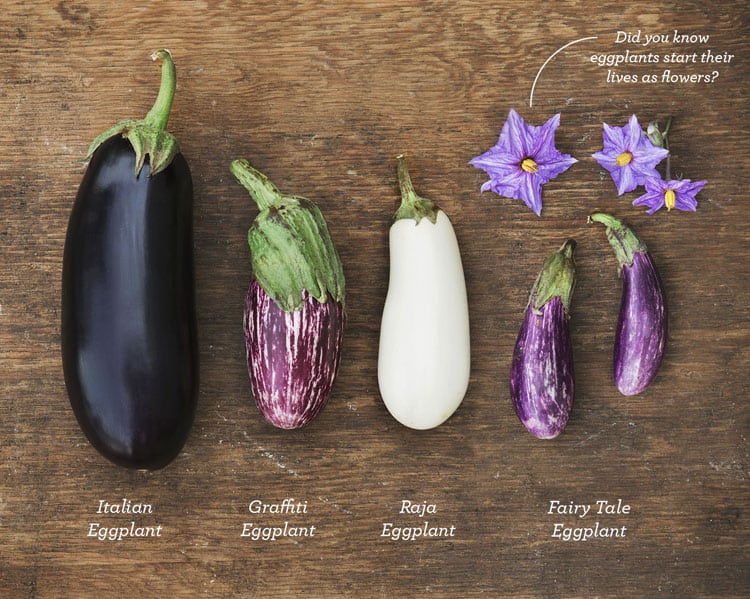 Look at it!  The other great thing about the fairytale eggplant is there's no waste.  A large eggplant provides far too much vegetable for one meal for 2 people and a lot of it ends up being wasted. Not so with the fairy sized eggplant.
Fairytale Eggplant:  Buy the seeds here.
How to Grow Fairy Tale eggplant:
Plant Fairytale eggplant seeds directly in the garden once the soil is warm or start indoors 4 weeks before the last frost.  Plant seeds ½" deep.
Cover with floating row cover if flea beetles are a problem in your area and remove the cover when flowers emerge.
Pick the eggplants as soon as they are 3-4" long. The more you pick the more they grow.
Fairytale Eggplant recipe.
Quinoa Tabbouleh with Fairy tale Eggplants.
THIS is the one I'm really excited about.  The Honeynut squash is a variety of butternut squash that fits into the palm of your hand.  It's sweeter than a butternut squash and half of one is the perfect size for a side dish. They're tiny!
I just got my seeds for this little 6" squash in the mail today!  I'm a bit squash crazy I'll admit, but there was no way I was going to let this thing exist in the world and not grow it myself.  That brings my squash variety count up to 7 including Grey Ghost Kabocha, Cha-Cha Kabocha, Delicata, mini pumpkins, Sugar pumpkins, Butternut squash and now ... Honeynut squash.
Even I can see for a single woman that 7 varieties of squash might be considered excessive in some of the more conservative leaning squash crowds.  So be it.
Honeynut Squash:  Buy the seeds here.
How to Grow Honeynut Squash:
Plant squash seeds 1" deep directly in the garden when soil is warm or start indoors 4 weeks before the last frost.
You can use my string method to keep the squash vines up off of the ground which helps eliminate disease, keeps the squash clean, plus it takes up less room in the garden.  You do NOT need to support the actual squash once they're growing with nylons or underwear or whatever else people suggest. Their stems are plenty strong enough to support them.
Pick the squash after the stem has died back, leaving them in a sunny area to cure for 1-2 weeks.  Make sure to rotate them so all of the skin gets a chance to bask in the sun.  The better you cure your squash the better they'll keep through the winter.  Also curing helps with flavour.
Honeynut Squash recipe
Sumac-spiced Steak & Honeynut Squash
These red turnip look more like beets than a turnip.  The deep red skin colour also runs through the inside of the vegetable.
These are mild and small enough to be used sliced thin in salads or diced and cooked like you'd normally cook a turnip.
Scarlet Queen Turnip:  Buy the seeds here.
How to Grow Scarlet Queen Turnip:
Start seeds indoors or plant outside in spring.
Plant seeds in a clump of 3.  If started in trays indoors, transplant the entire clump of 3 outside once first set of true leaves appear.
Plant clumps 6" apart and harvest when turnips are 2"-3" in diameter.
Scarlet Queen turnip recipe
Baked BBQ chicken with creamy potato, green bean and turnip salad.
Red/purple cabbage is common, Napa cabbage is common, but PURPLE NAPPA CABBAGE? Not so much.
Purple Nappa Cabbage is incredibly new to the vegetable world and part of what makes this one of my favourite new vegetable varieties is the fact that the cabbage doesn't lose it's colour when it's cooked.  So you maintain that bright purple/red colour even after steaming, sautéing or baking it.
Can you imagine the beautiful cabbage rolls these would make?
Scarlette F1 cabbage:  The variety is so new seeds aren't available to the public in North America yet.
How to Grow Napa Cabbage:
Cabbage does best as a direct sow outdoors from the end of May to the middle of June for a fall crop.
Use floating row cover to protect from flea beetles and other pests.  No need to remove cover because the cabbage doesn't flower.
Harvest based on when the heads feel tight.  You can store cabbage in a cool room for months.
Seeds might not be available yet but farmer's markets *may* carry the variety this year and of course if you have a Blue Apron subscription, you'll be getting some in your deliveries this year.
Purple Napa Cabbage Recipe
Tofu Banh Mi
Sungold tomatoes are probably the sweetest cherry tomatoes you'll find.  I grew them in my community gardens and my front yard vegetable garden last year and barely got any myself due to their popularity with squirrels, mice, raccoons and my thieving neighbours. I've told them all they can have anything that grows on the outside of my fence in the front yard so really it's my fault.  But still.  THIEVES.
You might think it's too late to buy seeds and plant these Sungold tomatoes but they're among the fastest maturing tomato plants around going from seed to maturity in just 57 days.  Around a month faster than most tomato plants.
Sungold Tomatoes (F1):  Buy the seeds here.
How to Grow Sungold tomatoes:
Plant tomato seeds 4-6 weeks prior to the last frost indoors.
Once risk of frost has passed, transplant outside with a teaspoon of crushed eggshell at the bottom of the hole.
Use my string method to keep tomatoes healthy and save space.
Sungold tomato recipe
Heirloom Tomato Salad with lemon ricotta
---
Thanks to Blue Apron for sponsoring this post and sharing their information on the vegetables they think deserve their day in the sunshine.
If you'd like to get these and a TON of other really special ingredients delivered right to your door along with the recipes so you can save time but still create chef quality meals (for real) Blue Apron is offering the first 50 Art of Doing Stuff subscribers their first 3 meals for free.  p.s. don't worry, the food is delivered in refrigerated boxes.  p.s. don't worry you don't have to sign up for a year long commitment, you just get the meals you want and opt out if you don't want them that week. Or that month. Or that summer!
READ MORE ABOUT BLUE APRON'S PROGRAM AND SIGN UP FOR YOUR DISCOUNTED SUBSCRIPTION HERE.
This is my 4th post partnering with Blue Apron and I keep doing it because of their philosophy, great food, great recipes and their commitment to fresh ingredients grown by local farmers.  Blue Apron has partnered with 150 farmers in the United States to date working together to grow food, regenerate land, and reduce food waste.