Tis the season at last. Everywhere you look, there are snowflakes, Christmas ornaments, and little children bounding down store aisles picking out stockings, candy canes and mugs with Santa on them for hot cocoa.
Somewhere under the store shelves, in amongst the dust bunnies and broken shards of glass you might find a dirty old Halloween costume with a piece of gum stuck to it.
The minute you can't find any Halloween stuff in stores you know, that Halloween must be just a month and a half away!
Stores really know how to wreck the natural high you get from getting ready for the holidays. How am I supposed to get excited about shopping for Halloween when all evidence of it is gone by September 1st?
So it was with great embarrassment I bring you this Halloween post.
I wanted to feature all the things that my sponsors have that are in any way Halloween related because if I left mentioning them until my October sponsor post, you wouldn't have time to order stuff and get it delivered by Halloween.
So at least I have a valid reason behind my early holiday hurrah.
I'm sure the stores do too, but I don't know what they are, so I will simply continue to think they're assheads and stupid.

I'm going to start off with the scariest of stories. I won't get into the guts of it, but in a nushell, several weeks ago, on a night with a howling wind, I witnessed a death. Of almost all the photos on my blog.
Scaaaaaaary.
Seriously. Thousands of photos gone. GONE. It wasn't a little issue either. It was a big one.
You wanna know who got my photos back? You wanna know who had to create an entire plan on a whiteboard, to save my photos, my posts and my comments when no one else could?
How did they get my photos back when no one else could?
Because they're like me. If they don't know, they'll figure it out.
Download this Phrenological Chart from Disposable Art Shop.
Print it and frame it for the Halloween season.
Yeah. These are good for ANY season and any holiday.
LOVE, LOVE, LOVE these boots from LAB consignment.
They are kickass, badass and a class act all in one.
Need to get the Halloween makeup off?
Use FACEatleier's makeup remover, MELT from Ellenoire.
Here is what I would do with these downloadable silhouette prints from Art & Jelly Printables.
I'd print them in black and white, then I would glue a dolls eye on each of them where they eye would be.
Creepyyyyy.
My sister and my mother always have a candy jar out.
There are kids in the family.
Kids pick their noses.
I don't want to eat candy after a nose picker has pawed through them.
Put Halloween candy like, candy corn in one of these eerily green mason jars with a pourable spout from reCAP.
Everyone, (nose pickers included) can just pour the candy into their hands.
I'm pretty angry I didn't grow this Black Futzu pumpkin from Cubits this year. It's so unique and beautiful.
Perfect for Halloween decorating, then eating later.
I KNEW about it and WANTED to plant it but I completely forgot about it.
I am going to order this pumpkin seed immediately so I have the seed ready to go next spring.
I've always lived by the notion that Halloween decorating doesn't have to be kitchy.
It can be eerily and darkly beautiful.
Like these tiles from Cement Tile Shop.
Tea towel with skull from Diamond Dust Studio.
What is there to say?
I'm not sure how to relate this fantastic beeswax Board Butter
from Cattails to Halloween, but if you can feel free to let me know.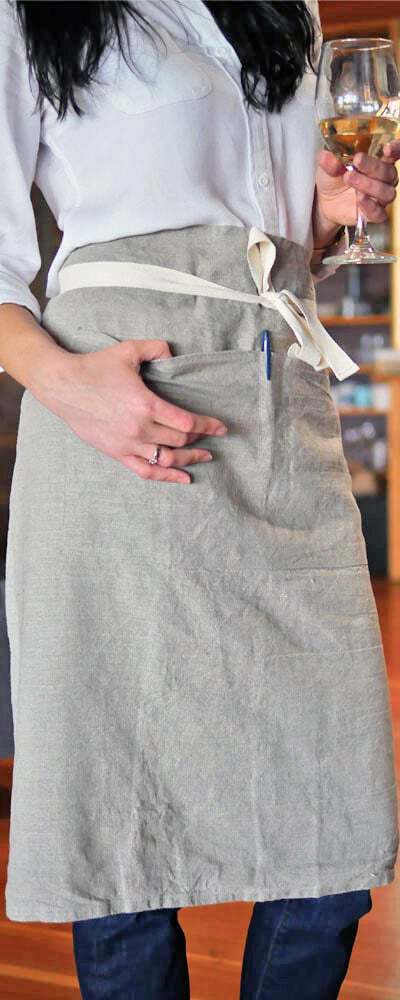 Looking for a quick, easy Halloween costume?
Pick up this natural linen waiter's apron from Rough Linen.
If you like the whole slutty aspect of Halloween costumes, pair it with nothing else.
Speaking of Halloween costumes if you wanted to look great, you could just dress up like Daniela from Curious Citizen.
She honestly has one of the most undervalued blogs out there. GREAT writer.
Again, this kit for making a Wool Fox from Craft de Ville probably isn't very Halloweeny.
But if you ordered it now, you could get it made by Christmas!
Which as well all know, according to the stores … is just a moment away.
Know what else is just a moment away?
The weekend.
Have a good one.
W A I T!!!!!!!
I have something Etsy related for you! Etsy has now gotten quite brilliant. They're having Etsy fairs around the country. This Saturday it's the ETSY: Made in Canada event.
Click HERE to find an Etsy pop up market this weekend near you!
And here's a fantastic video from Etsy highlighting some of the great Canadian makers.