I'll warn you now. Food porn ahead so get a kleenex (to wipe your mouth).
First up I'd like to tell you something about you and your food. You're in a rut. How do I know this? Because at this very moment, I have shrunk down to the size of an amoeba and am running through your brain.
Also, I know this because most people are in a food rut.
We make the same 5 meals over and over again because 1) we know where those items are in the grocery store so it makes shopping for them faster and 2) we can cook things we're familiar with faster than things we aren't familiar with. So the goal for cooking with most people is fast.
Fast and easy. I love cooking but even I want to make things that are relatively fast and easy on weeknights. Which is kind of stupid, because I'm a blogger which means I work on weekends too but I still feel like weekends are for special things like homemade pasta and wearing the same outfit for 48 hours. And yes, that includes sleeping in it.
Here's another thing about your food rut. You need to get out of it.
I need to tell you right now about the amount of sponsored food posts I've refused in the past 6 years.
I won't name companies, but I've refused posts that involve instant food, frozen food, and delightful edible oil products. Even though I do eat and use those things sometimes they just weren't something I'd do a sponsored post on.
I have never once done a sponsored food post. Then Blue Apron called.
Actually their PR person emailed. Would I like to partner on a post with them. I had no idea what Blue Apron was because I'm Canadian and Blue Apron isn't available here, only in the States, so I said I'd do some research and get back to them.
Turns out Blue Apron is exactly the sort of thing I'd do a sponsored post on. And this is that sponsored post which includes How to Get out of Your Food Rut and a Jamaican Chili Recipe to start you on your I WANT OUT OF MY FOOD RUT venture.
Blue Apron is fast food for people who LOVE to cook and LOVE to eat. I think this text message exchange between me and my niece after I sent her a picture of the Blue Apron vegetarian chili I made explains it best …
Yup. Blue Apron. " For people who f'in hate thinking about what to make. "
So what is it? Blue Apron delivers pre-measured ingredients to your door in a refrigerated box along with a recipe. All the ingredients are locally sourced. You can go online and check out the recipes for the upcoming weeks and if they look like something you're into, you're good to go.
If you think, meh … I don't really feel like eating Crispy Brown Butter Gnocchi (because it also has brussels sprouts), you can decline delivery that week.
So that right there takes care of the fast and easy. Your recipe is already picked out, the groceries are bought and pre-measured and dropped off at your door. You just have to grab the container dump the ingredients on the counter and start cooking.
None of the recipes take more than 40 minutes to make from start to finish.
Wanna know if they have the kind of recipes you'd like? Browse 'em. All their recipes for upcoming weeks are online.
I figured I couldn't talk about Blue Apron without trying a recipe so I did. What I'm making here is their Vegetarian Jamaican Curry Chili. Why vegetarian when I'm not a vegetarian? Because even though I'm a meat eater I only eat meat 2 or 3 times a week. Which is all you should be eating of it as well.
The other meals should be filled with plant stuffs. Or not. I don't really care what you do as long as you eat.
Yes, I know. You love the ring. Got it on Etsy.
The chili is filled with sweet potatoes, onion, purple top turnip, collard greens, chick peas and a whole lot of spices. A few other things too.
I realized right away one of the advantages to having your ingredients pre-proportioned. You only get enough Collard Greens (or whatever else) for your meal. So you don't have half a bunch of Collard Greens rotting and weeping on the bottom of your vegetable keeper a month later.
You still have to prep them so it doesn't take all the fun out of cooking. You're still cooking. It's just way less time consuming.
I started to wonder how useful this would be for a single person. Blue Apron offers meals for 2 or 4 people. Not singles.
It costs $59.94 for 3 meals a week (for 2 people). That's a total of 6 meals.
So if you're a single person and you buy the 2 person plan for yourself, you'd get all but one meal for the week out of that! You'd make the meal, and have the leftover portion for dinner the next night. And so on. That's $240 for all your meals for the month. Plus if you aren't at the grocery store you aren't sucked into the dangerous world of impulse buying.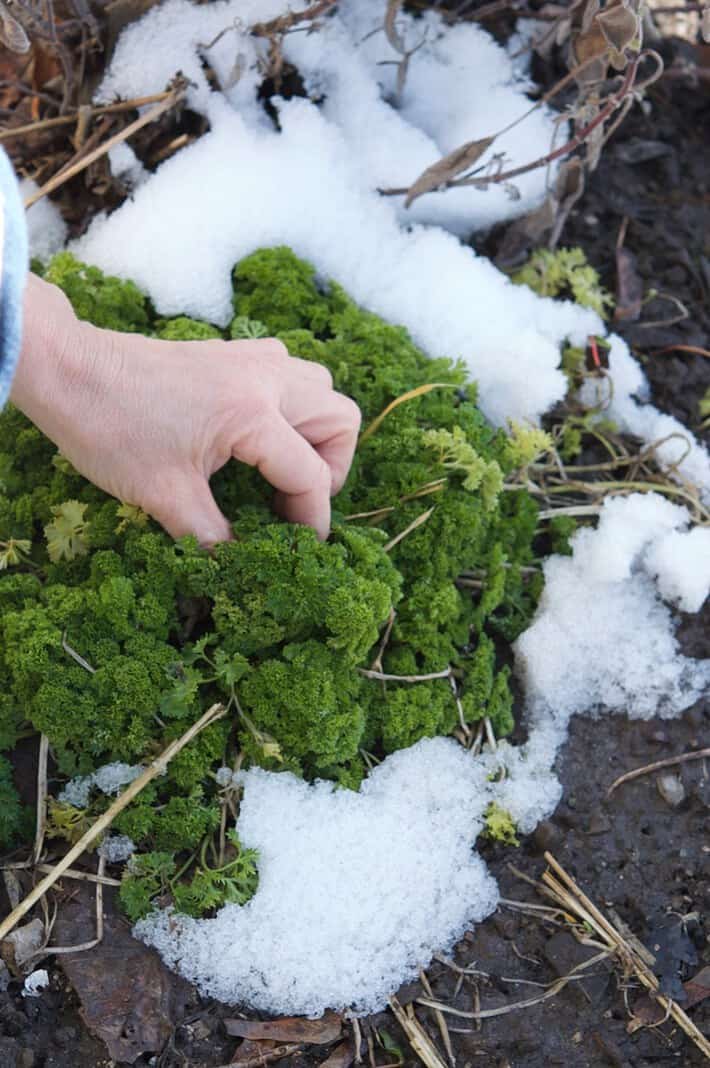 The recipe called for parsley so I went out, brushed some snow aside, gave Mother Nature a simultaneous thank you and stink eye, then grabbed some greens.
The spices. In case you aren't familiar with things like … spices.
The Jamaican Chili recipe really just involved a bunch of peeling and chopping, then everything gets cooked in one pot. Only one pot to wash. And yes. That's my Rough Linen pinafore. I live in it. I'm trying to convince Tricia from Rough Linen to contact Blue Apron to make blue linen aprons for them.
And here it is. The Blue Apron meal.
Jamaican Curry Chili with pita croutons.
I made the full recipe for 2 people but there was so much I checked back to make sure I hadn't made a meal for 4 by accident. I did not. I had this big bowl for dinner, a small cup of it while I was taking the photos, gave a bowl away to that vegetarian niece of mine in the text message above and had a small (tiny really) bowl for lunch the next day.
If it were me, and Blue Apron was available in Canada I'd order the plan for 2 and use the meals the whole week. I'd also definitely order the vegetarian meals because it's a great way for someone who isn't a vegetarian to be introduced to different vegetarian meals and ingredients.
Plus you don't have to commit to a year. Or even 6 months. Or even 2 months. You order it by the week so if you want you can just do it once a month. No big whoop.
That's the other thing I meant to mention. It makes weird and wonderful ingredients available to you. Things you might not be able to find in your local grocery store. Like purple potatoes (which as you know I grow myself). Or amaranth, watermelon radishes and pink lemons. Fun stuff. All delivered to your door with a recipe.
If you're interested but you want to learn more about Blue Apron, look here.
If you're interested but want to try out a recipe or two first, look here.
And if you're convinced, order here. (First 50 people to sign up get their first 2 meals free, that's 33% off the price on your first order if you're a family of 4, or 25% off the price of your first order if you're ordering the 2 person plan).
And even if you don't sign up for Blue Apron, do me a favour? Get out of your food rut. This week I want you to go through some new recipes (either from Blue Apron or a cookbook you bought but never use) and TRY something new. Anything.
Then take a picture of it, send it to me at karen@theartofdoingstuff.com and tell me how it went. The best of the best will be featured in an upcoming post on allllll the new foods you tried.
Like I said, Blue Apron delivery is only available in the U.S. but if you're Canadian or English or Scottish or Australian or South African or Mexican or whatever else you migth be, you can still use their recipes.
None of which, as far as I can see contain "edible oil products".
this post was sponsored by Blue Apron. Obviously.