Let me be serious for a moment.
1. That is the number of maple trees in my backyard.
360.  THAT is the conservative estimate of how many bags of maple leaves I've raked up and put out to the curb since I moved into this house 10 or so years ago.
886,762,254,981.    That's the number of maple keys I've picked up, swept up or pulled out of my backyard.
3.  The number of toy poodles gone missing in the neighbourhood that I suspect were eaten by my tree.
42,567,897,432,156,789,$%6&@##$,234,5%6,981.  THAT is the exact number of times I've stood at the base of my maple tree swearing at it until a molar exploded out of my head.
My tree is a quiet but scary tree.  If my tree were a mythical creature and if Ninjas were mythical (as if), my tree would be a Ninja tree.
As it turns out, it's just a  Black Maple.
So.  After more than 10 years of cleaning up after it, I think it's just about time that leaf vomiting, key  spewing, dog eating tree did something for ME for once.
And it did.  That tree gave me maple syrup.  Who knew!  I thought only Sugar Maples could do that.
As it turns out, pretty much any maple tree can give you sap worthy of making maple syrup, but there are 4 Maple Trees that are your best bets based on the amount of sugar in their sap.  In order of preference:
Yes.  A birch tree.  All of these trees have enough sugar in their sap to make maple syrup.  The difference is the sugar maple and the black maple both have higher sugar content in their sap, so they take slightly less sap to make syrup.  They also produce useable sap longer each season than the others do.
If you don't know which type of tree you have, but you know you have a maple, don't even worry about it.  JUST TAP IT.
I'm not going to get into it much more than that, because today is just about what you need to tap a tree.  Later this week or early next week I'll bring you a post on how to turn the sap you tapped into Maple Syrup.
But for now, if you have a maple tree or access to one, you only need a few things to tap your tree.
You need …
You can order these over the Internet, but it's getting a bit late to do that for this year.
You can also get taps at farm stores, some hardware stores and sometimes sugar bushes in your area will have some for sale.
The hook is for hanging your bucket off of.  If you buy taps, DON'T forget to get the hooks too.
Sap buckets are usually made of plastic now.  I couldn't bring myself to use plastic, so I found myself some older aluminum ones off of Kijiji. (2 for $10)    I … I … just couldn't use plastic.  Plastic doesn't seem very pioneerey.
I suspect when I die and they cut me open, they will find a tumour in the shape of Laura Ingalls hanging off of my heart.
Also pick up some bucket covers.  (available at the same places you get your taps)  The cover keeps bugs, twigs and rain out of your sap.
You need a drill to drill a hole in your tree, as well as a drill bit.
You want to drill into your tree between 2 and 3 inches, so mark your drill at 2″ if you have a smaller tree, 2 1/2 – 3″ for larger ones.  You can use a piece of tape to mark it or mark it with a Sharpie.
Drill your hole on a slightly upward angle.
Do NOT drill a tree that is less than 10″ across. It's too young and tapping it could kill it.
If your tree is 10 – 20″ – 1 tap
If your tree is 20 – 27″ – 2 taps
If your tree is 27+ (and healthy) – 3 taps
Choose a day that it's above freezing to drill your hole.
Sap will come out of the  hole immediately.
Clear away the shavings from drilling with a small twig so your hole is clean.
Gently hammer your tap in.  You don't want to hammer it in so hard it splits the bark.  For one thing, you'll lose sap out of the split and for another you'll never be able to get the tap out.
If it's above freezing, the second you put your tap in it will start dripping.  And unless you the shrivelled  heart of a rainbow hater, your eyes will drip too.
It's a sappy miracle.
Immediately hang your bucket.  I washed my old buckets with hot water and soap, sprayed them with a bleach and water mixture, let them stand … and then washed them again.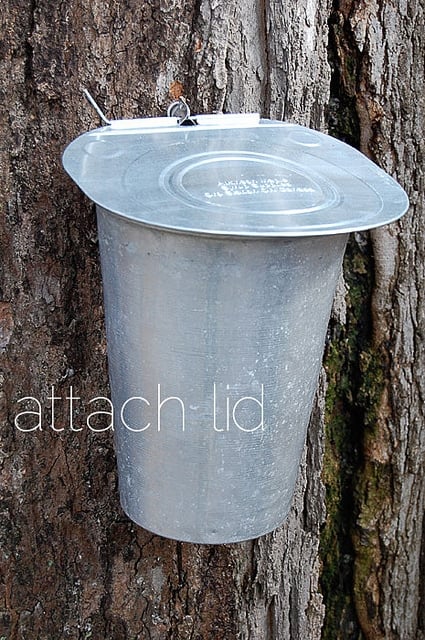 The sap will drip out right away.  The rate at which it drips will depend on the weather conditions that day.
On my first day all 3 buckets were 1/2 – 3/4s full within 12 hours.
Today, on the other hand, I only got a few inches in each bucket.
It takes 40 parts of sap to make 1 part of syrup.
I'm going to give you a few days to get your supplies.  You still have time to tap your trees.  I waited for over 10 years to do this and the second I inserted that tap and sweet sap started running out I could have punched myself in the throat for not having done it sooner.
Later this week  or early next week I'll give you all the information you need to turn the sap into maple syrup.  So for now, get out and get your tapping supplies.
If you happen to get a head start and start tapping, think of your sap as milk.  Not water.  Even though it is crystal clear like water.  It is perishable and needs to be kept cold.  If it's cold enough outside where you are (32 Fahrenheit or colder) you can probably leave your buckets outside in the shade.  Otherwise, pour all of your sap into a large stock pot and keep it in the fridge.  The sooner you boil it the better, but you can keep it in the fridge for up to 5 days or so if you have to.  Like any food product, though … the fresher the better.
7,453.  The number of minutes I spent attempting to come up with a clever closing line for this post.
0.  The amount of clever lines I ended up coming up with.
Now that you know how to tap a maple tree,  LEARN HOW TO TURN THAT SAP INTO SYRUP!