A few times a year I go out on a field trip for The Art of Doing Stuff. Last Wednesday was one such day. I hopped in the car and headed to Linda Crago's Heirloom vegetable farm.
It was a bit strange having to drive to work. I liked it.
If you're caught up on things you know that on Monday I wrote a profile piece on Linda Crago, owner of Tree & Twig farm, an heirloom vegetable farm near Wellandport, Ontario. Linda's farm is a CSA. CSA stands for Community Supported (or shared) Agriculture. For a per season fee, CSA farms will supply you with a season's worth of vegetables, delivered to you or picked up once a week for an entire season. What you get depends on what's ripe on the farm.
Surprise groceries. There's nothing better really.
In addition to growing vegetables to sell, Linda also grows things just for the fun of it. Vegetables and plants in general intrigue her. There's a certain excitement that comes with growing something "just for the fun of it". Just to see if it will grow. I have one of those things in my garden right now, that you don't even know about. It's my own version of the surprise produce which you'll find out about at the end of the summer.
See? You don't know *everything* about me.
Part of what Linda does is travel around the world helping to maintain and repopulate the world of heirloom seeds. She buys and sells seeds and trades and shares them as a member of many seed saving organizations in Canada, The United States, Britain and France. She's a test gardener for Organic Gardening Magazine and holds workshops and events.
So clearly … she's into this sort of thing.
So today I'm gonna give you a little look at some of the highly unusual stuff Linda is growing. Oftentimes just for fun. Some of the thing are unusual because they're weird and I've never heard of them, and sometimes they're unusual because it's such a strange thing for a gal in Ontario, Canada to grow.
Weird looking UFO shaped hot pepper.
Sesame Seed plants.
YES.
HAVE YOU EVER HEARD OF ANYONE EVER growing their own sesame seeds?
Um. Let me answer that for you. No.
The sort of person to grow their own sesame seeds is exactly the sort of person to grow their own …
RICE!
Yes. That beautiful, tall, grassy looking row in the centre is rice. Growing it in the dirt in Ontario. Apparently it's a special strain of rice which she got in … Tennessee. 'Cause you know Tennessee is known for its rice.
Cotton
Just for fun, Linda is growing cotton.
And now I am determined to grow cotton. For one thing I had no idea that cotton was such a beautiful plant.
If you want to stick something fun in your front yard but are afraid to do actual vegetables, plant some cotton.
The flowers of the plant are similar to Lisianthus almost.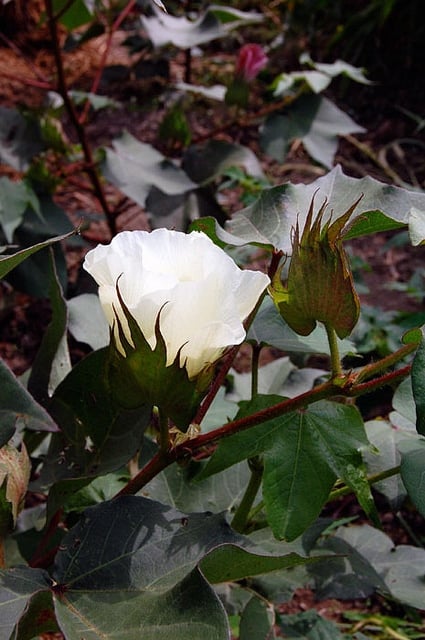 This scary looking thing is actually edible! It's past its prime right now, but this is a …
Rat-tailed Radish
You don't eat the root, but instead eat the pods that form on the stalks. They taste just like, wait for it …
radish.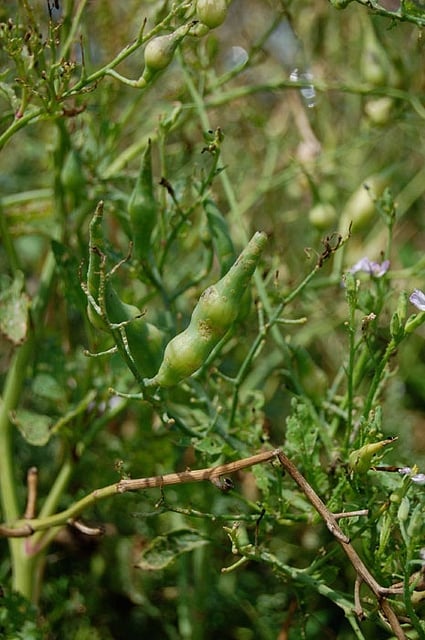 Spigiarello
Headless broccoli
That's right. Broccoli that doesn't give head.
You just eat the leaves which tastes exactly like broccoli.
This folks, is a $100 plant.
It's the newly crowned, World's Hottest Pepper.
The Trinidad Moruga Scorpion.
Linda bought 10 seeds for $100.
Of the 10, only 1 seed germinated.
Hence … the $100 pepper plant.
This is the kind of thing people obsessed with seeds and vegetables do for fun.
This little bud, in a month or so, will be The World's Hottest Pepper,
Black Pokey plant with thorns.
Solanum Atropurpureum
Not edible, just an incredibly strange and beautiful ornamental.
The stems and thorns are black, black, kind of soft and definitely painful when grabbed. In case you were wondering. Like I was.
Painted Hills Corn
Even though this corn looks like Indian corn, it's actually edible corn.
Linda's specialty is tomatoes.
She gave me this Oziris tomato to take home with me.
It's a dark skinned tomato with an even darker flesh.
I knew nothing about this tomato so I Googled it, but there's very little information to be found.
That would lead me to believe it's rare.
So in the tradition of Seed Savers everywhere, I'm saving the seeds of this tomato that was given to me,
so I can continue to grow it and share the seeds with someone else.
So give some thought to one surprise thing you can plant in the spring. It doesn't have to be a vegetable, just something you can't find at your local nursery. Scour the Internet, search out places that sell unusual seeds and plants.
Visiting Linda and seeing and tasting all the different varieties of vegetables, I already have a list of new things I want to plant. Cotton, Lime Basil, Ground Cherries, Black tomatoes … and the list goes on and on.
Sadly … the property does not.
O.K. I'd like a commitment from you now.
What different thing would you like to grow next year? I need to know these things.
Have a good weekend!
Your pal, (but not the kind of pal you come and visit .. stay away)