The key to this delicious, rich beef broth is roasting the bones.  You're not gonna get this kind of flavour out of a box.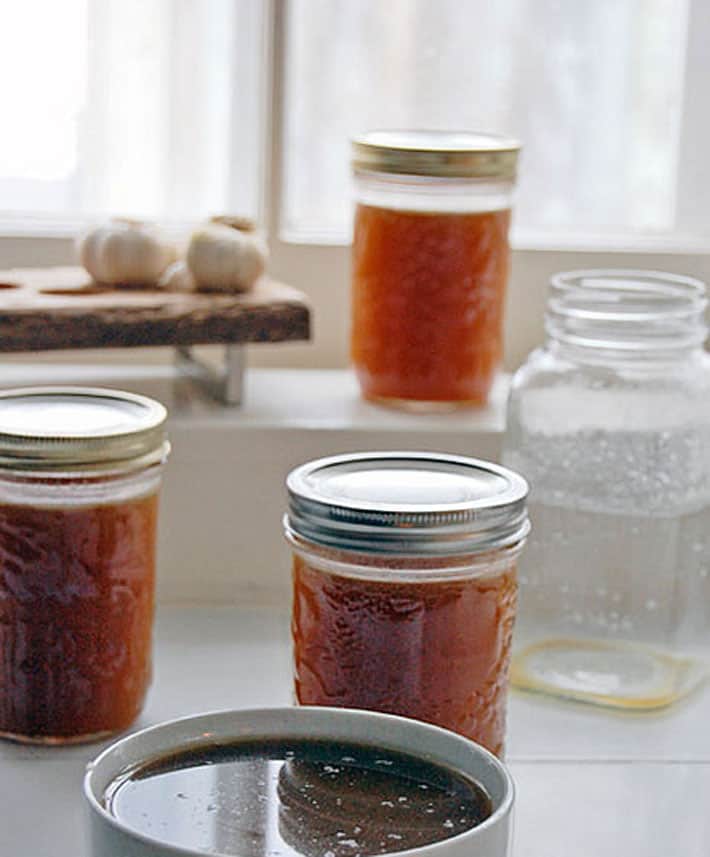 There are few things I like more than soup. One of those things is gravy. And I mean Anglo gravy. Not Italian gravy. Although I do like a good red sauce on just about everything, but for today we're focusing on my brown gravy obsession, not my red gravy obsession.
For years I've been making my own chicken broth. When my mother or sisters get hold of a turkey or chicken carcass they immediately make chicken soup with it.
When I get ahold of a turkey or chicken carcass I throw it in the freezer. When I have so many carcasses in the freezer the shower scene music from Psycho plays when I open the door .. I know it's time to make broth.
You see soup is over and done with in a day. But if you save your chicken bones and meat you can have broth which you can use for months in soups, gravies, pan sauces and a bunch of other stuff.
But it's not so easy with beef broth. I never seem to have beef bones. We eat Prime Rib once in a while, but other than that none of my beef has bones.
So ... I haven't made beef broth since 1992. Or somewhere thereabouts.
So last week when I was at the grocery store I decided I'd shell out the cash to buy beef bones, which just about killed me by the way. No seriously. I almost died. I lost control of my cart around the Olive bar and went skidding into the ground beef display. That's not what almost killed me. It was a small, pinch of a woman who was annoyed I bumped her while she was texting.
So I casually made my way over to the soup bones in a way only someone who just about wiped out can. Red faced and giggling to myself. I stopped laughing when I saw the price. $5 for gunk? Marrow bones and meat shards? I immediately understood the mood of the pinched woman. She must have also seen the price of beef bones.
But I sucked it up and bought 3 packages which equaled around 6 pounds of soup bones.
I made it home incident free and started on the broth.
Making Beef Broth is exactly the same as making Chicken Broth, only there's one extra step.
To get that nice beef flavour in your broth you need to roast the bones. You can do this for your chicken broth as well, but it isn't necessary. With beef broth it is absolutely necessary.
So. Wanna make beef broth? Here's what you need to do.
How to Make Homemade Beef Broth
Gather 6 pounds of beef soup bones, 2 carrots, and an onion cut into quarters.
Roast in oven at 450°F   (230°C) for one hour.
Stir and turn bones every 15 minutes.
Gather the rest of your ingredients.
2 or 3 celery stalks, a few sprigs of fresh thyme (or 2 tsps. of dried), 2 cloves of garlic with peel on lightly crushed, 1 tablespoon salt, 10-12 peppercorns, 1 bay leaf, 4 springs of fresh parsley)
I'm still picking parsley from the garden.  Notice the snow on it.
Add everything from the pan and remaining ingredients to stock pot.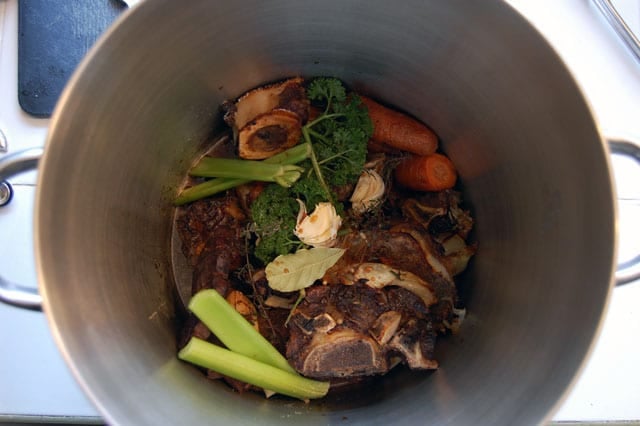 Fill with cold water until contents are covered.  For me this was about 16 cups of water.  For you it could be anything from 12 - 18 cups.
Simmer on the stove with lid on for 3 hours.  Simmer another hour with lid off.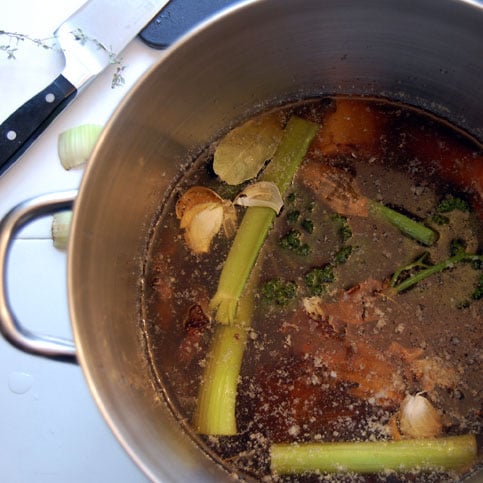 Strain your broth through cheesecloth or a clean, thin dish towel.
Your broth should be dark. It will also have a layer of fat on the top.
Refrigerate your broth overnight and the fat will solidify on the surface and you can just skim it off.
Don't worry if your broth is like jello after refrigerating. That's from the bones.   Once you heat it the broth will thin again.
Now you can either freeze your broth in baggies or wide mouth mason jars OR
you can pressure can it using the exact same process as I showed you for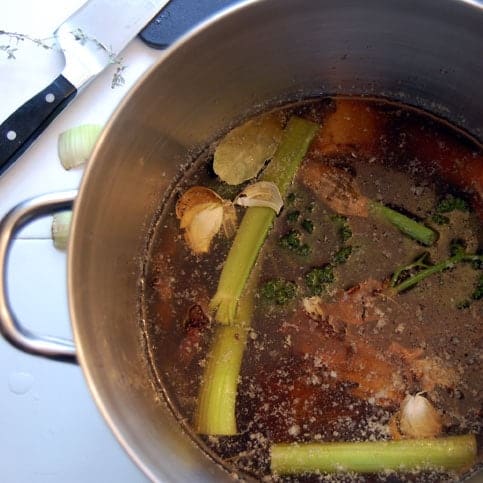 Beef Broth
Home made beef broth that's made extra delicious by roasting the bones first.
Print
Pin
Rate
Ingredients
6

lbs

beef soup bones

2-3

carrots

1

medium

onion

unpeeled, cut into quarters.

2-3

stalks

celery

5-6

sprigs of fresh thyme or 2 tsps. dried

2

cloves

garlic

smashed, with skin on

1

Tablespoon

salt

10-12

peppercorns

4-5

sprigs

parsley

1

bay leaf

water
Instructions
Roast soup bones, carrots and onion at 450 °F for 1 hour, stirring and turning every 15 minutes.

Drain fat from pan.  Add soup bones, carrots and onions to stock pot along with remaining ingredients.

Deglaze roasting pan and add liquid to ingredients in stock pot.

Simmer for 3 hours with lid on.  Remove lid and simmer 1 more hour.

Refrigerate overnight to allow fat to rise and solidify.

Skim fat from top of broth and freeze or pressure can for later use.
Nutrition
Serving:
1
cup
|
Calories:
397
kcal
|
Carbohydrates:
2
g
|
Protein:
3
g
|
Fat:
41
g
|
Sodium:
713
mg
|
Potassium:
75
mg
|
Sugar:
1
g
|
Vitamin A:
2225
IU
|
Vitamin C:
2.5
mg
|
Calcium:
11
mg
|
Iron:
2.3
mg
→Follow me on Instagram where I often make a fool of myself←