I started making fruit roll ups when I got my dehydrator, but you don't need one to make perfectly chewy fruit leather. You just need an oven, fruit, honey and lemon juice.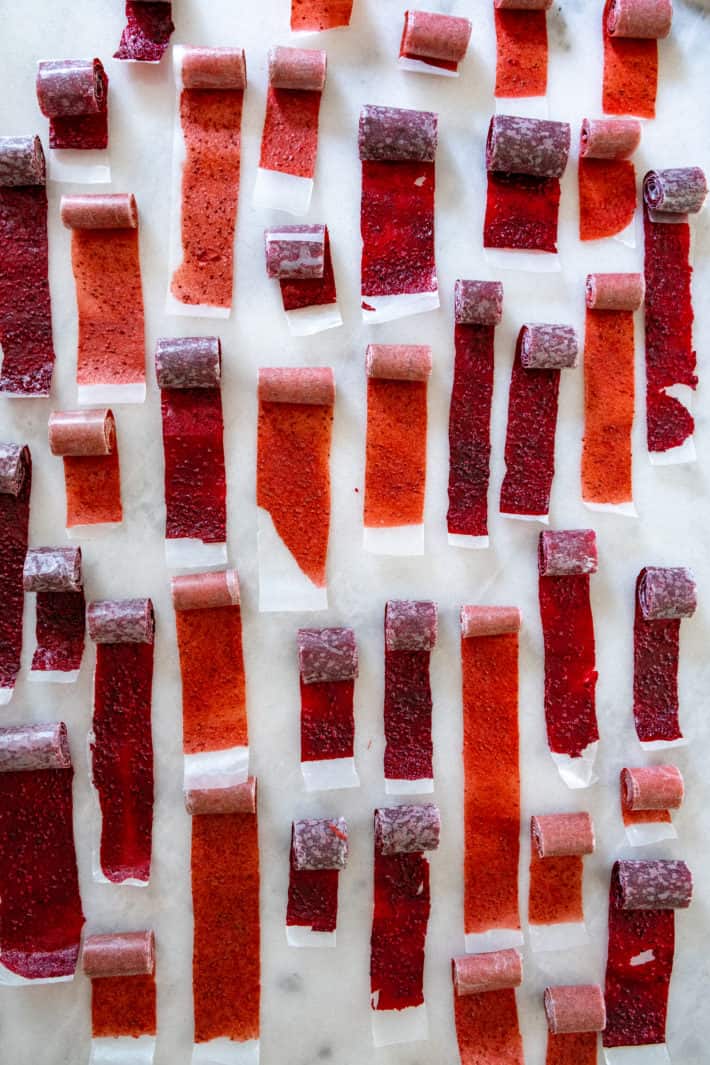 I understand the need to snack. That's right, I said need. When it is 11 o 'clock at night and dinner is a few hours behind you and our morning coffee seems further away than the next season of The Handmaid's Tale - you NEED a snack.
I mean, you aren't a robot. You're a food loving human who needs some quality snack time in order not to murder anyone during your daily activities
Quality snack time involves things that are sweet, sticky or salty.
Quality snack time does NOT involve carrots, celery or plain piece of fruit.
Enter the homemade fruit roll up. It's like Fruit by the Foot but without the 50% sugar.
Why is your FANCY homemade fruit leather healthier??
Because you and I are using quality fruit and not adding a cup of sugar for every cup of strawberries in our fruit roll ups even though we want to. The homemade version really lets you add however much sugar or honey you want to the fruit. I go by taste as opposed to measurements, but I generally add ¼ cup of honey or sugar per 3 cups of fruit.
You can make fruit leather out of just about any fruit you have on hand, but I usually go with raspberries because another "need" I have at this time of year is a way to get rid of the cups and cups of raspberries I harvest. In fact my favourite way to eat raspberries is by peeling their pulverized, moistureless selves off of a piece of waxed paper.
But raspberry fruit roll ups DO need more sugar than most fruit.
GET YOUR FRUIT (3-5 cups)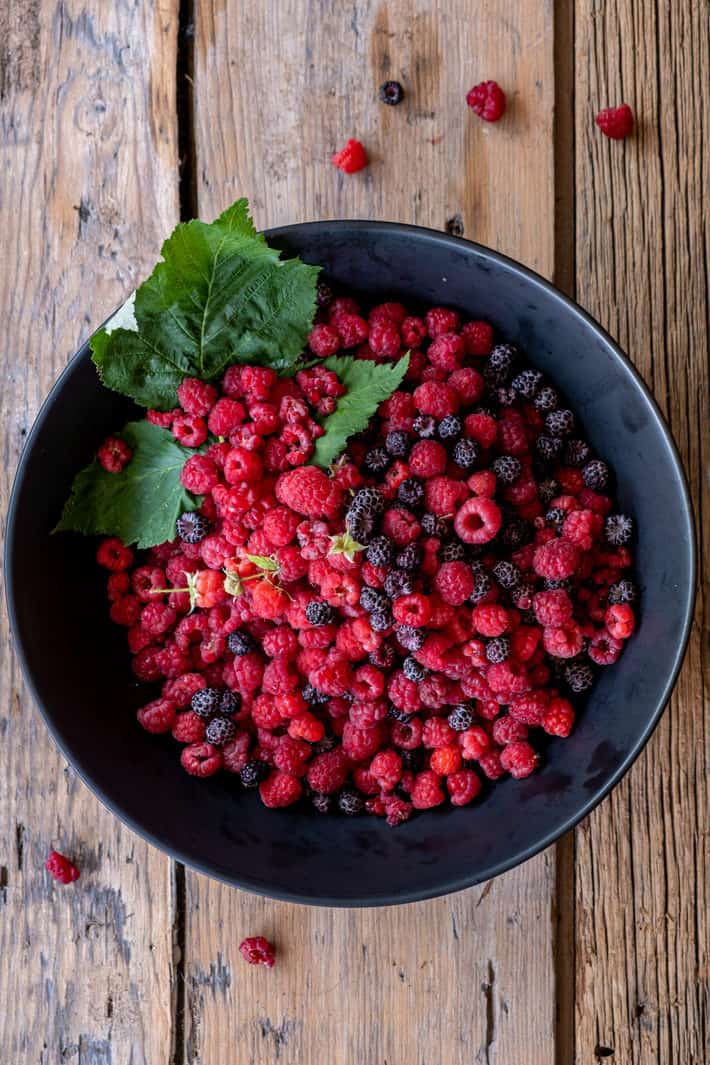 What you're looking at right there are 7 cups of raspberries from 3 days of harvesting. And because diversity makes everything better I added some black raspberries too.
WASH IT
Even though I grow my own raspberries and know they have no pesticides, I still wash them in case someone accidentally peed on them or something.
ADD SOME SWEET
Shameless plug for my beekeeper friend Russell Gibbs. His honey operation Gibbs Honey was established in 1934 and he's the 3rd generation to run the family business which includes honey, beeswax candles, propolis all made from their own wildflower and clover foraging bees.
It is the most complex floral honey I've ever tasted. You can read about why that is here, but basically it comes down to you are what you eat - and that's true of bees and their honey as well!
PUREE IT
Spread everything on either a Silpat lined baking sheet or a non stick dehydrator sheet.
I bought the official Excalibur dehydrator sheets that go with my dehydrator because they're the exact right size for my machine. 14" x 14".
The mixture dries out at the edges first and then works its way inwards. So make your edges thicker - about ¼" and the rest of the puree can be ⅛" thick.
Do your best to make it even but you'll never get it perfect so don't stress over it. Just make sure every bit is covered so you don't get any holes in your leather.
DRY IT
Once it's spread out you can pop it in the oven at the lowest temperature or your dehydrator at 135 F.
If you don't want to invest in a dehydrator, keep in mind I thought the same thing. As it turns out I use it all the time, most recently for making dried sourdough starter.
HOW TO KNOW IF YOUR FRUIT LEATHER IS DONE
Fruit roll ups are done when you can run your hand over the top of it and it feels slightly tacky but dry.
If there are any wet spots, keep drying.
This will take 6-8 hours depending on whether you're using an oven or a dehydrator and the moisture level in the fruit and the air.
Finished fruit leather will be translucent and pliable. And pretty.
TIP
If you have issues with seeds - you don't like them, or they get stuck in your colon or something, BEFORE you pour your puree out, press it through a sieve to remove the seeds. You'll end up with perfectly smooth roll ups with no seeds.
PEEL & ROLL
See how nice and shiny the underside of the leather is? Put that shiny side down on a piece of waxed paper then roll it into a tube.
Cut each tube of roll ups into 1.5" or so pieces with scissors.
YIELD
6-7 cups of fruit will yield 3, 14" x 14" trays of fruit leather.
1, 14" x 14" tray produces 10 fruit roll ups
3 trays of fruit leather will = 30 fruit roll ups
HOW TO STORE FRUIT LEATHER
Here's where things get controversial. Some sources say your fruit leather only lasts for 2 weeks in the fridge. Others say 4 weeks in an airtight container in a dark cupboard. STILL other sites claim 8 months later and your fruit roll ups will still be good.
The truth is, it really depends on how dehydrated the leather is. The drier it is the longer it will store so if you've overdried it, your leather will last a few months stored in the dark in a mason jar.
Personally, I store my fruit roll ups in a mason jar for a month or so and if they aren't all gone by then they'd get thrown into the freezer.
This has literally never happened because I eat them within the first few days of making them even if I try not to because I am a weak, weak person.
And I NEED to snack.
→Follow me on Instagram where I often make a fool of myself←