Five.  That is the number of times I've almost bought, but didn't buy an antique wall basket.  What is an antique wall basket you ask?  I'm going to do my best to describe it for you.  An antique wall basket is an antique basket.  That hangs on the wall.
I can slow down if you want.
I see them the odd time at antique markets and shows like the Christie Antique Show and Sale I go to every year.  This past summer they had a beautiful basket that I almost bought to hold onions in on my brick wall in the kitchen.  You may remember that wall in my kitchen as the wall where I store my weapons.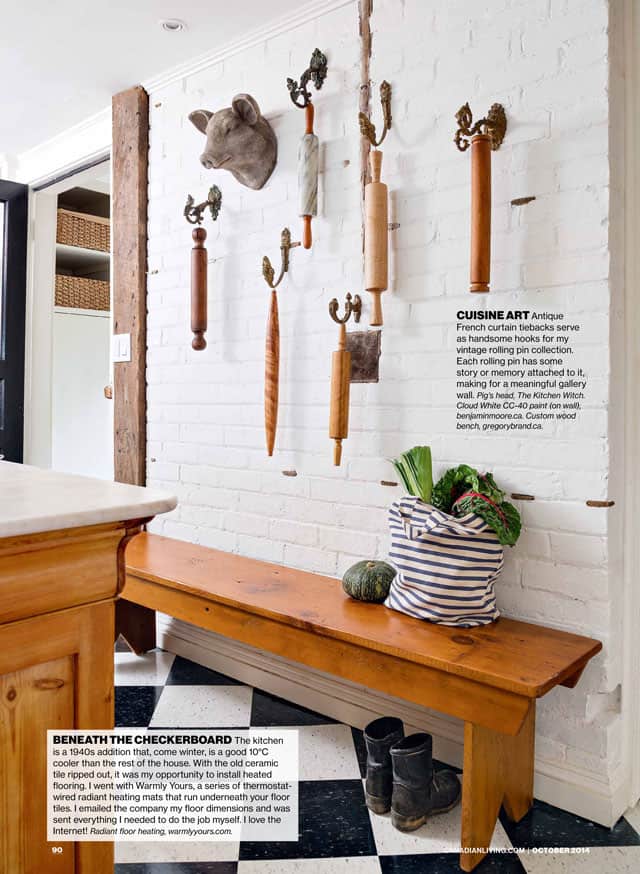 photo by Donna Griffith
This is what the brick wall in my kitchen has looked like for the past couple of years (as seen in the October 2014 issue of Canadian Living magazine).  Antique French curtain tie backs holding my collection of rolling pins.  I was afraid putting a random basket up on the wall with a pigs head and a bunch of  rolling pins would just look mish mashy.   I have a huge affinity for mish mashy whether it looks good or not.  I'm a misher.  And a masher.  So I didn't buy the antique wall basket or the 4 antique wall baskets that came before it.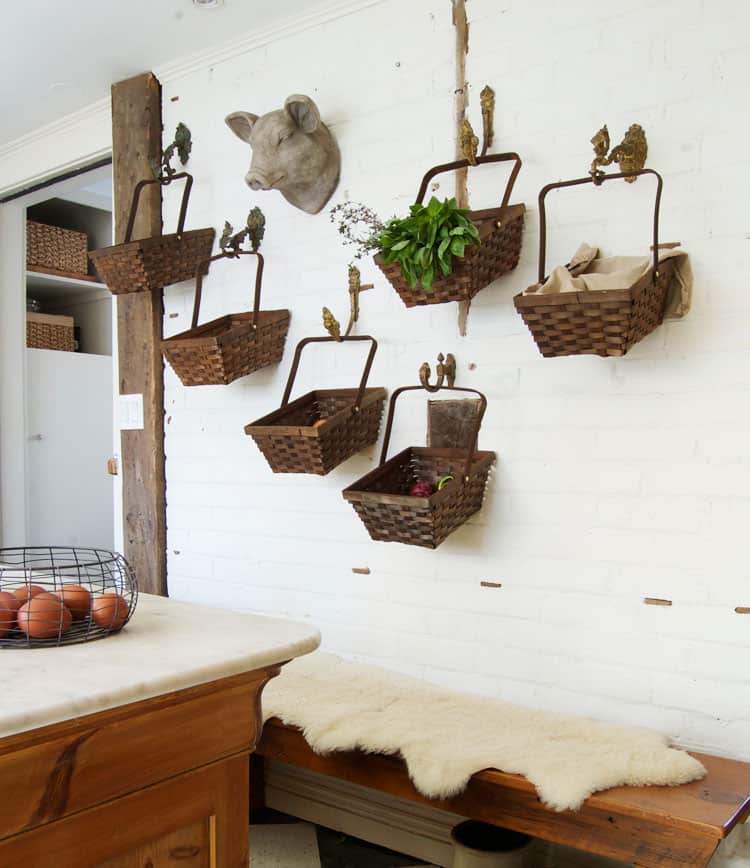 Then the other day when I was at my local dollar store I came across these baskets when I was looking for baskets for an upcoming post on something else entirely.  I grabbed one and brought it home and by the time I got here I realized there was no question.  I had to go back for 5 more.
If you take a look at the photo above again, just beyond the wood beam you can see into my mudroom which is where my freezer lives.  It's also where I store all of the vegetables I grow all summer because it's a good temperature for storage.  The only problem is, any time I want a potato or onion or anything I have to go into that mudroom which although may be a perfect temperature for storage, it not the perfect temperature for wandering into while wearing socks and a tee shirt.  It's cold.
I would liked to have kept a few potatoes and onions in my kitchen but my cupboards are already full with other very important kitchen stuff like 152 slightly ratty tea towels and a junk drawer filled with rubber bands and pens that don't work.
Hanging these $3 baskets up gave me an entire wall of storage for potatoes, onions, fruit, herbs and ... more potatoes.  Because a Russet can't be expected to do the job of a Kennebec.  You need both.
Just look at how elated I am.  I remember exactly what I was thinking. I was thinking I am SO HAPPY I can quickly grab a red or yellow onion.  Or I just tooted.
Can't really remember.
I love mandarin oranges and buy them until they're out of season but I don't really have room on my counters for a big bowl of fruit.  Hence ... one basket is dedicated to the things I used to have to keep on the counter; mandarin oranges, bananas, unripe avocados, that sort of thing.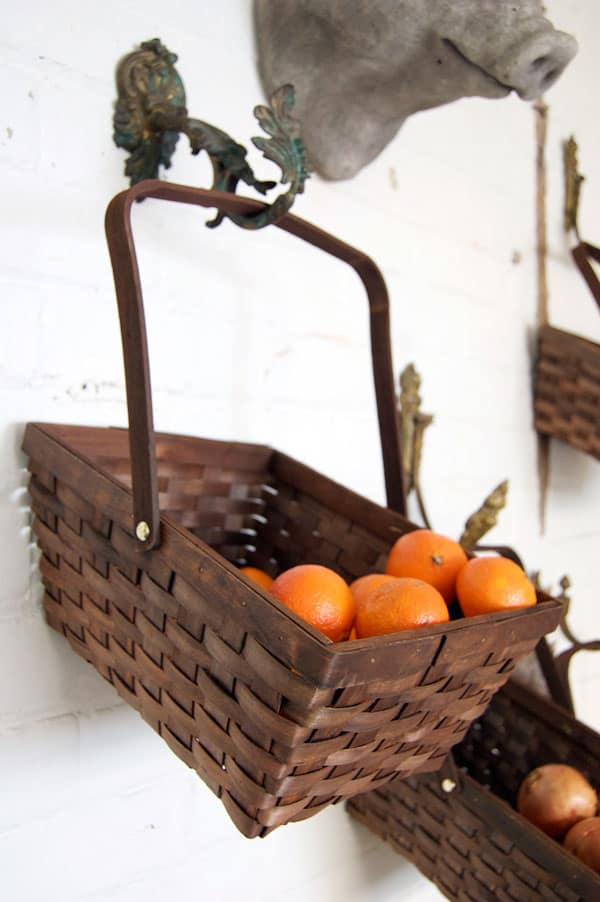 I'd never get rid of the hooks. The hooks I love.  They're antique French curtain tiebacks my friend Michelle gave me in a moment of weakness I suspect.  I do not want to give them back to her but if she asked I would.  (I absolutely would not but I want you to like me and that's the kind of thing a likeable person would say.  In truth I'd cut Michelle's throat with a can opener before I ever returned these tiebacks to her.)
Just look at the genuine verdigris on them.  In the words of that Seinfeld episode ... they're spectacular.
The baskets aren't full, they have just enough in them for a week or two.  That way they aren't out of their optimal storage facility (the mud room) for too long.  Plus they're $3 baskets from the Dollar Store, an establishment not always known for their superior quality.  Any more than 5 onions or potatoes and they'd likely crash to the ground.
Now's as good a time as any to mention that I completely lied to you in this post.  Not in words but in pictures.  You know how they say a picture is worth a thousand words?  Well three of those words in this case were" lie" "basil" and "fraud" .
I took the plastic bags off of my basil for the pictures because they just looked like blurry smears.  You couldn't even tell what it was.  I have two mason jars with some water in the baskets and my herbs sticking out.  I find the best way to store any herbs is the give the stems a fresh cut, put them in a jar of water, cover them with a plastic bag and let them sit at room temperature.  DON'T keep them in the fridge and with anything that has a high moisture content like basil or even sage leaves, cover them with a plastic bag to hold in some humidity.
The takeaway I hope you get from this post is a) dollar store crap looks less like dollar store crap once you get it out of the dollar store b) you may have storage hiding in plain sight and c) tooting is funny.
And that is the story of how I became a basket case.