Stainless steel isn't nearly as hard to clean as I thought it was. It turns out the BEST way to clean it is by using no cleaners at all. Just grab yourself a microfibre cloth or two and get rubbing.
The looney bin, in fact, has a whole ward devoted to those who have tried to clean stainless steel with the wrong product. It's right next the the ward filled with women who tried to convince their husbands The Golden Girls was a great show. Good intentions all around, but the end result is the same. Looney bin.
For years I struggled with keeping my stainless steel appliances clean and in fact ruined both of them in my attempts. I used abrasives and sponges and things that could clean the bottom of an elephant's foot, but maybe weren't the best things for stainless steel.
But I was desperate. There HAD to be something strong enough to cut through the dreaded fingerprints. Do not do what I did. Do not use dish soap, steel wool or glass cleaner on your stainless steel appliances. It's a very, very bad idea.
When I got my new Blue Star range and glass front refrigerator I was determined to learn how to clean them properly.
When my stove arrived I actually emailed the Blue Star representative in my area to ask him HOW to clean it so I'd end up as the owner of a sparkling appliance and not the resident of an institution. Was there a secret spray I didn't know about? The latest and greatest killer chemical that would make you grow a second chin but ALSO obliterate the smudges on my stove? Because I was O.K. with that.
The answer he gave me was embarrassingly simple and I wish I knew about it 15 years ago.
TO CLEAN STAINLESS STEEL ALL YOU NEED IS A MICROFIBER CLOTH AND WARM WATER.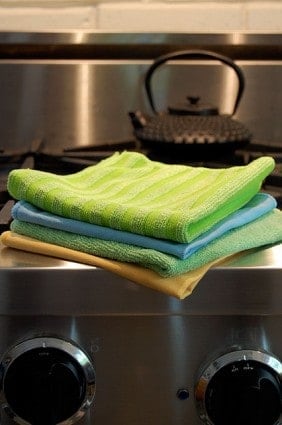 That's it. 2 microfiber cloths if you want to do an especially impressive job.
---
Since originally writing this post I've switched to The Ultimate Cloth which is even BETTER than microfibre. It's Mirafibre. You can literally clean your windows with nothing but water with it.
---
Observe the prints below.
I made those prints special for you. Please don't enter them into any database.
That little squiggly mark to the bottom right is a scratch, not a print. No idea how it got there.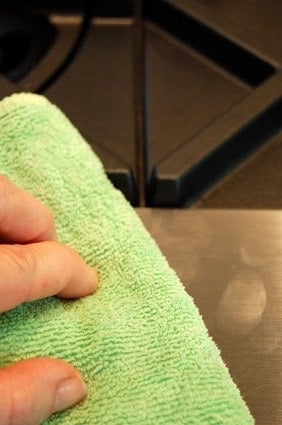 To clean the prints from your stainless steel, dampen a microfiber cloth with warm water and rub with the grain of the steel.

Once you've gone over it with a the warm damp cloth, dry it with another microfiber cloth.
Done.
The prints are gone, it was easy, there were no chemicals and no special supplies other than the microfibre cloths which you can grab just about anywhere. I'm not sure if you can get The Ultimate Cloths anywhere, or only on Amazon which is where I got mine. I imagine some local speciality stores might have them.
If this WASN'T enough oven cleaning for you I have a bigger challenge for you, with even bigger reward. You can learn how to remove your oven door and clean between the glass in window in this post.
So there you have it. Smudge free appliances in no time at all, leaving lots of time for other things like dancing, watching television, dirtying up the appliances again and of course ... visiting people in the looney bin.