Congratulations! You're here, I'm so excited for you! That means you're ready to up your gardening game by starting your own seeds. It's easy, you've got this. I think. I don't really know you.
Here's how to do it.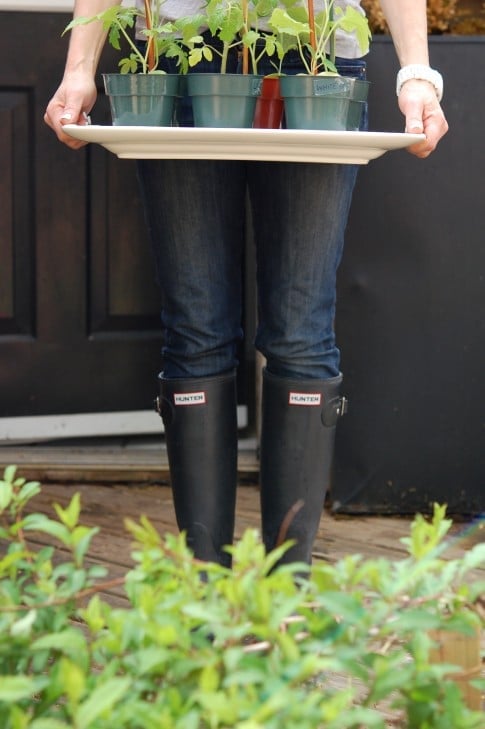 Honestly? Starting your own seeds to grow into seedlings isn't very complicated. You stick a seed in dirt and wait.
Are there a few tricks? Sure. But for the most part you stick a seed in dirt.
It's actually the easiest part of gardening. Keeping the thing alive for the next 4-6 months is where the skill comes in.
---
How to Plant Vegetable Seeds
(The Quick Version)
The super-fast rundown is this.
Wet your soil first and fill seed starting trays or pots with it.

Press a seed into the top of the soil.

Cover the trays with something to keep the humidity in while the seed germinates.

Once sprouted, remove the humidity dome and put the plant under grow lights.

Water when necessary and raise grow light heights when necessary.
---
That's all there is to starting your own seeds at home. That and washing your hands a lot. Here's my DIY on how to make foaming hand soap because everything is more fun when it's FROTHY.
If you live in a colder climate like I do in Southern Ontario (Zone 6), where the growing season is a bit shorter than elsewhere, you have to get a head start on your plants.
The advantage to starting your own seedlings is you can grow varieties of vegetables you just can't get in a nursery.
Like red fife wheat!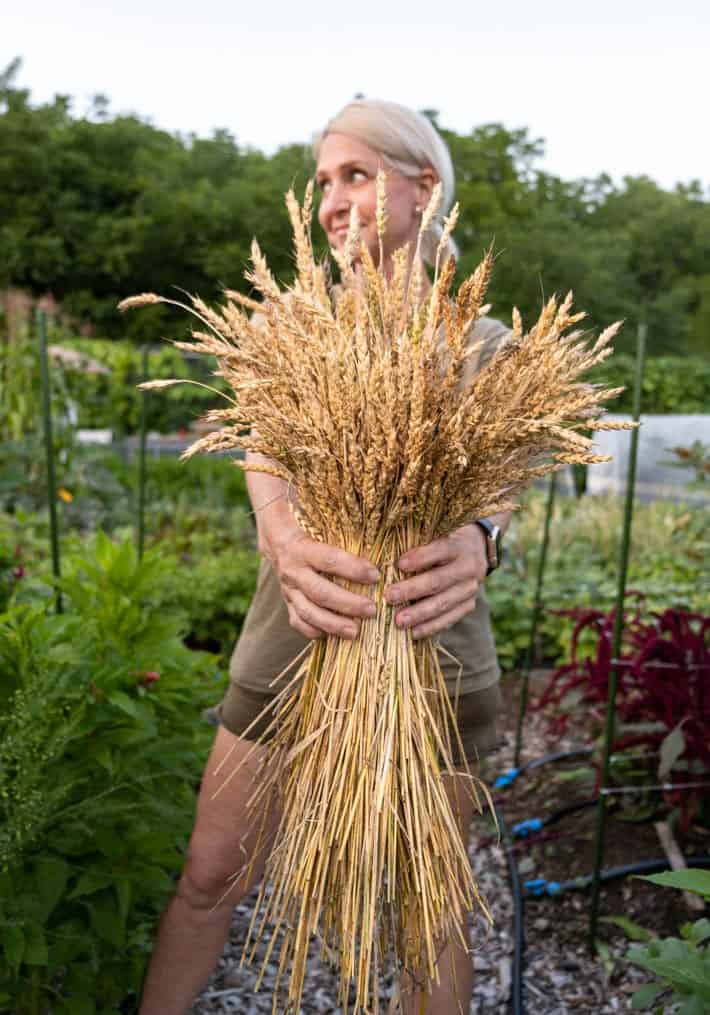 ---
Supply list
Soilless mix
Seed starting trays
Humidity dome
Seeds
---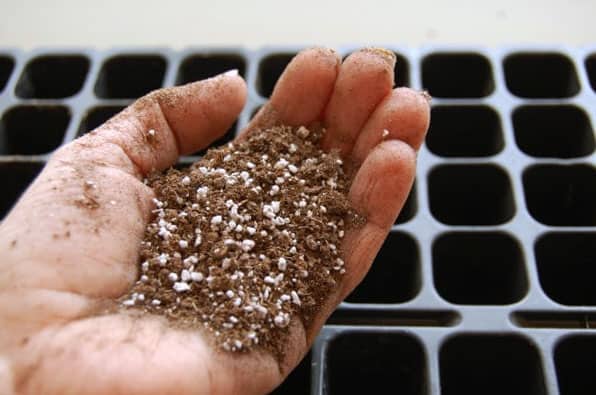 SOILLESS MIX looks like potting soil, but it isn't.
Made up of coco coir or peat moss mixed with perlite or vermiculite. Used specifically for starting seeds.
SEED STARTING TRAYS are flats of multi holed trays. Each hole in a tray holds a small amount of soil for starting seeds.
A DRIP TRAY is set under the seed starting tray and catches water and dirt.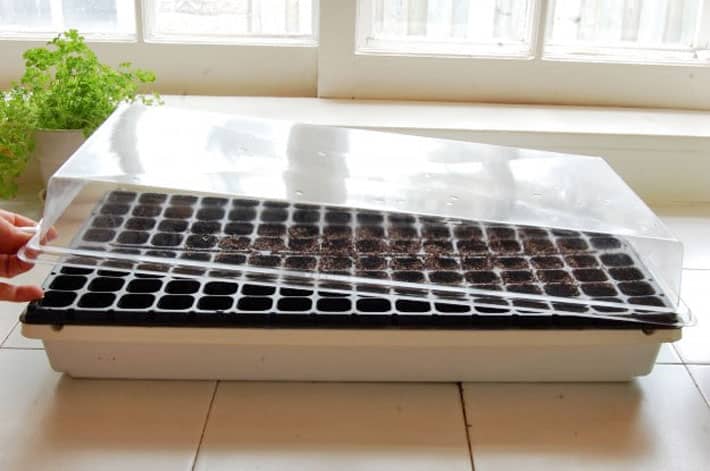 A HUMIDITY DOME is a clear cover that holds in much needed moisture for the germination phase of starting seeds. They are removed as soon as the seeds sprout.
The least expensive trays and domes I could find (at this moment in time where a head of lettuce is $9) are listed below.
SEED STARTING kit for beginners from AMAZON Canada
SEED STARTING kit for beginners on AMAZON US
Try your local hardware store FIRST. There's a very good chance they have seed starting trays and humidity domes there. If not, search for them on Amazon.
GROW LIGHTS are the most confusing element of starting plants indoors. You only need them to grow on the seedlings - not to start them.
(There are a few exceptions with seeds that DO require light to germinate. So check your seed packet.)
---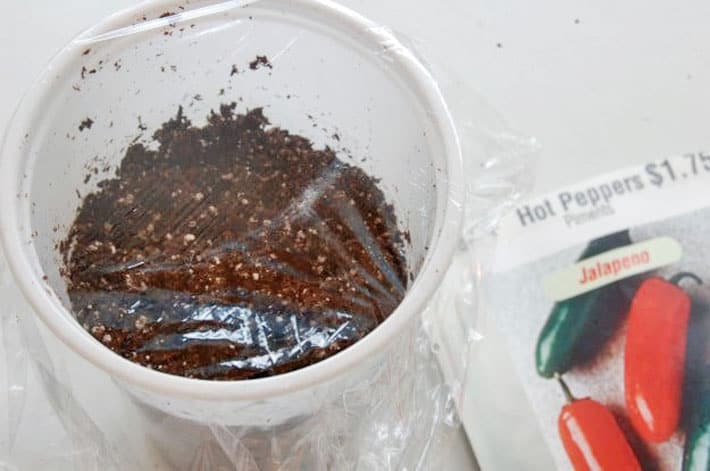 If you don't want to spend the money on or can't find the seed tray and drip tray, all you need are a few plastic pots or even plastic cups with holes punched into the bottom and some plastic wrap to start seeds.
---
COMPLETE STEP-BY-STEP TUTORIAL
---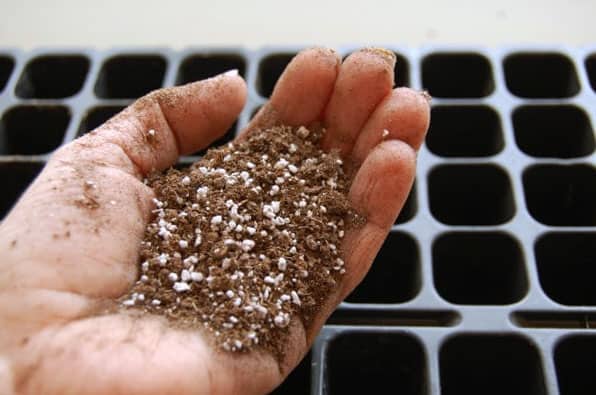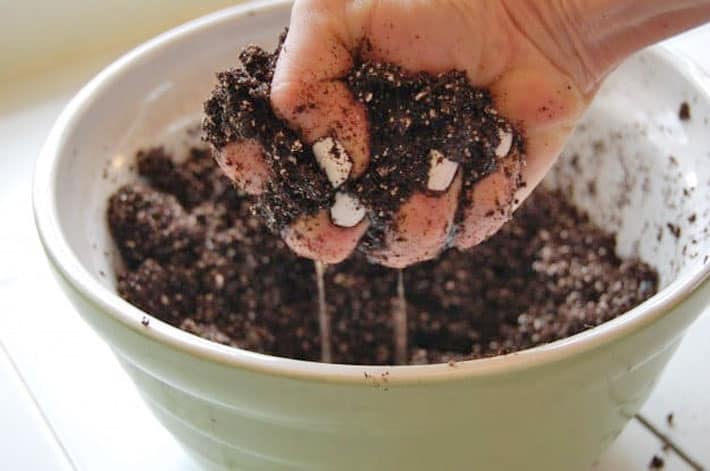 Grab your supplies: soilless mix, seed starting trays, water and seed.
DIY SOILLESS MIX RECIPE

1 part peat moss to 
1 part perlite


Soak the soilless mix with water.
You've added the right amount of water when you squeeze your soil hard and a few drips of water come out of it.
If it streams out like above, your soil is too wet. If nothing comes out your soil is too dry.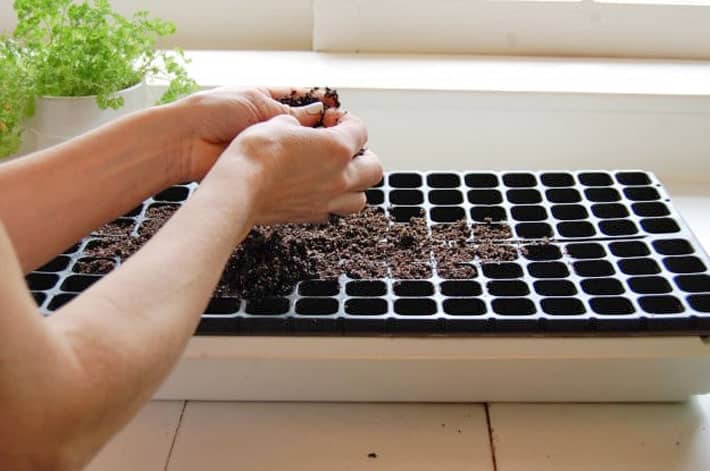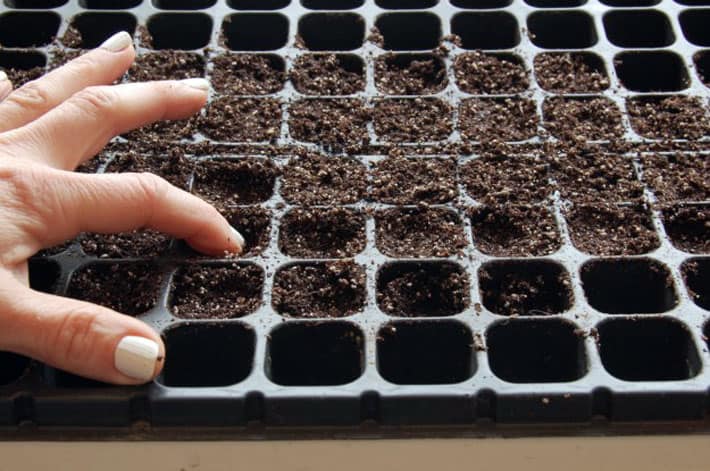 Fill your tray with the dampened seed starter mix.
Press the soil down just slightly.
Plant roots like a slightly compact soil. It helps to give the plant stability. So, push the dirt into each divot with your finger so it isn't quite so "airy".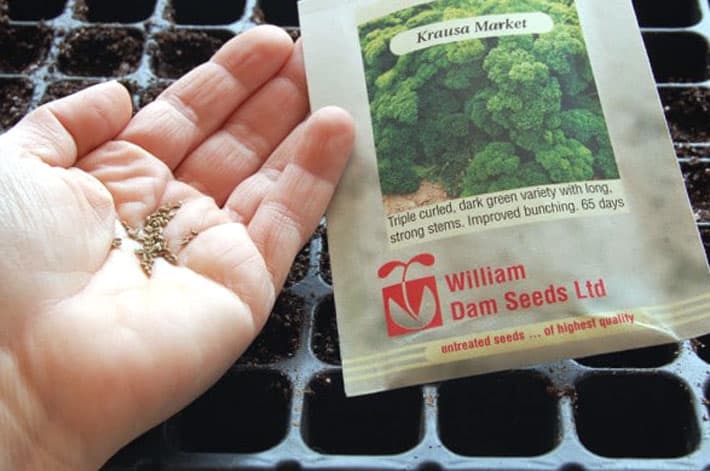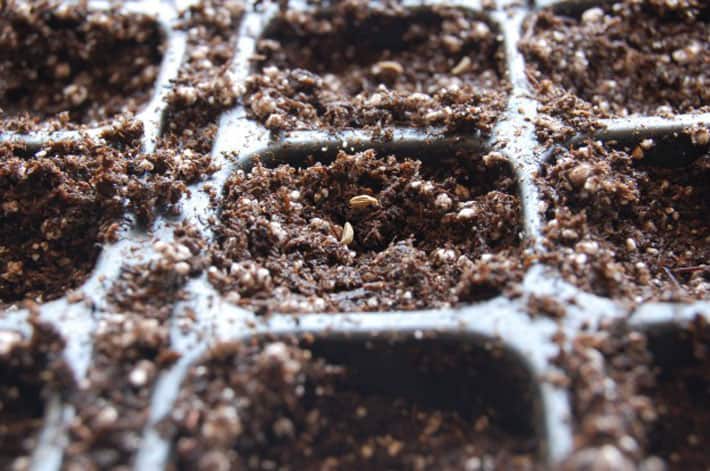 Now it's time to plant your seeds!
I'm going with parsley here.
Put two or three seeds in each cell.
This way you're guaranteed at least one plant will germinate. If they all grow, just weed out the runts by cutting the stem off at soil level. Don't pull it out, because this will disturb the soil of the other seedlings.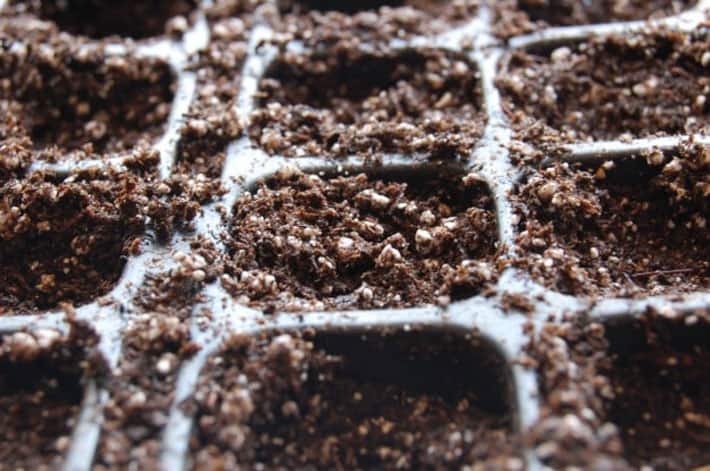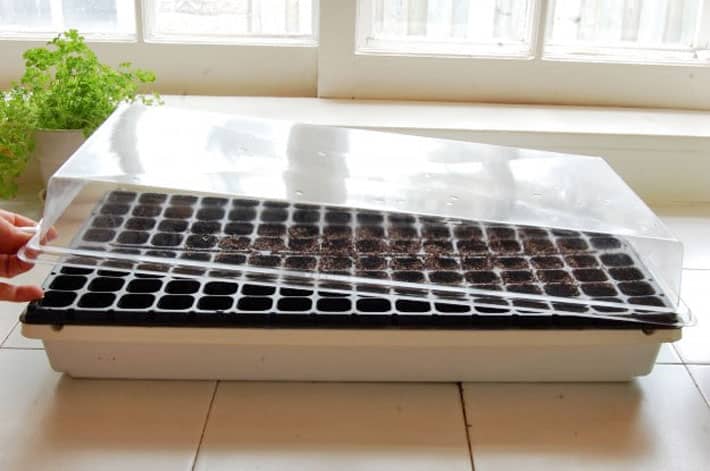 Cover the seeds up with soil.
A good rule of thumb is to cover the seed with the same depth of soil as the seed. (A 1 mm seed will be covered with 1mm of dirt)
Some tiny seeds don't even need to be covered at all. Refer to the instructions on the seed packet.
Also, once you've covered them, press down on the soil with your finger to make sure the top soil is touching the seed. Seeds need to be in contact with all the soil around them to germinate well.
Cover your seed tray with a plastic dome.
The dome helps create heat and the necessary humidity for the seeds to germinate. As soon as your seeds sprout, you can remove the lid.
If you don't have a dome or are planting into plastic cups or pots just cover the pot with plastic wrap and secure it with a rubber band.
*If you don't have grow lights put the plants in a south facing window*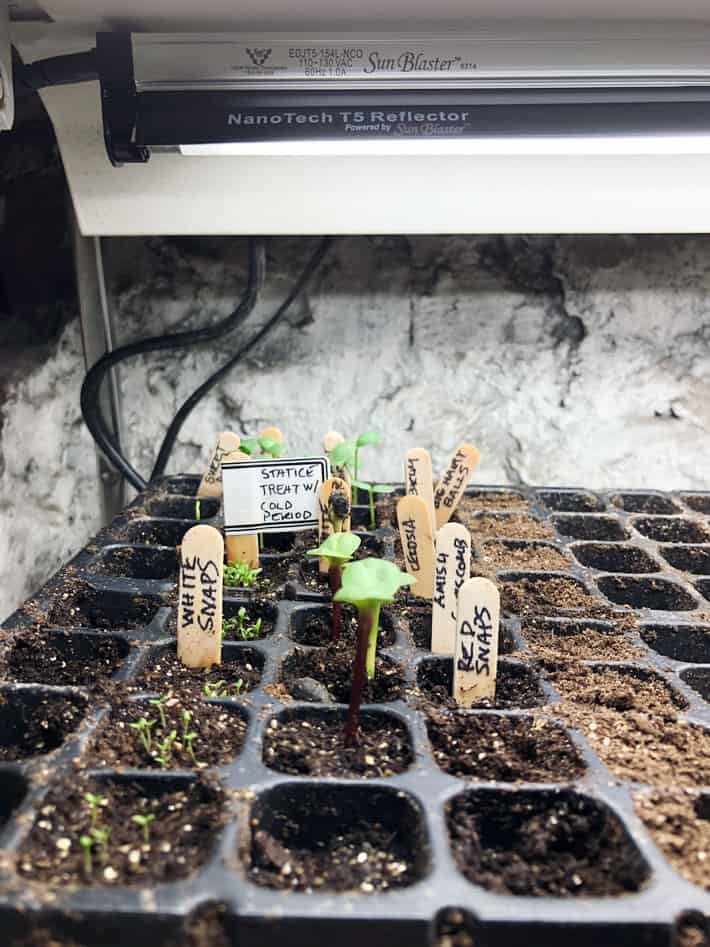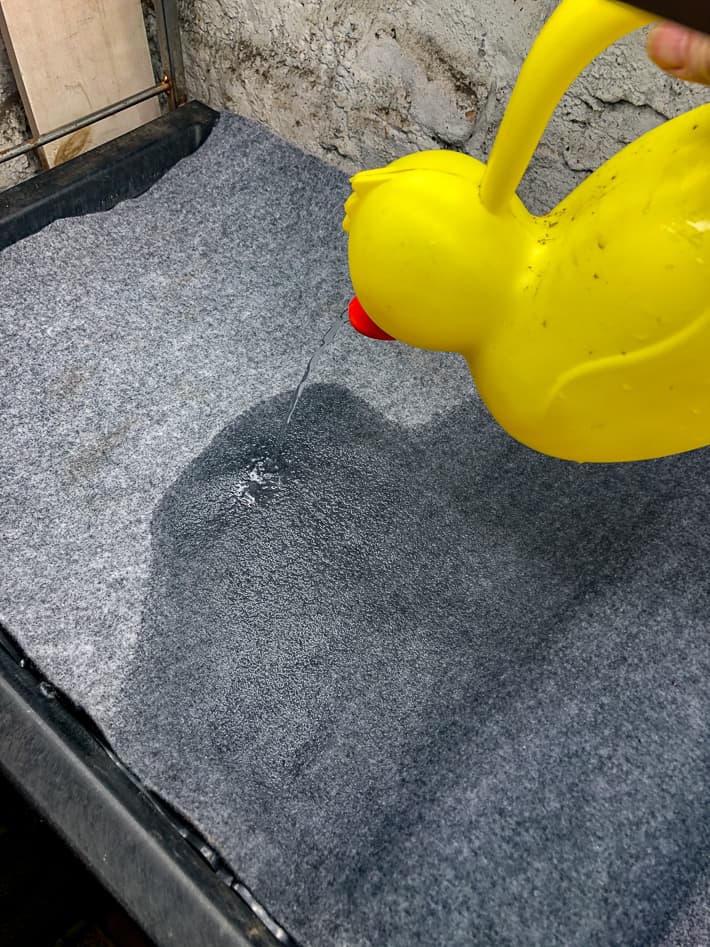 REMOVE THE HUMIDITY DOME
Once the seeds sprout and put them under grow lights or in a SUNNY windowsill.
(a sunny windowsill will create leggy, but still viable plants)
WATER YOUR SEEDLINGS
ALWAYS WATER FROM BELOW. Pour water into the drip tray and allow the plants to soak up the water for 10 minutes. Any water left in the tray afterwards should be dumped out to prevent overwatering.
Above, I'm using capillary mats, a more advanced way of watering.
NOW ALL YOU HAVE TO DO IS KEEP GROWING THEM!
POT THEM UP
Once your seedlings have grown 2 sets of leaves they're ready to go into a bigger pot and start receiving nutrients!
Plants always grow a set of starter leaves called cotyledons first. The next set they grow are the plant's "true" leaves.
Gently transplant your baby plant into a slightly larger pot that has actual soil in it. Regular potting soil is fine, using potting soil with the fungi Mycorrhiza is even better.
You can also make your own potting mix like I do.
---
When you're ready and if you feel you need it, this post has all the information you need for potting up your seedlings.
---
Propogation mats aka Heat mats
**If you have a heated seed mat (propagation mat) then place your seedling tray on the mat. The bottom heat on the soil will improve and speed up germination and growth on seedlings immensely. I HIGHLY recommend getting a seed starting mat if you're starting heat loving plants like peppers and tomatoes.**
---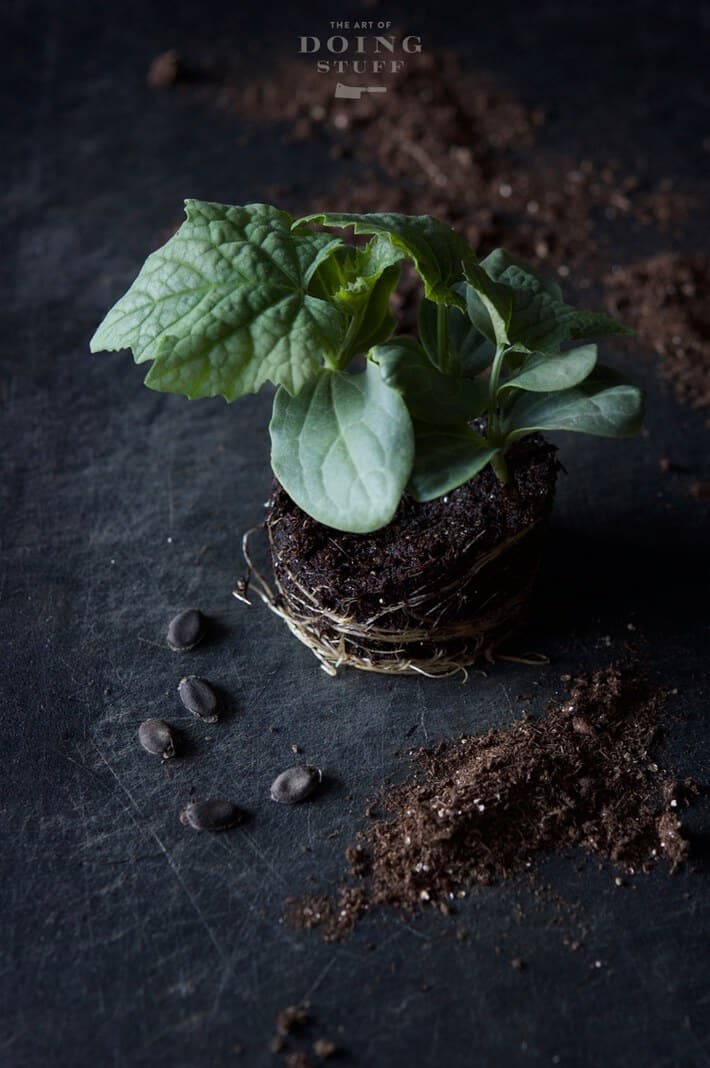 If you started your seeds at the recommended date and weather conditions are good, you will only need to "pot up" your seedlings once.
If you see the roots are beginning to wind around inside the pot, they're getting close to needing to be potted up again.
---
THAT'S IT!
You should now feel confident that you can absolutely start seeds on your own.
QUICK TIPS
Most seeds don't need light to germinate. They need heat.
Seeds need moisture to germinate.
Water from underneath.
Keep a fan going to prevent "damping off".
Use a timer on your lights - seedlings need 15 hours of light unless they're onions.
Run your hand across the top of your seedlings. It helps give them a sturdy stem.
Easy to Grow
Beets - these seeds are actually a cluster of seeds so for every seed you plant you could get 2-3 plants.
Peas - they can be planted directly outside in April because they like the cold but starting them inside helps improve germination and stops squirrels and mice from eating the seeds before they get a chance to start.
Squash - both winter and summer squash grow well from seed.
Tomatoes - the star of every garden, tomatoes are one of the easiest plants to start from seed.
Herbs - basil, parsley, dill, oregano, ... all are great seeds to start.
Kale - I actually only like one variety of kale, Black Kale, and I grow it successfully from seed every year.
---
REMEMBER: Even when it isn't gardening season outside, it's gardening season inside.
Now grab a seed, get some dirt and start growing your own flowers and vegetables.
I'll give $5 to the first person who can grow a carrot big enough to replace a leg on a harvest table.
Have a question? Ask away.
→Follow me on Instagram where I often make a fool of myself←
Any comments made prior to February 9th 2023 are referencing an older, outdated version of this post.